My CurrentBody LED Mask Review, Results & Promo Code
This post may contain affiliate links. All opinions shared are my own. As an Amazon Associate I earn from qualifying purchases. Click to view our full disclosure.
We are red and near infrared light fans, but every at-home device is not created equal. After using the CurrentBody LED Mask for over a year, we're ready to share our experience, review, results, and a 20% off promo code!
Know you want the CurrentBody Mask? You can get 20% off with our affiliate code SOREYCB.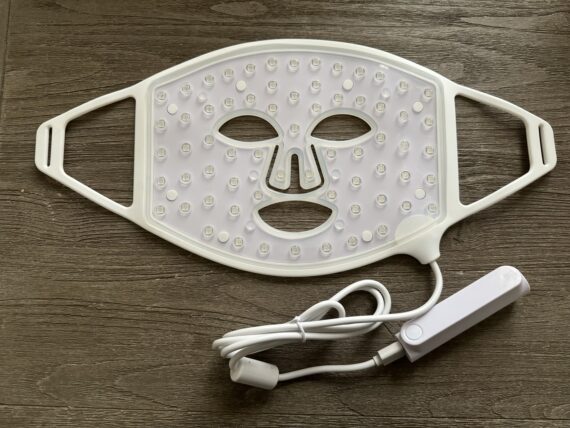 Who are we? Why trust us?
We are a mother (50s) and daughter (30s), and we originally each bought our CurrentBody LED Face Mask in December 2021, and it still works great. We heavily researched LED technology to find the best LED Mask, and now we're sharing our experience after using the masks nearly 2 years.
We're also unique in the fact that we are share our experience as a 34 year old and a 52 year old. Both of us have fair, sensitive skin with pink undertones.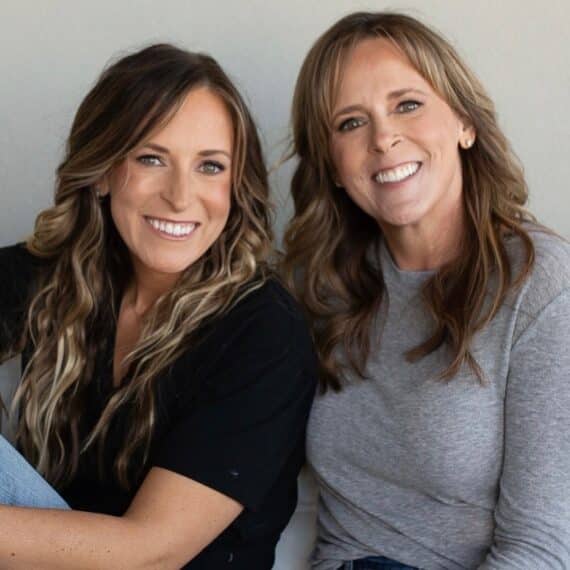 CurrentBody gifted us this mask in 2023. We plan on using our original mask when we travel and the new mask at home. All of the opinions and experience are our own.

What is it?
The flexible CurrentBody LED light therapy mask offers a non-invasive treatment. The blend of infra-red and red light emitting diodes (LEDS) work together to reduce lines and wrinkles, brighten skin, and balance skin tone for an overall younger-looking complexion.

How does it work?
The blend of infra-red and red light wavelengths support and energize mitochondria in our cells. This helps build more and stronger collagen, and it's been clinically proven to help with fine lines, skin's texture and pigmentation, and collagen production.
These benefits have been found by third-party labs, as well as, NASA research. Studies show that LED effect the skin's repair process and fibroblast activity to give us a healthier-looking complexion!
Red light therapy also helps with inflammation, blood flow, and more. You can read more about the benefits of red light therapy here.
How much is it?
The CurrentBody mask is currently $380. You can get 20% off with coupon code: SOREYCB
They also have a neck and dec perfector you can add on if those areas are of concern.
This price is comparable to many other light therapy masks, and CurrentBody's has been proven in independent testing to be the most powerful & effective LED mask on the market. Knowing it's power and that our original mask works perfectly after 2 years makes us comfortable to say it's worth the investment.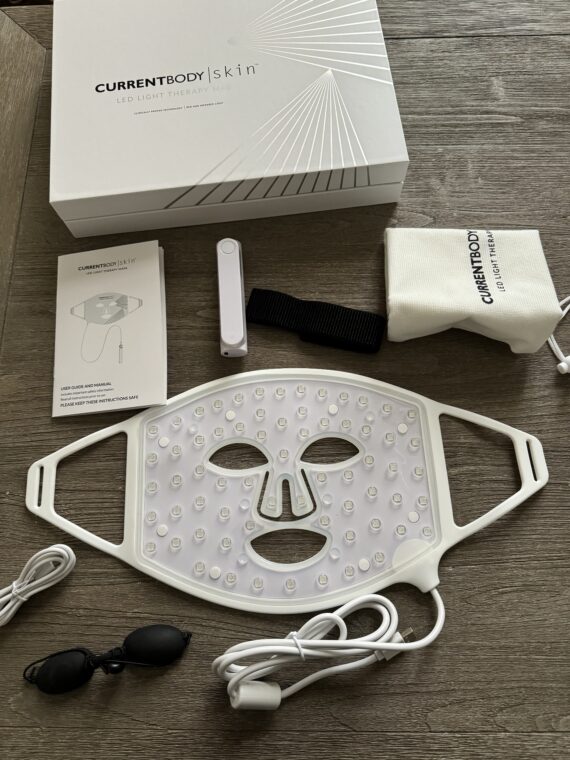 What's included?
You CurrentBody mask also includes a controller, power supply, USB connector and charging cable, a head strap, cloth storage bag, user manual, goggles, and a quick start guide. It also includes a few power adaptors if you want to travel overseas with your mask.
What wavelengths does the mask use?
Thee wavelengths and irradiance are critically important to get the benefits from red light therapy. CurrentBody uses 633nm (red light) and 830nm (near infrared light), with 49 bulbs each.
Clinical studies have shown 633nm and 830nm are ideal for anti-aging results.
Wavelengths 633nm (red light) and 830nm (near infrared light)
Irradiance 30 mW/cm2
Fluence 18 J/cm2
What about blue or green light?
The CurrentBody skin LED Light therapy mask is only red light. In our research, we've found the red light and near-infrared light to be the best for anti-aging and skin texture.
If you have acne-prone skin, red light therapy can also help as well as blue light.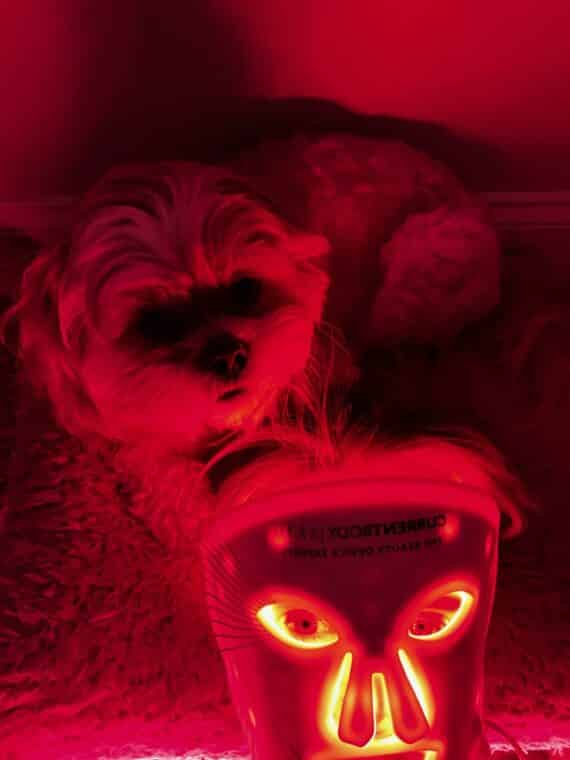 Size and Fit Details
We love that the mask is a flexible silicone because it's more comfortable and sits closer to the skin than the hard masks. It's 27cm x 19cm, and it includes a strap to help the mask sit closer to your face.
Tip: We put our hair in a ponytail and place the mask's strap above it. This keeps the mask closer to our skin, and it keeps it in place.
How long do you wear the mask?
It's suggested you wear the CurrentBody LED Mask for 10 minutes at least 3 to 5 times a week. You want to use it on clean, dry skin.
We find this very easy to do. We like to do it as a time to meditate, or you can also walk around and do some household chores or make a call while it's on.
Tip: If you want to do chores or just walk around with the mask on, we recommend pants with pockets to place the battery in. Also, the brighter the room, the easier it is to see with the mask on.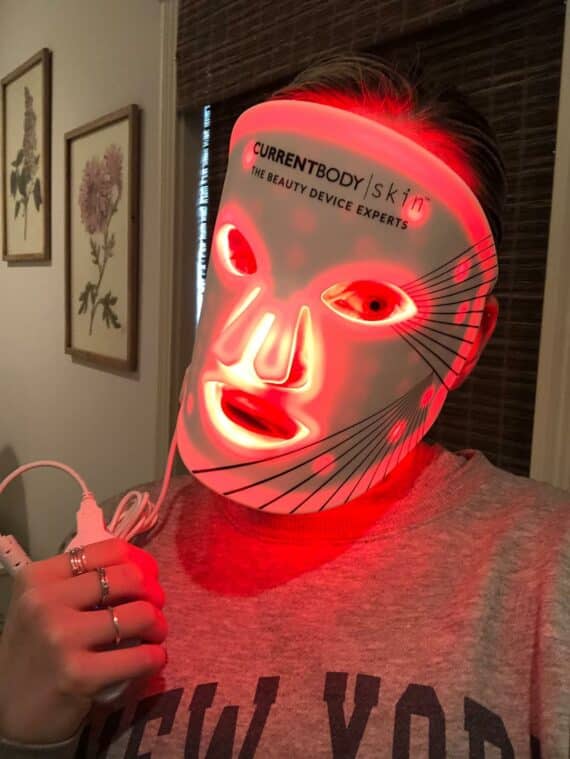 Does it hurt or get hot?
No, the mask doesn't get hot and there is not sensation or pain when the mask is on.
Do I need to wear goggles?
Goggles are included with the CurrentBody LED mask now, but they are provided for your comfort versus safety. If the light feels too bright, you can wear the goggles, but the mask has been tested to all relevant eye safety standards and goggles are not required.
Can it cause skin irritation?
It shouldn't. LEDs should be soothing for the skin, and we saw no issues with our sensitive skin.
The CurrentBody mask is safe for all skin types, but it's recommended to do a sensitivity test on your arm for 10 minutes before using on your face.
CurrentBody offers a 60 day money back guarantee if you have any issues.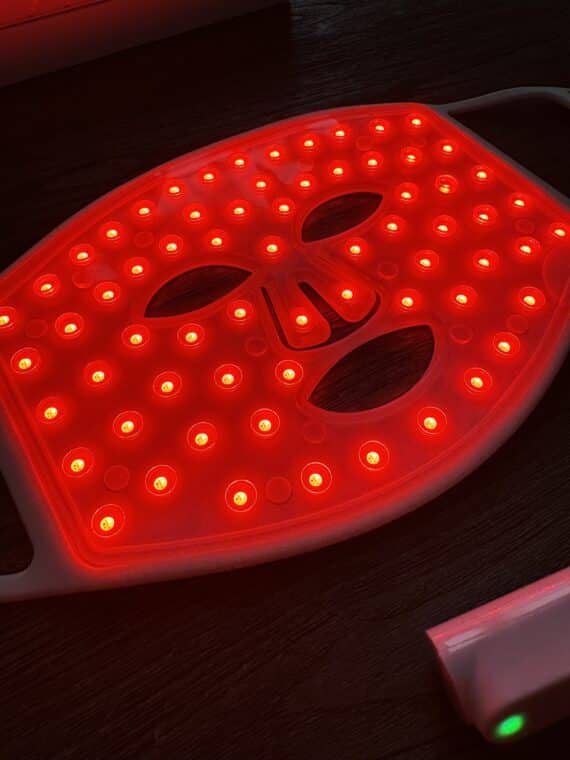 How often do you have to charge it?
The mask has a great battery life. Once you've charged your mask, it should last around 15-25 uses. It's easy to recharge too. It connects through a mini USB cable that is included. It takes about 6 hours to charge.
Note: Our older mask gets about 10-15 uses before it's time to recharge, but it's also 2 years old and well-used.
How long does it have to charge?
It takes 4.5 hours to get a full charge.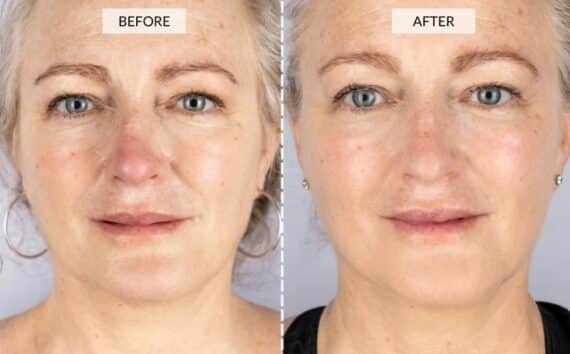 Who should try the CurrentBody LED Mask?
We love this mask for anyone wanting to improve their skin's texture, reduce fine lines, brighten their skin or balance their skin tone. It's even been shown to help with hyper-pigmentation. We love the mask because it's also been gentle enough to use on our sensitive, sometimes red, skin.
Contraindications
There are a couple instances where you should talk to your doctor before using the mask including:
If you're using medicines that can cause light sensitivity. You can view the types of medicines here.
Have any suspicious or cancerous lesions
Have any photosensitive disorders or genetic conditions of the eye.
Note: We used Tretinoin (Retin-A) while using this mask. This isn't medical advice — just sharing that we did and had no issues.
How do you clean it?
The mask is super easy to clean. You can wipe the transparent side (with the lights) and the front of the mask with a clean, damp cloth. If you still see residue, you can wipe it gently with 70% alcohol.
We also use the mask without any skincare on it, and this keeps it clean too.
How long does it take to see results?
We started noticing changes within 60 days of using it regularly.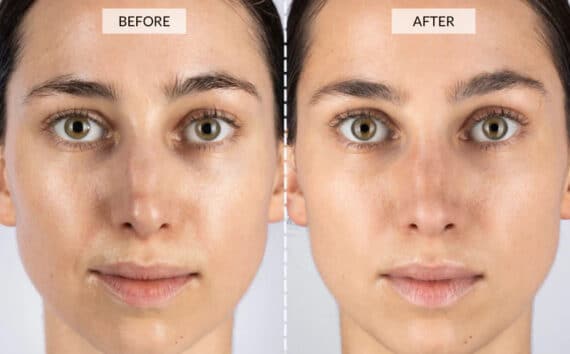 Red Light Therapy Benefits
As we mentioned above, red and near infrared light effects the skin when the right wavelengths, irradiance, and are used. We chose the CurrentBODY LED Mask because it's been shown to 30% more powerful than the other leading red light masks.
BENEFITS FROM RED LIGHT THERAPY include:
Supports collagen production, elastin, and hyaluronic acid [source]
Helps with anti-aging
Reduces swelling, redness, and inflammation (pain)
Increases blood circulation
Reduces inflammation in cells
Helps with sleep
May help with psoriasis
Possibly decrease stress, improve mood, and enhance productivity [source]
Increase skin health including skin protection and skin thickness [source]
Want to learn more? Check out our Best Red Light Therapy at Home Benefits for Face & Body guide!
Is it safe?
The CurrentBody LED mask is FDA cleared, and it requires no eyewear to be worn. It also meets all European safety and manufacturing standards for CE conformity.
Is it comfortable?
The mask is made out of a soft silicone and it's lightweight. It's very easy to carry and also to put on. We prefer to have a ponytail for our hair and then place the mask's velcro strap above it. We either lay down, sit down, or place the battery pack in our pocket if we want to move around while wearing it.
The overall fit of the mask is great. The eyes and mouth holes line up well for us, and the nose fits pretty comfortably. We do usually have a small indention on the bridge of our nose when we take the mask off though. It lasts about 5-10 minutes, and it doesn't hurt.
Not that you'd really want to, but it would be hard to eat or drink with the mask on.
The lights are also pretty bright! So we prefer to sit or lay down with our eyes closed. It's great to pair with prayer time, a meditation, nap, or our Mito Red Light mat. If you plan on reading, typing, or doing chores while wearing the mask, it's easier to do so in a brightly lit room.
Using The CurrentBody LED Face Mask
After doing a skin sensitivity test, you're ready to use your mask! You can use your mask at any point during the day or night. They also have a neck and dec perfector that can be worn at the same time.
Tip: In addition to the mask, you can apply a CurrentBody Skin Hydro Gel Face Masks or their Green Tea Serum for even more benefits and results. We've yet to try them, and they are optional. With that said, we're tempted to order them now!
How to Use The CurrentBody LED Mask
Start with a clean, dry face. You can apply eye cream if you'd like, but that is the only skincare that should be applied.
Attach the velcro strap to the mask, place goggles on if you wish, and secure the mask around your face.

Click the mask on. Then you just leave it on until it automatically turns off in 10 minutes.

Remove the mask from your face, wipe down with a clean, damp rag, and place in the storage bag.
Apply your normal skincare routine – including acids and/or retinols.
Should you use an at-home device or just professional treatments?
We love to add on red light therapy to our in-office facials, but it's more expensive and less convenient than at-home options. If you receive a professional LED treatment, you'll need to wear goggles and sit under the light 10-30 minutes. Just like with the at-home option, there isn't any heat or pain from the treatment. Typically, a professional treatment is done once a month and can cost $75 to $125 on average.
So while the at-home LED masks must be worn more often, you can still see results from it and without the inconvenience and price tag of going to a medi spa.
How do you choose a good LED mask?
It's important to look at the wavelengths and LEDs (light emitting diodes) when choosing a good LED mask. The price, celebrity endorsements, and shape are not as important.
With that said, celebrities including Kaley Cuoco, Kristin Davis, Kourtney Kardashian, Kate Hudson, Chrissy Teigen, Cary Mulligan, Jessica Alba, and Victoria Beckham have all shared their love for skincare devices at home! This specific red light mask was also featured by Lilly Collins in Emily in Paris!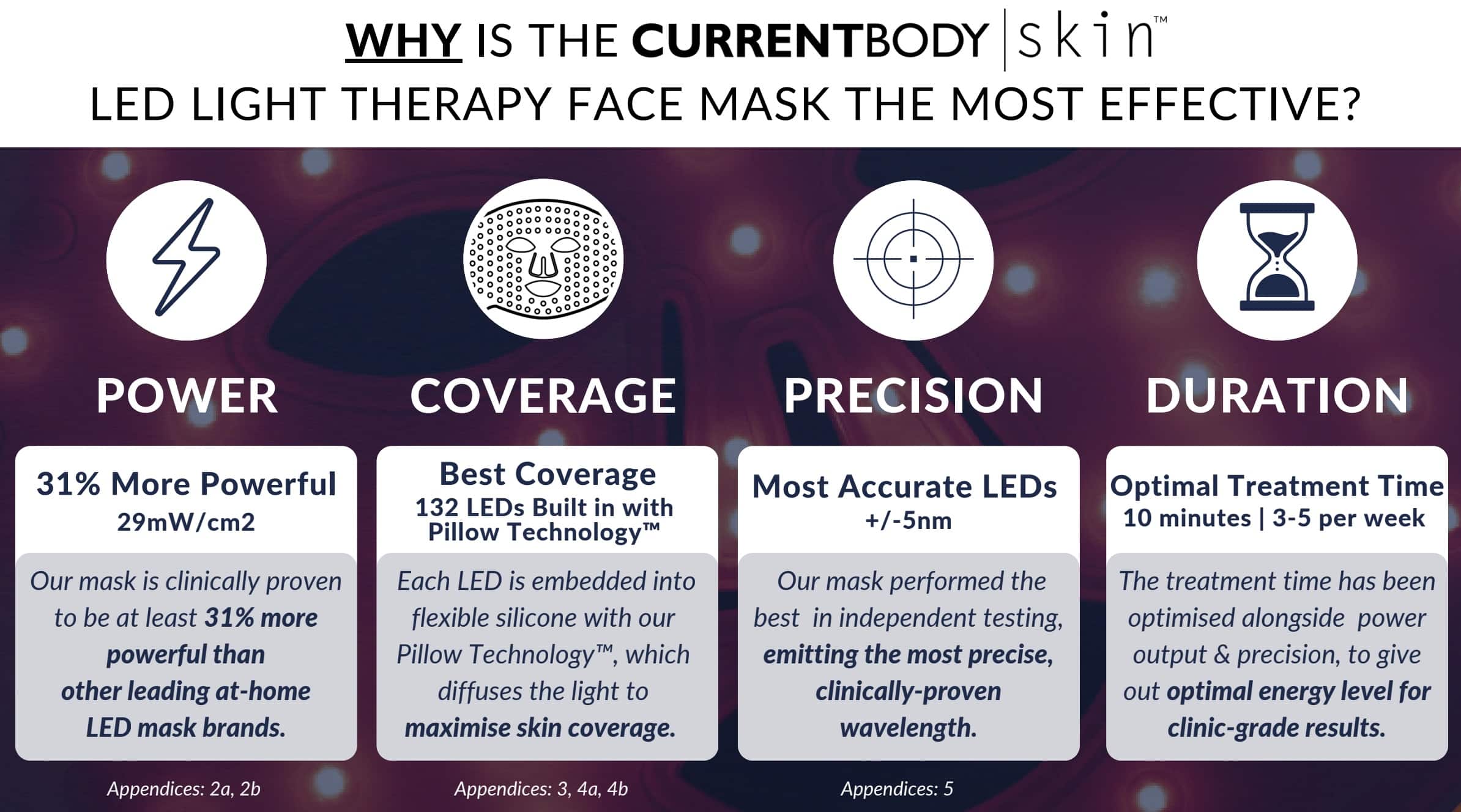 The efficacy of the LED mask also comes down to the power, coverage, precision, and duration it offers.
Power – This means how much light each LED bulb emits. This needs to powerful enough for results, but it also needs to be within a safe limit to prevent damage to the cells.
Coverage – How much of the surface area of the skin is being exposed to the LED light.
Precision – This is the precise wavelengths that the LED light emits. (A mask is considered to be precise if it's +/- 10nm).
Duration – How long you wear the device.
You should also always check for clinical evidence that proves a brand's claims are accurate. CurrentBody offers independent studies to back their claims.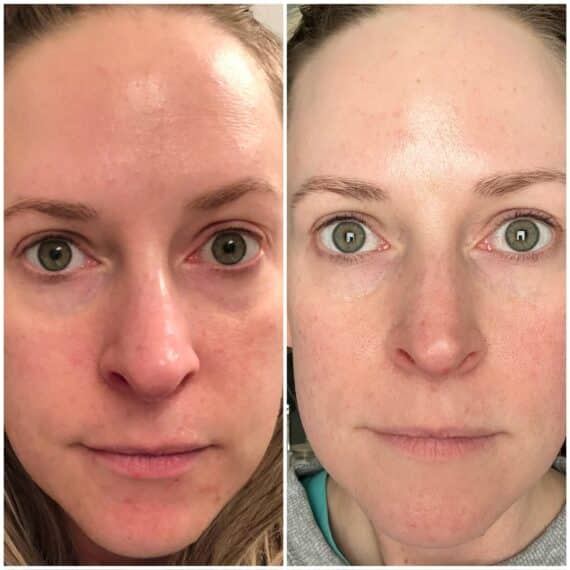 Our CurrentBody Skin LED Mask Results & Experience
We've loved using our mask over the past 2 years. We use it 3-5 times a week, and we've noticed a significant change in our skin's texture and overall brightness.
We've noticed our skin's surface appears smoother, we have a more even skin tone, and we even think it's helped with the appearance of fine lines. So with that said, we believe the studies that show it can help with the production of collagen, as well as, elastin production.
I also think it's helped with hormonal breakouts I had in my early 30s. It's left both of us with fresh skin, and it's been easy to use on a regular basis even long term.
We use the CurrentBody LED Mask, along with Nu Face facial device, and Jan Marini's skincare system. This has given us a great glow and helped with fine lines!
We've been very happy with the results! We just recently tried order Skinbetter as well. We'll have to do a review of it after a few months of using it consistently.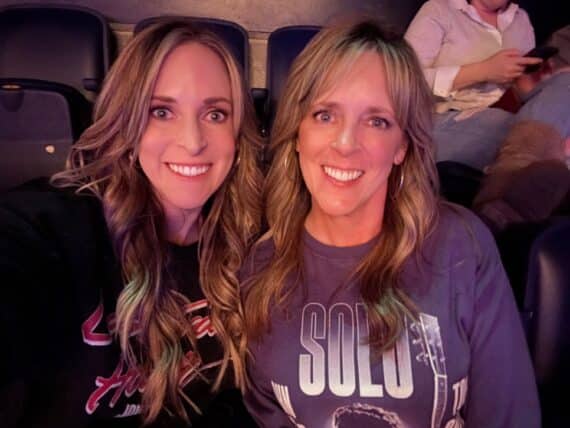 While we love the results, this LED light mask is just one piece of our skincare routine. We still use good skincare products, stay hydrated, and live a healthy lifestyle including healthy food options, sleep, and exercise.
With that said, this mask has been a great addition and investment for us!
Love this post? We'd love if you'd share it on Pinterest!