Best Red Light Therapy at Home Benefits for Face & Body
This post may contain affiliate links. All opinions shared are my own. As an Amazon Associate I earn from qualifying purchases. Click to view our full disclosure.
Research is showing that red light therapy at home has proven benefits and isn't just a trend. Below, we look at what red light therapy is, how it works, and its benefits for the face and body. Plus, we'll share the best RLT medical grade devices.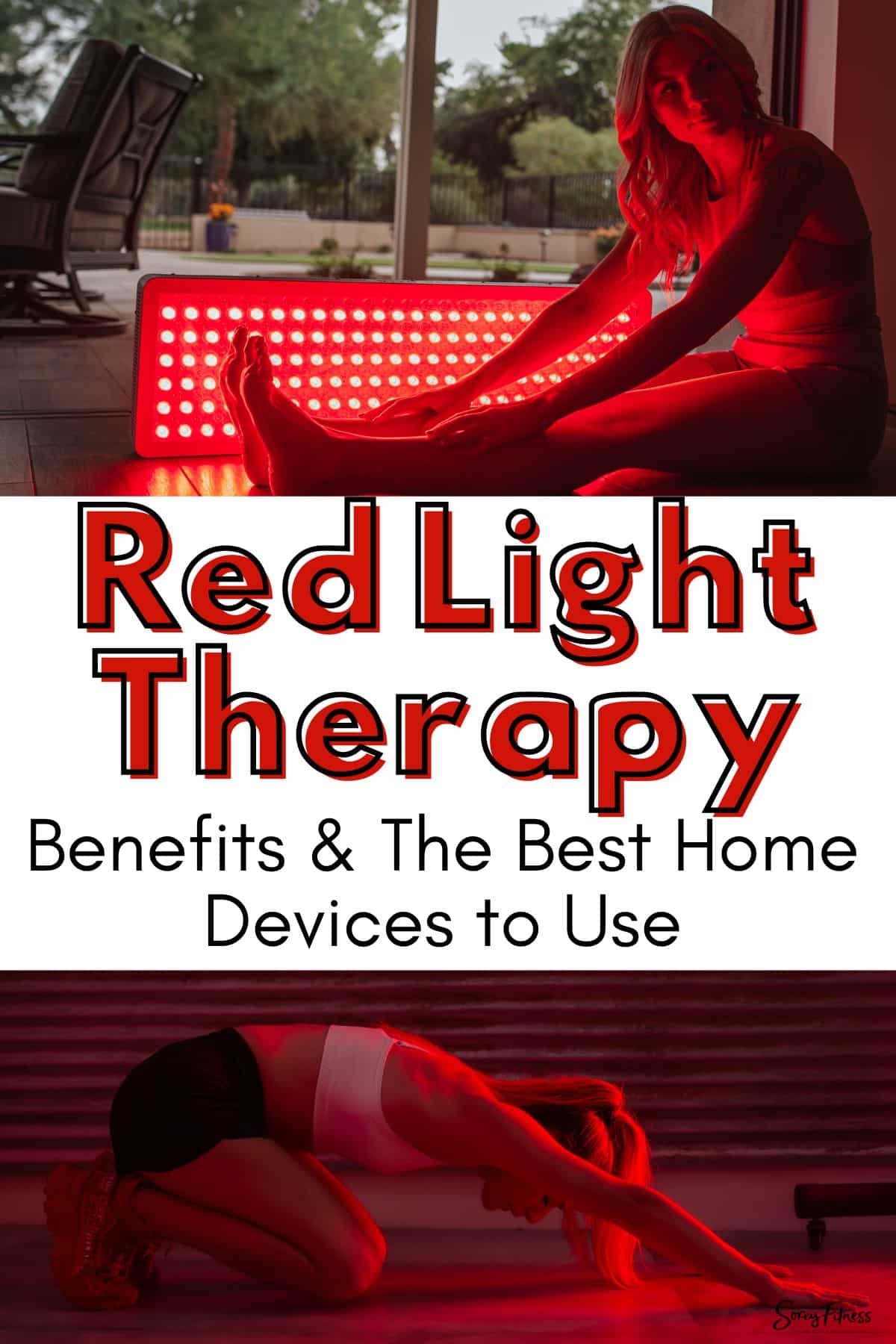 What is Red Light Therapy?
Red light therapy combines red and near infrared wavelengths to bring about positive health benefits in an non-invasive treatment. Research shows that red light therapy help stimulate and support the mitochondria, the energy center of our body's cells.
Red light therapy devices emit red and near-infrared light at specific wavelengths which can penetrate the skin and underlying tissues and cells. This creates the red light benefits including improved skin health, pain relief, expedited would healing, hair growth, improved mood and sleep.

Does red light therapy work?
The Cleveland Clinic has said red light therapy may help stimulate collagen and fibroblast production, as well as, increase blood circulation and reduce inflammation in cells. It can be helpful for supporting the thyroid and improving skin issues like fine lines, scars, redness, and acne.
Along with boosting collagen, Mito Red Light says red light therapy can also improve your mood, support brain health, help muscle recovery, quicken wound healing and reduce nerve and joint pain. The research on how RLT helps with inflammation is powerful as well.
If you're looking for red light therapy at home, check out Mito Red Light's product line.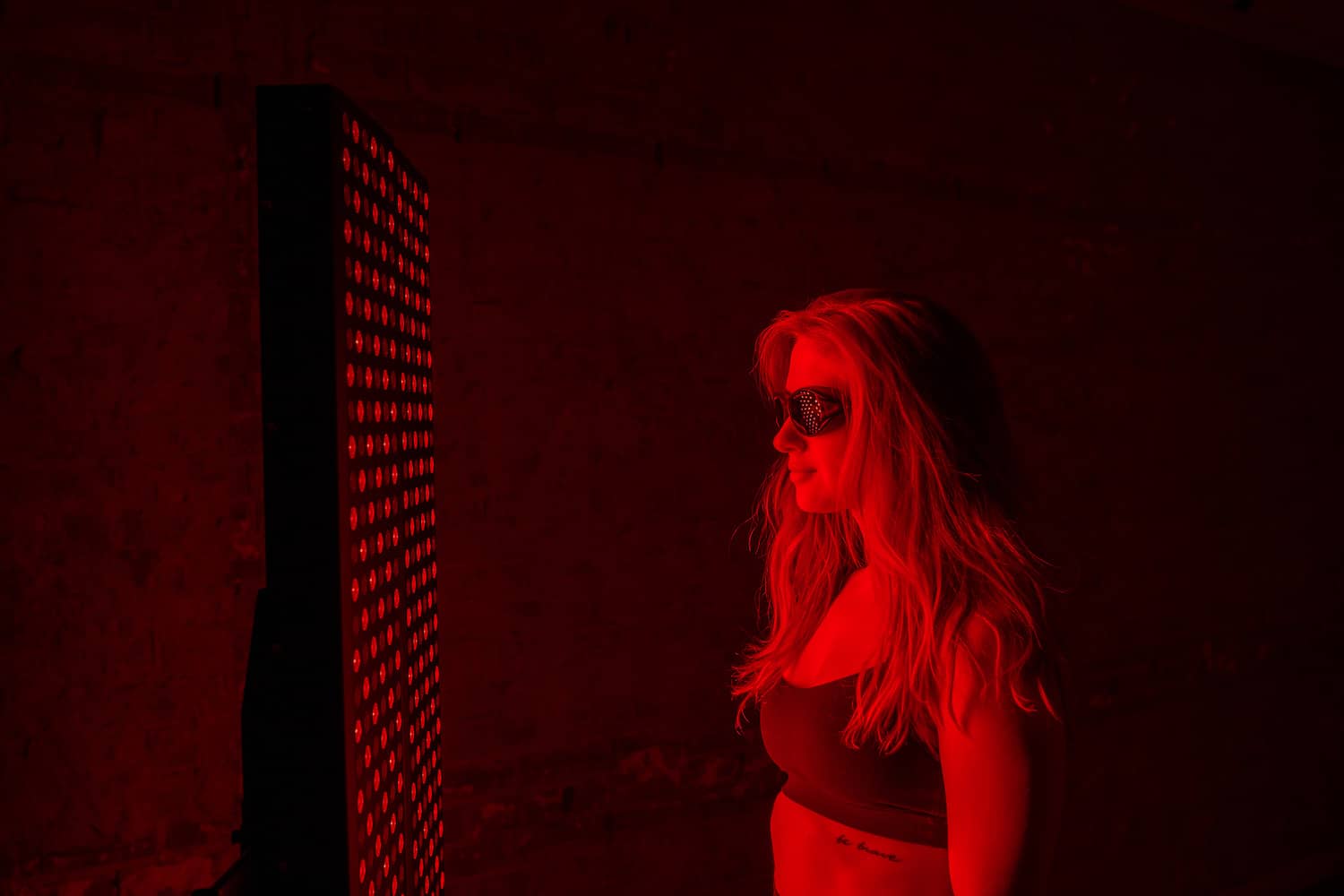 How does Red Light Therapy work?
Red light therapy stimulates and supports the mitochondria. In order for the treatment to work, the light must penetrate the body which is why near-infrared light must be used.
You also need specific wavelengths to see results — so not all red light therapy tools are created equal. In our research, we liked the brand Mito Red Light. They focus on clinically relevant doses of these wavelengths.
What's special about red and near infrared wavelengths?
Research shows that red and near-infrared wavelengths in the ranges of 630-680nm and 800-880nm produce benefits for the face and body. Near-infrared (NIR) and red light therapy devices have been FDA-approved for several purposes so far, including hair-loss reversal, anti-aging, acne, wound healing, pain relief, fat loss, and more!
Red Light Benefits
Red light between 600-700nm offer benefits for skin texture and tone, smoothing fine lines and wrinkles, promoting collagen production and generally rejuvenating the appearance of skin and hair.
Near-infrared light Benefits
Near-infrared light (NIR) 700nm – 1100nm penetrates deeper into the tissues to assist with wound healing, muscle recovery, nerve injury and joint pain.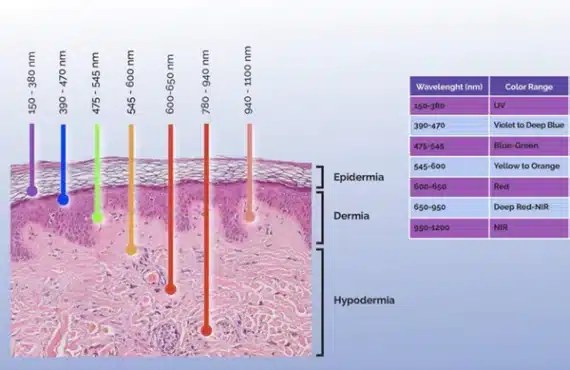 Why does it work?
Red and near-infrared light are able to penetrate deeper into the human body and are able to reach the cells, tissues, blood, nerves, into the bones and even into the brain!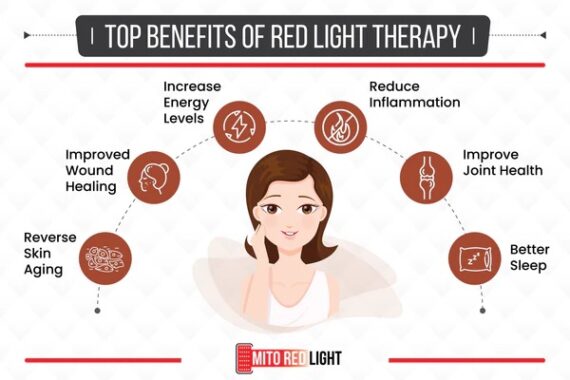 Proven Red and Near Infrared Light Therapy Benefits
Here is a summary of the myriad of proven benefits of red light therapy at home:
Promotes wound healing and tissue repair
Supports collagen production, elastin, and hyaluronic acid [source]
Helps with anti-aging
Reduces swelling and inflammation (pain)
Improves joint health
Improves physical performance, muscle recovery and energy levels
increases blood circulation
supports the thyroid
reduces inflammation in cells
helps with sleep
may help with psoriasis
improves sports performance [source].
supports cognitive function [source].
possibly decrease stress, improve mood, and enhance productivity [source]
could support weight loss [source]
increases hair growth [source]
increase skin health including skin protection and skin thickness [source]
Does red light therapy help for hair loss?
Clinical research has shown the red light therapy is not only safe but an effective therapy to help with hair loss in men and women. (Source)
If you're looking into red light therapy for hair loss, we suggest the Mito Red Light Professional Laser Helmet.
How does red light help weight loss?
Research on using red light therapy for weight loss is promising when paired with diet and exercise. Dr. Ruscio shared research that shows RLT can help regulate hormones in the metabolism like insulin and leptin and support your thyroid, but he also mentions to look out for over promises in the are of body sculpting.

Best Red Light Therapy for Face
We've used the CurrentBody Skin LED Light Therapy Mask for over a year now, and we love it for several reasons.
Most importantly, the wavelengths (Red is 633nm and near Infra-Red Light is 830nm) are also perfect for getting in those skin benefits from red light therapy. Plus, the mask is made out of flexible silicone it can sit right on top of our face.
It's also pretty comfortable to wear, and it holds a charge for several days. We use our mask 10 minutes a day 3-5x a week, and we've noticed a difference in our skin tone, texture, and firmness!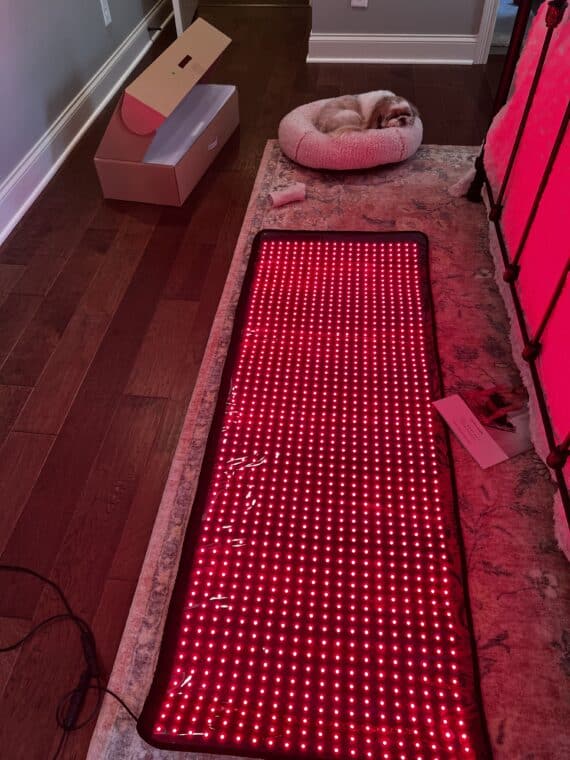 Best Red Light Therapy For The body
In May 2023, we bought a Mito Red Light Therapy full body mat.
The full body mat includes 1,280 LED diodes of red and NIR light with 3 chips per diode. This means it has an impressive 3,740 LED chips total! The Peak Irradiance at Surface Directly over LED is 30 mw/cm2. This made it the perfect choice for us to use for our red light therapy at home!
If you're interested in learning more, we highly recommend Mito Red Light's blog! They have all kinds of information on red light therapy that is backed by the latest research from credible sources.
Is Mito Red Light medical grade?
Mito Red Light focuses on clinically relevant wavelengths and has been third party tested and validated by Independent Testing Laboratories in Colorado. You can learn more here and here.

Get 5% off with code SOREY5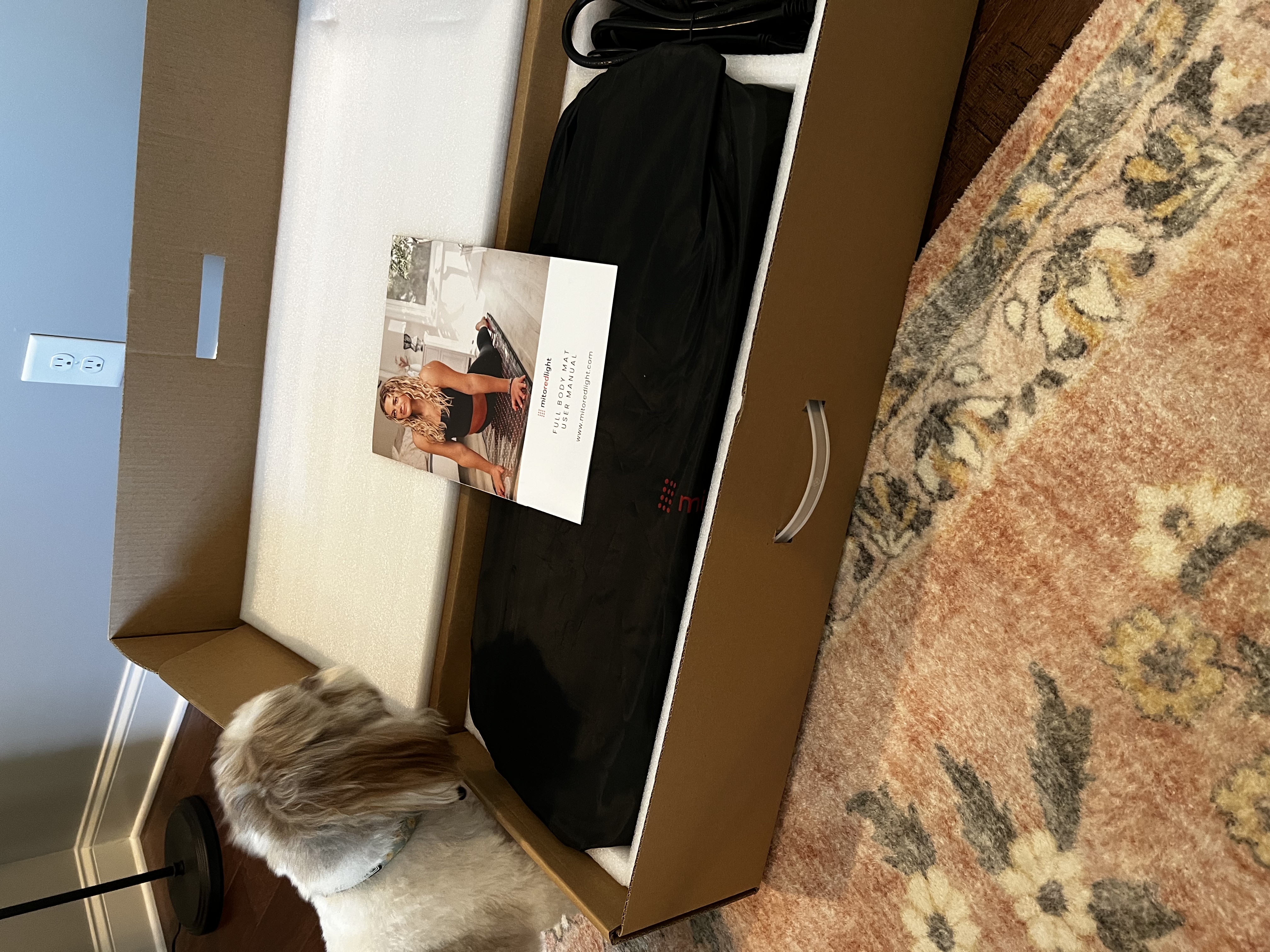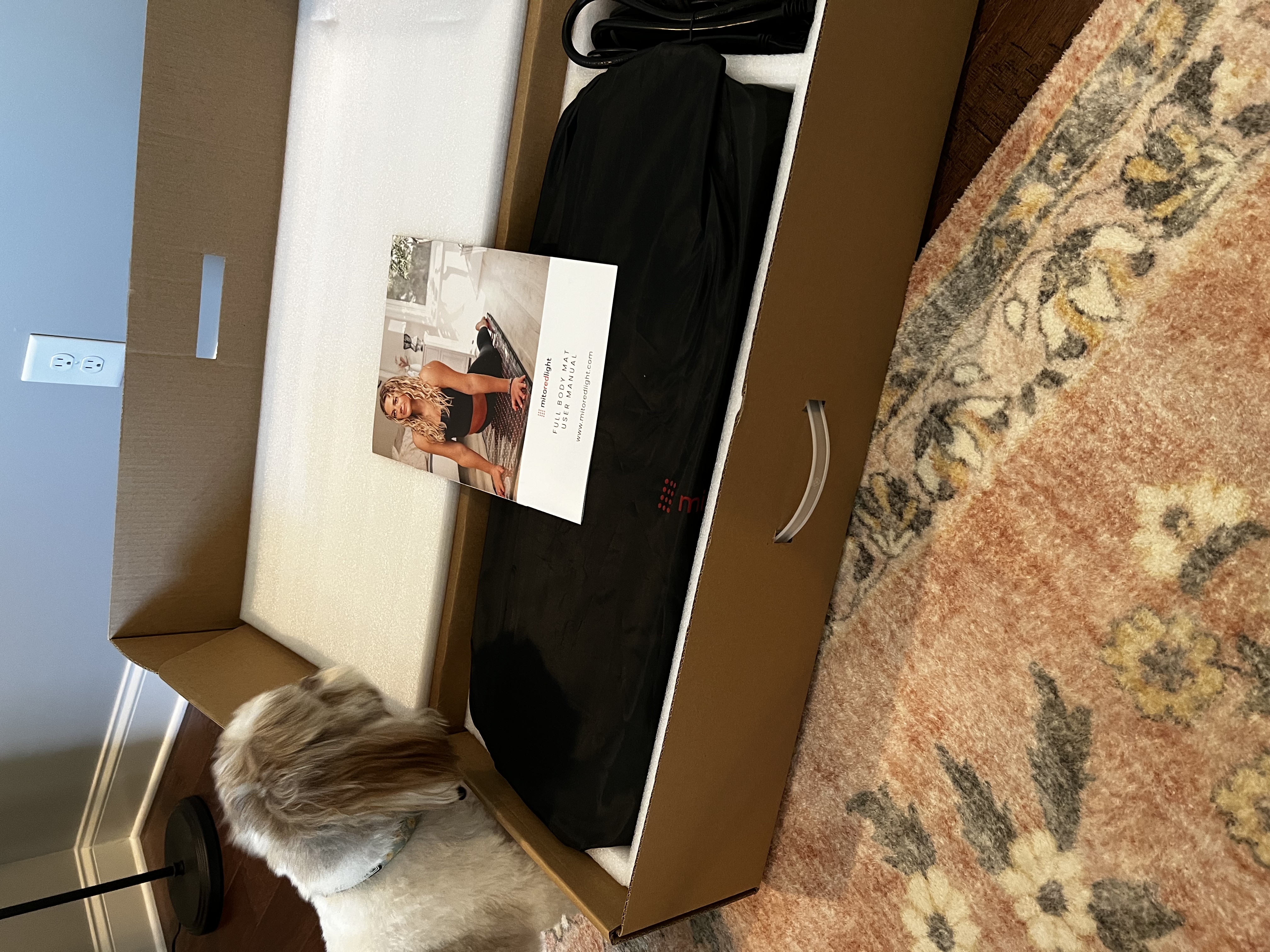 How often should I do Red Light Therapy at Home?
Each red light therapy device is different. Our Mito Red Light suggests 4-10x a week for no more than 15 minutes a session for their panels.
Our Current Body, the maker of our red light face mask, recommends using it mask 3-5x times a week for no more than 10 minutes a session.
Is red light therapy safe?
The Cleveland Clinic and the FDA have found red light therapy to be generally safe. It is not associated with any side effects, at least if used short-term and as directed.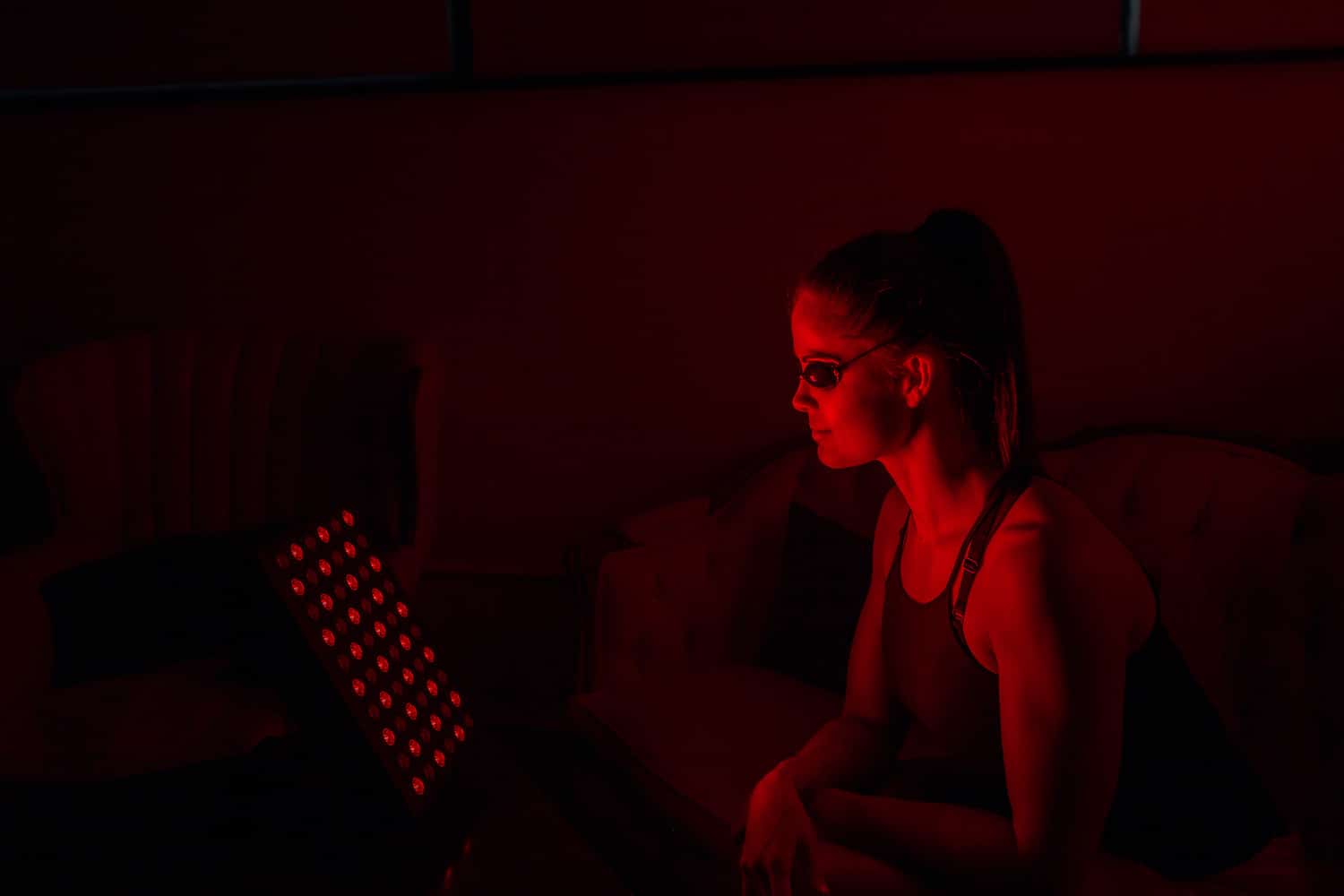 Are there any risks to red light therapy?
Under the FDA classification, red light therapy is generally safe. Some people may experience light side effects including
Temporary slight tightness and redness
Eyestrain and Sensitivity (use goggles)
Headache (usually byproduct of eyestrain)
How long does it take to see benefits of red light therapy?
Everyone is different and has different goals, but typically you should see progress within 4 to 6 weeks when doing red light therapy at home daily. Some users feel effects as soon as 1 to 2 weeks!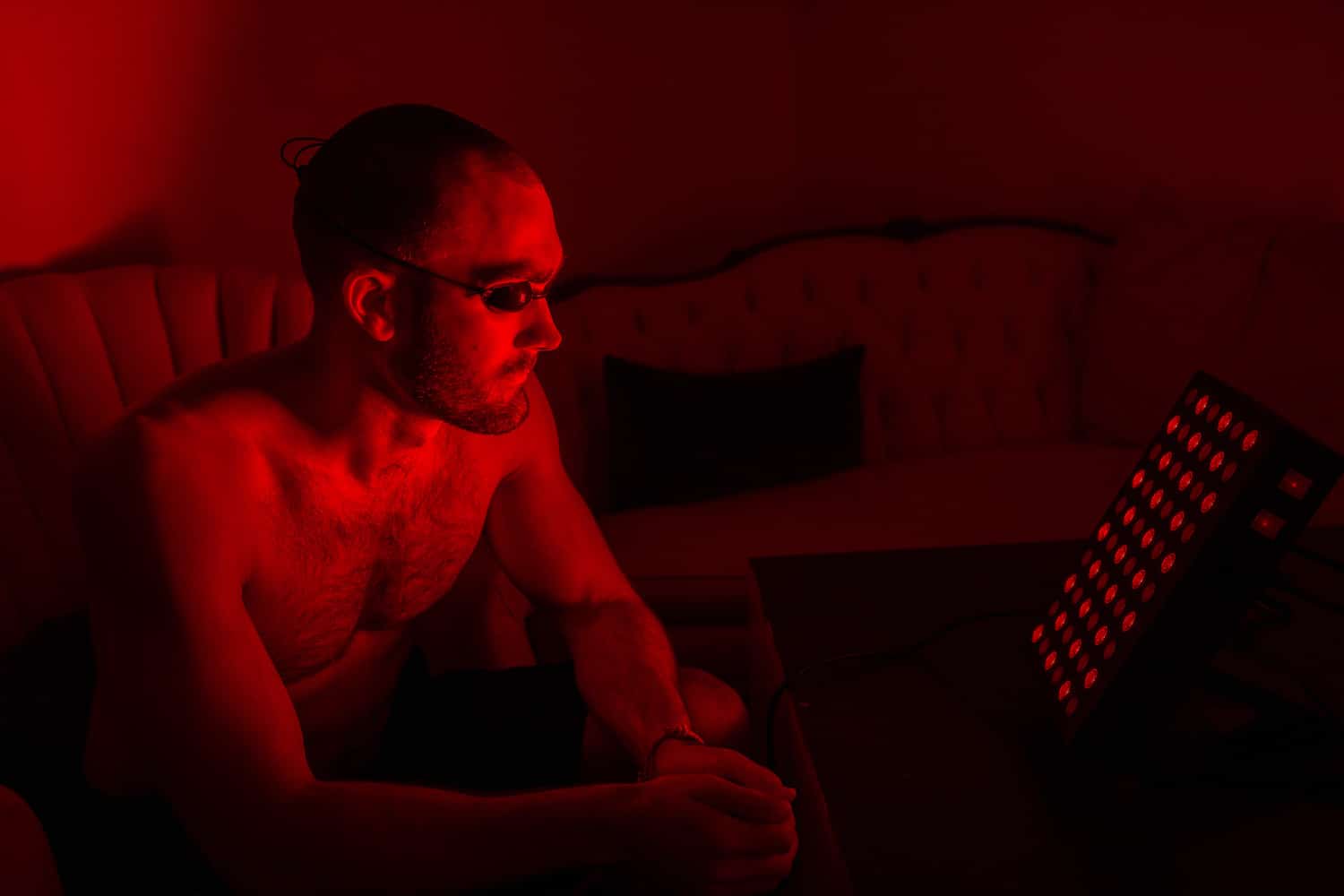 Red Light Therapy Brands to Avoid
Like with anything, brands will vary in quality drastically. Here are a few brands that we feel don't have the best wavelengths, power, or or research as CurrentBody or Mito Red Light:
Lightslim
Mytochondria
Vevazz
Hooga
Ryumei
Wolzek
DGAYO
Angel Kiss
Flawless Bar
Infra Relief
Quantum Rejuvenation
TendLife
Project E Beauty
Nova Red
Burer
ChoiceMMED
AUSPA
SGROW
Norlanya
Trophy Skin
Figerm
YokPollar
Luminescence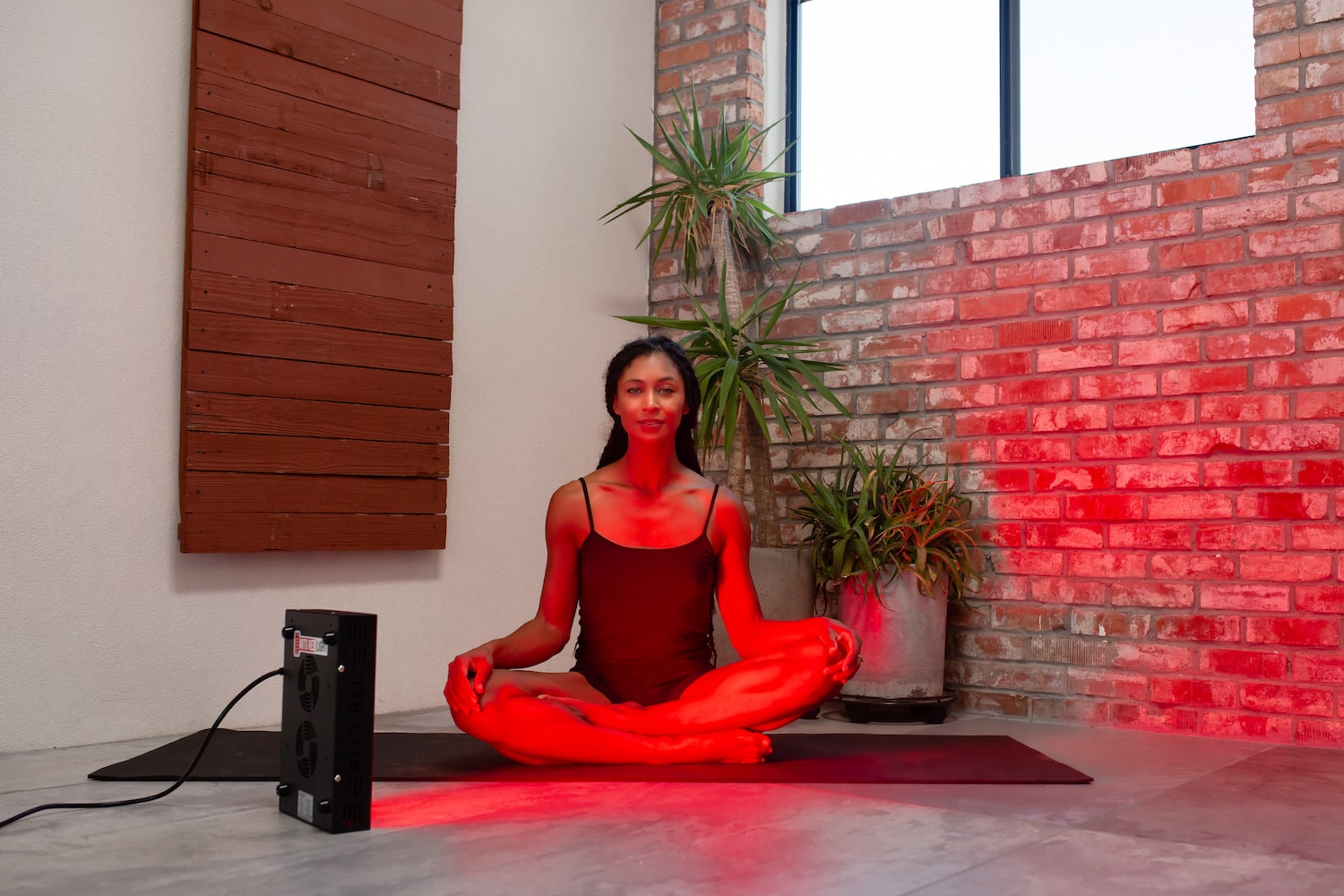 Mito Red Light Coupon Code
You can save 5% with our Mito Red Light coupon code: SOREY5.
Red Light Therapy At Home Devices
These products are not intended to diagnose, cure, or prevent specific diseases or medical conditions. This review is for education and information purposes only and is not intended as medical advice or a substitute for medical advice. A qualified health professional should always be consulted prior to using the products.
Want to come back to this? Pin it to Pinterest for later!