Microwave Chocolate Protein Mug Cake (3 Ingredients!)
This post may contain affiliate links. All opinions shared are my own. As an Amazon Associate I earn from qualifying purchases. Click to view our full disclosure.
This 3 ingredient chocolate protein mug cake allows you to have your cake and eat it too! Ready in just 2 minutes, this microwaveable recipe contains no flour or grains, and it's so gooey and decadent! Plus, it can easily be made paleo, gluten-free, and nut-free!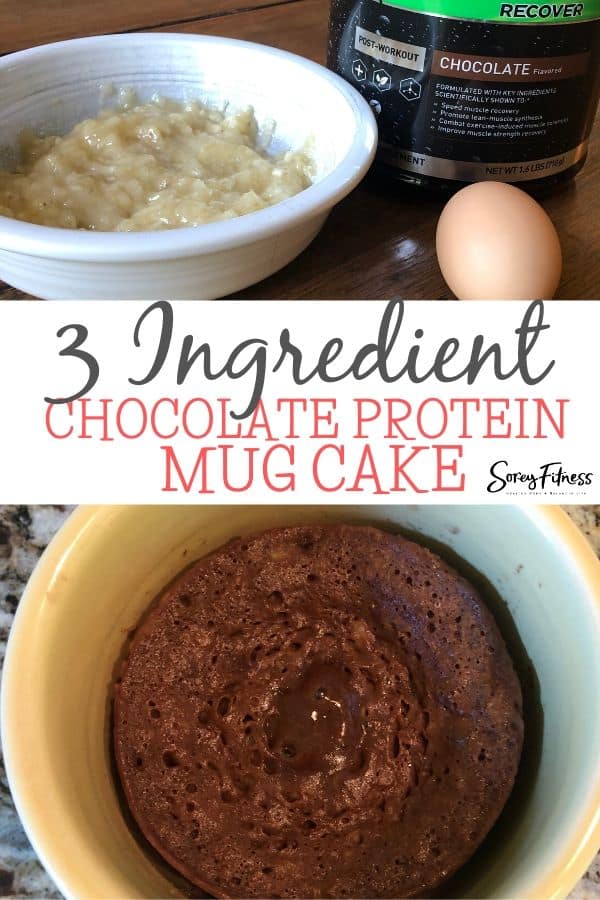 This Chocolate Protein Mug Cake is a great source for your protein and carbs, so it makes a great after-workout treat or a dessert that won't kill your macros. Plus, it's so easy to make and tastes sinful treat!
So, Kalee tasked me with trying out this recipe to see if it was yummy enough for our readers. I often like being the guinea pig on the recipes, but other times – such as the gag 3 keto ingredient pancake recipe – I regret ever taking on the challenge. HOWEVER, this recipe passes the YUMMY test!! and I have no regrets!
What is a Protein Mug Cake?
A protein mug cake is literally a cake that is made inside a mug! Usually they're baked in the microwave and are ready in a minute or so! They're also a single-serving which helps satisfy a sweet tooth without having to make a whole cake!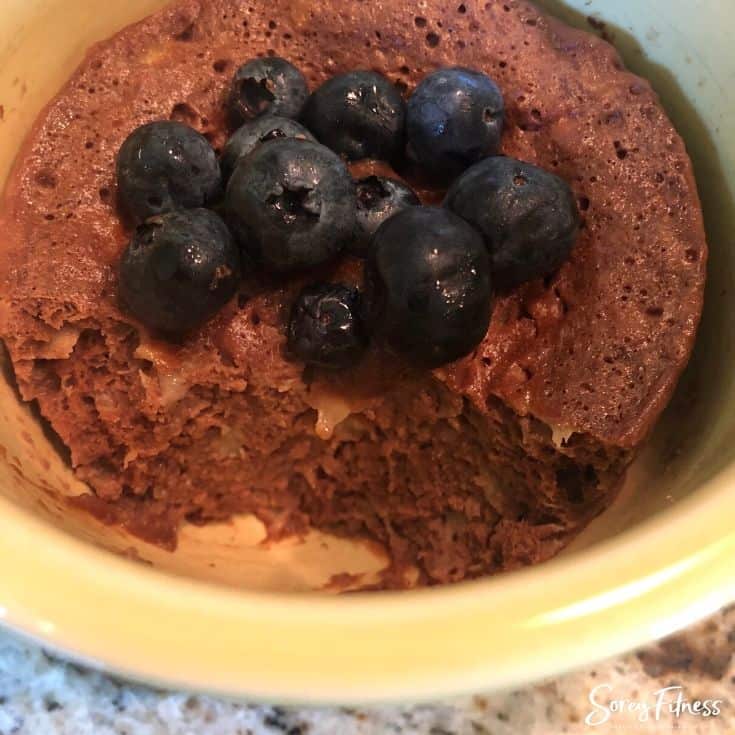 The 3 Ingredients You'll Need
Sure, sure, you can get fancy and add in some spices if you want, but this recipe all by itself is yummy.
You will need:
A really ripe banana
1 egg
1 Scoop Chocolate Protein Powder
You'll also need a tall mug and a fork to make this quick and easy chocolate mug cake!
I used my favorite Performance Recover, but you can choose any whey protein. We also have a Shakeology mug cake you might like!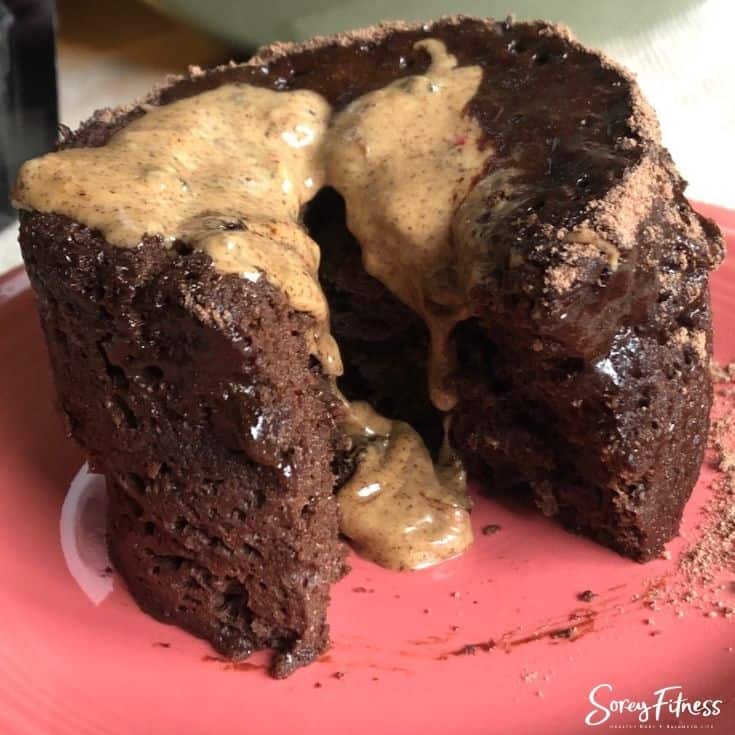 How to Make the Chocolate Protein Mug Cake
Prepare yourself. This is challenging. I kid, I kid!! Breathe!! It's so easy!!
To make a protein mug cake, you'll want a mug that is big enough that the cake doesn't overflow in the microwave. Once you had that, crack an egg in the mug and beat it with a fork. Then, mash in a ripe banana with fork until it's smooth. Then add 1 scoop of your favorite protein powder and mix well. Finally, place the mug in the microwave for 1 minute. Then top with your favorite toppings and enjoy!
Did Someone Say Toppings??
The toppings like the frosting on the cake! So go wild here!!
Some Mug Cake Topping Ideas:
A low-calorie, high protein ice cream like Halo Top.
Peanut butter – we like these higher protein peanut & almond butters by All American Butter.
Chocolate chips – oh yeah, we are with you!! More chocolate ON chocolate! Score!
Chopped up Built Bars would be amazing and add in more protein!
Tresh fruit – we did blueberries, but strawberries, raspberries, or any kind of berry would be great!
3 Tips to Making Your First Mug Cake
If you're a bit nervous about egg shells, then beat the eggs in a separate bowl and then combine all the ingredients, and pour into your mug.
Make sure your mug is large enough. OH. BOY. You really don't want this easy chocolate mug cake turned into a hot microwave mess to clean up!
If you'd like to use vegan protein powder, add in some almond milk to make the batter a little more pudding like. Vegan protein powder absorbs more liquid than its counterpart, so you want to add in a little milk to keep your cake dare I say it again moist. Cooking time may vary, too. Go with lower time and just add as needed.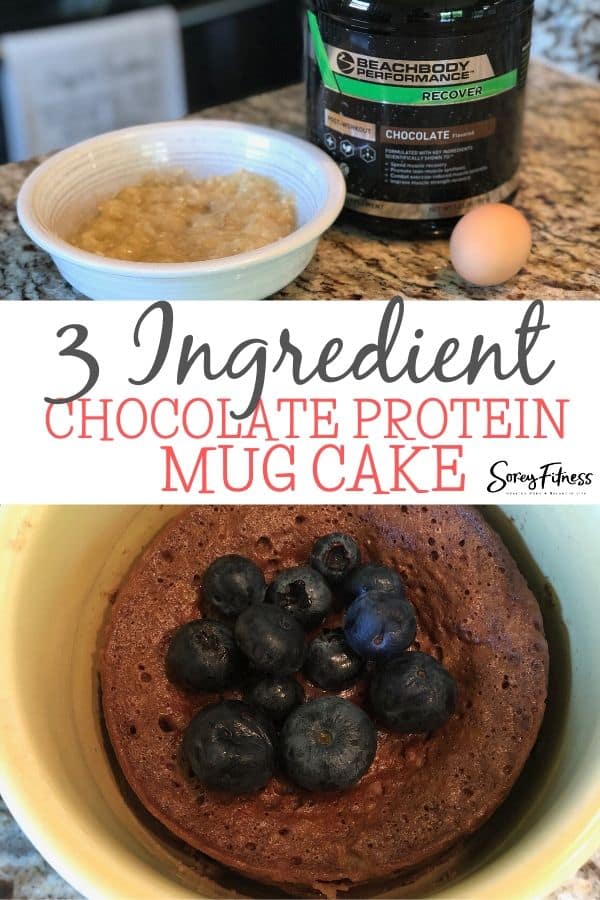 Is this keto-friendly?
Due to this having a whole banana in it, I would not say it's keto-friendly. However, depending on your protein powder, this chocolate protein mug cake can be a paleo, gluten-free, flour-free, dairy-free treat!!
Is this recipe Fixate Approved?
This is also 1 purple, 1 yellow, and 1 red on the 21 Day Fix.
Can this recipe be made in the oven?
This deliciousness, if you want to wait on it, can also be cooked in the oven. You may want to add 1/2 tsp of baking powder and make sure your mug is oven-safe though. It'll also take about 15 minutes to cook.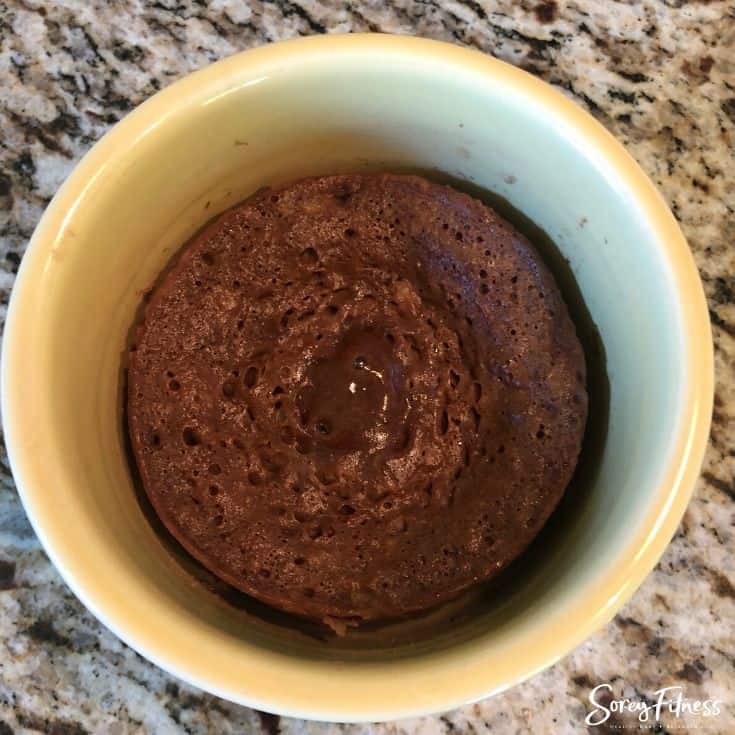 What's the best protein powder to use?
We get asked what protein powder is the best to use all the time, and it really depends on what you like! We personally use a whey protein – Beachbody's Recover, and we love the consistency and texture it has in this cake!
You could also use plant-based protein like pea protein, but you may need to add a little granulated sweetener and almond milk to it. Another option would be collagen protein because it's a little sweeter and smoother than vegan proteins.
You might also like these recipes: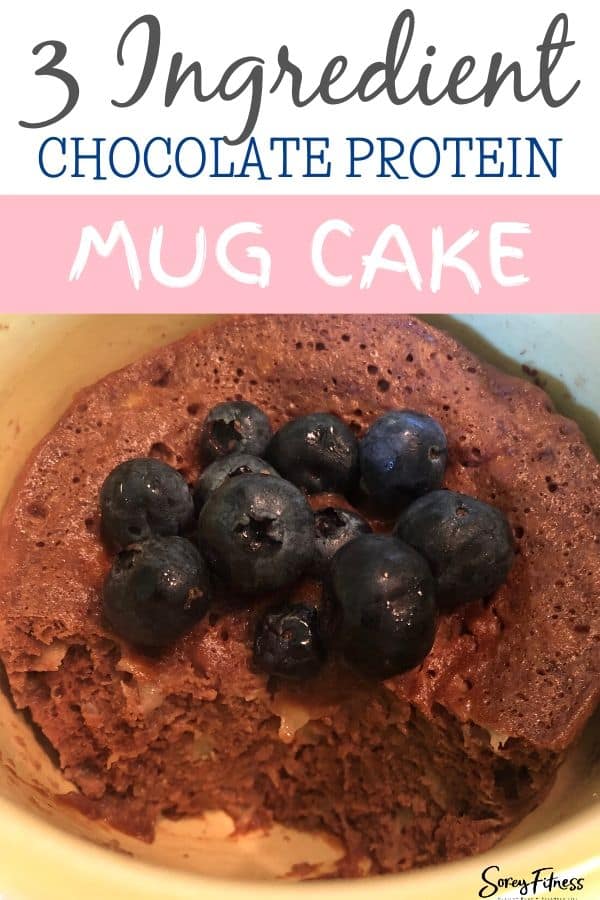 Yield: 1
Microwave Chocolate Protein Mug Cake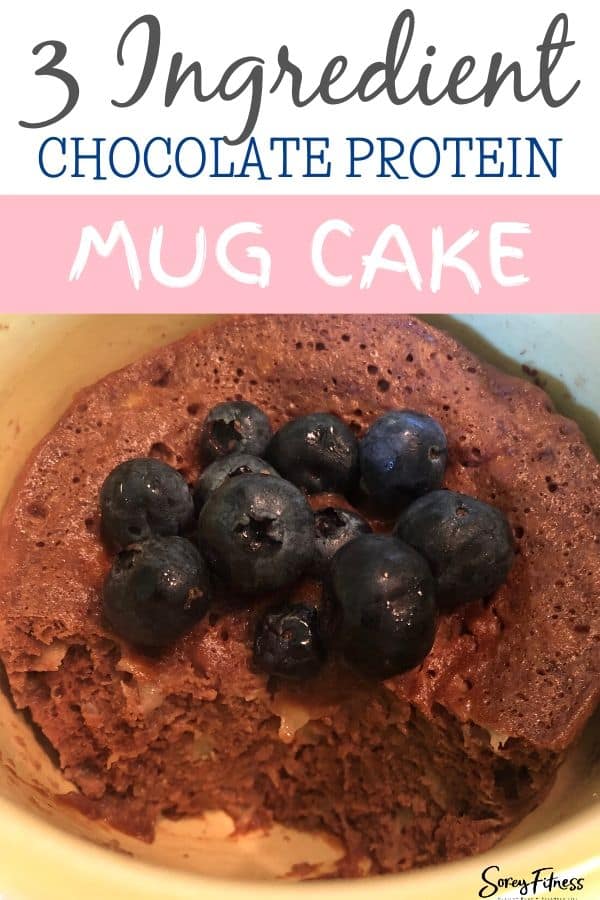 This 3 ingredient chocolate protein mug cake allows you to have your cake and eat it too while tracking your macros! This microwaveable recipe contains no flour or grains, and it's so gooey and decadent!
Ingredients
Ripe Banana
One Egg
One Scoop of Chocolate Protein Powder
*If you do Vegan Protein Powder, you'll need a little almond milk.
*If you decide to bake, add 1/2 tsp of baking powder
Instructions
Beat Egg
Mash banana until there's no chunks
Mix all 3 ingredients in your mug
Microwave 1 min or until desired level of gooey-ness
Notes
Make sure your mug is large enough to avoid overflow as it cooks.
If you use vegan protein powder, use enough almond milk to make the batter pudding like.
This is also 1 purple, 1 yellow, and 1 red on the 21 Day Fix.
If you prefer to bake, make sure to use a mug or ramequin that is oven-safe.
To bake:
Pre-heat oven to 350.
Bake at 350 for 20 to 25 mins or until desired consistency.
You can insert a toothpick to check level of done-ness.
Nutrition Information:
Yield:
1
Serving Size:
1 mug
Amount Per Serving:
Calories:

312.5
Total Fat:

6.7g
Cholesterol:

191.5mg
Carbohydrates:

37.5g
Net Carbohydrates:

34.4g
Fiber:

3.1g
Sugar:

21g
Protein:

27.6g
Nutrition Information isn't always accurate. This is based on my protein powder and the values gathered from CarbManager app.
We love it when y'all make one of our recipes and share on social media! Make sure to tag us, so that we can see it, too!! @SoreyFitness will get us on both IG and Facebook.
Have you tried our chocolate protein
mug cake yet?
If you like this recipe, don't be scared to click share or pin one of the pics on your Favorite Recipes Pinterest boards!!