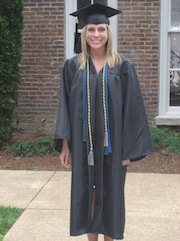 Welcome to SoreyFitness!
About Me
I'm Kalee, a twenty-three year old health blogger, social media marketer, entrepreneur, and teacher. I'm on the journey to live a healthy, balanced life and help others do the same. I live in Tennessee and graduated from Belmont University in 2011 with honors in marketing and finance.
SoreyFitness covers my favorite things in health and fitness, as well as, documents personal goals and special events. My passion in life is to be able to inspire and motivate others to build a healthy body and balanced life.
Want to talk to me?
As a computer, iPad, and iPhone junkie, it's pretty easy to get ahold of me. Right now, I'm in love with Instagram. If you are more of a Twitter follower I'm @KaleeSorey. I'm also on Facebook through a like page. If you'd like to see and hear me, please check out my YouTube. I also have a Pinterest and LinkedIn account if that is more your personality. You can also always subscribe to the blog in order to keep up with me. Anyway you'd like to talk to me, I'd love to hear from you!
You can also email me at soreykalee@yahoo.com
A Fews Posts About Me
22 Things You May Not Know About Me