The 9 Best Women's Road Bikes Under $500 in 2022
This post may contain affiliate links. All opinions shared are my own. As an Amazon Associate I earn from qualifying purchases. Click to view our full disclosure.
Finding the best women's road bikes under $500 can feel overwhelming. The good news? We've found the 9 best bikes at an affordable price! Below, you'll find our top picks, and we hope you find the perfect choice for you!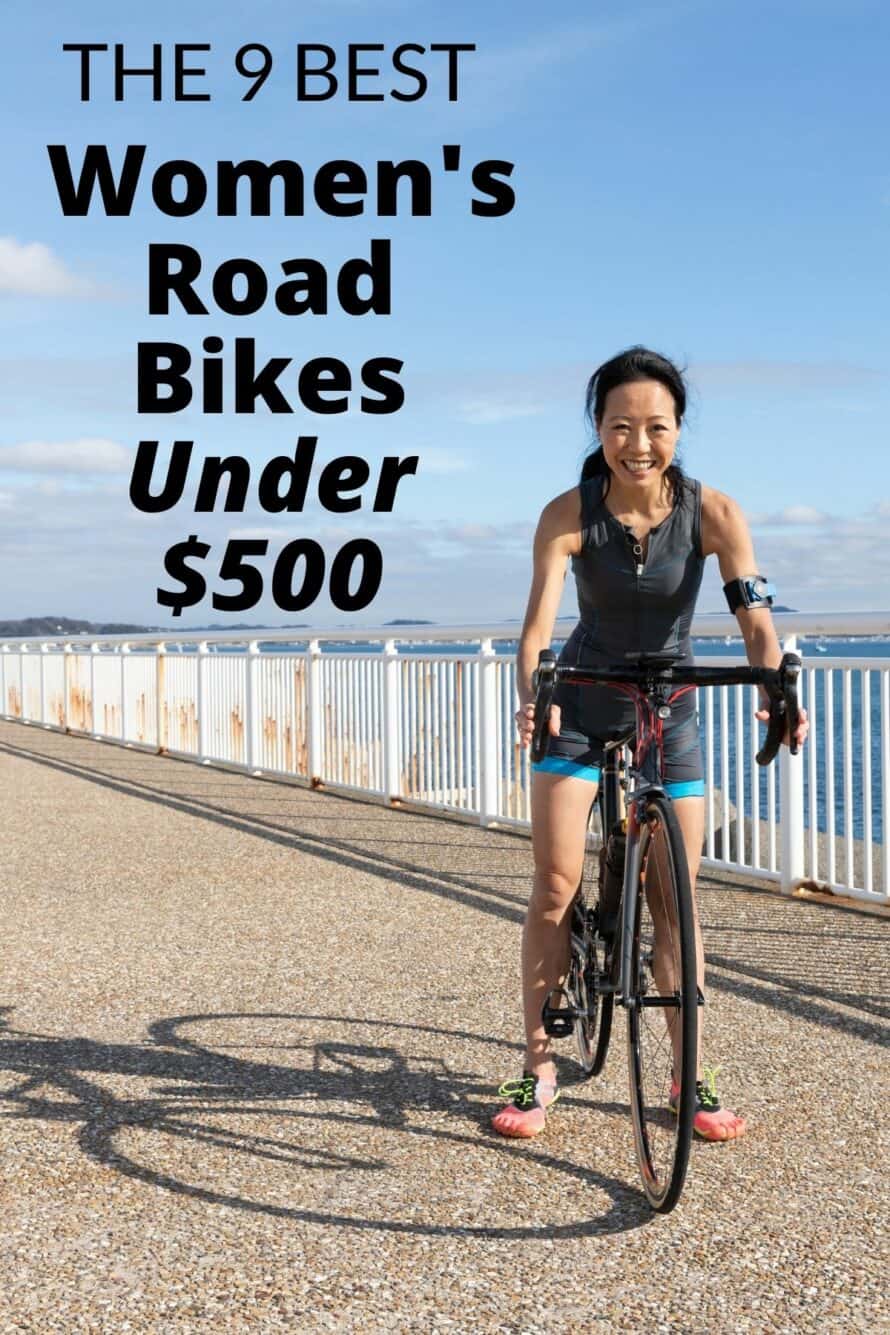 Biking is a great workout no matter where you ride. And while mountain bikes are a popular choice for bike riders, hitting the trails isn't for everyone. If you'd rather stick to the roads as you're riding, picking out a good women's road bike is a must, but finding a bike within your budget might seem like an impossible task with expensive bikes costing thousands of dollars.
Luckily, a great bike doesn't have to have a high price tag.
Before you decide on one though, it's important to review the different sizes and features. Some vital pieces to review are the bike's brakes, gears, frame, and suspension.
The Bike Frame
There are 3 common types of bike frames:
alloy frame (or alloys of a steel frame),
aluminum frame, and
carbon fiber frame.
While an alloy frame is traditional, aluminum has been showing up in the best entry-level road bikes in the past few years.
The aluminum frames are the lightest and last a long time, but they are also stiff which can effect your ability to go fast.
A carbon fiber frame is sturdy, rust-resistant and still light weight, but it costs more than the other frame options.
The Gears
The number of gears you need vary by personal preference.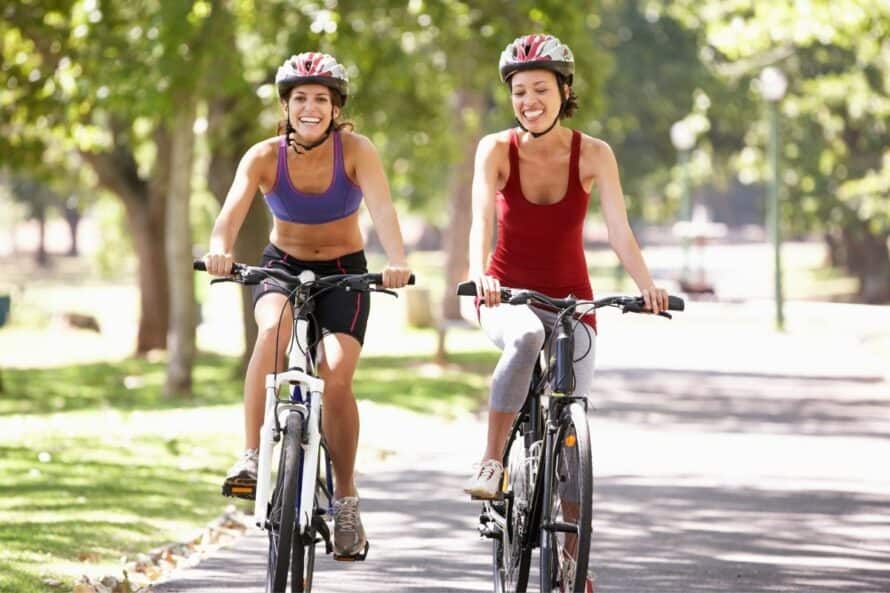 the best women's road bikes under $500
Below are 9 good options that offer a great value and stay under the $500 price range!
Whether you're a beginner or intermediate bike rider, the Giordano Aversa Aluminum Road Bike is a great option.
This bike comes in two sizes based on your height, ensuring you have a comfortable ride. The lightweight aluminum frame and double wall alloy wheels give you a smooth ride. And the 14 speed drive train and dual pivot side pull brakes ensure you have a safe ride every time you go out.
Since the Schwinn Network Adult Hybrid Bike is built with an alloy hybrid frame, it's lightweight and easy to maneuver.
For added comfort, this bike is fitted with a hybrid elastomer suspension spring seat and swept back handlebars with ergonomic grips for a comfortable riding position.
The 21-speed shifters and rear derailleur ensure precise gear changes. And the alloy linear break pulls provide amazing stopping power.
The included 700c wheels are designed for riders 5'4" to 6'2" in height, making it a great option for most women.
Hit the road in retro style with the Hiland Retro Styled Cruiser. The step-through design makes it easy to mount and dismount.
The seven-speed drivetrain and twist shifters will provide plenty of range for changes in incline as you're riding.
This road-ready bike features specially designed tires to grip the ground for a smooth ride, no matter what type of urban terrain you're riding on.
While the Royce Union All-Terrain Mountain Bike is made for off-road riding, the all-terrain wheels are designed to provide less resistance than a typical mountain bike, making it great for riding on gravel paths and paved streets, too.
The hardtail frame is molded from no-rust aluminum, making it a lightweight bike that's easy to handle. The twist-to-shift design features a 21-speed drivetrain to deliver seamless shifting between gears. And the padded seat will provide you with a comfortable ride throughout your workout.
If you're searching for a beginner road bike, the Huffy Hyde Park Comfort Bike is a great option. Featuring a seven-speed shifter and machine-walled wheels with front and rear pull brakes, this basic bike is great for beginner road riders.
And since the frame is designed for maximum comfort with ergonomic grips and an adjustable seat, you'll be sure to ride in style and comfort each time you hit the road.
All of these features are why it makes our list of the best women's road bikes under 500.
With the help of a Schwinn Discover Hybrid, you can use your bike for your daily commute or your daily workout.
The anatomic grips, back sweep handlebars, and rear rack make it perfect for everyday riding. But the 21-speed grip shifter and lightweight frame allow you to transition to the bike trails with ease.
Thanks to the classic Schwinn suspension fork and allow crank, this hybrid bike is the perfect dual-rider for your workday and your workout.
Constructed of a high quality ultra-light weight aluminum frame, the Hiland Mountain Bike allows you to easily transition from trail riding to road biking.
The dual disc brakes and lockout fork can assist when riding downhill or on rough terrain. And you can easily flip a switch to tighten the suspension for uphill riding or riding on paved roads.
And since this bike comes 85% preassembled, you'll be ready to ride in no time.

Comfort is an important feature of any road bike for women. And you won't find a more comfortable seat than the richly padded saddle with dual springs on the Royce Union Comfort Bike.
In addition to the plush seat, the bike also features soft Kraton grips and comfortable, responsive pedals, ensuring a smooth ride every time.
But comfort isn't the only plus for this road bike – the front suspension fork provides a solid performance on most surfaces. And the complete Shimano drivetrain gives smooth transitions between gears.
You'll love the speed and handling that comes with the Vilano Shadow road bike. Perfect for entry level riders, this road-friendly bike can easily work for commuting or rigorous workouts.
The break lever integrated shifters and lightweight frame are specially designed for road riding, offering precise braking and shifting on inclines and flat roadways.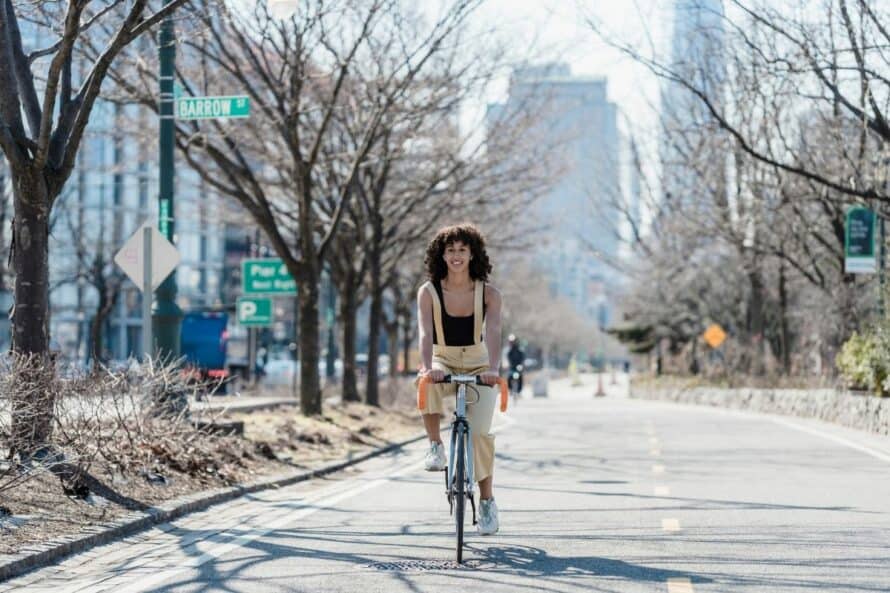 Where Should You Buy a Women's Road Bike?
While Amazon is super convenient, you may be wondering — is it the best place to buy your bike? If you're looking for ease and convenience — absolutely! Because each bike is so specific, it may be hard to find it 2nd hand. However, you could check online market places. The top 3 to check are eBay, Facebook's Marketplace, and Craigslist.
We choose to buy from Amazon though just because they have such a great selection, you know the bike is new, and a lot of the time they have free returns if something doesn't work out.
To Recap
Road cycling can transform your commute and also help you stay active for a long time because it's a low-impact cardio workout. You can also find the right bike for your budget now more than ever!
We really love these 9 best women's road bikes under $500. Each one is reliable, has great reviews, and some of the best features on the market — making each one a great value!
You may also like our meal plans or our Stationary MYX II Bike Review!