Fall Bucket List – 13 Things You'll Love Doing This Autumn
This post may contain affiliate links. All opinions shared are my own. As an Amazon Associate I earn from qualifying purchases. Click to view our full disclosure.
This time of year when the air is crisp, we just want to break out all things pumpkin! We love the changing of the leaves and having college football on in the background while we make a big bowl of chili. We started doing a Fall bucket list to keep us from falling into a routine with school starting back a few years ago.
It's been so much fun planning and making new memories each year!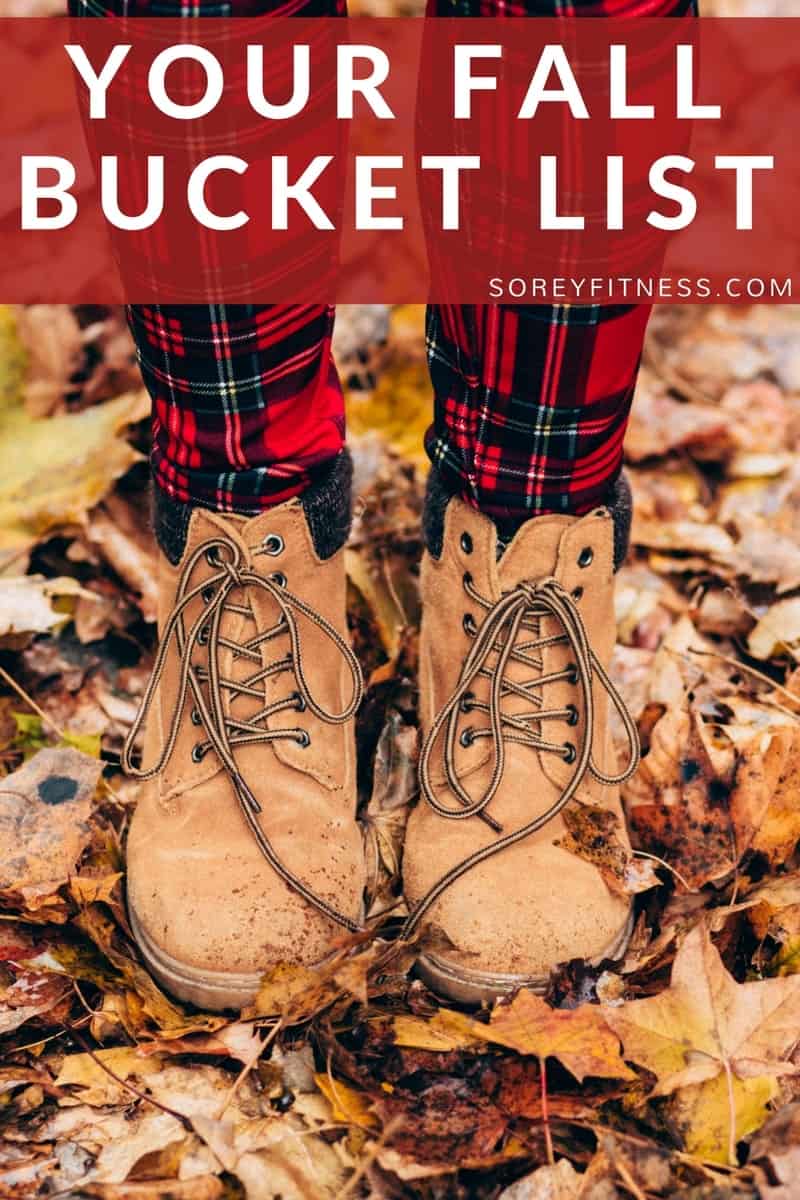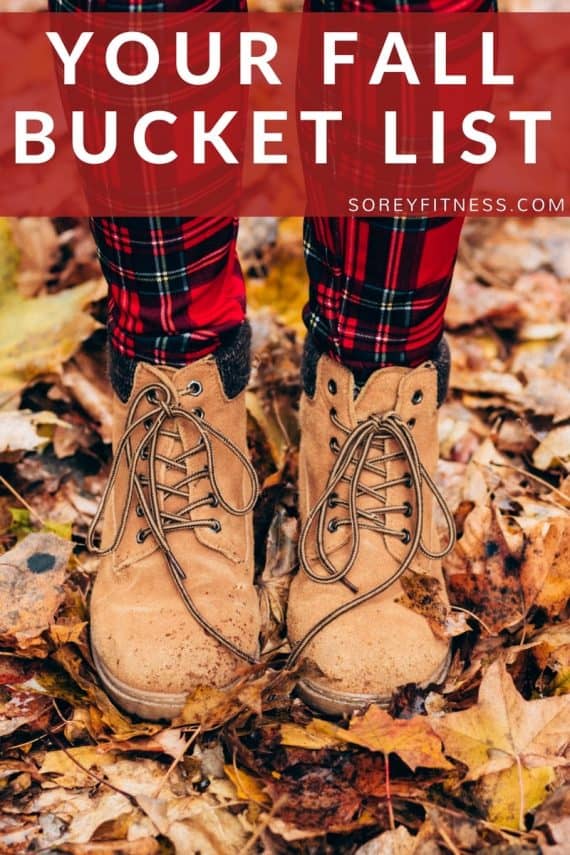 A Fall Bucket List You'll Love Trying Out
1. Tailgate and Root For Your Favorite Football Team
Jake and I are Alabama fans, and we went to a game a few months after dating. I had never been to a college game before and had so much fun! The energy and fans were amazing.
We've already got a date planned out for a road trip and game this year! Even if you're not a hardcore fan of a team, going to a local high school football game is a great way to have some fun together.
2. Get Scared at a Haunted House
In high school, a haunted house was the perfect way to hold hands with the guy you were crushing on. Why not bring back those memories with a creepy date night?
It's surprisingly a really fun girls night out too! We went to one in college with our sorority and had an absolute blast!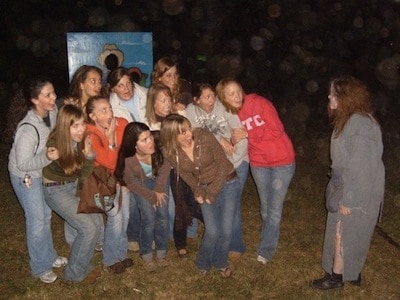 3. Fill Your Kitchen with Pumpkin Spice
We aren't bakers by any means, but we do break out the pumpkin recipes this time of year! Grab our favorite, simple Fall recipes here.
4. Pick Apples
We had such a blast finding a local orchard and filling our basket with apples. We enjoyed sipping on cider and hunting down the perfectly ripe apple!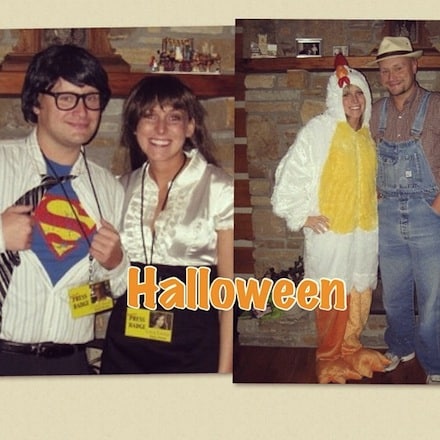 5. Find the perfect Halloween costume
The past two years we have had couple-themed costumes, and it's been an absolute blast! From the planning to showing up in sync, we've had a blast!
The first year we were Lois and Clark, and last year we were a farmer and his chick. I've had the chicken costume for years after finding it on sale at Target. I loved it, but it was SO hot. I think it will be perfect when I have kids and trick-or-treat with them though.
Any ideas for this year?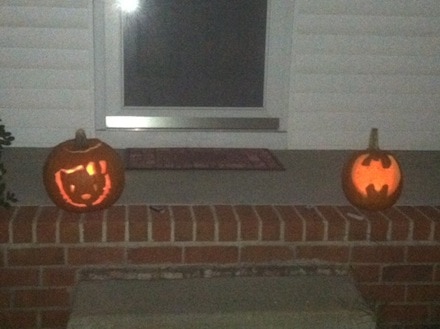 6. Go to a Pumpkin Patch & Carve Pumpkins
Jake and I decided to carve pumpkins together one night. Just us, no kids. I hadn't tried it in years, but as an adult, it was still fun. Plus, it's a little easier using a real knife nowadays versus those crazy pumpkin kits.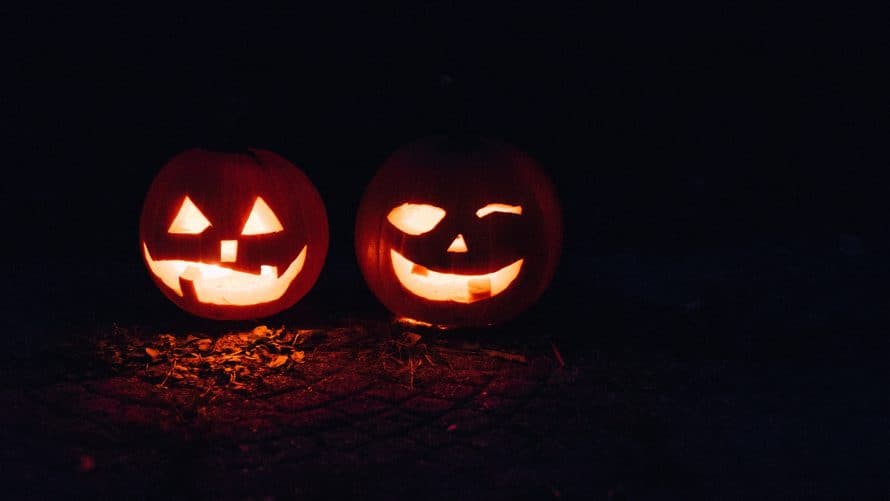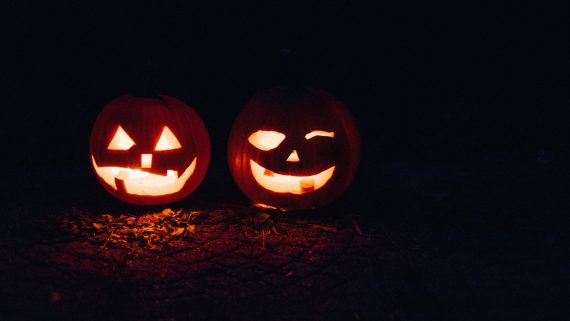 7. Go for a Drive & Sip on Cider
Just heading out to Starbucks for a Caramel Apple Cider can make your day feel a little more special. Enjoy the change in the leaves and take the afternoon just to enjoy.
8. Go to the Drive-in
Most people go to the drive-in the summer, but it is hot and crowded.
I love going in September or October because you can cuddle under a blanket and sit in the front row.
9. Look at the Stars
Tennessee summers' are always humid, and the stars can't be seen as well as they can be in the fall. I am always surpised by how clear and beautiful the stars are, especially in the fall.
I am always surprised by how clear and beautiful the stars are, especially in the fall.
10. Shop for 2 Fall Fashion Staples
Finding those perfect pair of jeans or riding boots can change your entire wardrobe for the fall. Why not find 2 staple pieces now and enjoy them all season?
11. Read 2 Books
Use the back to school season as a way to try something new as well! Try out 2 new books you've never read before, or try Amazon's Audible for free (affiliate) to listen to an audio book in the car versus all of those radio commercials.
12. Try one New Recipe
If you did decide to pick apples or carve pumpkins, you have the leftovers all ready to go! Why not turn them into something delicious! We dish up our favorite Pumpkin recipes all season and also love trying new chili's out!
13. Decorate
This is the first year I've decorated for Fall, and I can't tell you how much I've enjoyed seeing those little reminders around the house. It doesn't have to be expensive either – just a few pops of orange and yellow can get you in the Fall spirit!
14. Host a Halloween Movie Night
Call up your friends and host a Halloween Movie Night for some new Fall memories! We love doing this each year because it's so easy to do, budget-friendly, and so much fun!
What's on your Fall Bucket List?
If you enjoyed our Fall bucket list post, also check out our fall date ideas, pumpkin recipes, and favorite Halloween snacks for more fun!