Perioral Dermatitis: Fiona's Story & Tips
This post may contain affiliate links. All opinions shared are my own. As an Amazon Associate I earn from qualifying purchases. Click to view our full disclosure.
I met Fiona through Youtube after posting 3 videos on perioral dermatitis.
Just like me, she suffers from it and was nice enough to share her story….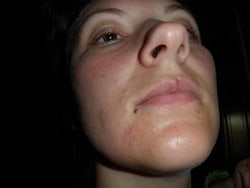 I've shared a few posts on Perioral Dermatitis before you might also like:
Here's Fiona's Experience and Tips
My name is Fiona; I'm 33 yrs old. I have been living with perioral dermatitis for 4 months now. I just wanted to share my experience with others, and explain what I have done so far to help cure my perioral dermatitis.
My perioral dermatitis started out as a small breakout on the right side of my chin. I thought it was just a regular blemish, a couple small reddish bumps.
After 2 weeks of dabbing on acne medication, I noticed it was getting worse and had spread to the other side of chin and above my lip. This had never happened to me before.
I went to college and studied skin care; I am also a makeup artist. I know how to take care of my skin, so what was this stuff on my chin??? I had also noticed some tiny blisters with clear fluid in them.
Time to go to the Doctor.
Well, my doctor had no idea what it was and prescribed a cream that irritated the rash and made it worse. I later found out it had some cortisone in it…not good. I stopped the cream and made a dermatologist appointment.
I also
Googled
around and figured out on my own that it was perioral dermatitis. The dermatologist confirmed this and gave me 10 weeks of Tetracycline.
He warned that my face would clear in 2-3 weeks, but that if I didn't finish the whole antibiotic (at least 12 weeks) it would be more likely to come back.
And then I got the really scary news, the dermatologist said that the tetracycline wouldn't work for everybody. If it didn't completely clear I would have to take 1 Tetracycline a day to keep the rash under control.
In 2 weeks my perioral dermatitis was dramatically better. I could still see some redness and scarring, but nobody else seemed to notice it. I thought I was going to be one of the lucky ones that gets rid of it and never looks back, but a couple day's later I got some red bumps and a blister.
This had me in tears. I knew from then on not to get my hopes up. I have had a couple of crying spurts over this rash; it is really hard to deal with emotionally. Will I have this forever? Will the itching ever go away?
I am 8 weeks into my tetracycline treatment.
I have found some great things to do at home to help my perioral dermatitis (pod) heal and look it's best, but most importantly I don't stress as much over it. My chin looks really good right now. Nobody even notices there is something there unless I make them look really close.
Tips I've Learned and Used with Success Fighting Perioral Dermatitis
1.) I don't use any products with sodium laureth sulphate (SLS).
2.) I use a
natural toothpaste
that is not only SLS free but does not have fluoride either.
3.) I wash my chin gently with warm water only. I use a gentle cleanser called Spectro gel everywhere else.
4.) I avoid the use of any cosmetics (I know that is really hard to do, but my dermatologist said to use nothing on the affected area).
3.) I take zinc (thanks, Kalee) and a probiotic. I also use a topical cream called Clindoxl which is a mix of Clindamycin and Benzoyl Peroxide. If a bump comes up I just dot it on and it really helps.
I hope this helps! I have another dermatologist appointment coming up, and if I learn anything new I will share it for sure!
Thank you again, Fiona, for sharing your story. If you have perioral dermatitis and want to share a tip please don't hesitate to email me. :)