My perioral dermatitis started at 21 years old during my senior year of college when I was really stressed out.
Through different medication and lifestyle changes, I've managed to get rid of it for the most part. I will still have flare-ups, but overall it's so much better.
Beyond anything else, I think stress and hormones (birth control) cause my flares; however, I have found certain products either help or hurt it.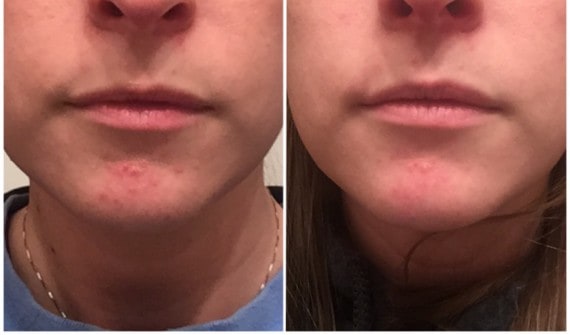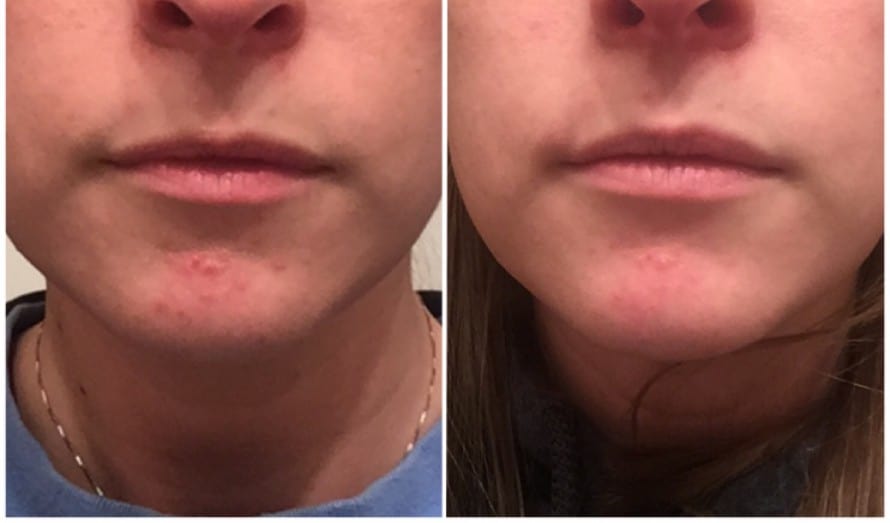 This post contains affiliate links to Amazon. I am not a doctor and do not have a medical certification. I am only sharing my story.
This is a mild breakout I had on the left. The Right side is after taking 2 tablespoons of Apple Cider Vinegar with the Mother for 2 days and washing my face with coconut oil.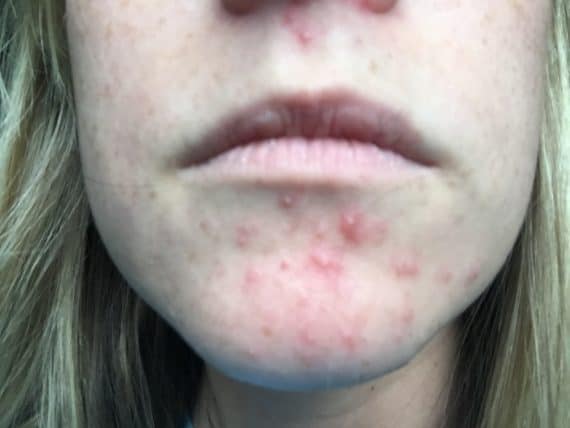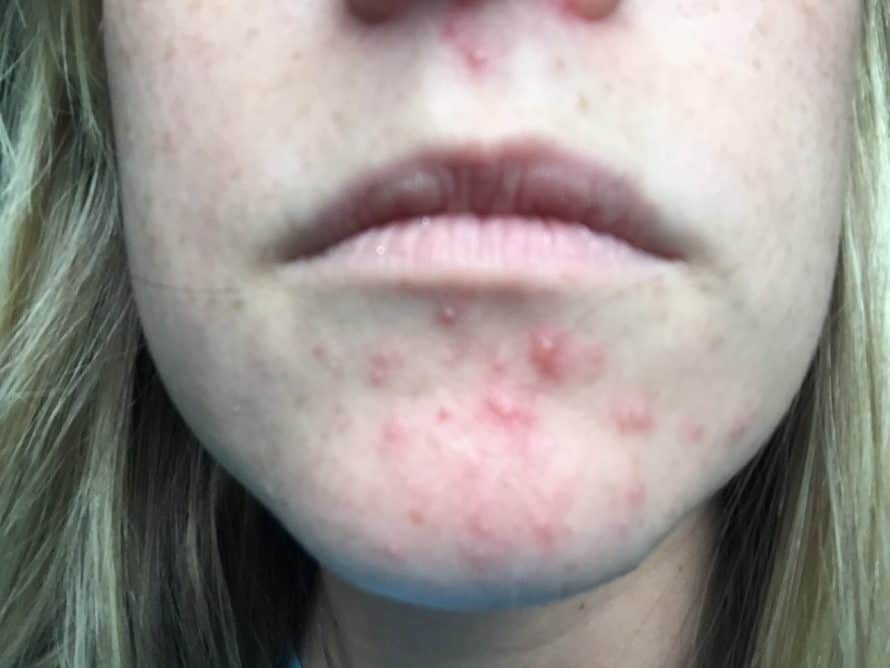 Before taking action on my dermatitis, this is what it looked like.
Not every trigger will be a trigger for everyone, but the five ingredients below are common triggers for people.
I now avoid:
Sodium Lauryl Sulfate (SLS)- This chemical is heavily restricted in Canada and Europe; however, it is even on baby products in the U.S.
Parabens – Parabens are known to disrupt the body's hormones and endocrine system. They are also very harsh irritants when applied to the skin. These chemicals are found in most cosmetics and cleansers.
Whiteners and Bleaches – Skip these all together! If it bleaches, it has to be harsh.
Flouride – Jason's toothpaste is a great alternative.
Cinnamon and Spicy Foods 
View my list of sulfate-free and paraben-free products
Favorite Products for My Perioral Dermatitis
If you have oily skin, you may like the daily moisturizer instead. It also is very soft, nongreasy, and helps soothe irritated skin.
I also use the eye cream.
This cleanser is awesome. You can feel how gentle and creamy it is before you even apply it to your face. It is very gentle, and I even put it on my chin. It's also affordable and has helped the rest of my face stay clear.
My perioral dermatitis is around my chin and lips when it flares so a safe chapstick is a must. Kiss My Face's goes on well, is not too greasy or too hard, and it tastes good.
I love Skinceutical's Phyto. I'm not an affiliate, but I use it. I do my cleanser, then this serum, and then the blueberry moisturizer and eye cream.
Please note brands like Simple or Cetaphil are NOT completely safe or free of harsh ingredients. They brand themselves as products for sensitive skin, but they contain sulfates and/or parabens.
I struggle with finding a sunscreen I like and trust without so many chemicals. I like to make my own using this recipe, but if I can't I use La Roche-Posay on my face.
Make Up
I wear makeup 3-5 times a week. I haven't found specific things work best for all people. I would just recommend choosing the non-SLS and paraben products.
I love Tarte makeup as a rule because it doesn't contain parabens or SLS. It's available at Sephora.
The only thing I will recommend is a concealer. It's awesome when you have a breakout.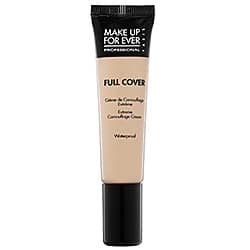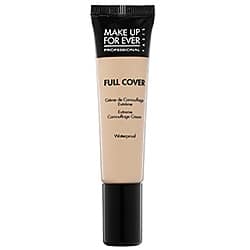 I LOVE this stuff. If nothing else, this is a must-have. It builds easily, and it even lasts pretty well on the bridge of my nose which gets very red. I put it on before my foundation on the red spots, let it dry, apply foundation, and pat with powder after the foundation is dry. (If you do it before it is dry, it will look cakey).
Just a note about Rose Water products:
To freshen makeup put distilled water in a spray bottle–resist the urge to try a rose water but if you do check the ingredients so many have parabens and sulfates and are over $30
Best Hair Products for Perioral Dermatitis
You may think hair products that are safe for perioral dermatitis is overboard, but these products come in close contact with our face multiple times each week. With how easy a flare up can happen, I try not to risk anything.
Best Shampoo and Conditioner – Alterna 
This stuff makes my hair so soft and healthy. I have been growing it out for 2 years, and I put this in it every time I wash my hair.
Other Items for Perioral Dermatitis
Finding a toothpaste that met the requirements was so hard. Even Colgate's Cavity Protection that seems so bare-minimum had Sodium Lauryl Sulfate in it! "Organic" brands also had whiteners or sodium lauryl sulfate too! Crazy! Kiss My Face and Jason's have no additives, fluoride or whiteners. The Spearmint and cool mint are easier on the skin than peppermint as well.
Kiss My Face and Jason's have no additives, fluoride or whiteners. The Spearmint and cool mint are easier on the skin than peppermint as well.
Again, the more moisturized by natural products I am, the better I feel. This lotion lasts a long time, keeps me moisturized, has a very light smell, and is not greasy. It is also cheap!
This stuff is SO messy, but it's free of harsh chemicals and smells. I'd love to find another brand!
Hand Soap – I use Honest Company's foaming soap. I don't like many of their other products though.
Also, I love Apple Cider and Coconut Oil.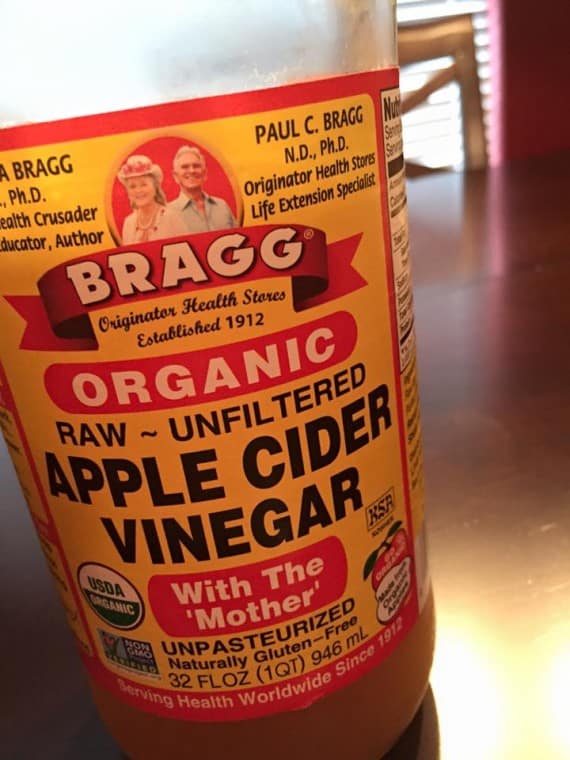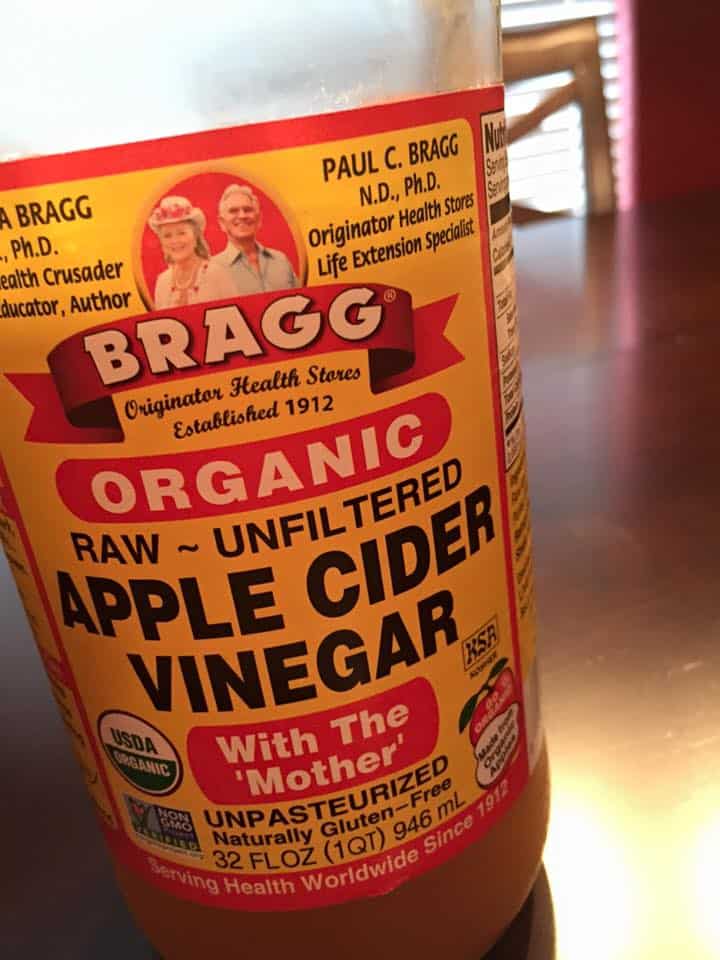 My top two products are unconventional, but if you are to search Perioral Dermatitis you'll notice several people love them too.
You can apply 1 part ACV with 1 part water to the affected area. Wash after 10 minutes.
You can also drink the ACV. I do 2 tablespoons straight and then have a little honey and drink approximately 8 ounces of water to wash it down.
I also will wash my face with Coconut Oil. It will be creamy to start, but if you rub it with your fingers it will turn to liquid. I apply all over and then wash off with a wash washcloth.
I hope this extensive product guide will help anyone with Perioral Dermatitis or even just sensitive skin. These products are the most natural, safe products I have found in the past 3 years. A lot of them are also relatively inexpensive (thank goodness!) If you have any more you'd like to add, please email me.
 Did this help you?
Remember even the "organic" or "sensitive" products can contain sodium lauryl sulfate or parabens. The price, marketing, and the brand do not matter. Always read the labels especially if you have perioral dermatitis.
Other Tips to Treating Perioral Dermatitis (Under $20 too!)
1. Take Zinc Daily (Less than a year at a time) –  The Mayo Clinic says you can take 40-220mg for up to 6 months to treat skin conditions such as Eczema. Here is the Zinc I use, but it can be any over-the-counter Zinc.
2. Use pure tea tree oil diluted with a little water on the bumps when they are at the blister stage. This seems to help dry them out.
3. I just started using Manuka honey (12+) on the infected areas. Because of its anti-bacterial and anti-inflammatory properties, it seems to be helping soothe and moisturize the inflamed areas. Vitamin E has also been helpful in the past for the same reasons.
4.  Apple cider vinegar may be beneficial for perioral dermatitis so I use it as natural astringent on my face every night after I cleanse. I buy the Bragg's brand.
5. Also, I recently found a woman on Etsy.com that makes and sells all natural, organic body care with zinc in it! Great prices too. My sister and I just ordered the zinc blemish stick and Eczema zinc soap bar. I'm hoping it will help to use the zinc topically in addition to the supplement.
Two Notes and Updates:
I have found I have a sensitivity to almonds, and eating them will make my skin flare up.
Also, I think my birth control affected it, but every doctor has said it hasn't.
What has helped your perioral dermatitis? I'd love to know your experiences below!