21 Best Low Sugar Starbucks Drinks to Order Today
This post may contain affiliate links. All opinions shared are my own. As an Amazon Associate I earn from qualifying purchases. Click to view our full disclosure.
We've found low sugar Starbucks drinks that allow you to get in your daily dose of caffeine without exceeding your calorie count or consuming a dozen grams of sugar! Whether you're looking for coffee or tea drinks, you're sure to find a great option on this list! Many of these healthier options also contain zero calories!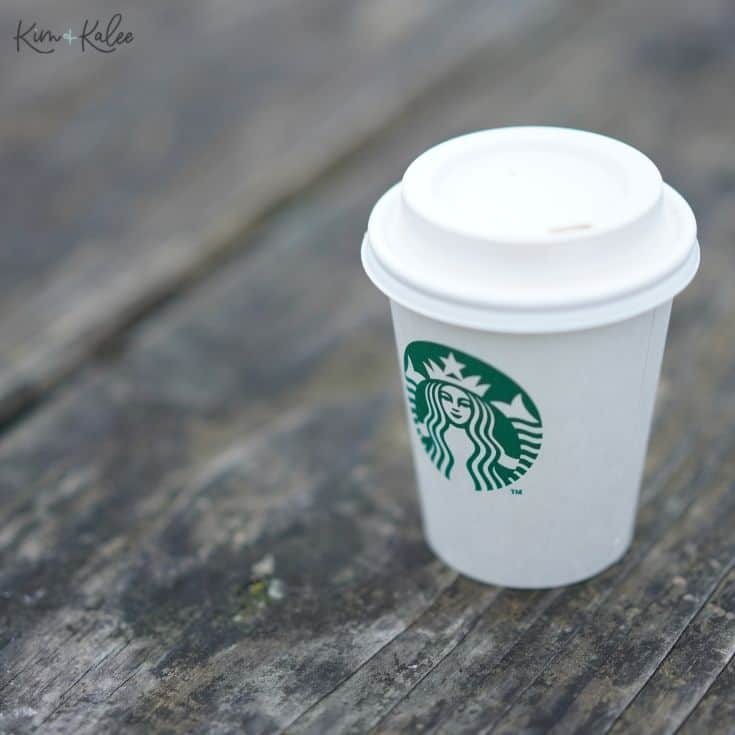 Whether you're on the keto diet or just watching your sugar intake, finding low sugar options at your favorite restaurants is essential. And when it comes to ordering sugar-free at Starbucks, you sometimes have to get a little creative!
While most Starbucks drinks are filled with sugar, there are a handful of delicious options you can enjoy without worrying about the carbs. Try these low sugar Starbucks drinks to get your caffeine fix without the guilt.
We also have a guide specifically for keto Starbucks drinks you might like!

Sugar Free Starbucks Drinks
Before you order your favorite coffee or tea at Starbucks, there are a few things to remember. These ordering tips will ensure you get a delicious, low carb drink every time you place an order.
3 Tips to Ordering Low Sugar Options
Skinny isn't low carb. While Starbucks offers skinny options for some of their popular drinks, these recipes aren't low-carb. Skinny versions are typically made with nonfat milk, which still contains sugar and carbohydrates. Instead, make sure to replace the milk in your favorite drink with low-carb options like cream or almond milk.
Skip the whip. Make sure to say "no" to whipped cream when you order your drink. The topping is full of sugar and carbs.
Sugar-free syrup still has carbs. Although the sugar free vanilla syrup at Starbucks doesn't contain any sugar, it still has one net carb per pump. When ordering large drinks, the recipe often contains up to four pumps of syrup, so keep this in mind as you're ordering.
Watch your calories. If you're counting calories, opt for skim milk or milk alternatives with fewer calories.
Milk Options
You can choose different milks, and they can greatly affect the amount of sugar and calories you consume. Below are the calorie counts for each option based on 4 ounces.
Almond Milk – 30 Calories
Nonfat Milk – 40 Calories
Coconut Milk – 40 Calories
Soy Milk – 65 Calories
2% Milk – 65 Calories
Oatmilk – 70 Calories
Whole Milk – 75 Calories
Cream – 410 Calories
Brewed Coffee
You can enjoy a standard grande size or even a venti cup of Starbucks coffee when you skip the add-ons and drink it black!
When ordering black coffee, you can choose from:
Caffè Americano – espresso shots topped with hot water to create a light layer of cream on top
Blonde roast – lightly roasted coffee with a soft, mellow flavor
Dark roast coffee – a full-bodied coffee with a bold, robust flavor
Pike Place roast – a smooth, well-rounded blend of Latin American coffees with flavors of chocolate and toasted nuts
Decaf Pike Place roast – a decaffeinated version of the Pike Place coffee blend
Espresso – a strong coffee with a caramel sweetness
Clover brewed coffee – specialty brewed coffee in a variety of roasts, including Vietnam Da Lat, Rwanda Hingakawa, Bolivia Sol de la Manana, Costa Rica Naranjo, and Hawai'i Ka'u.
Cold brew – small batch cold brewed coffee steeped in water for 20 hours
Nitro coffee cold brew – classic cold brew coffee infused with nitrogen to create a sweet flavor without the need for sugar
Iced coffee – Caffe Americano, espresso, or traditional roasted coffee served over ice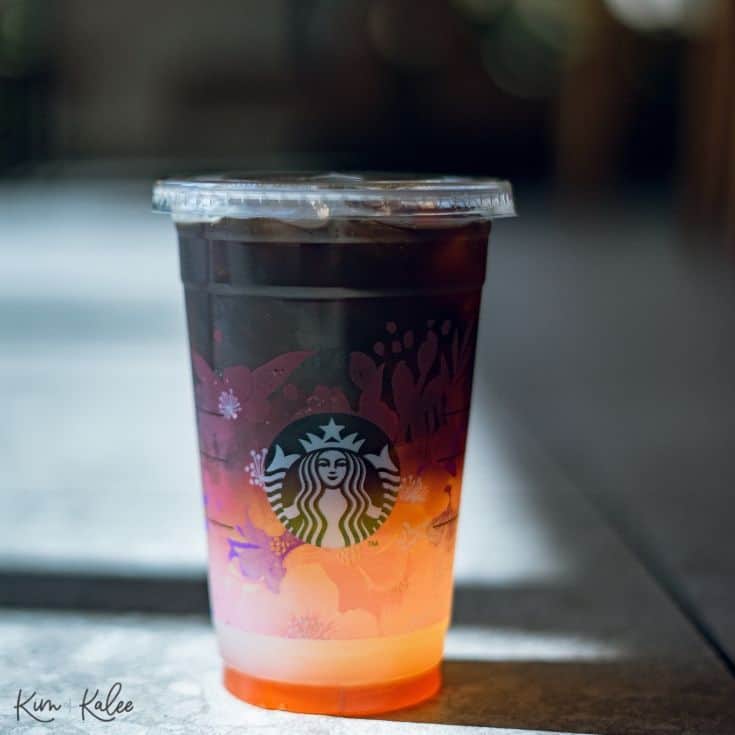 Hot and Iced Teas
In addition to black coffee, you can also choose from a variety of hot or iced teas at Starbucks. All teas are made to order and when enjoyed without sugar or milk, they are naturally sugar free.
Starbucks' menu includes four different types of tea to choose from:
Chai tea – black tea infused with clove, cardamom, cinnamon, and ginger.
Black tea – in two varieties, including Earl Grey and Royal English breakfast tea.
Green tea – in two sugar free varieties, Emperor's Clouds & Mist and Jade Citrus Mint
Herbal tea – in two varieties, mint majesty with

lemon verbena

and peach tranquility
Iced Passion Tango Tea
Sugar Free Add-ins
While ordering a black coffee or hot tea is the best option when you're hoping to avoid sugar at Starbucks, there are a few add-ins you can mix in to enhance the flavor if you're not a fan of plain coffee.
These mix-ins are a great choice when watching your sugar and carbs:
Sweet'N Low
Equal
Splenda
Stevia blend
Half & half
Heavy cream
Almond milk
Sugar free vanilla syrup
While many of these contain (or are) artificial sweeteners, they can fit into a healthy lifestyle and help curb your sweet tooth!
Sugar Free Specialty Drinks at Starbucks
While a hot cup of black coffee might be the best option when you're watching your carbs, there's no reason you can't enjoy a special drink on occasion.
While most Starbucks menu items aren't low carb or keto, you can adjust the ingredients to help reduce the carb count.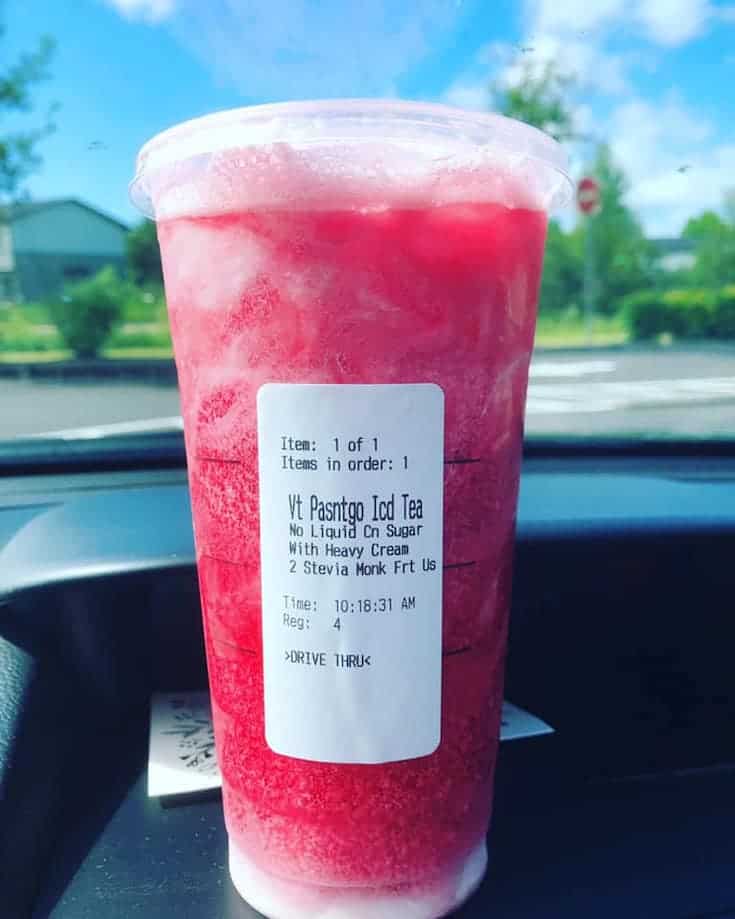 Try these specialty drinks with the included modifications to enjoy a sugar-free coffee at Starbucks:
Skinny Vanilla Latte – Substitute unsweetened almond milk or cream when ordering your skinny latte to reduce the carb count.
Skinny macchiato – You can also enjoy a macchiato at Starbucks by substituting the milk in the skinny version with cream or unsweetened almond milk. It's also a good idea to ask the barista to leave off the caramel drizzle on top.
Cappuccino – With a simple substitution, you can enjoy a

nonfat

cappuccino at Starbucks without the carbs. Just ask for unsweetened almond milk or heavy cream in place of milk.
Flat white – Adjust the ingredients in your flat white to make it keto-friendly by replacing the steamed milk with half heavy cream and half hot water.
Pink drink – With a couple of adjustments, you can enjoy this fun Starbucks drink. Ask for heavy cream and sugar-free vanilla syrup to make this popular drink low carb and sugar-free.
London Fog – Coffee isn't your only option at Starbucks. Enjoy a low-carb London fog tea latte by asking for ¾ hot water and ¼ heavy cream in place of milk and sugar-free vanilla syrup in place of the regular syrup.
Chai Tea Latte – To reduce the sugar and carbs in a chai latte, start by asking the barista for a chai tea bag instead of the chai tea syrup. You'll also need to replace the milk in the latte with heavy cream or unsweetened almond milk.
We hope this list of healthier alternatives will help you whenever you go to Starbucks' stores! Finding low-calorie drinks is one of the easiest ways to stick to your healthy diet!
You may also like: