Factor 75 Review | Find Out How the Keto Meals Taste & Grab a Coupon
This post may contain affiliate links. All opinions shared are my own. As an Amazon Associate I earn from qualifying purchases. Click to view our full disclosure.
Factor 75 is a healthy, fully-prepared meal delivery service that I decided to try out this month. Below, I'll share my personal review of the meals, talk about the cost and how you can save $40 using this link!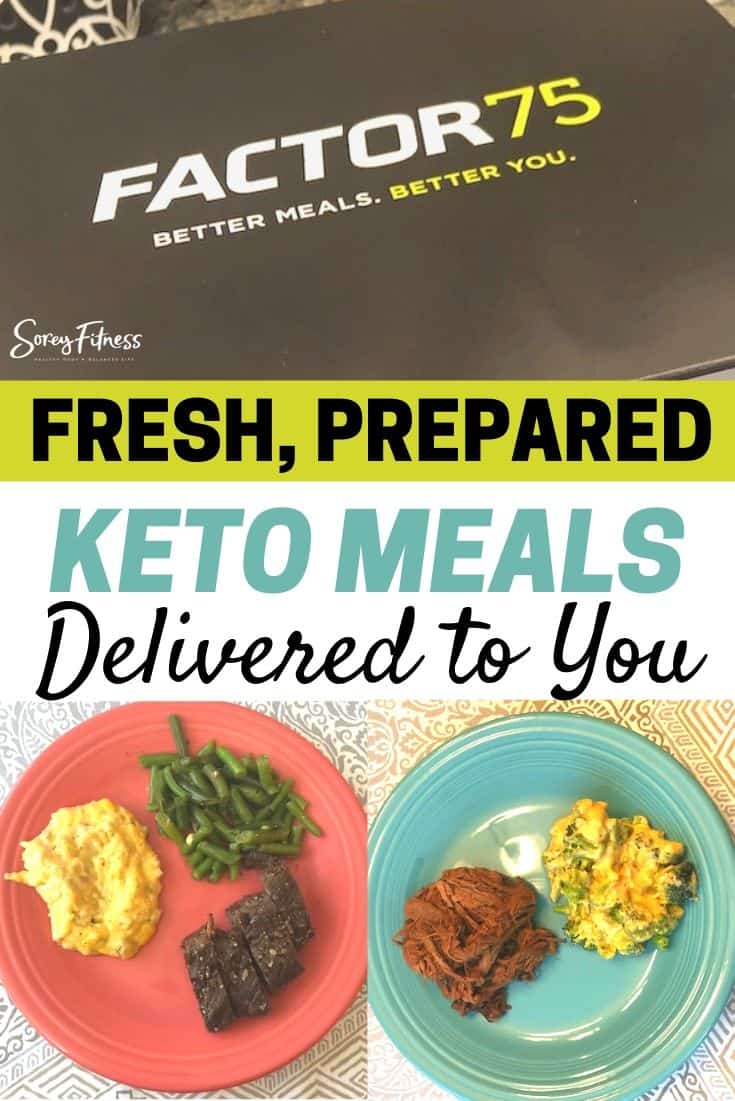 What is Factor 75?
Factor 75 is one of the newest keto-friendly meal delivery services. They create meals each week and ship them to your house.
You can choose your food preferences, and they'll automatically select your meals. If you prefer more control (like me), you can also choose your meals each week.
You can also always skip a week or cancel your subscription right on the website. All of their meals are delivered fresh on ice and never frozen.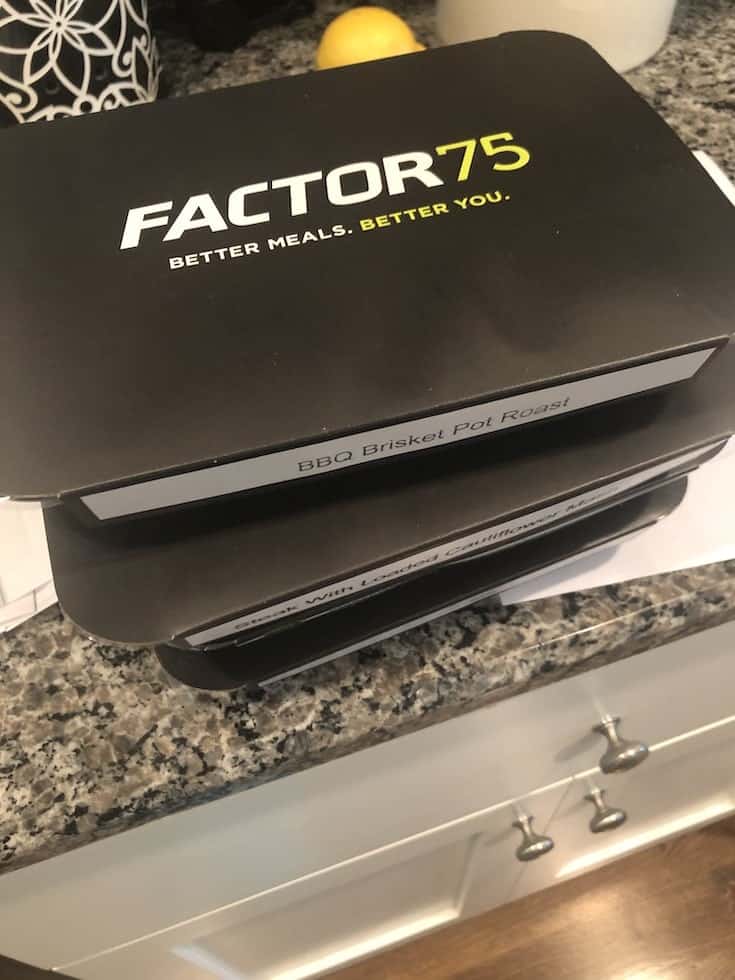 Factor 75 Menu
All of the Factor 75 meals are Gluten-free, Grass-fed Pasture-raised Preservative-Free Antibiotic & Horomone-Free, Soy-Free, and Non-GMO.
They offer 20 breakfasts, lunches, and dinners each week. They also vary up what they have each week, so you'll never get bored.
Factor 75's Menu includes:
Ketogenic Meals
Paleo Meals
Low Carb Meals (<35g)
High Protein Meals (>35g)
Low Calorie Meals (<500 Calories)
Cold Press Juice
Who is it for?
Someone looking for a quick, delicious meal
Anyone who hates cooking but dreads going through a drive-thru
Busy people looking for a way to simplify meal prep
Singles and couples that don't have time to cook
Each meal is around $10 even with the Factor 75 Promo Code so I wouldn't suggest it to large families.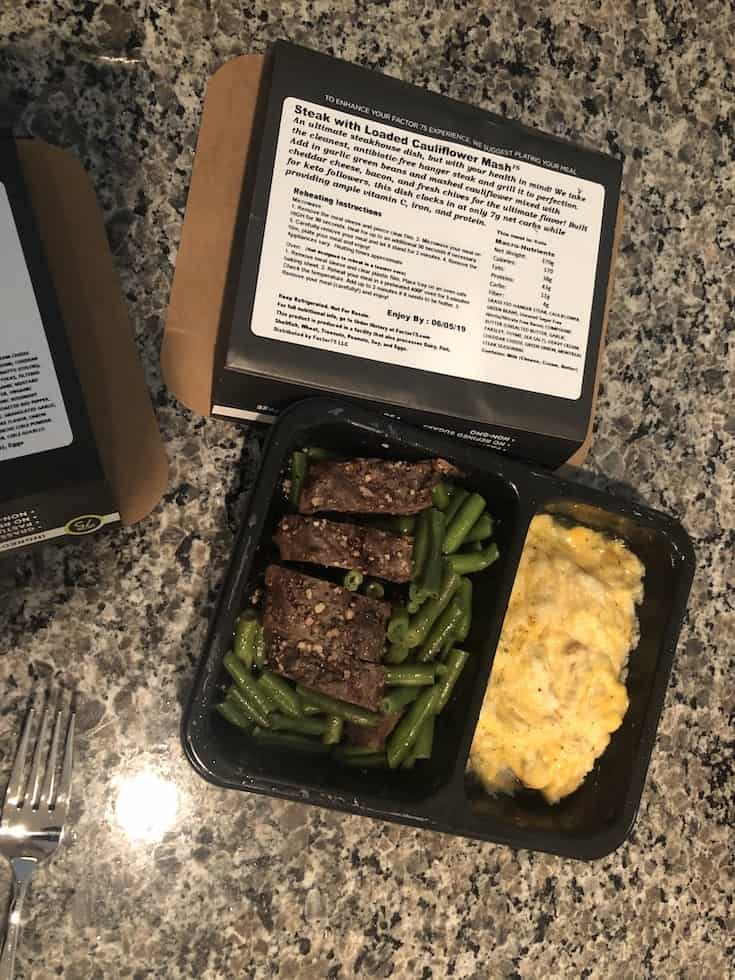 Is Factor 75 Really Keto?
They aren't strictly keto, but they do offer meals that fit into a keto diet. We have been doing the 131 Method, and it's worked great for it!
Factor 75's Keto meals are about 60-80% fat, 20-35% protein, and the rest is carbs.
Out of the keto meals I've tried so far, they have the best sides! I'm in love with the loaded cauliflower!
How Much does Factor 75 Cost?
Right now, Factor 75 meals cost between $11 and $15 per meal depending on how many you order per week. You can also get $20 off your first order.
I started with 4 meals and spent $40. One thing I love about Factor 75's pricing is that you don't pay shipping, and it's shipped Fedex.
I really feel like Factor 75's cost is worth it for what you get.
How do I Cancel Factor 75?
You can cancel right on their website. You see your subscription, and you just go in and pause or cancel. There is no penalty for cancelling.
You will have to cancel before the next order goes through though; this is the rule for all of the meal delivery services I've tried.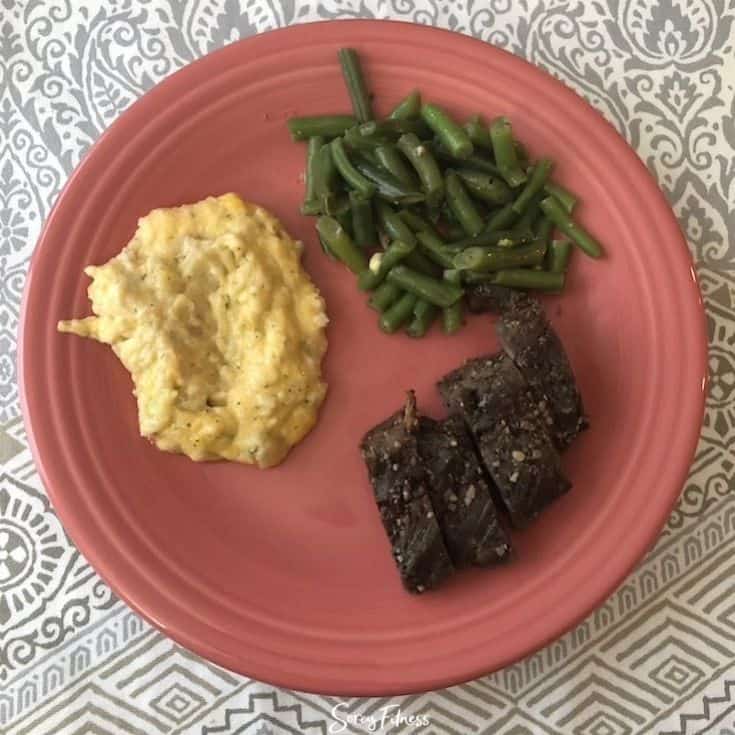 Are Factor 75 Meals Fresh or Frozen?
They're always delivered fresh on ice with insulation around them.
It's about 80-90 degrees in Nashville right now, and the meals are cool but not ice-cold when I got home.
As soon as you get them, you should refrigerate them. They last a week before you need to freeze them, and each meal has an expiration date on the label.
Can You Freeze Factor 75 Meals?
You can freeze the meals if you can't eat them all in 7 days. With that said, they do taste better if you eat them fresh.
Also – keep in mind what you freeze, too. I aim to freeze things like cheesy broccoli versus uncooked greens. I feel like the uncooked stuff just never tastes as good after being frozen.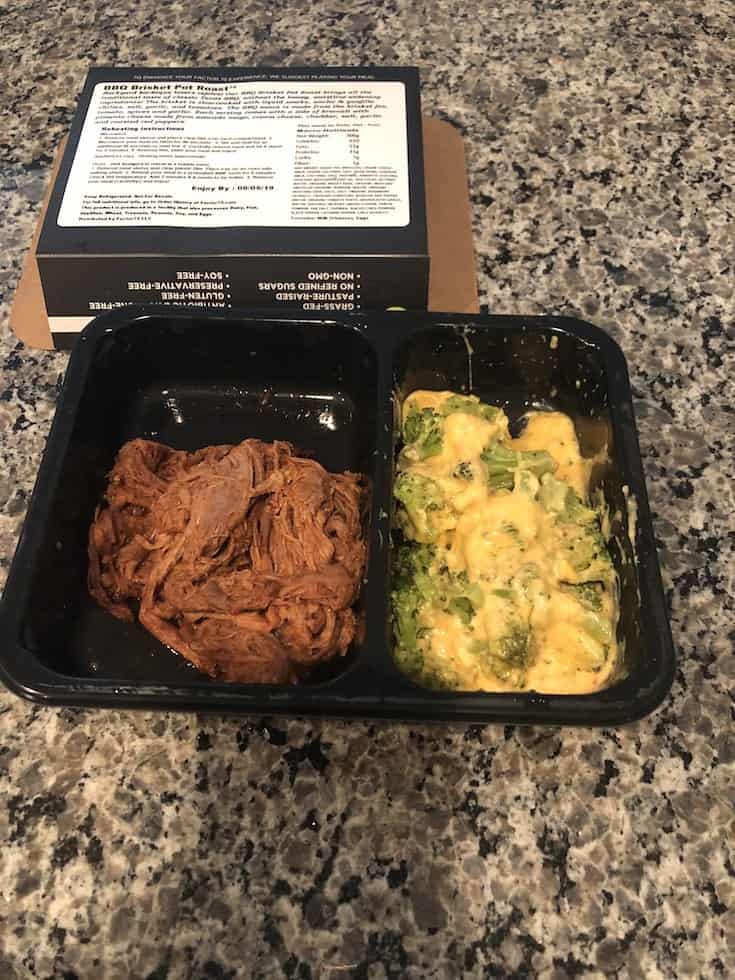 Is Factory 75 Good for Weight Loss?
Just like anything – it can be if you're mindful of it.
Factor 75's meals are portion controlled which is really helpful, and I got really full off of both meals (as did my husband!).
The meals we tried were 500+ calories though which is more than the dinners I normally cook, so it really depends on how much you're eating during the day and how much fuel you need.
I recommend tracking your food in a tracker like MyFitnessPal if you want to lose weight.
My Factor 75 Review
Now that you know a little bit about the service, I want to share my honest Factor 75 Review.
Here's a Quick Preview of my Factor 75 Review
Taste 5/5
Macros & Nutrition 4/5
Ease of Website 2/5
Packaging 3/5
Selection & Customization 2/5
Price 4/5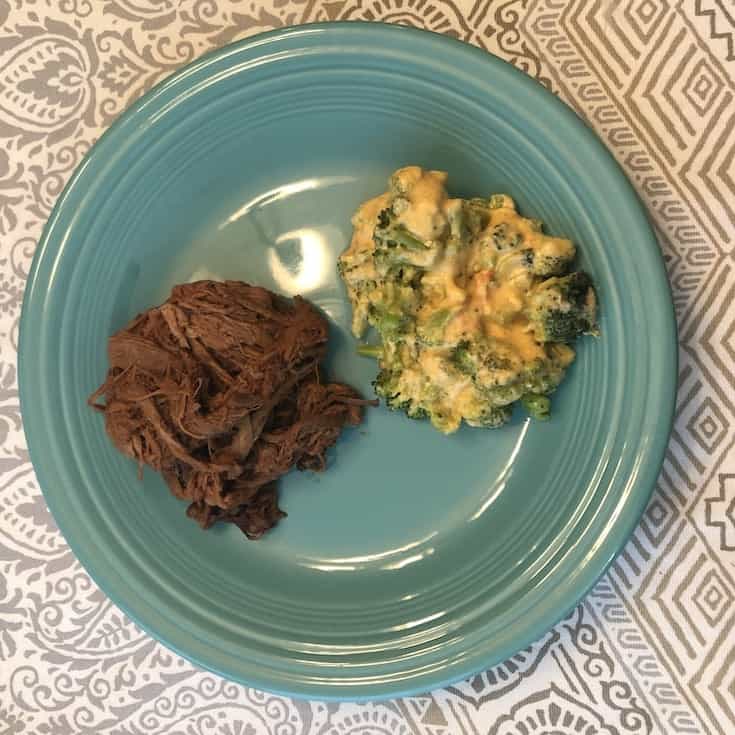 Taste: 5/5
Both Jake and I really enjoyed both of these meals! We had tried other meal delivery services in the past, but the keto meal delivery services were pretty new to us.
Out of the ones we've tried, the Factor 75 meals tasted like something I'd make at home but better.
Mind you – I'm not a chef, but the fact that this tasted better than something I'd make, was ready in under 5 minutes and fit our keto meal plan was amazing!
The meat wasn't chewy and everything tasted really fresh.
Macros & Nutrition: 4/5
I really like that they offer keto-friendly meals, as well as, paleo and low carb ideas. With that said, it would be nice if the "lower calorie" ones were more in the 450 or below range.
Ease of Website: 2/5
This is one of the lowest scores I gave Factor 75, and if it wasn't so easy to pause or cancel I'd have ranked their website even lower.
I almost didn't even order from them because the site wouldn't load. I had seen the BBQ Brisket Pot Roast with Pimento Cheese Broccoli though, and I was a lady on a mission to try it. So I emailed them.
They were super quick to reply, but I had to go in and delete my cookies for it to work. I haven't had to delete them again since then, but the extra step was annoying. The site is also just a bit clunky to work with, too. Maybe as they get bigger, it'll improve.
Packaging: 3.5/5
There packaging survived a Tennessee hot Summer day! So I will give them mad props for that; however, the meals were slightly cold but not chilled.
It was about like when you go to the grocery and then have to run errands, and you worry about your fresh meat getting too warm.
With that said, it has been very hot here lately, and I've had worst packaging from a similar company as well. So unless you live in a really hot area and gone until really late at night – you should be fine!
Selection & Customization: 2/5
While they do have 20 meals to choose from and they update weekly, I would love to see more lunch and dinner options especially since keto is often mixed with intermittent fasting.
After falling in love with both of these meals, I was ready to order more! Unfortunately, neither of these meals were offered again, and the new lunch and dinner options didn't really fit my tastebuds. So I canceled, and I'll order as I see something yummy pop back up.
Facto 75 Cost: 5/5
Any healthy, fully-prepared meal service is going to be about $10-15 a meal. I was really happy with the serving size, and I love that they use quality ingredients.
Plus, I loved the taste and convenience of just warming up dinner. I would definitely order it again when I see meals I like.
Factor 75 Competitors
I've tried a few meal delivery services – both where you cook the meals and where they come prepared.
Check out my reviews of similar companies:
Have you ordered any of the Factor 75 Keto Meals? What did you think?