Veestro Review | Are the Meals Healthy for Weight Loss?
This post may contain affiliate links. All opinions shared are my own. As an Amazon Associate I earn from qualifying purchases. Click to view our full disclosure.
With the dozens of meal delivery services available, we decided to try ready-made plant-based meals! In this Veestro review, we'll share how the meals taste and if the meal service is worth the money!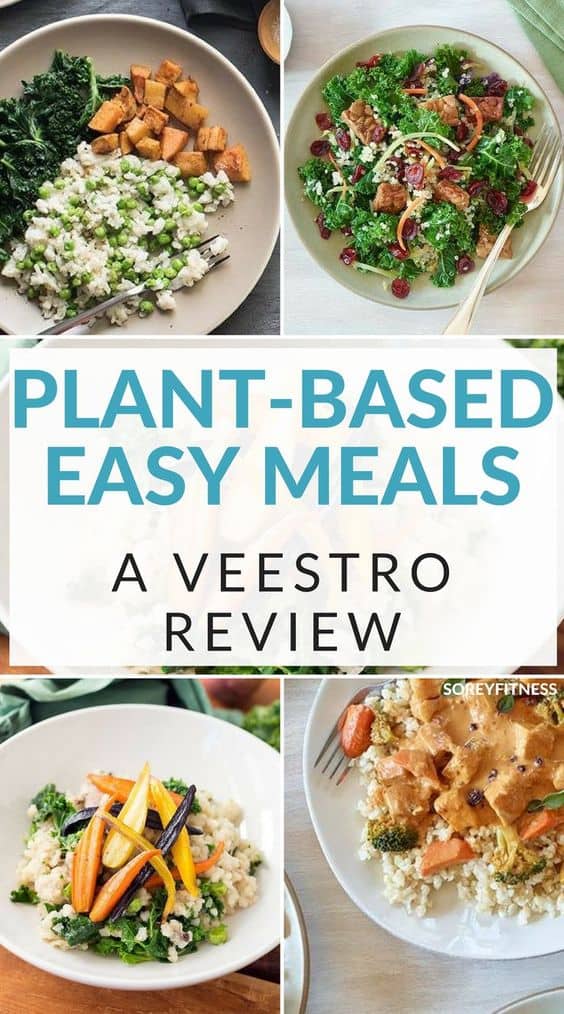 The company offered to send us a week of meals to try in exchange for our review, and let me just say, we were surprised by how much we loved it! The meals are delicious and so convenient! While we'll never be on a fully plant-based diet, we love incorporating these meals a few times a week!

What is Veestro?
Veestro is a vegan meal delivery service offering organic, non-GMO meals made with fresh ingredients. You can customize a meal plan based on your tastes, preferences, and food sensitivities. They have high-protein, gluten-free, low-calorie, nut-free, soy-free, and kosher options to make healthy eating habits easy!
We chose their weight loss plan, but you can also do an a la carte option for your weekly orders. It's also free to customize, pause, or cancel your subscription service at any time in the United States. Out of the meal services we've tried, we have to say these healthy meals are delicious!
How Veestro Works
You pick out your plan or meals online.
They ship it to you in a eco-friendly package including things to keep your meals cold.
You just unpack the box, heat the meal up, and enjoy!
No cooking required!

Who Should Try Veestro?
There are so many options with Veestro! You can choose just a few meals or get a full meal plan sent to you!
We think you'll love Veestro if, you're
looking for fast, healthy options.
cooking for just 1 person and don't like leftovers.
in a small area where unique, yummy meals aren't readily available.
dreading grocery shopping or cooking.
a fan of packaged food but know you need a healthier alternative.
looking to make your meals more adventurous!
a newlywed looking for simple options.
a busy parent looking for healthy alternatives for their family.

Why Veestro Over Other Companies?
It includes fully-prepped meals! You don't have to put it together!
Each option is created by a chef and tastes yummy!
They use organic ingredients.
Gluten-Free options are available.
They use eco-friendly options for their packaging and products.
Each meal is plant-based giving you nutrition & health benefits!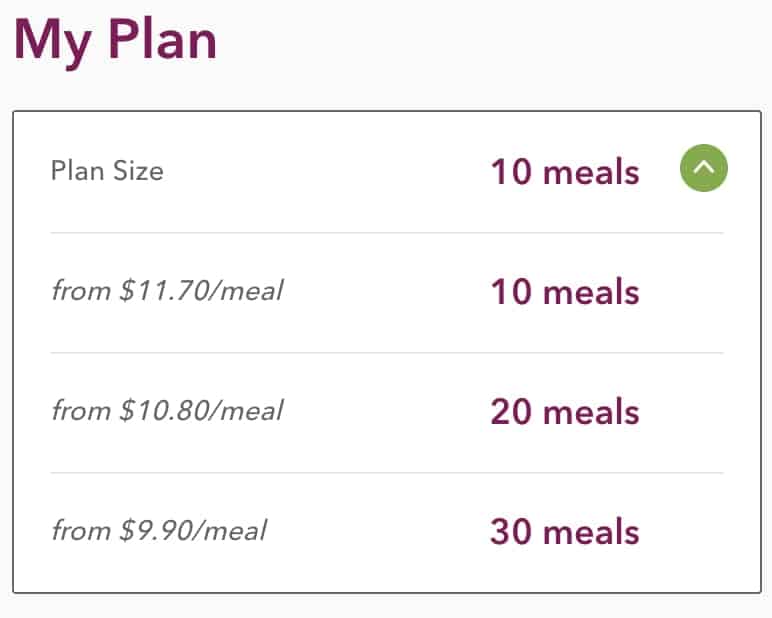 How Much does Veestro cost?
Depending on the meal plan and number of meals you pick, Veestro meals range from $9 to $12 per meal.
Veestro offers 2 meal options: A La Carte or their Weight Loss Meal Plan.
We recommend the A La Carte option for one-time orders. This will allow you to pick out the meals from the Veetstro menu you feel like you'll like the best.
If your goal is weight loss, we recommend choosing the Weight Loss Meal Plans since their specifically designed to fit your goal. You also get free shipping with any of the weight loss plans.

Is it worth it?
For us, Veestro's meals were well worth the cost. While you could go shopping and prepare the meal, it would take time to go shop and cook the meals. Plus, these ingredients are non-GMO and over 96% of the ingredients are organic.
We also aren't familiar with vegan cooking – so it's really nice to know we're getting in my plant-based foods, as well as, our protein!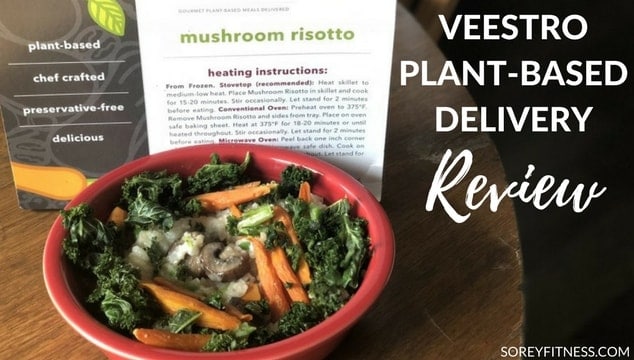 Are Veestro meals healthy?
In our opinion, Veestro is the perfect option for anyone looking for healthy meals! The low calorie and high protein options are great for weight loss as well!
Shipping & Delivery Details
The best way to find out your delivery date is to check out Veestro's delivery times page. It has shipping and delivery times, and the day of the week you can expect your food to arrive. You don't have to be home in order for the food to be left for you.
Are Veestro meals frozen?
Yes, your meals will arrive in compostable carton trays. They'll be frozen and in dry ice. You can put the meals in your freezer for up to 8 weeks or in your refrigerator for 3-5 days.
We typically store ours in the freezer except for 1-2 days worth of meals.

How to Get Started
If you wanted to try the meals, you'd just go to Veestro's Website, choose either the A La Carte option or the Weight Loss Goals Plan. Then, you can choose the number of meals and dietary preferences you have.
Once you've picked out your meals, you'll be given the option to subscribe and get a discount or do a one-time order. Then you just check out and wait for you delicious dishes to show up!

Our Personal Veestro Review
Before finding meal delivery services, I had become dependent on Lean Cuisines. They weren't the healthiest or tastiest meals, but they were easy and portion controlled.
Then I saw Veestro. I loved the idea of eating fresh, plant-based meals, and I immediately ordered.
I was so excited that the meals were also completely prepared! All I had to do was heat it up and enjoy!
Veestro's Menu
They have so many different dishes to pick from! The first time I ordered I chose their Weight Loss Plan kind of like a starter pack. After I liked those meals, I started playing with the A La Carte Menu to include some of my personal favorites! (I'll be the first to say, I never thought I'd enjoy vegan food so much!)
My Favorite Meals & Customer Favorites
chick'n nuggets
chick'n quesadilla
breakfast burrito
thai chick'n stew
golden chickpea stew
soba noodles in peanut sauce
moroccan melange


The Thai Chik'n Stew was my favorite meal. I love that it didn't leave an after taste, and the "chick'n" actually tasted like chicken!! No!! Even better than that!! It tasted like GRILLED chicken!!! YUM!! This Thai Chik'n Stew is definitely a winner in my book!!
Here's what it looked like all stirred up: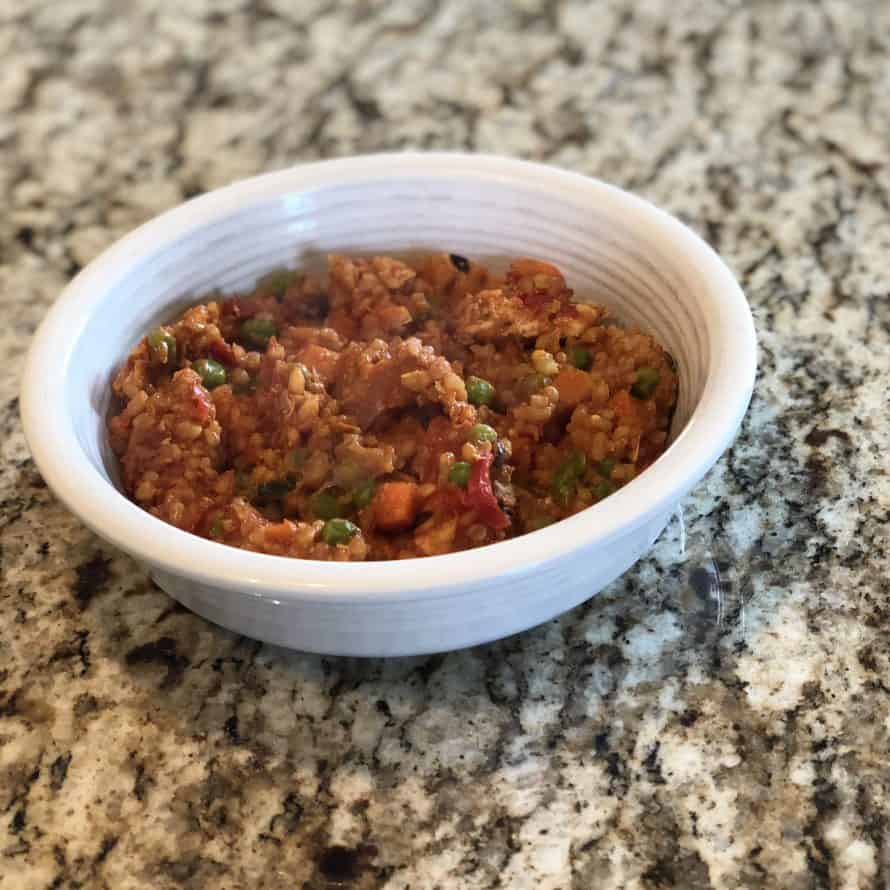 My next meal was the Enchilada Casserole.
It was 250 calories and a huge portion! I was so full after eating it!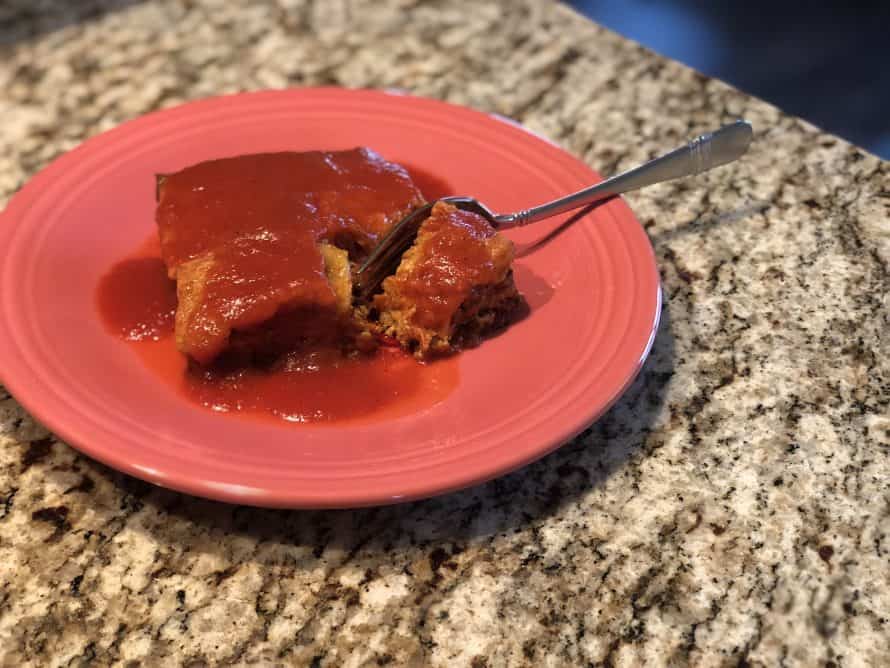 Final two meals, the Mushroom Risotto and the Veggie Burger Patty.
Since I am being right honest about everything (as always), I put these two off to the last. I don't know that I had ever had risotto, and well, let's be real, we have all had that veggie burger that would make you gag, so I procrastinated, alright!!
WOW!! They were amazing!! I think the Risotto is my favorite!
It came with some little sweet baby carrots and kale!! I confess, I didn't rightly know what to do with them so I just mixed them into the bowl instead of "plating" it all fancy, but mercy, it was good that way!! The baby carrots were so sweet, and the combination of kale, carrots and risotto was scrumptious.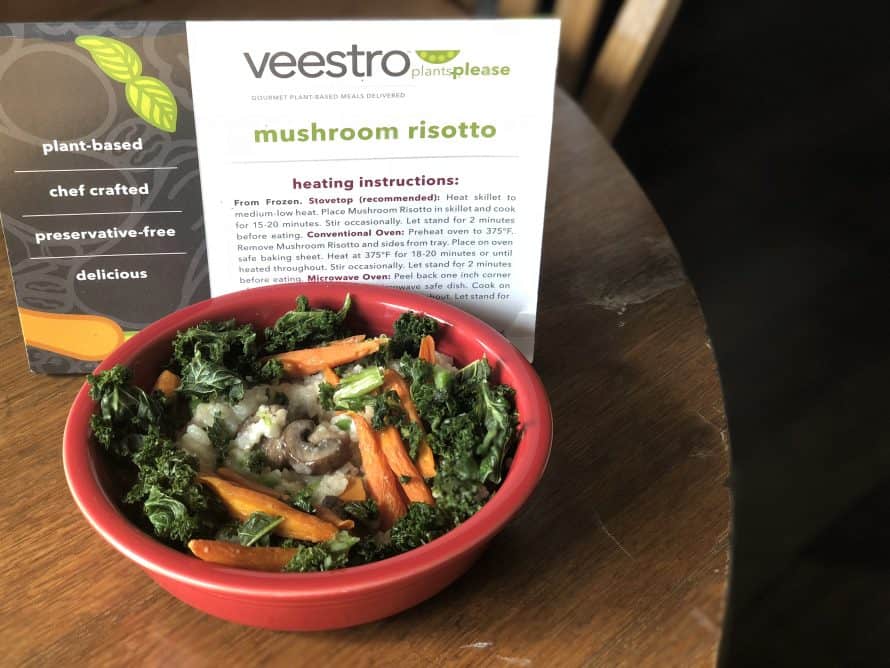 Finally, the dreaded Veggie Burger…SURPRISE!!!
It was like all the rest…WONDERFUL!!!
I had now prepared the "recommended" way, microwave, so the burger got the 2nd place preparation which for it was the oven. This burger, for a veggie burger, was thick!
It didn't have any weird little hard pieces in it like I always have the misfortune of finding regardless of what brand of veggie burgers I've eaten.
This was super filling and delicious. The oven preparation was super simple, too.

Too Long; Didn't Read
Veestro's meal delivery service makes it easy to get healthy meals delivered to your door! Out of the meal kit delivery services we've tried, we really love Veestro and Freshly the best. If you're following a vegan diet, this plan is the best because of the focus on helping you with dietary restrictions.
We loved all of the Veestro meals we tried, and all you have to do is heat them up and enjoy a good meal! You can choose their weight loss plan or a la carte plan, as well as, a subscription service or a one-time delivery.
Basically — It is finally something you can eat that is quick, portioned controlled, and healthy!!!!
You may also like our other meal delivery reviews including Freshly, Factor, and Kettlebell Kitchen!
We also have a guide to eating a full plant based diet!