Veestro Meal Delivery Review – Going from Pizza to Plants
This post may contain affiliate links. All opinions shared are my own. As an Amazon Associate I earn from qualifying purchases. Click to view our full disclosure.
Veestro's meal delivery service is all plant based! This intrigued us because we're always looking to get in more plant based meals. While we enjoy eating healthy, we're not great about getting in all of our vegetables. So we decided to try out their high protein, vegan meals!
*Updated August 2019*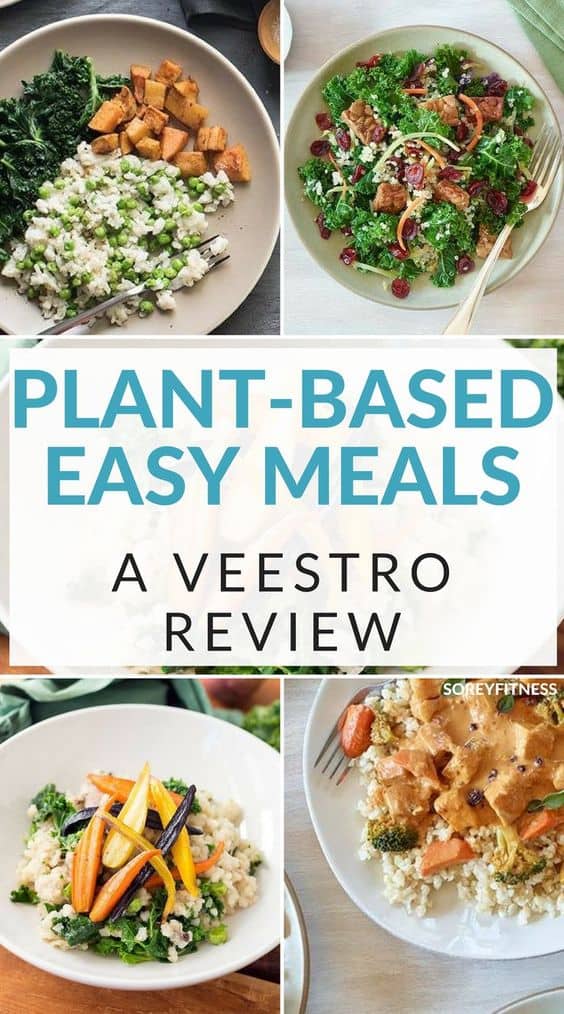 The company offered to send us a week of meals to try in exchange for our review, and let me just say, we were surprised by how much we loved it! The meals are delicious and so convenient!
While we'll never be on a fully plant-based diet, we love incorporating these meals a few times a week!
Before we get into our personal Veestro review, we wanted to share a little bit more on how it works and who should try it!
What is Veestro?
Veestro is a vegan meal delivery service focused on organic, non-GMO meals. They allow you to customize a meal plan including breakfasts, lunches, dinners, desserts, juices, and more! They also have gluten free options!
How Veestro Works
You pick out your plan or meals online.
They ship it to you in a eco-friendly package including things to keep your meals cold.
You just unpack the box, heat the meal up and enjoy!
No cooking required!
Who Should Try Veestro?
There are so many options with Veestro! You can choose just a few meals or get a full meal plan sent to you!
We think you'll love Veestro if, you're
looking for fast, healthy options.
cooking for just 1 person and don't like leftovers.
in a small area where unique, yummy meals aren't readily available.
dreading grocery shopping or cooking.
a fan of packaged food but know you need a healthier alternative.
looking to make your meals more adventurous!
a newlywed looking for simple options.
a busy parent looking for healthy alternatives for their family.

They also have weight loss plans and juice cleanses if you have a certain goal in mind.
Why Veestro Over Other Companies?
It includes fully-prepped meals! You don't have to put it together!
Each option is created by a chef and tastes yummy!
They use organic ingredients.
Gluten-Free options are available.
They use eco-friendly options for their packaging and products.
Each meal is plant-based giving you nutrition & health benefits!
Lots of options including: A la Cart, Full Meal Plans, Weight Loss Plans, & Juice Cleanses
How Much is Veestro?
I know some will speak up about the price, but as with the other meal delivery kits we've tried, Veestro, is also in the $8 to $10 range per meal.


So, while you could go shopping and prepare a meal that is less expensive, keep in mind that these ingredients are non-GMO and over 96% of the ingredients are organic as well.
All the meals are plant-based, so great for vegans as well as those trying to eat less meat. This is a great way to get in those plant-based meals.
They have a variety of meal ordering options. You can do a' la carte or meal "packs" such as protein, weight loss, and wedding prep!! They even have a 3 day and 5 day juice cleanse!! You can subscribe to their auto ship service to get a discounted price or do the one-time delivery.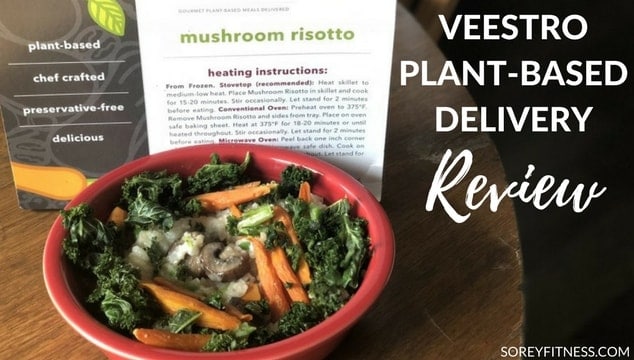 Going From Pizza to Plants – Our Veestro Review
Kalee, and really any of my friends who know me, laugh at my grocery list.
Yes, Yes, I know I'm a health & fitness coach, but to be honest, after becoming single and hating to cook anyway, it was really hard to make myself cook a healthy meal for one. I can now relate to those clients.
I know you're thinking…"Kim, just freeze the leftovers!" Well, this girl has no self-control. If I cooked an awesome meal for 4, there probably wouldn't be leftovers…not a good thing in a house of ONE.


So I resorted to Lean Cuisines.
Specifically French Bread Lean Cuisine Pizza.
I know a fine choice once in a while, but really should your grocery list each week consists of:
Lean Cuisine pizza (5)

fruit that's on sale

toilet paper

nitrate/nitrite free bacon to go with my fresh eggs

maybe some Dave's Killer bread if I'm feeling frisky.
That's it…oh maybe a bottle of wine.
So, enter Veestro.

They offered to let us do a review of their meals. To be honest, we had done a few, and we really like those meal kits as well. However, they all required cooking, so I wasn't sure if I wanted to take on another one.
This is where Kalee pops in and says, "Mom, I think you'll like this one!! NOOO cooking!! It's like your Lean Cuisine except it is plant-based, non-GMO and mostly organic!!" HELLO!?! Yes, please!! But what on earth was this going to taste like??
Our package arrive in dry ice because these are frozen meals. I picked out my favorites to try. I only left her two, lol!!
Before I go on with my happy tale, let me reiterate these are fully prepared, gourmet, plant-based meals and juices!! All you have to do is heat and eat!!
I'm in love…as long as it tastes good, right? and doesn't cost an arm and leg!
First meal that I prepared was the Thai Chick'n Stew (single serving as all the meals were).
I am a microwave kinda girl, but I thought for the review that I would do a couple the "recommended" way and save one for the microwave. So you want to know how easy this was? Open package, throw stuff in the skillet, flip the sauce mid-way through cook time. Stir consistently. Boom I was done in 17 mins and eating in 20.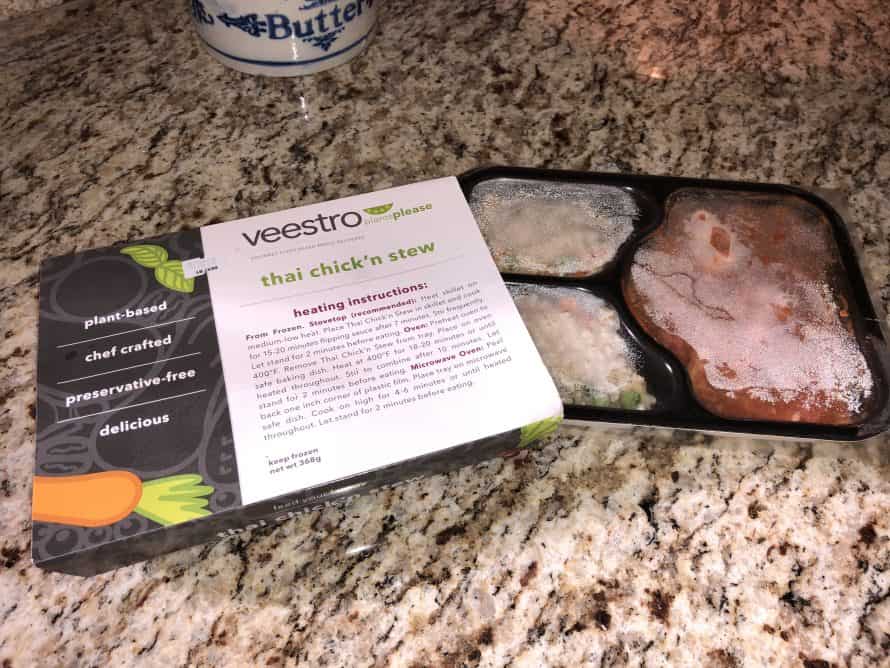 The Thai Chik'n Stew was AWESOME!!!!
Two concerns for me having eaten PLENTY of frozen meals over the last year or so.
First – I hate how red sauce foods leave a funky after taste. You know the one??? Well, I'm so beyond happy with this one…no after taste!!!
Second – This meal had some "chick'n" in it. Don't get me wrong. I like chicken just fine, but frozen dinner chicken…EW. One of the grosses things you can potentially eat is a frozen meal with chicken. So, I was SOOO happy that this "chick'n" actually tasted like chicken!! No!! Even better than that!! It tasted like GRILLED chicken!!! YUM!! This Thai Chik'n Stew is definitely a winner in my book!!
Here's what it looked like all stirred up: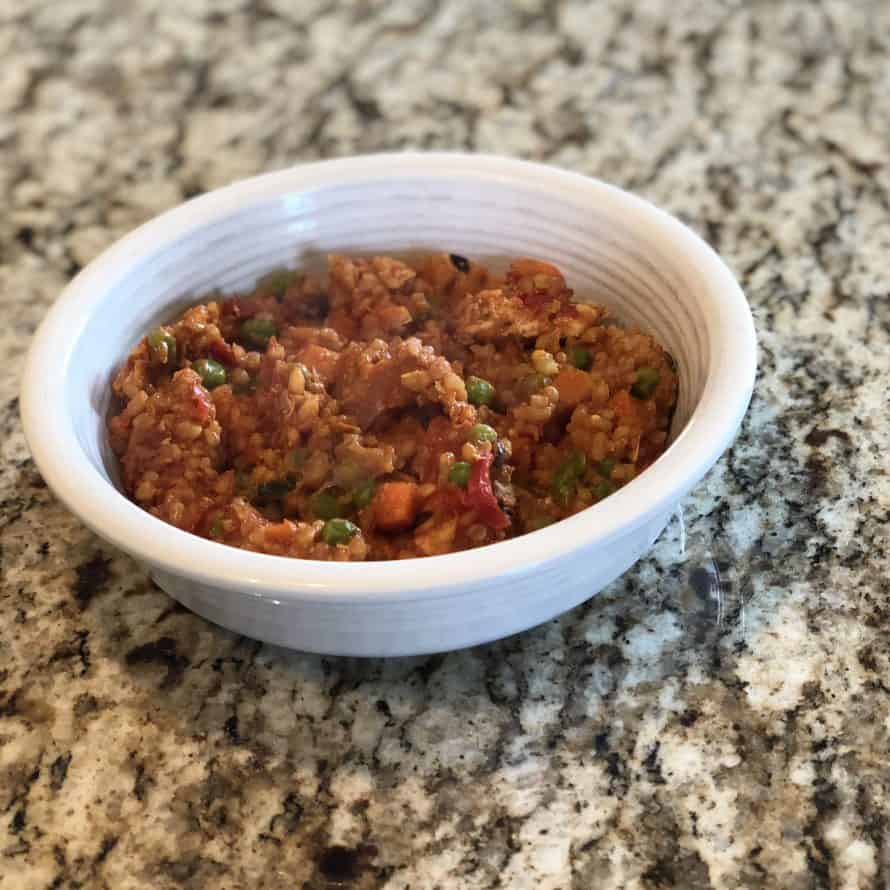 Next meal, please!!!
So my follow-up meal was the Enchilada Casserole.
Once I again I did the "recommended" way to prepare. This casserole recommends that you thaw overnight, so I did and then baked in the oven. This one was ready in 30 minutes and was delicious, and I'm not even a corn tortilla kinda girl.
PLUS it's only 250 calories for this huge portion!! Hello, Mama!! I was stuffed!!
On top of my belly being full, I felt good that I was FUELING my body with good stuff vs processed white french bread pizza!!!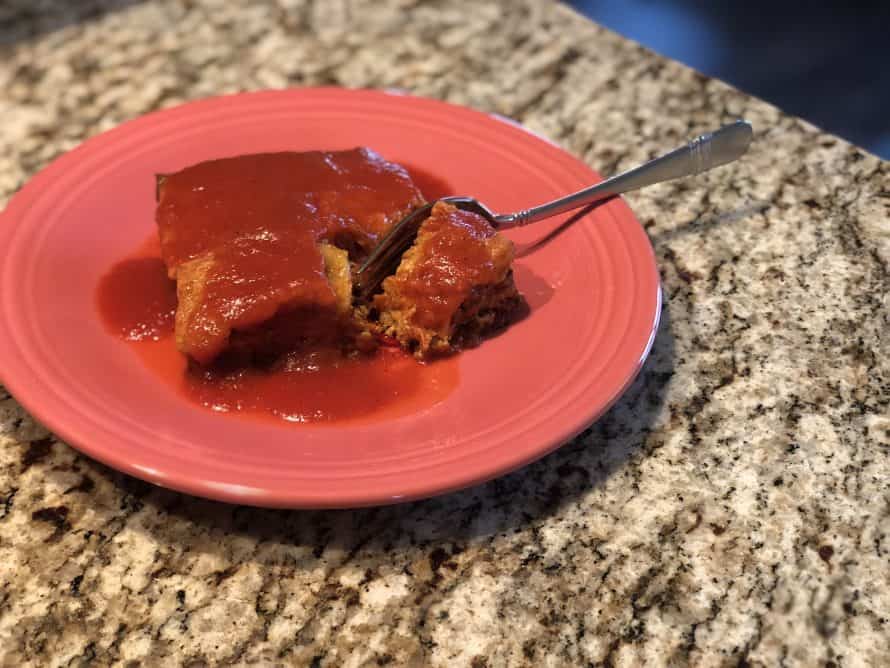 In between meals, I would have a snack of juice. We had their Johnny Appleseed and Spring into Action juices to try.
The juices are cold pressed with no added water or sugar and preservative free.
They also come frozen, so you have to thaw them a day before, but they are good for up to 24 to 48 hours after thawing. I felt so holistic drinking these!! Fancy!!
I will say, I didn't care for the Johnny Appleseed. I mean we all have our favorite flavors, right?
This had cucumber in it. I like cucumber, but I have yet to meet a juice or smoothie that I like with cucumber juice.
Now, the Spring into Action was yummy!! Of course, it's more citrus which I tend to like anyway. I would definitely have that one again.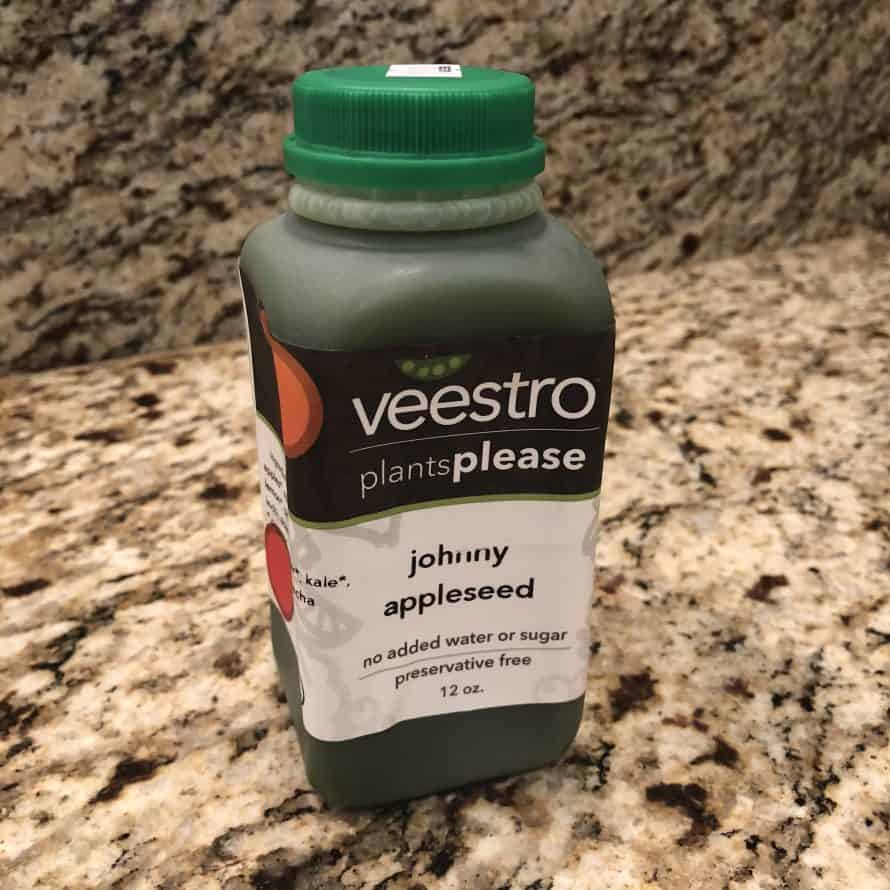 Final two meals, the Mushroom Risotto and the Veggie Burger Patty.
Since I am being right honest about everything (as always), I put these two off to the last. I don't know that I had ever had risotto, and well, let's be real, we have all had that veggie burger that would make you gag, so I procrastinated, alright!!
WOW!! They were amazing!!! I think the Risotto is my favorite!! Oh my word, y'all…GOOD!!!
It came with some little sweet baby carrots and kale!! I confess, I didn't rightly know what to do with them so I just mixed them into the bowl instead of "plating" it all fancy, but mercy, it was good that way!! The baby carrots were so sweet, and the combination of kale, carrots and risotto was scrumptious.

I fixed this one in the microwave!! Still awesome!!!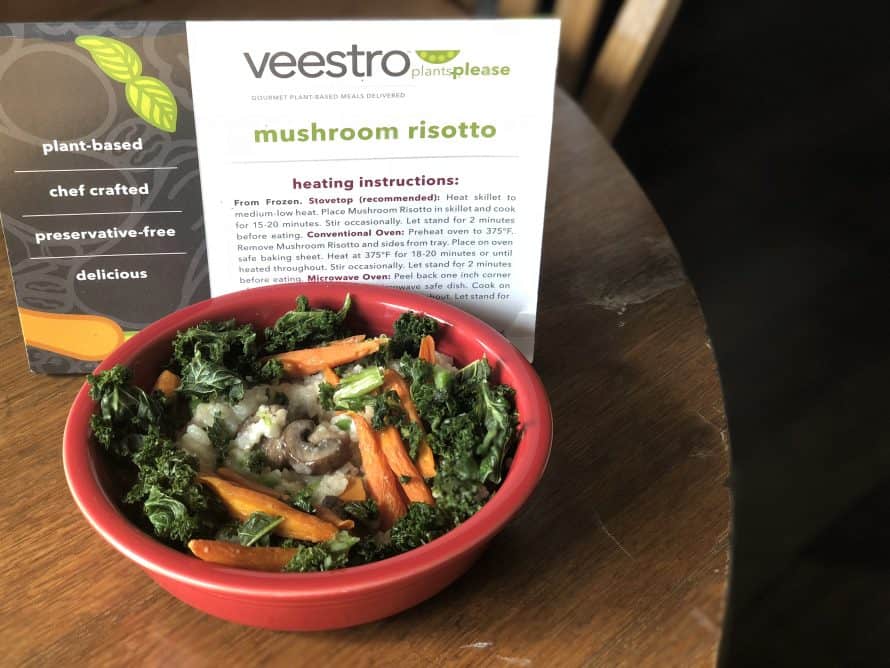 Finally, the dreaded Veggie Burger…SURPRISE!!!
It was like all the rest…WONDERFUL!!!
I had now prepared the "recommended" way, microwave, so the burger got the 2nd place preparation which for it was the oven. This burger, for a veggie burger, was thick!
It didn't have any weird little hard pieces in it like I always have the misfortune of finding regardless of what brand of veggie burgers I've eaten.
This was super filling and delicious. The oven preparation was super simple, too.
So verdict on Veestro, as if I need to tell you, WIN!!!!
It is finally something I can eat that is quick, portioned controlled, AND healthy!!!!
I love this service and have found my food home.
I know we all have different taste buds, and we each have to find our own happy place in the kitchen, but for this gal…It's now Veestro all the way!!!
You may also like our other meal delivery reviews including Freshly, Factor, and Kettlebell Kitchen!
We also have a guide to eating a full plant based diet!