Kettlebell Kitchen Review & Alternatives Since It Closed
This post may contain affiliate links. All opinions shared are my own. As an Amazon Associate I earn from qualifying purchases. Click to view our full disclosure.
Kettlebell Kitchen was a meal delivery service focused on macro-based meals for athletes. The dairy-free, soy-free, and no artificial sweetener meals made meal prep easy, but the company closed in 2021. While we hate it for them, we have found some even better Kettlebell Kitchen alternatives for you below!

2021 Update: Kettlebell Kitchen has Closed
The Kettlebell Kitchen CEO emailed customers earlier this year saying they would no longer be serving meals. They also suggested an alternative for athletes and healthy eaters — Territory Foods.
Territory Foods is yet another brand among the dozen food delivery services available. They do offer some nutrient-dense meals; however they do not offer nationwide delivery yet.
Top 3 Kettlebell Kitchen Alternatives in 2021
While Territory Foods may be great, we actually have fallen in love with a few other services depending on your goals.
Metabolic Meals offer clean food without artificial ingredients to help you with your weight loss goals and overall optimal health. They also have new items each week which keeps our meal prep from getting stale. We also love their breakfast foods! You can also check out our full review of Metabolic Meals here.
If you're just looking for great food using the best ingredients — Freshly offers a full line of meals that are family-friendly! They also have amazing customer service. You may also like our full Freshly review to see our favorite meals.
Factor_ offers ketogenic, paleo, high protein, low calorie, low carb, dairy-free, vegetarian, and plant-based meals. If you have dietary restrictions, are doing hard workouts, or are looking for only the best ingredients, Factor_ would be a good choice.
All 3 companies offer healthy food rich in quality grains, healthy fats, and good produce. I feel really comfortable saying if you liked Kettlebell's meals you'll like any of these brands as well! With that said, Metabolic Meals are still my favorite.

What was Kettlebell Kitchen?
Kettlebell Kitchen offered several fresh, prepared meals designed around your nutrition goals. Meal options included Whole 30, Keto, Fat Loss, Pure Paleo, Sports Performance, Muscle Gain, Flexitarian, and Endurance Meal Plans. They also offered vegetarian meals.
The meals came to you on ice, and you just heated it up and ate. They offered fitness-focused meals designed for athletes and busy professionals.
Below is our original review of the meal delivery service from June 2019.

Kettlebell Kitchen Menu & Meal Plans (Before they closed)
You can choose to either order a la carte or choose a meal plan based on your goals. I started with a Complete Keto meal plan to start, and then once I found the meals I liked I switched to a la carte.
The cost per meal is the same no matter which option you choose, and I liked the convenience of a la carte the best.
Kettlebell Kitchen's menu is really broad. They have 12 meals that are just completely keto every week, and they have several other meals to choose from as well.
You can choose Kettlebell Meals by:
Weekly Specials
Complete Keto
Core Menu
Vegetarian
Sides and Desserts
They also offer meal plans! If you're looking for a quick thing to order and to have enough meals for the week, the meal plans are great.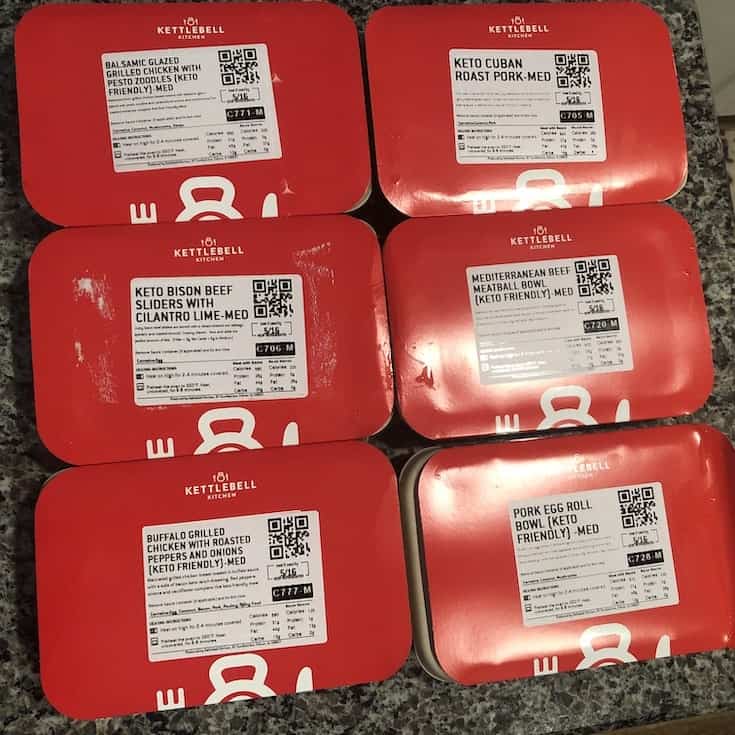 Kettlebell Kitchen Meal Plans
Slim
Build
Perform
Pure Paleo
Burn
Vegetarian
Flexitarian
Endure
Complete Keto
Whole 30
Is Kettlebell Kitchen Healthy?
This question was the first thing that popped up when I searched for Kettlebell Kitchen reviews. I'm still not really sure why.
Kettlebell Kitchen makes meals from scratch based on the dietary needs specified. The company is also Whole 30 Approved which isn't easy to get. So I found it was a healthy choice for me and my goals.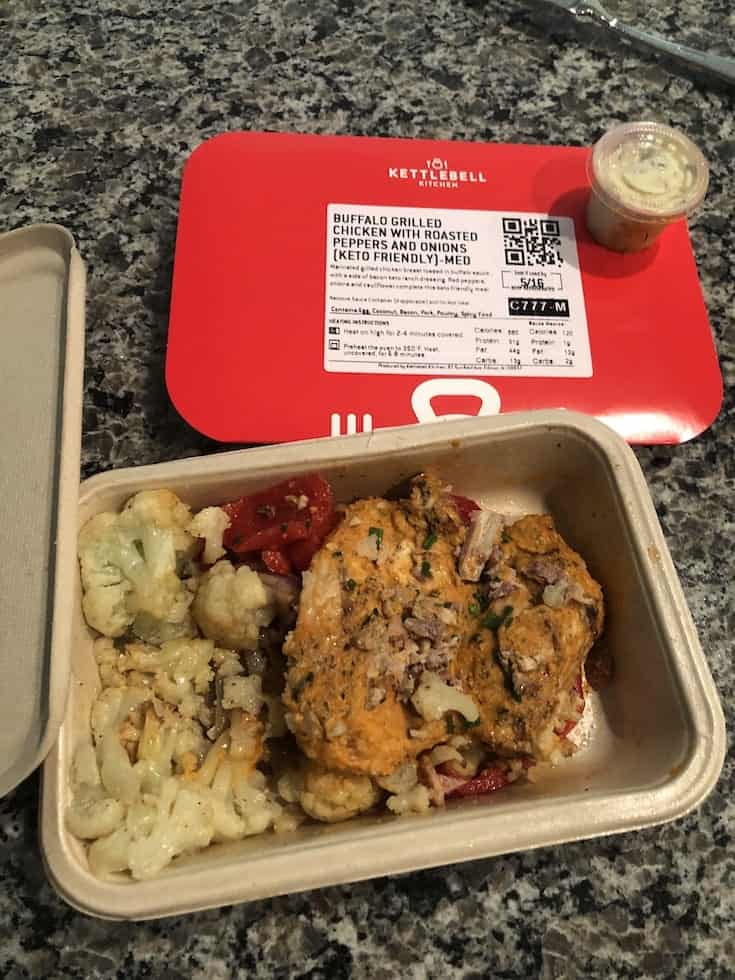 Is Kettlebell Kitchen Keto?
While you can choose from a ton of meals, Kettlebell Kitchen offers a Complete Keto line of meals each week.
When it comes to keto meal delivery services, their macros have been the closest to keto over and over again!
How Much does Kettlebell Kitchen Cost?
Some may say Kettlebell Kitchen is expensive. Each meal costs about $12. That's with no discount.
I was really happy with the size of the meals and quality of ingredients. With that said – the shipping was pretty outrageous! We don't have a local pickup, so it was $25 per order to ship!
Other companies like Freshly and Factor 75 offer free shipping!
How do I Cancel?
You can cancel on the website or by email.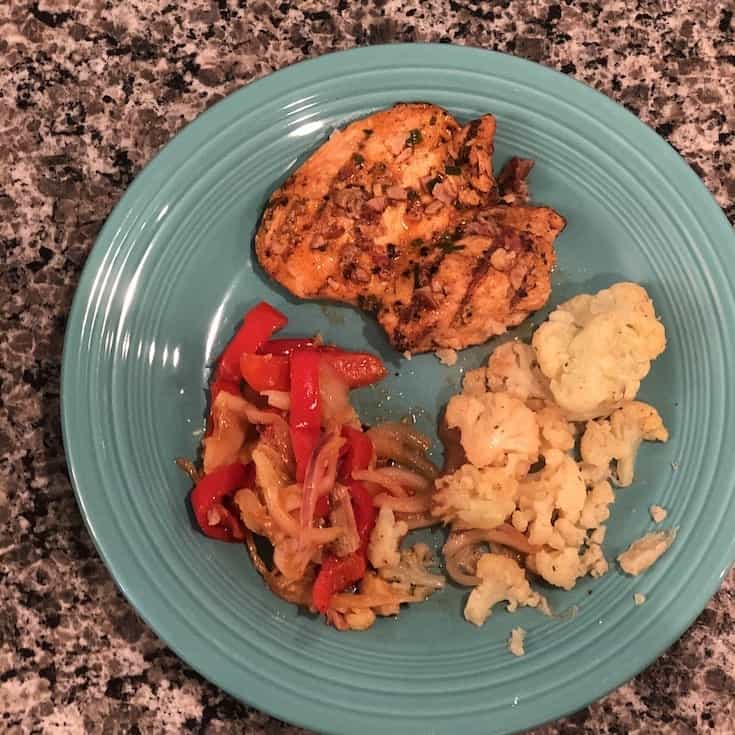 Are Kettlebell Kitchen meals fresh?
Yes! They come fresh on ice. However, I had some issues with the meals staying chilled on all 3 of my orders.
They ship out on Tuesday's and Thursday's.
How long will Kettlebell Kitchen meals last?
This was another major bummer for me. Unlike other companies, Kettlebell Kitchen meals only last 2 days!
Ironically, one of my shipments arrived a day late as well. So not only was it warmer than it should have been, it would have had to be eaten within a day!
I let them know about the delayed shipment and warm food, and they did give me store credit though.
Can You Freeze Kettlebell Kitchen Meals?
Yes, you can freeze them. So far we've had pretty good luck with freezing and unfreezing them.
With that said, the ones with greens don't unfreeze well. So keep that in mind if you order and eat those first!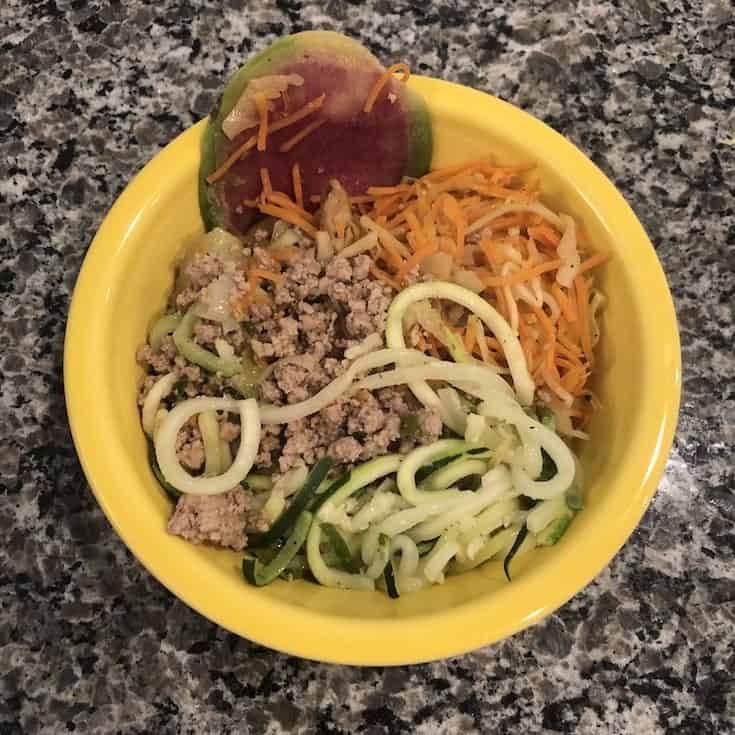 My Kettlebell Kitchen Review
I wanted to outline some of the basics above, but now I want to share my personal experience to help you decide on this company or not.
Here's a Quick Preview of my Kettlebell Kitchen
Taste 1/5
Macros & Nutrition 5/5
Ease of Website 3/5
Packaging & Shipping 1/5
Selection & Customization 4/5
Price 2/5
*This ranking is lower than my reviews of Factor 75 and Freshly.

Taste: 2/5
The taste of the meals really varied. Some were really delicious. So much so my husband was asking me when more Bison Sliders and Buffalo chicken were coming.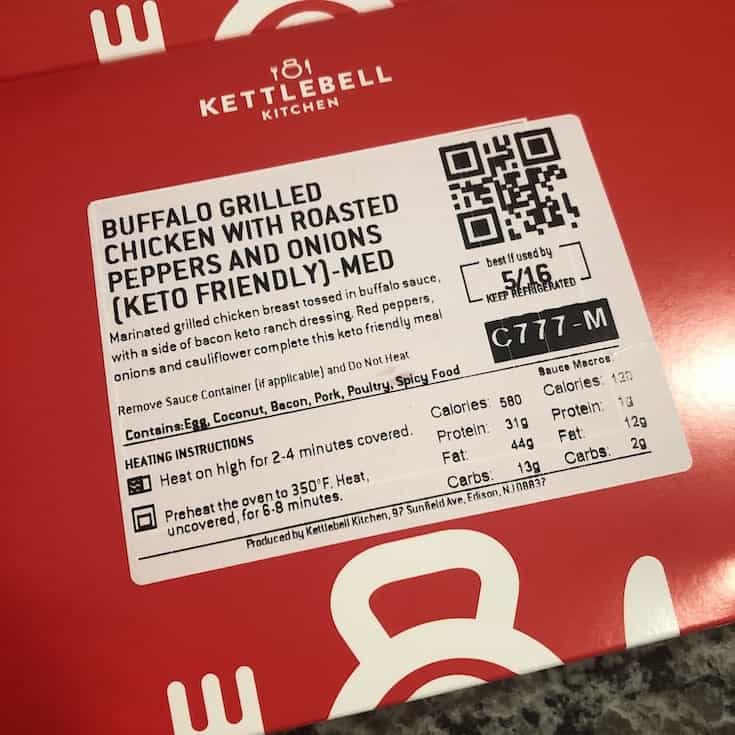 Others were inedible.
I'm talking nasty.
I started to notice feeling a little sick from the Pork Egg Roll (shown above in this post), but I assumed it was from the oils and seasonings put on it.
In order to get in enough healthy fat, they add in oils and dips to a lot of the recipes. Since I wasn't used to such a fancy type meal, I figured my body was adjusting to it.
The next night we opened up Turkey Nuggets with Buffalo Cauliflower (also featured in a picture above). While you may be thinking, nuggets? Really? We were pretty excited about them!
I should also mention we had just finished a remodel about 2 weeks before this. The reason this is relevant…the Turkey Nuggets tasted like the wood vanish smelled.
We both had to toss the meal.
The Turkey Nuggets arrived in my Tuesday order, and they ship Tuesday and Thursday each week. So needless to say, after the pork egg roll and now this meal, I wasn't looking forward to Thursday's delivery.
We rolled around to Thursday, and it didn't come. I was happily shocked not to see it on my porch. I had paid for it though, so I wanted to know where it was. It arrived Friday completely hot! The combination of the couple bad meals and the smell of the hot ones did me in.
They gave me a credit for the Turkey Nuggets and ruined meals. I personally think I'm done with this particular meal delivery service, but I did order Jake some of the Bison Sliders and Buffalo Chicken meals he loved.
Macros & Nutrition: 5/5
Out of the programs I've tried, Kettlebell Kitchen's meals have been the best macro-based ones I've found! They also have a great variety if you can adjust to the taste.
Ease of Website: 3/5
The website is pretty easy to use overall, but it was hard for me to update my meals when I was on one of the meal plans. That was another reason I switched to a la carte.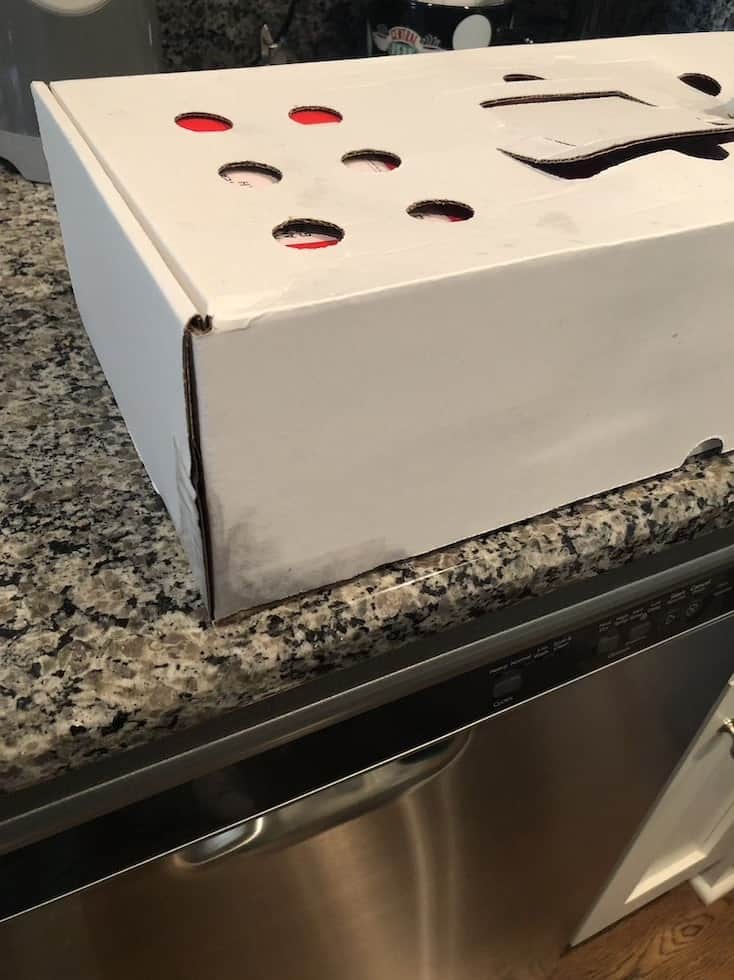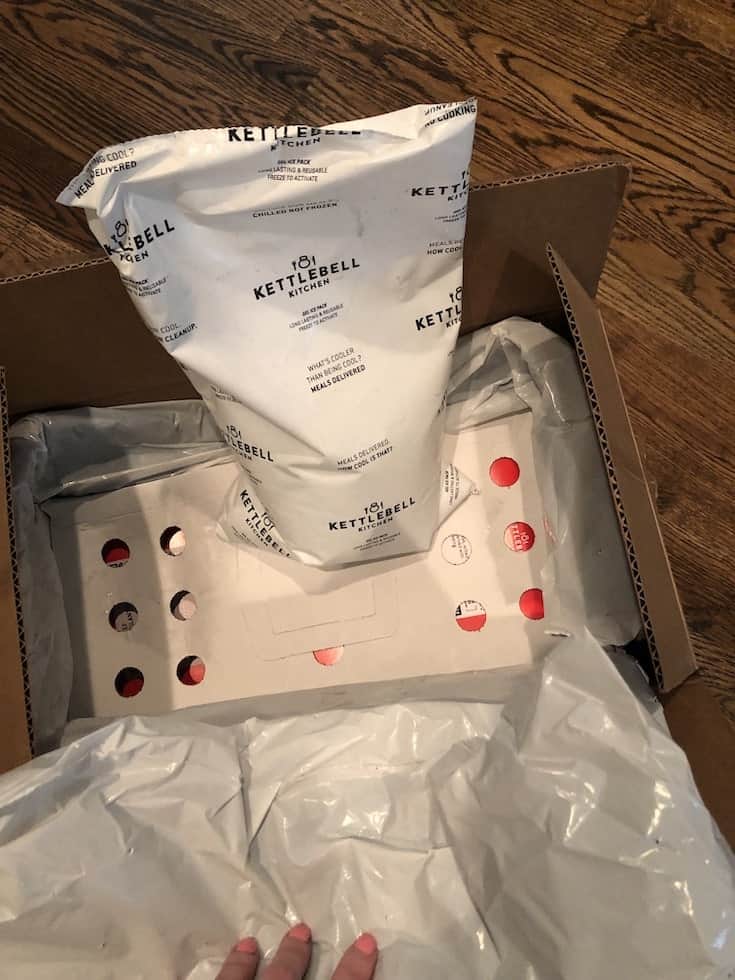 Packaging: 1/5
I mentioned it earlier, but the shipping and packaging was horrible! The first two orders were slightly warm, but I felt safe eating them. Then the last batch was completely ruined. The box was soggy, the food stank, and the ice pack was completely melted.
Did I mention it's $25 to ship too??
Selection & Customization: 3/5
I really love that they add in new meals and keep some of the favorites around each week. Plus, they have a lot to choose from! I mean, it's rare to find Keto and Vegetarian options all at one delivery service.
Kettlebell Kitchen Price: 2/5
They are getting a 2 because I feel like the meat and oils they use are high quality.
Otherwise, the price would be a 1. $12 per meal is pretty steep even in the meal delivery scene, and the shipping was outrageous. The only way you could cut that out is if you have a local pick up place close by.
Kettlebell Kitchen Competitors
It really depends on what you're looking for in terms of Kettlebell Kitchen's competitors.
If you want purely keto options, it's hard. Keto Fridge is one I've looked at but not tried. The photos kind of threw me off.
I did try Factor 75 though, and I really loved it! They have a few keto meals, and the taste was awesome! They also have free shipping!
If you're not looking for just keto options, you might like Freshly or Veestro's Meal Delivery.
We also did a few comparisons:
Did this Kettlebell Kitchen Review help you?