Freshly Review | Find Out About the Menu, Meals & Price Before You Try!
This post may contain affiliate links. All opinions shared are my own. As an Amazon Associate I earn from qualifying purchases. Click to view our full disclosure.
Freshly meals come to you fresh and on ice. All you have to do is heat and eat! Below I'll share my Freshly review including what I thought about the menu selection, how the meals tasted, and how the whole meal delivery works. You can also save $40 off your first order with my coupon code!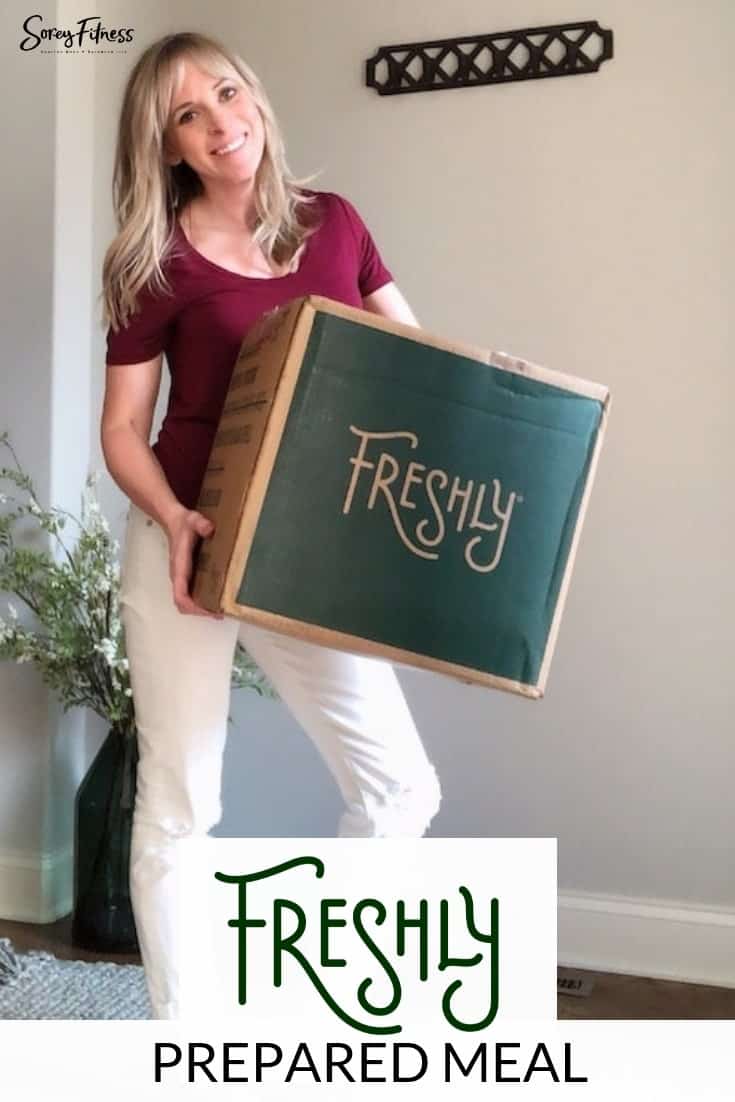 What is Freshly?
You've probably seen this meal delivery service pop up in your Facebook feed at some point.
Freshly is a fully-prepared meal delivery service. They offer 30 unique meals to choose from. You just pick out your favorites (or let them pick for you), and they ship them to you! All you have to do is heat and eat!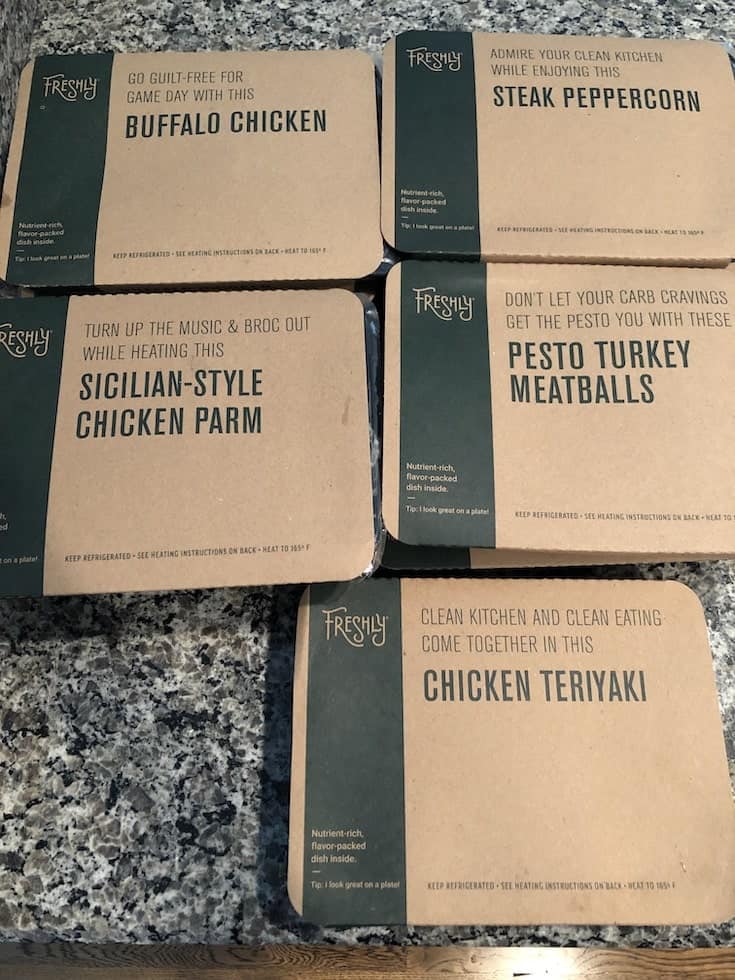 Freshly Menu
All of the Freshly meals are gluten-free, packed with protein, free of refined sugars, and all natural.
Their portions feel slightly bigger than other brands I've tried, and the meals range between 300 and 650 calories.
They offer 30 meals to choose from each week, as well as, snacks!
While Freshly's menu doesn't offer diet-specific meals, you can find options to work for you in many cases.
You can sort the meals by:
Calories
Total Fat
Sodium
Carbs
Total Sugar
Protein
While the meals change each week, right now the lowest carb option is 16 grams with 5 grams of fiber.
This is the buffalo chicken nutrition label: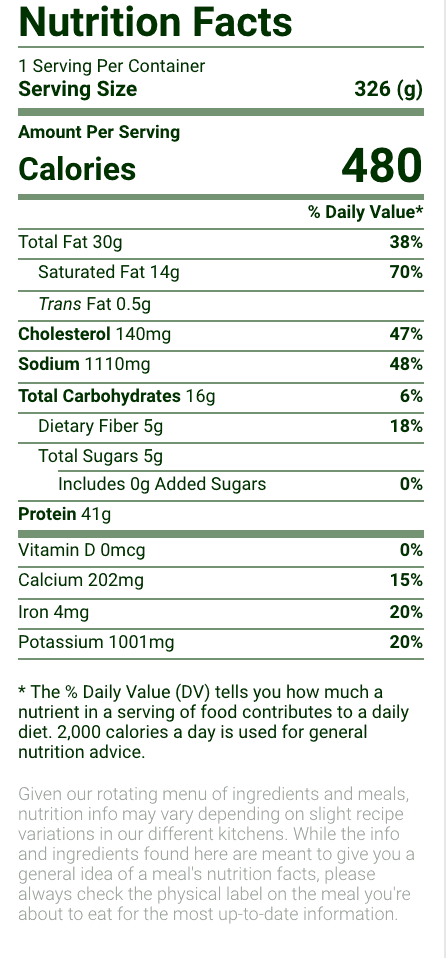 Who is Freshly for?
Anyone looking for a convenient, yummy meal
Someone looking for food that is convenient and healthier than the drive-thru
Busy singles and couples that don't want to cook dinner
Freshly offers large packages to help families use the service too, but the cheapest option right now is $8.50 per meal.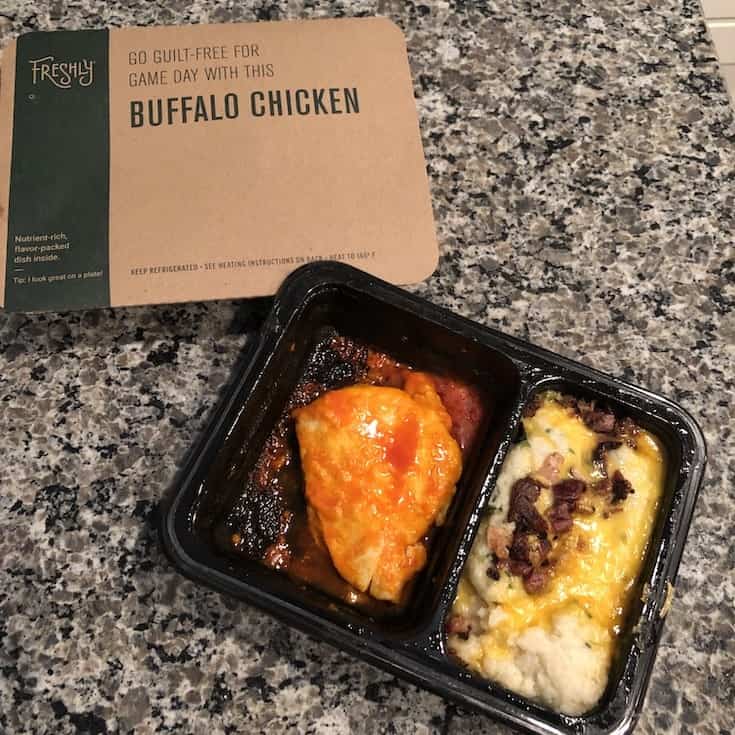 Is Freshly Keto?
No, Freshly is only a prepared meal delivery service. You can sort their meals by carbs, but most of them are going to be higher in carbohydrates than what is allowed on a keto diet.
With that said, you could try to make it work. I've found a few keto-friendly meals on there.
How Much does Freshly Cost?
Currently, Freshly is $8.99 to $12.50 per meal depending on which package you have. That's with no discount.
The size of the meals has been pretty big, and the convenience also places a role in the price. You also never have to pay for shipping!
I really think you get a lot for your money with it!
How do I Cancel Freshly?
It's really easy to skip weeks on Freshly. You just login, click deliveries and pick "Skip Week".
If you want to cancel Freshly, it's a little harder but not difficult. You'll go to deliveries, "Change Details" and click on "Change." Then, you'll select "Subscription Settings" and click "Cancel" at the bottom of the page. The next page will have a couple questions, and that's it!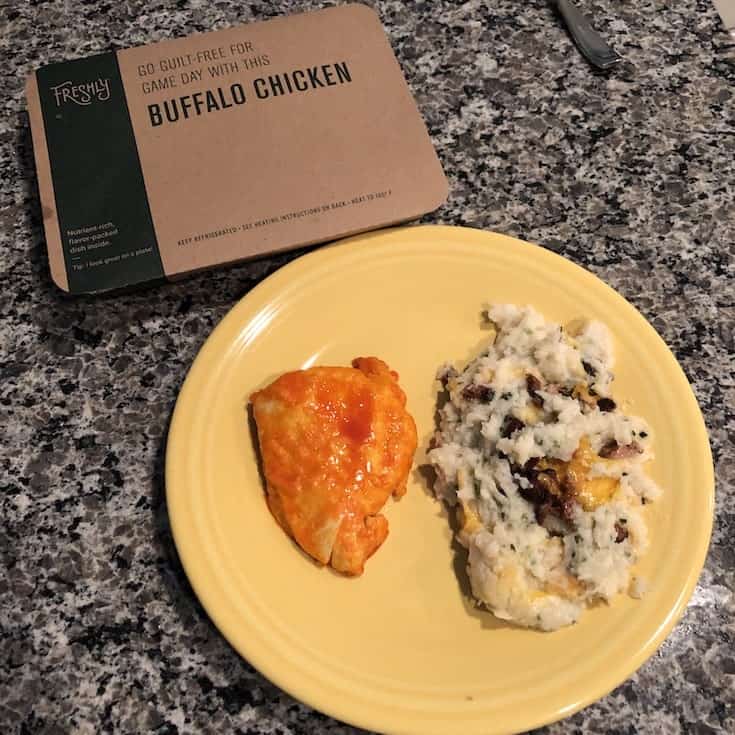 Are Freshly Meals Fresh or Frozen?
Freshly food is always fresh! It'll arrive packed in ice and insulation. Once you receive the meals, you'll want to put them in the fridge.
Out of all of the services I've tried, the Freshly meal delivery has been the best!
How long will Freshly meals last?
Since they're all natural, they last about 3 to 5 days.
Can You Freeze Freshly Meals?
While the meals taste better fresh, you can freeze them as long as you do it before the "use by" date.
To unfreeze a Freshly meal, you'll want to add a couple minutes to the heating time. We reheat them at 165 degrees just like as if they were fresh.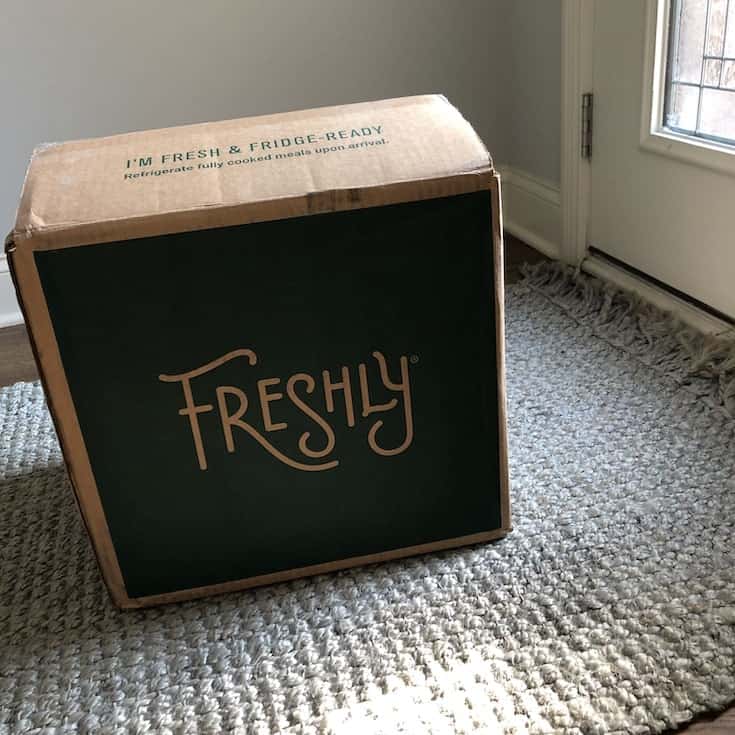 Is Freshly Good for Weight Loss?
Freshly food isn't designed to be "diet food".
With that said, you may find you lose weight with it because it's portion controlled. Each meal is a single serving and average about 500 calories. This is lower than going to a drive-thru or eating out in most cases.
If you're trying to lose weight, tracking your macros or tracking your calories in MyFitnessPal may help you as well.
If you're following a keto diet, check out our Freshly vs Kettlebell Kitchen review as well.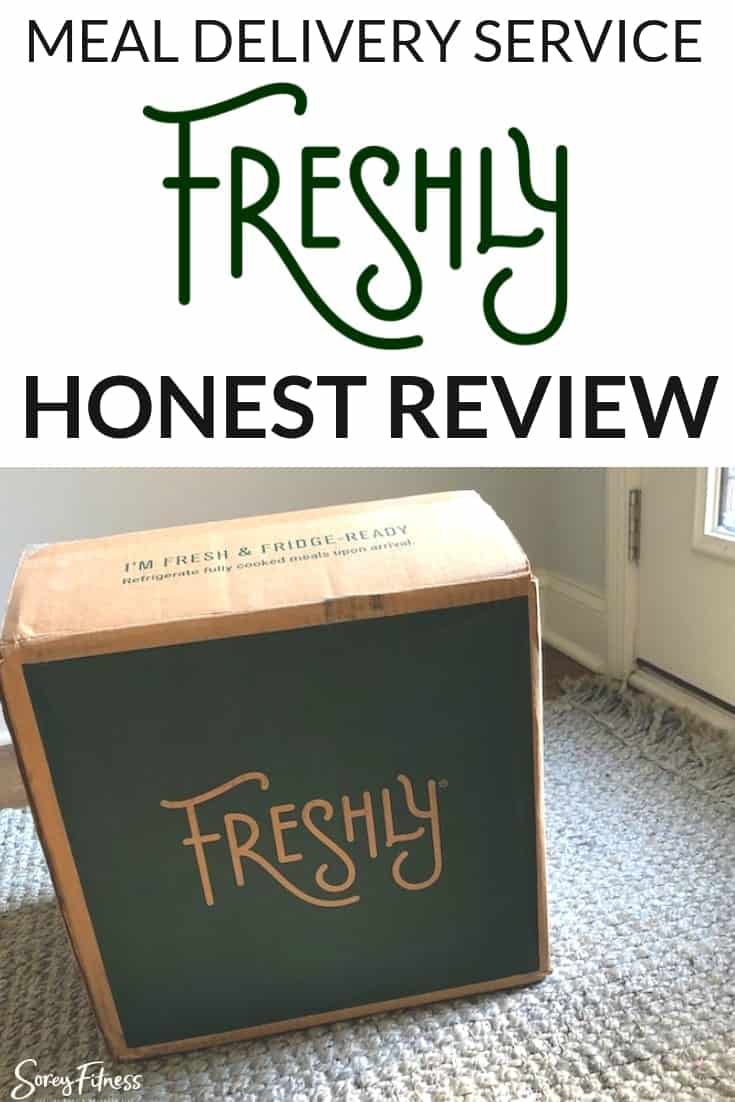 My Freshly Review
Now that you know a little bit about Freshly's food, here's my honest review of the service all broken down!
Here's a Quick Preview of my Freshly Review
Taste 5/5
Macros & Nutrition 3/5
Ease of Website 5/5
Packaging 5/5
Selection & Customization 3/5
Price 5/5
Taste: 5/5
We've been incorporating lower carb dinners for about a month now. So when Jake and I sat down to get the Buffalo Chicken dinner with 16 grams of carbs we were shocked to find potatoes!
After we ate, Jake commented that the chicken was good, but the potatoes were amazing!!
I ended up pulling out the nutrition for it again because how could potatoes be 16 grams of carbs? Well, the amazing potatoes were cauliflower!!
We are also not the type to love mashed cauliflower. So the fact we liked it and even thought it was potatoes says a lot!
The meals help us get in vegetables, too, which I'm not very keen on when I'm cooking.
Out of the meal services we've tried, Freshly's food and Factor 75 have been the best tasting.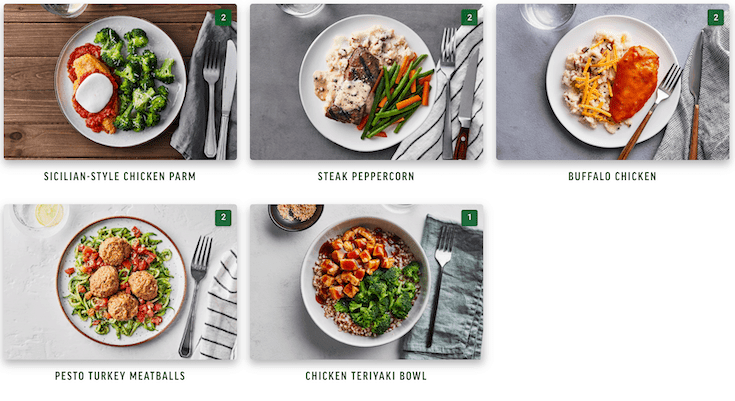 Macros & Nutrition: 3/5
I rated the macros and nutrition section lower just because I wish they offered a few more lower carb options. I realize their audience is more busy singles, couples, and families versus the dieting community though.
I just feel like Americans in general get a lot of carbs in through their day. So it would be nice to have a higher lean protein or healthy fat count on some of the meals.
I do love that the meals are fresh and contain no refined sugars.
Ease of Website: 5/5
There website is very easy to use! I love it!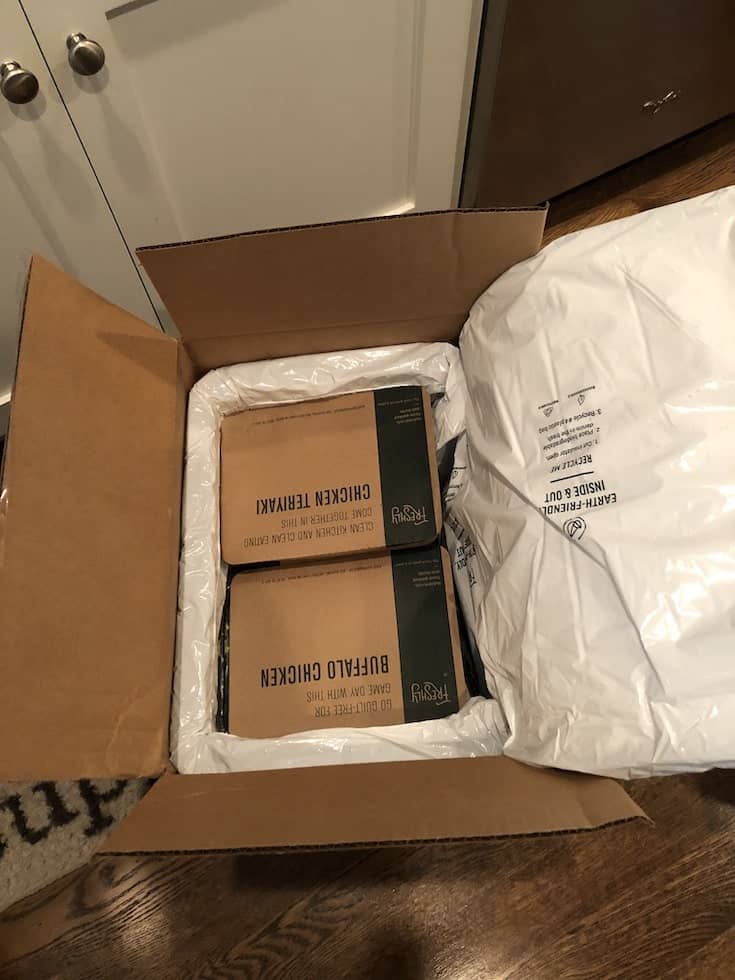 Packaging: 5/5
I mentioned it earlier, but Freshly's meal delivery packaging is the best I've seen! They not only wrap the food in insulation, but they put ice packs below, in the middle, and above the food. This really kept everything nice and cold even on a hot Tennessee Summer day!
I also like that they gave instructions on how to dispose and recycle everything! It's also super simple to dispose of too!
Selection & Customization: 3/5
I love that they have 30 meals to choose from, but I do think they could change up the meals a little more each week. I understand people find their favorite, but maybe 5 could be on rotation or something. Right now, it looks like it's 50/50 or so.
Freshly Price: 5/5
Out of the meal delivery plans I've tried, Freshly has been the cheapest and the largest portions!
Freshly Competitors
I've tried several meal delivery services, and I'd say Freshly is either my favorite or 2nd favorite!
Check out my reviews of similar companies:
Have you ordered any Freshly food? What did you think?