What's the Slow Carb Diet? Grocery List & Cheat Sheet Hacks
This post may contain affiliate links. All opinions shared are my own. As an Amazon Associate I earn from qualifying purchases. Click to view our full disclosure.
The Slow Carb Diet focuses on low-carb, high protein foods 6 days a week over 4 meals a day. It also includes a cheat day once a week. Below, you'll find our tips to start the diet, as well as, our Slow Carb grocery list of approved food items to help you get started with this way of eating!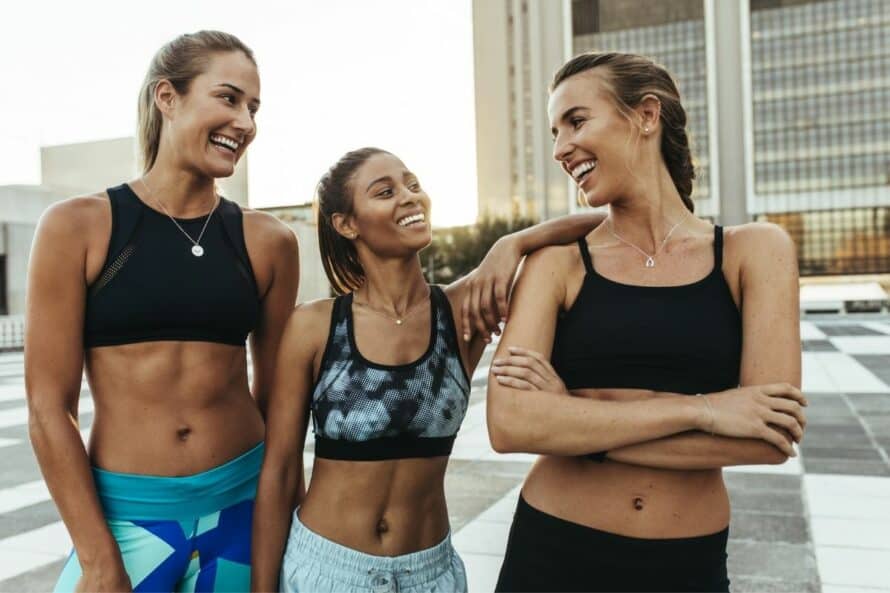 If you've already tried keto diet or other low carb diets, you might be interested in a different weight loss option. The slow carb diet, which is similar to other carb-counting diets, is a great option for anyone who doesn't want to avoid carbs completely.
That's because this diet does allow you to sneak in some carbs throughout the day. Keep reading to find out the five principals of the slow carb diet, then grab your slow carb diet grocery list cheat sheet to help you stay on track.
What Is the Slow Carb Diet?
The Slow Carb Diet involves eating from five main food groups – animal protein, vegetables, legumes, fats, and spices. It was first introduced by author Timothy Ferriss in his book the 4-Hour Body: An Uncommon Guide to Rapid Fat Loss, Incredible Sex, and Becoming Superhuman.
While on the diet, you can eat four meals per day for six days of the week. The seventh day is a cheat day, when you can eat whatever you want. The Slow-Carb Diet could be a great option for someone looking for something effective but less restrictive than a low carb or ketogenic diet.
The diet plan is made up of 5 General rules
1. Avoid white carbs.
White carbs are processed carbohydrates often found in breads, pasta, cereal, and baked goods. During each of the six diet days, no white carbs are allowed. But you can enjoy as many carbs as you want on your cheat day.
2. Eat the same meals each day.
Since your meals will be made up of five basic food groups, you can remake the same meals for easy meal prep.
3. Watch what you drink.
Avoid adding empty calories and carbs to your day by avoiding juice, sodas, and alcohol and instead sticking to unsweetened drinks, like water, tea, and black coffee.
4. Skip the fruit.
No fruit is allowed during your six diet days because fruit contains too much sugar.
5. Take a cheat day.
Since the slow carb diet only requires you to watch your carbs six days a week, you can allow for one cheat day on the seventh day of the week. On your cheat day, you can eat whatever you want.
What Carbs Can You Eat on Slow Carb Diet?
Although white carbs are off limits on the slow carb diet, some other carbs are allowed.
White carbs are often called simple carbs. These carbohydrates move through your body more quickly, causing your blood sugar levels to spike after eating them. On the other hand, complex or slow carbs are digested at a slower pace and are less likely to affect your blood sugar negatively. These foods are good options for the incorporation of some carb-rich foods.
While on the slow carb diet, you can incorporate a few carbohydrates into your daily meals, including:
Legumes, like lentils, black beans, pinto beans, red beans, and soy beans
Certain vegetables, like peas, brussel sprouts, and broccoli
These are foods are on the low-glycemic index.
What's Not Allowed on the Slow Carb Diet?
While you can enjoy a few complex carbohydrates while in the slow carb diet, most carbs are off limits.
In addition to white carbs in things like processed bread and baked goods, you should also stay away from:
White Potatoes
Corn
Quinoa
Pasta
Cereal
Pasta
Tortillas
Grains
Rice
Sugar
Dairy (milk, cream, cheese, yogurt, etc.)
Fruit
Fruit juices
Soft drinks or sugary drinks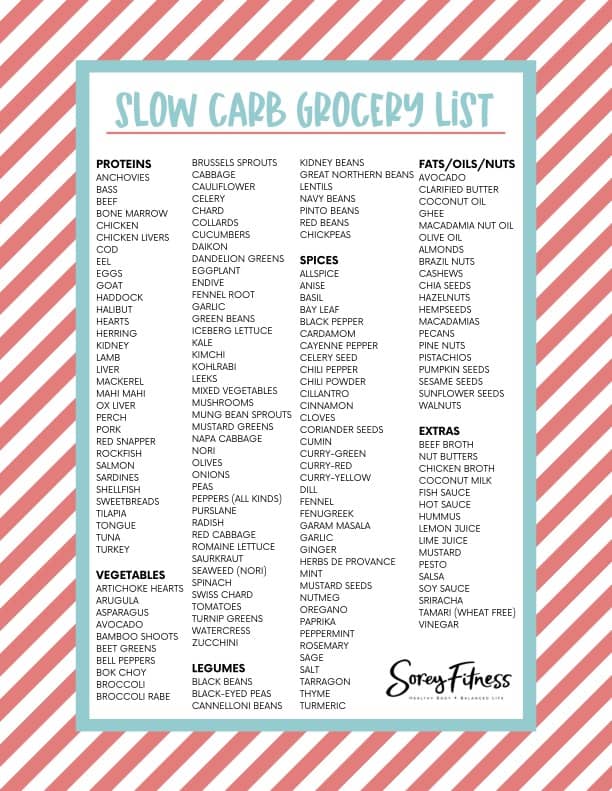 Slow Carb Diet Grocery List
Since the slow carb diet is made up of several restrictions, it can be difficult to know what ingredients to look for when you head to the grocery store.
This slow carb diet grocery list will help you keep track of all the foods allowed on the diet plan so you can stay on track each day:
Proteins
Anchovies
Bass
Beef
Bone Marrow
Chicken
Chicken Livers
Cod
Eel
Eggs
Goat
Haddock
Halibut
Hearts
Herring
Kidney
Lamb
Liver
Mackerel
Mahi Mahi
Ox Liver
Perch
Pork
Red Snapper
Rockfish
Salmon
Sardines
Shellfish
Sweetbreads
Tilapia
Tongue
Tuna
Turkey
Vegetables
Artichoke Hearts
Arugula
Asparagus
Avocado
Bamboo Shoots
Beet Greens
Bell Peppers
Bok Choy
Broccoli
Broccoli Rabe
Brussels Sprouts
Cabbage
Cauliflower
Celery
Chard
Collards
Cucumbers
Daikon
Dandelion greens
Eggplant
Endive
Fennel Root
Garlic
Green Beans
Iceberg Lettuce
Kale
Kimchi
Kohlrabi
Leeks
Mixed Vegetables
Mushrooms
Mung bean sprouts
Mustard Greens
Napa cabbage
Nori
Olives
Onions
Peas
Peppers (all kinds)
Purslane
Radish
Red cabbage
Romaine Lettuce
Sauerkraut
Seaweed (nori)
Spinach
Swiss Chard
Tomatoes
Turnip Greens
Watercress
Zucchini
Legumes
Black beans
Black-eyed Peas
Cannelloni Beans
Great Northern Beans
Kidney beans
Lentils
Navy Beans
Pinto beans
Red Beans
Chickpeas
Spices & Fresh Herbs
Allspice
Anise
Basil
Bay Leaf
Black Pepper
Cardamom
Cayenne Pepper
Celery seed
Chili Pepper
Chili powder
Cilantro
Cinnamon
Cloves
Coriander Seeds
Cumin
Curry-Green
Curry-Red
Curry-Yellow
Dill
Fennel
Fenugreek
Garam Masala
Garlic
Ginger
Herbs de Provence
Mint
Mustard Seeds
Nutmeg
Oregano
Paprika
Peppermint
Rosemary
Sage
Salt
Tarragon
Thyme
Turmeric
Healthy Fats, Oils, and Nuts
Avocado
Clarified butter
Coconut Oil
Ghee
Macadamia Nut Oil
Olive Oil
Almonds
Brazil Nuts
Cashews
Chia seeds
Hazel nuts
Hemp seeds
Macadamia nuts
Pecans
Pine Nuts
Pistachios
Pumpkin seeds
Sesame Seeds
Sunflower Seeds
Walnuts
Extras
Beef Broth like Kettle & Fire
Nut Butter like

almond butter

Chicken Broth
Coconut Milk
Fish Sauce
Hot Sauce
Hummus
Lemon Juice
Lime Juice
Mustard
Pesto
Salsa
Soy Sauce
Sriracha
Tamari (wheat free)
Vinegar
We love American Dream Nut Butter and have a 10% coupon with the code KIMANDKALEE.
You may also like: