Perioral Dermatitis is a skin rash that can be red, itchy, flaky on your chin, cheeks, or eyes. It typically effects young, white women and can be hard to clear up. If you would like to see pictures of the rash, click here.
My perioral dermatitis started at 21 years old during my senior year of college when I was really stressed out.
Since the rash popped up over night (literally) at 21, I have managed to get rid of it, have a full attack of it 3 months after it cleared, and then a few flare ups in the past year and a half. The flares have been very small and definitely relate to stress. The products below have REALLY helped clear up my perioral dermatitis and prevent break outs.
From reader emails and personal research, people with perioral dermatitis should avoid products with:
Sodium Lauryl Sulfate (SLS)- This chemical is heavily restricted in Canada and Europe; however, it is even in baby products in the U.S.
Parabens – Parabens are known to disrupt the body's hormones and endocrine system. They are also very harsh irritants when applied to the skin. These chemicals are found in most cosmetics and cleansers.
Whiteners and Bleaches – Skip these all together! If it bleaches, it has to be harsh.
Below you will find my favorite products that are also Perioral Dermatitis safe products.
All products below are free of the 3 ingredients above.
Each picture is linked to the product so you can click and order easily. They are mostly through Drugstore.com because it is the cheapest.
I am not a doctor and do not have a medical certification. I am only sharing my story.
Best Skincare for Perioral Dermatitis
I used Say Yes to Blueberries this year too. I love the Overnight Hydrating Cream even in the morning on any dry spots including my chin (my problem area for dermatitis). It is very moisturizing without being greasy or clogging my skin. The pump it is in makes it easy to get out just enough and is very sanitary.  The blueberry line also helps with aging.
If you have oily skin, you may like the daily moisturizer instead. It also is very soft, non greasy, and helps sooth irritated skin.
Since having Perioral Dermatitis, the ease of my facial routine has went out the window. I have to be so careful to avoid a breakout. These wipes are AMAZING. 
They are under $10 for 30, and they are also moisturizing. I use these when I travel or am just really tired.
Daily Cleanser
This cleanser is awesome. You can feel how gentle and creamy it is before you even apply it to your face. It is very gentle, and I even put it on my chin. It's also under $10 and lasts forever!! Love this stuff.
My perioral dermatitis is around my chin and lips when it flares so a safe chapstick is a must. Kiss My Face's goes on well, is not too greasy or too hard, and it tastes good.
I love, love, love this stuff. My mom, 42 years old, ordered it for her. She really liked it, and I had stopped using anything anti-wrinkle because of the irritating ingredients. I was looking over her bottles, and it has only safe ingredients (from my research). I have used it since December and really like it. It helps moisturize your skin as well as help with fine lines. You can also read her review on Derm Exclusive here.
Please note brands like Simple or Cetaphil are NOT completely safe or free of  harsh ingredients. They brand themselves as products for sensitive skin, but they contain sulfates and/or parabens.
Best Makeup for Perioral Dermatitis
Best Tinted Moisturizer


This tinted moisturizer is the closest thing I can find to what my dermatologist personally sales in her office. It hydrates, calms redness, reduces inflammation, and also helps with skin's texture. It also has SPF in it to help with the irritation from the sun. It's pricey, but you can always do half tinted and half regular moisturizer to make it last even longer.
Can't Wait to Try!!! Primer


I have not tried this yet, but I used to be addicted to primer. I had to stop using it because so many brands have parabens or sulfates. Tarte's new primer is "safe" though, and it helps balance your skin's texture before applying your makeup. I hope this will help with the oily to super dry spots from perioral dermatitis.
*They also have a brightening primer without parabens or sulfates.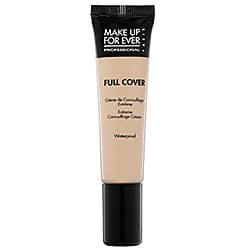 I LOVE this stuff. If nothing else, this is a must-have. It builds easily, and it even lasts pretty well on the bridge of my nose which gets very red. I put it on before my foundation on the red spots, let it dry, apply foundation, and pat with powder after the foundation is dry. (If you do it before it is dry, it will look cakey).
Best Powder


Jane Iredale Amazing Base Loose Mineral Powder helps prevent sun damage which can be heightened because of the mediciation prescribed for Perioral Dermatitis. It also helps moisturize and sooth skin as soon as you apply because it has algae extracts in it. I have not tried it personally yet, but others have loved it and will never use anything again.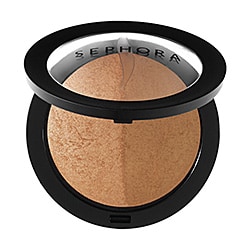 This bronzer is light enough that I don't look orange. It goes on easily, and it has lasted a long time.
Best Mascara


After reading that some people get perioral dermatitis on their eyes and eyelids, I was really nervous about using anything. It still scares me to be honest because I imagine it is painful. This mascara contains no known triggers, and it actually helps your eyelashes get stronger. 91% of testers saw an improvement in their lashes.
Best (?) Cream Eyeshadow


I say "Best?" because I have not tried it; however, it is safe and does not rub off easily. Tarte says, it "protects against sweat, tears, and creasing for hours of wear time". I'll definitely try it. If someone tries it before me, will you let me know how you like it?
Best Palette Eyeshadow


This palatte comes with several natural colors, and it is easy to carry when you travel. It also is more mineralized than a drugstore brand which means you have to use less for a more vibrant eye. The PRIMER is NOT safe though that comes with it. It has parabens galore. Skip the free gift.
I haven't tried this yet, but I will. Right now I have Urban Decay's but I am worried of it's ingredients.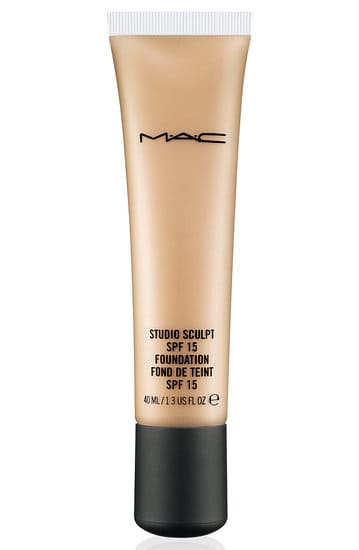 I love Mac's Studio Sculpt makeup because it has a good level of coverage to balance out the redness caused by perioral dermatitis. It also is lighter than most fuller coverage foundations. It is pretty moisturizing as well and comes out as a foamy liquid.
Just a note about Rose Water products:
To freshen makeup put distilled water in a spray bottle–resist the urge to try a rose water but if you do check the ingredients so many have parabens and sulfates and are over $30
Best Hair Products for Perioral Dermatitis
You may think hair products that are safe for perioral dermatitis is overboard, but these products come in close contact with our face multiple times each week. With how easy a flare up can happen, I try not to risk anything.
Best Shampoo (Drugstore)
L'Oreal Sulfate Free Shampoo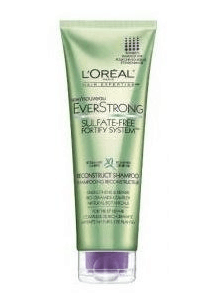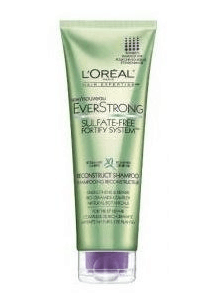 This stuff makes my hair so soft and healthy. I have been growing it out for 2 years, and I put this in it every time I wash my hair.
Other Items for Perioral Dermatitis
Finding a toothpaste that met the requirements was so hard. Even Colgate's Cavity Protection that seems so bare-minimum had Sodium Lauryl Sulfate in it! "Organic" brands also had whiteners or sodium lauryl suflate too! Crazy! Sensodyne is the best I have found; however, it is pricey and does not last long. If anyone has a better suggestion, please email me. I'll be very grateful!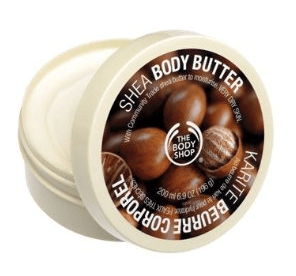 I use scrub all over to help my skin from getting dry and itching. I don't know if dermatitis spreads, but just in case I stay moisturized and avoid the 3 ingredients listed above.
Again, the more moisturized by natural products I am, the better I feel. This lotion lasts a long time, keeps me moisturized, has a very light smell, and is not greasy. It is also cheap!
Be very careful when picking a sunscreen. Even some of the fancy face products from name brands like Neutrogena have irritating ingredients in it. Irritants mixed with sun and possibly sand is an awful combination.
Shaving causes very small tears and breaks in the skin. You want to make sure these fragile spots gets only non-irritating ingredients.
Remember even the "organic" or "sensitive" products can contain sodium lauryl sulfate or parabens. The price, marketing, and the brand does not matter. Always read the labels especially if you have perioral dermatitis.
I hope this extensive product guide will help anyone with Perioral Dermatitis or even just sensitive skin. These products are the most natural, safe products I have found in the past 3 years. A lot of them are also relatively inexpensive (thank goodness!) If you have anymore you'd like to add, please email me.

 Did this help you?
Comments
comments