Best Paleo Blueberry Muffins (Easy No Almond Flour Recipe!)
This post may contain affiliate links. All opinions shared are my own. As an Amazon Associate I earn from qualifying purchases. Click to view our full disclosure.
Avoiding grains and dairy? Make these Paleo Blueberry Muffins for breakfast or snacks! These muffins are naturally sweetened and made without almond flour, and are completely dairy free as well.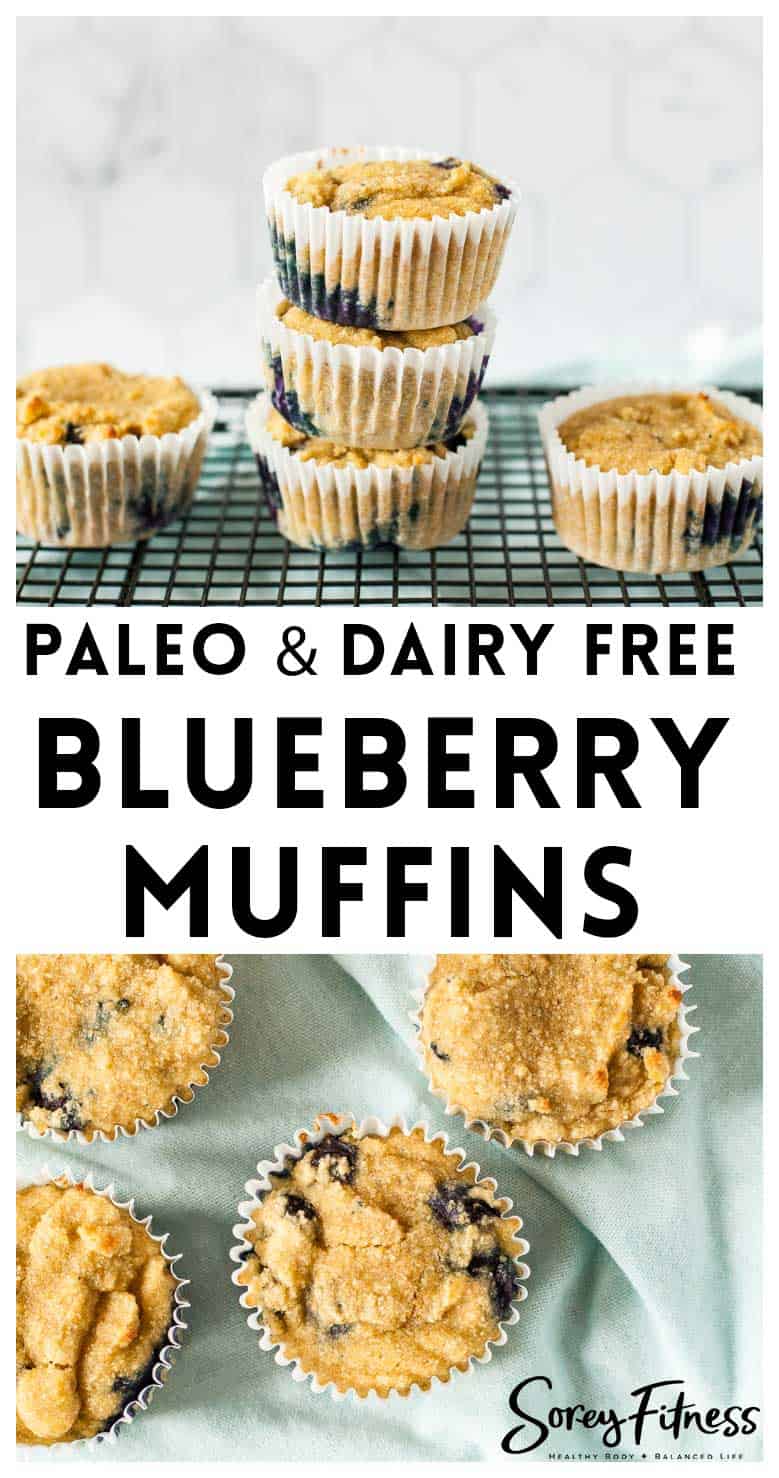 Ready for some amazing Paleo Blueberry Muffins that are perfect for breakfast or snacks? This paleo muffin recipe is not only grain free, but it's also completely dairy free and made without almond flour!
Our healthy blueberry muffins are simple and made with natural ingredients and made without added starches or thickening gums.
These dairy free blueberry muffins don't rise as much as regular blueberry muffins, but they are flavorful and perfectly moist in the middle (no dry muffins here!).
Most popular paleo blueberry muffin recipes call for almond flour, but our recipe has zero almond flour, so it's great for people with almond allergies. My kids loved these as well, so they are kid and teen approved.
If you can have gluten, we also love this air-fryer blueberry bread and these gluten-free banana chocolate chip muffins!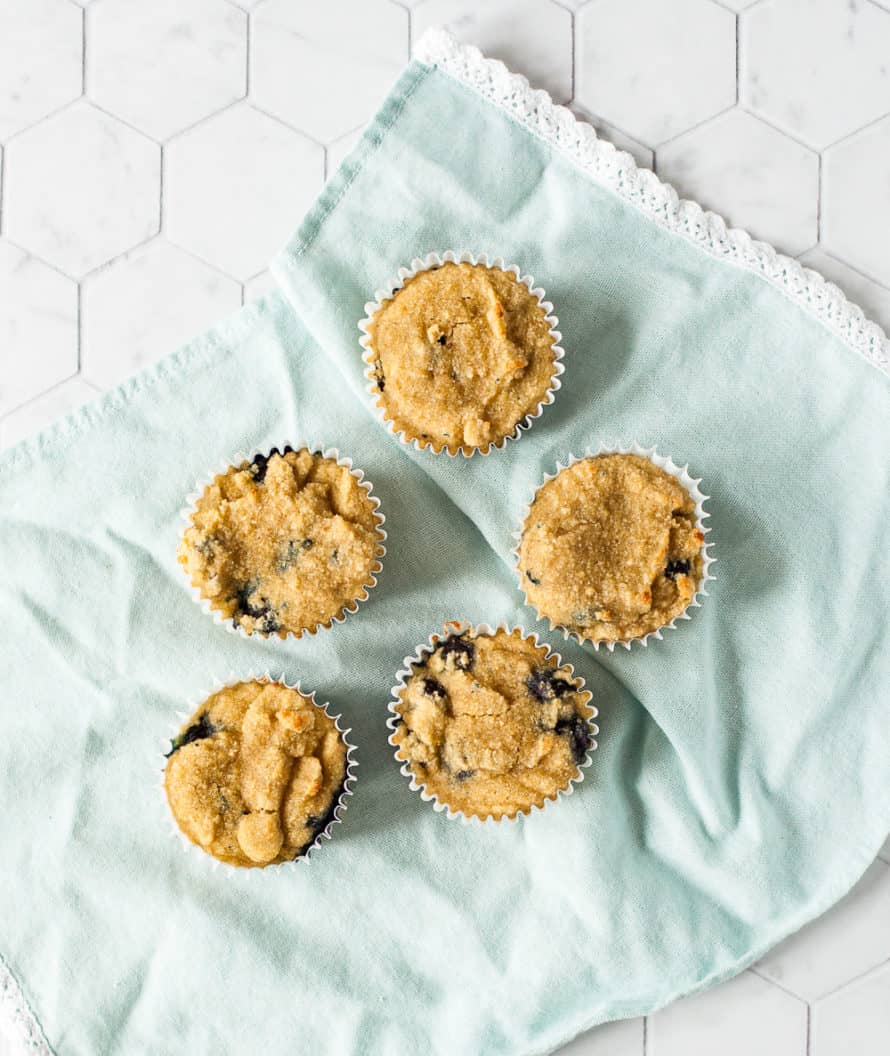 Read on for tips on how to make our muffin recipe and an ingredient breakdown.
How to make paleo blueberry muffins without almond flour
These grain free blueberry muffins are really simple and easy to make.
Here are the steps for mixing up your muffins (don't forget that the full recipe card is at the end of the post!):
Preheat your oven and prepare your muffin pan with muffin papers.
Mix together your wet ingredients first.
Add your dry ingredients and blueberries to your wet ingredients and mix well.
Fill your muffin cups 2/3 full and bake 20 minutes.
Cool and serve!
Here are the ingredients that make these paleo blueberry muffins healthy and delicious:
Eggs
The eggs in this recipe add some protein, healthy fats, vitamins, and minerals to these muffins. Plus the eggs act as a binder for these muffins.
Grain free and gluten free flours don't have the protein gluten in them (which acts as a binding "glue" for baking), so they need something else to hold them together, like eggs or ground flaxseed.
Make sure that you don't skip the eggs in this recipe, or these won't turn out! They'll end up crumbly and fall apart without the eggs, so don't skip these.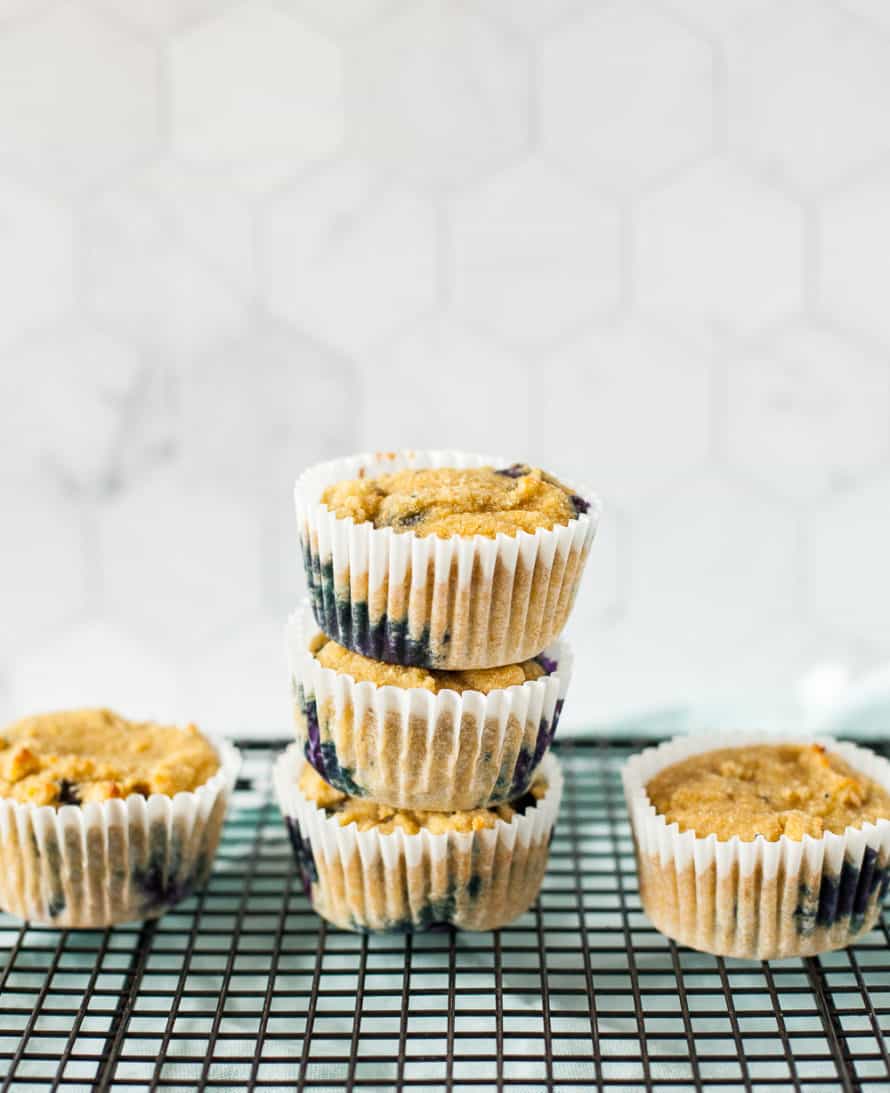 Ground flaxseed
The ground flaxseed in this recipe adds healthy fats, fiber, and works as a binder in addition to the egg.
I use ground golden flaxseed in this recipe to keep the muffins light colored, but you can use regular ground flaxseed instead if you like (they'll just be a darker color).
We opted for adding ground flaxseed to these muffins instead of adding additional eggs, so don't skip the ground flaxseed if you want these to stick together well and not be fall-apart or crumbly.
Pure maple syrup
Pure maple syrup is a great natural and paleo sweetener if you're not avoiding sugars. It has naturally occurring minerals like zinc, manganese, and potassium as well as antioxidants.
If you want to use natural honey instead of maple syrup, use slightly less honey in this recipe: 1/2 cup of honey instead of the 2/3 cup of maple syrup. Honey is a more concentrated source of sugars so you won't need as much for the same amount of sweetness.
Maple syrup is lower in FODMAPs than honey. So if you have IBS and are watching your FODMAP intake, opt for maple syrup instead of honey.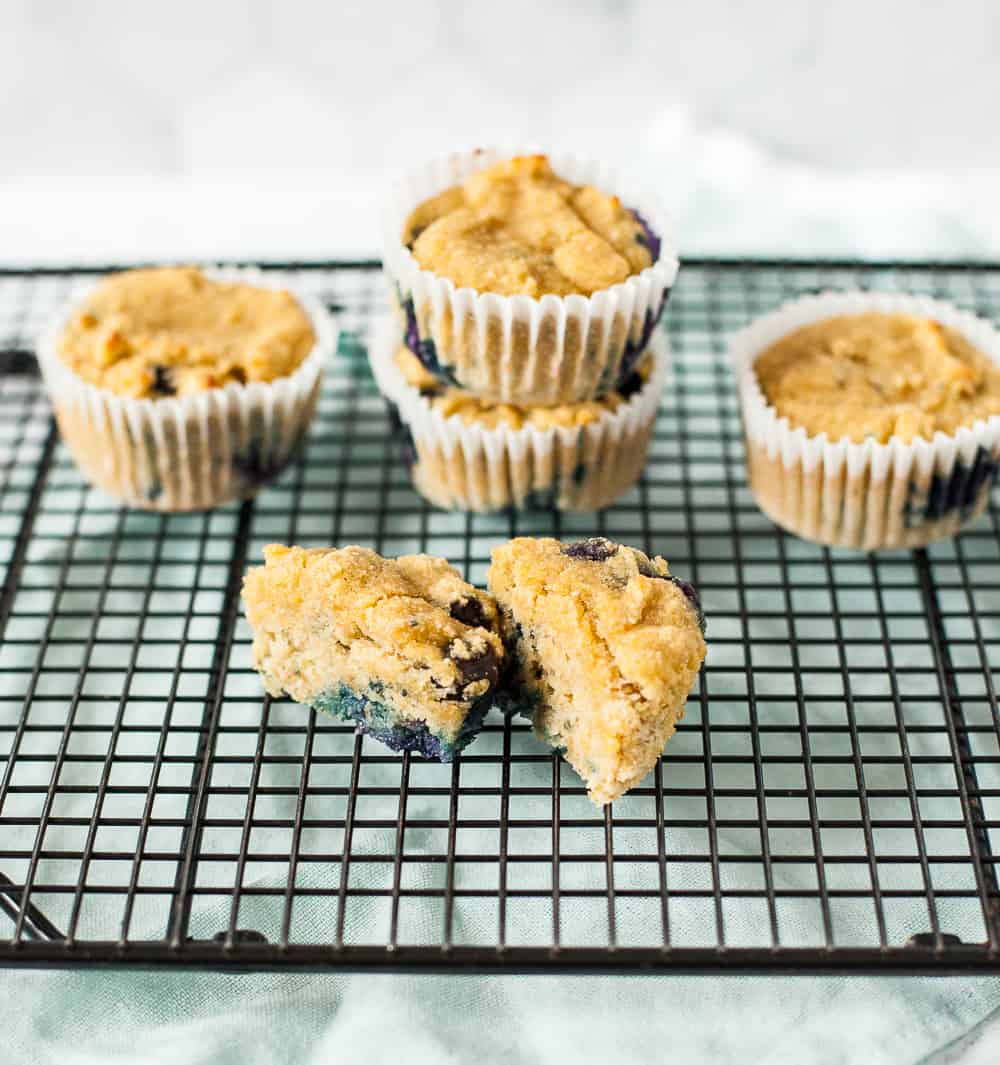 Coconut flour
Instead of using almond flour in this recipe like a lot of other paleo muffin recipes, we used only coconut flour in this recipe to make it more allergy friendly.
Coconut flour is loaded with fiber, has a lower glycemic index (won't spike your blood sugar as much), and contains minerals like calcium and manganese.
While the FDA has labeled coconut a tree nut, coconut is not botanically speaking a tree nut and should be safe for people with tree nut allergies. But when in doubt, talk to your allergist!
Coconut is not a botanical nut; it is classified as a fruit, even though the Food and Drug Administration recognizes coconut as a tree nut. While allergic reactions to coconut have been documented, most people who are allergic to tree nuts can safely eat coconut. If you are allergic to tree nuts, talk to your allergist before adding coconut to your diet. American College of Allergy, Asthma, and Immunology.
Since my daughter is allergic to tree nuts (but not coconut), we made these blueberry muffins entirely with coconut flour and no almond flour, so she could enjoy these. Plus, we don't allow nut flours in our kitchen to keep cross contamination down.
Blueberries
The star of these muffins are the blueberries! Blueberries are a nutrient dense superfood that have fiber, vitamins and minerals (like vitamin C and vitamin K), and polyphenol antioxidants called anthocyanins.
If you can get your hands on fresh wild blueberries, even better! Wild blueberries are smaller and more tart than conventional farmed blueberries, and have an even higher concentration of antioxidants than conventional blueberries.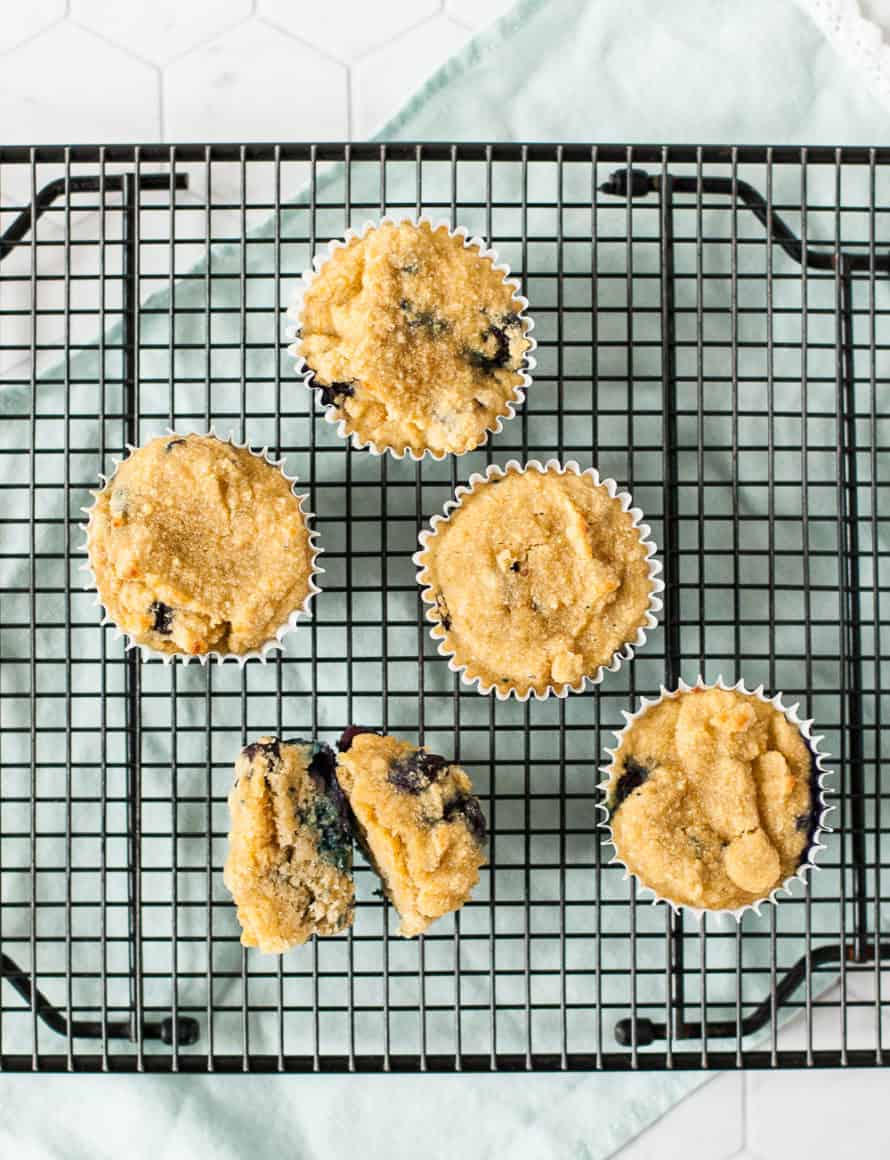 Can I freeze these paleo blueberry muffins?
Our paleo blueberry muffins can be frozen if you want to make a larger batch and save them for later!
Once your muffins are cooled completely, place them in an airtight container and add to your freezer. In the freezer these will last 1-2 months.
Can I substitute frozen blueberries for fresh ones in these muffins?
If you don't have fresh blueberries, you can use frozen blueberries in this recipe, but the muffins will end up more dense.
Frozen blueberries (and frozen fruit in general) releases more moisture and water into your baked goods, so they will end up more dense and more moist inside.
If you use frozen blueberries, you can reduce your oil by 1 Tablespoon to help these not to be too moist.
These paleo blueberry muffins will also turn a bit bluish-green if you make them with frozen blueberries since the juice from the frozen blueberries will mix with the batter.
So if you use use frozen blueberries and the muffins end up a green/blue color, that's normal and from the blueberry juice!
Check out our other healthy breakfast recipes!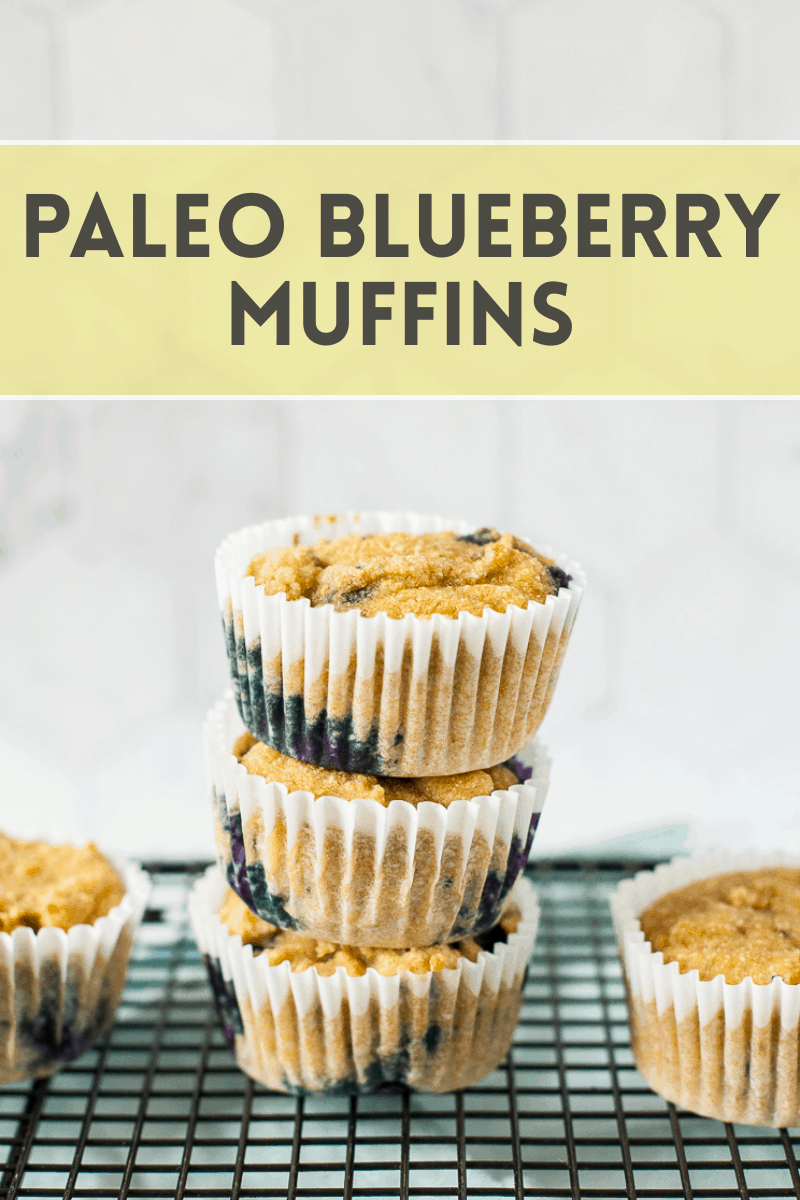 You may also like:
Yield: 12 muffins
Paleo Blueberry Muffins (made without almond flour)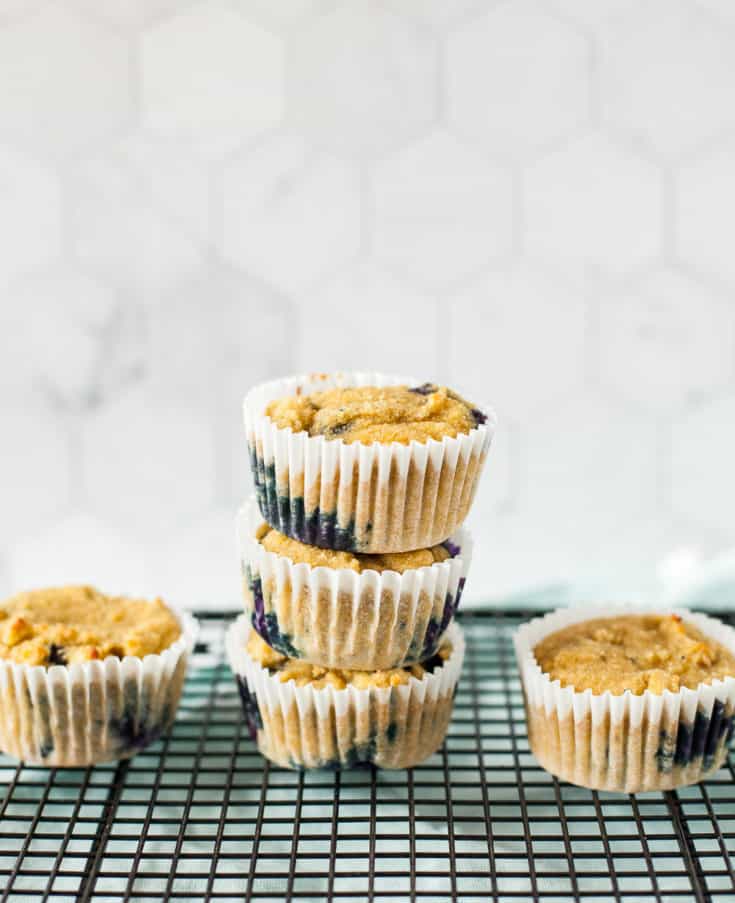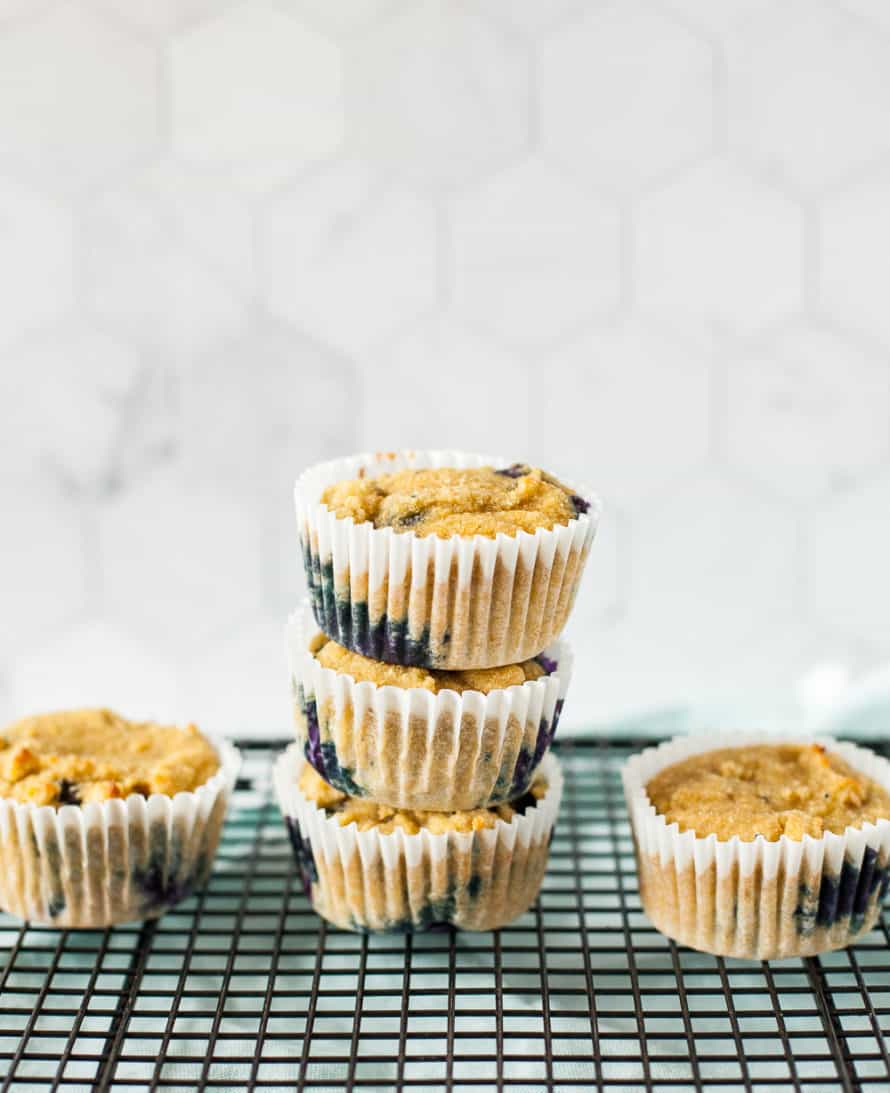 Avoiding grains and dairy? Make these Paleo Blueberry Muffins for breakfast or snacks! These muffins are naturally sweetened and made without almond flour, and are completely dairy free as well.
Paleo, gluten free, grain free, dairy free
Additional Time
15 minutes
Ingredients
2 eggs
2/3 cup pure maple syrup (or 1/2 cup honey)
1/4 cup + 2 Tablespoons ground golden flaxseed
1/4 cup coconut milk
2 Tablespoons oil (I used light tasting olive oil)
1 teaspoon vanilla extract
Zest of 1 lemon
1/4 cup + 2 Tablespoons coconut flour
1 teaspoon baking powder
1/4 teaspoon baking soda
1/4 teaspoon salt
generous 2/3 cup fresh blueberries
Instructions
Preheat oven to 350 degrees F.
Line a metal muffin pan with paper or silicone muffin liners. Set aside.
In a medium sized mixing bowl, whisk together the eggs, maple syrup, ground flaxseed, coconut milk, oil, vanilla, and lemon zest.
Whisk into the liquid ingredients the coconut flour, baking powder, baking soda, salt, and blueberries.
The batter will seem thin at first but will thicken up quickly. Allow the batter to thicken for 30 seconds to a minute, then stir again to distribute the blueberries.
Fill the prepared muffin cups 2/3 full and smooth out the batter a bit on top.
Bake for 20 minutes in the preheated oven (if you use a stoneware pan instead of a metal muffin pan, you may need to cook the muffins an additional 2-3 minutes).
Allow to cool in the pan for about 10 minutes, remove from the pan to a cooling rack and cool completely.
Enjoy!
Store these in an airtight container at room temperature for up to 3 days.
Recommended Products
As an Amazon Associate and member of other affiliate programs, I earn from qualifying purchases.
Nutrition Information:
Yield:
12
Serving Size:
1 muffin
Amount Per Serving:
Calories:

116
Total Fat:

5.1g
Saturated Fat:

1.3g
Cholesterol:

36.8mg
Sodium:

140mg
Carbohydrates:

16.3g
Fiber:

2.2g
Sugar:

11.7g
Protein:

2.3g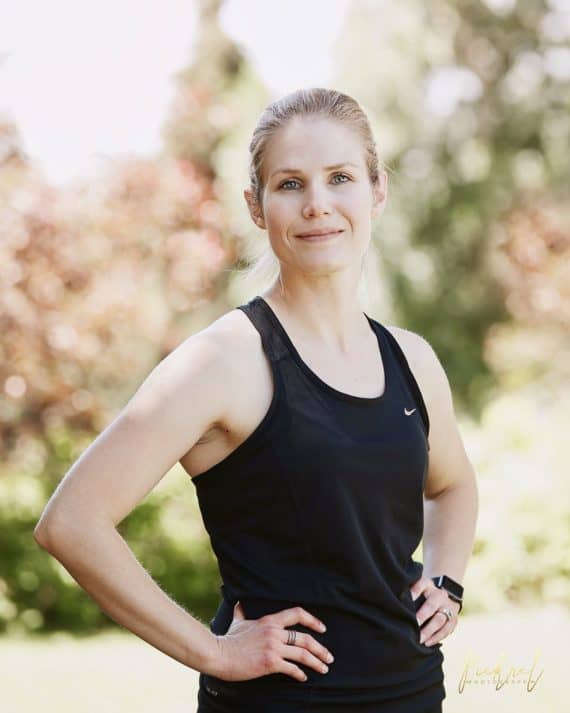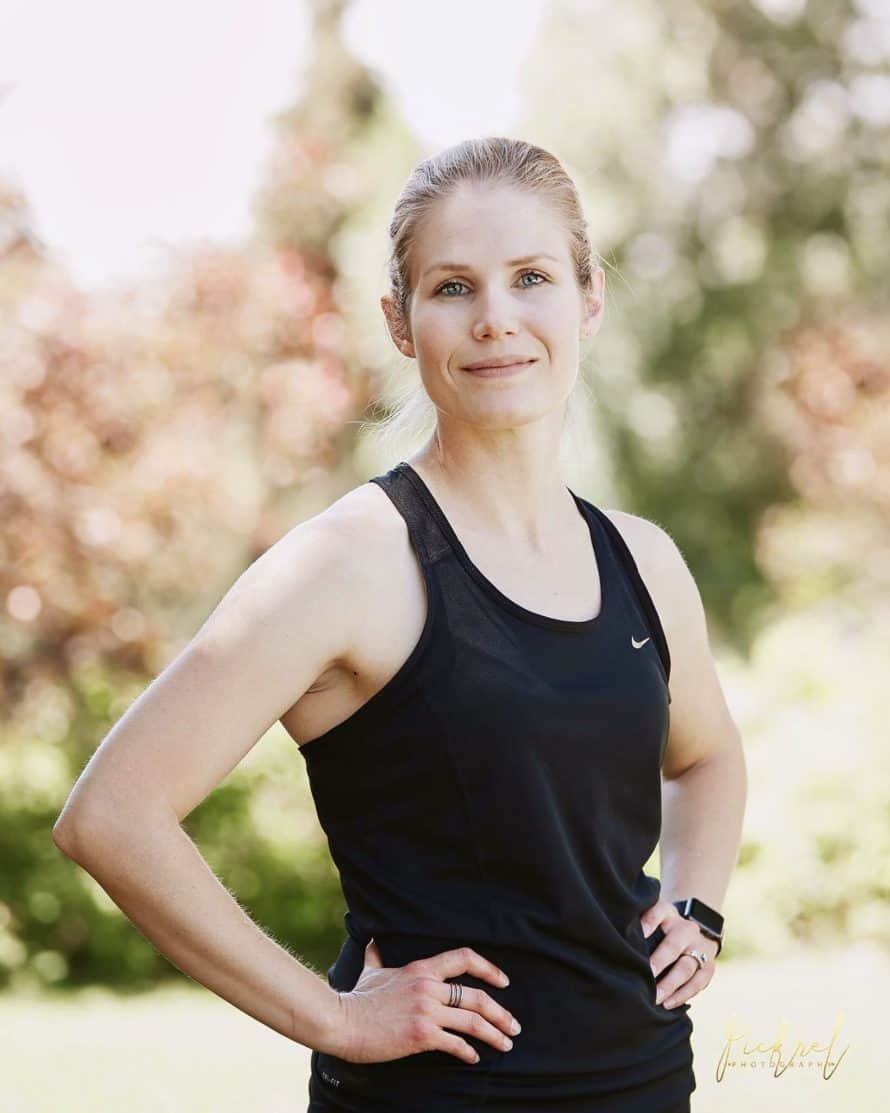 Sarah Jane Parker is a food and healthy living blogger at The Fit Cookie, an ACSM Certified Personal Trainer, ACE Certified Health Coach, Revolution Running certified running coach, YogaFit Level 1 certified yoga instructor, and an ACE Certified Fitness Nutrition Specialist.