Perioral Dermatitis typically effects young, white women and is skin rash that focuses mostly on the chin area but is not limited to it. You can get the rash through any breaks in the skin. My dermatologist blames makeup, moisturizers, steroid creams, toothpastes with whitening ingredients, and cinnamon (see my favorite, safe products). I have also heard stress, rapid change in temperature, strong soaps (including detergent), and vitamin deficiencies can play a role. If you would like to see pictures of the rash, click here.
After suffering from perioral dermatitis for nearly 2 years, I want to share my story plus every tip I have found on the annoying, itchy rash. I am not a doctor or have a medical certification. I am only sharing my story.
First off, please know you aren't alone. I remember breaking down in the car after my mom told me a blister was (again) peeling on my chin after being on antibiotics for the rash once before. It was so embarrassing for me to walk around with the red bumps on my chin, and it stressed me out. My advice to you: breathe. It will help ease your stress level and reduce those awful bumps.
Information I've Found on Perioral Dermatitis
What's Worked for Me on My Road To Curing Perioral Dermatitis
See a dermatologist –– He or she can prescribe an antibiotic and gel to apply. My perioral dermatitis has never cleared on its own unless it was a small flareup.
Take a zinc supplement twice a day (reccomended by my dermatologist).
Review what types of soaps and lotions you use: body, face, laundry detergent, perfume, makeup, etc. Sodium Lauryl Sulfate (SLS) is considered a known toxin in Canada; however, it is in a ton of products in the United States! Nuts!!! SLS is a common skin irritant, and you should avoid it. Don't forget you may be allergic to any of the other ingredients in your soaps and until you figure out what it is and stop using it, it is harder to cure your dermatitis. See my favorite products
Avoid cortisone creams — They make your skin thinner and can even bleach it! The creams are also shown to flare up perioral dermatitis and make it come back quicker and heavier.
Manage your stress effectively — Here is a whole post on how I manage my stress.
My Perioral Dermatitis Story 

This is my perioral dermatitis on a bad day. :(
It does clear up for a few days each month it feels like (maybe a hormonal link?) and isn't noticeable with makeup.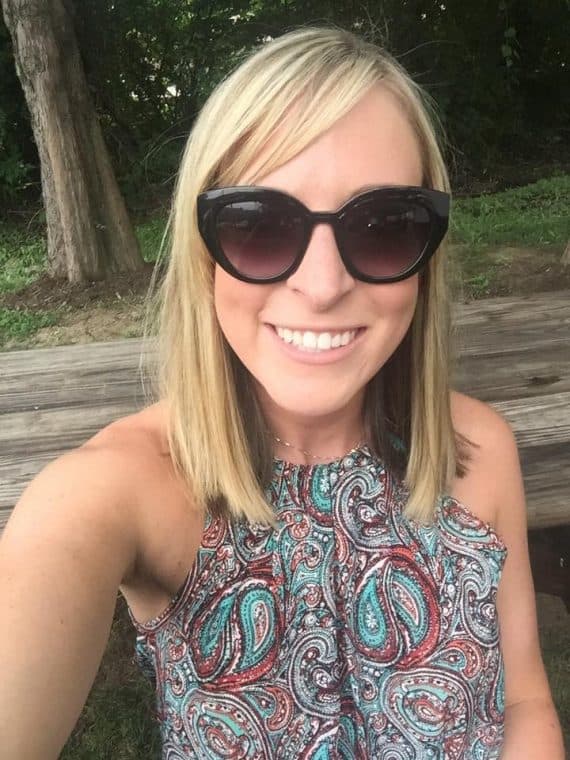 These 2 pictures are 2 days apart. Crazy right? The good day was 2 days before the first picture.

How my Perioral Dermatitis Started
I ended up with perioral dermatitis after signing up for a double major my senior year of college. I decided to take on finance based on the idea of becoming a financial advisor and showing people I could do it. ALWAYS a wonderful idea…not! Within the first month, I was stressed out and the bumps appeared in August.
I called the dermatologist to come in 2 weeks after seeing blisters. I was hoping a shot or a cream would get them gone in a week…2 weeks tops. She gave me a steroid shot, Minocycline, Finacea Gel, and the awful news: "give it at least 6 weeks and then we'll reevaluate." WHAT?! I had class everyday and a new boyfriend. I hated it this rash.
After a month of taking the antibiotic and applying the gel twice a day, the dermatitis cleared up. I was in heaven! I even cancelled my 2nd appointment! I would never, ever take my smooth chin for granted.
By Christmas, it was back. I scheduled an appointment with my family doctor, and she put me on a stronger antibiotic: Doxycycline. The Doxycycline made me so thirsty and my stomach hurt, but it was worth it. Again, the bumps went away after about a month.
I had another nice little break before having yet another flare up. This time I was fed up. I began researching about vitamin deficiencies and natural ways to cure it. I began applying a mask of Stonyfield yogurt and coconut oil. It helped significantly for about a week. After that, it only really worked if I didn't use it everyday. I still use the mask if I have a big event coming up, but it is not effective treatment for everyday use.
I ended up dealing with my perioral dermatitis until late August. I decided to go back and see the dermatologist again after crying over it in a shopping center parking lot and not wanting to go in with a bright red, burning chin. She put me on antibiotics again and also suggested I start taking zinc everyday. Studies have shown a zinc supplement can help  dermatitis significantly even if you are eating healthy.
Since August, the zinc has been helping. The rash cleared within the month of taking the antibiotics, but the zinc has kept it at bay so far pretty well. Currently, I am having a small flare up, but it is not nearly as bad as it used to be. The flare up is because I skipped a zinc supplement one day when I was out of town and the stress of starting a new job. I am trying to remain calm and write down any stressors. While there is little documentation about stress and perioral dermatitis, I feel they are strongly connected.
I am also thinking of limiting my peanut butter intake. I eat a ton of it during school, and it seems like my flare ups happen around school. It will be hard though. It is one of my favorites. If the lack of peanut butter doesn't help, I may limit my wheat. I only eat whole wheat products right now, but I do have a sensitivity to it anyways. It may not be helping my dermatitis.
Do you suffer from Periorial Dermatitis? Do you have a solution or tip? I'd love to hear from you either in the comment section or email me at kalee@soreyfitness.com
Also, please see my favorite skincare, makeup, and hair products that are safe for dermatitis if you have questions relating to cosmetics.