Vegan Shakeology Review: Plant Based Flavors Ranked (2023)
This post may contain affiliate links. All opinions shared are my own. As an Amazon Associate I earn from qualifying purchases. Click to view our full disclosure.
After trying dozens of protein and meal replacement shakes, we offer a vegan Shakeology review focused on the flavor, price, ingredients, and potential benefits. Even if you don't follow a vegan diet, plant-based shakes are still a great way to get in protein quickly no matter what brand you choose.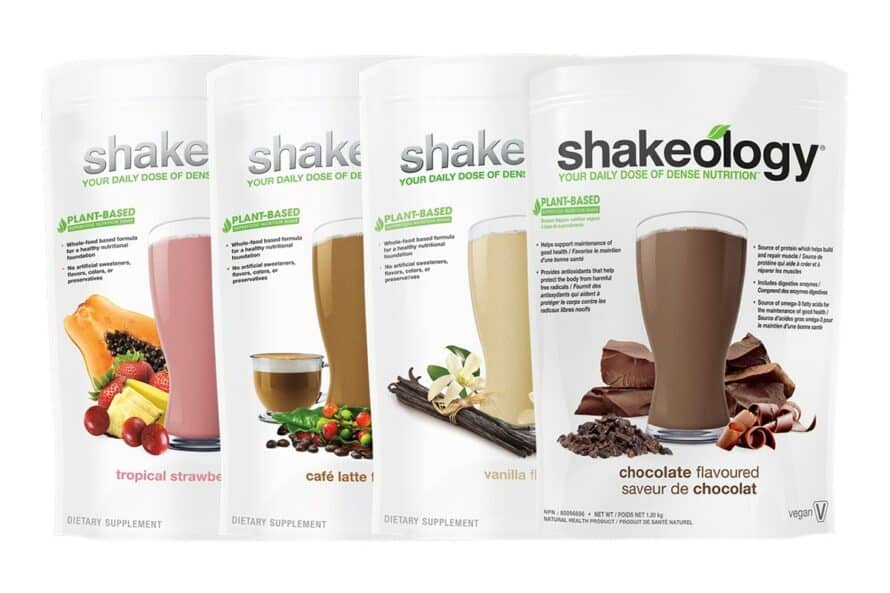 What is Shakeology?
Shakeology is touted as your daily dose of dense nutrition. The protein shake contains not only pea protein powder, but also whole food ingredients, digestive enzymes, and essential amino acids.
There are currently 5 year-round Vegan Shakeology flavors and 3 seasonal ones — all of which we'll look at below.
Darin Olien, the co-host Down to Earth on Netflix and co-formulator of Shakeology, talks about creating healthy energy in this video below:
Why Do We Always Feel Tired? from TeamBeachbody on Vimeo.
Is Beachbody a MLM?
Yes, Beachbody – who created and sells Shakeology – has a multi-level marketing piece to the company. These reps are called Beachbody coaches. Just like any field, some Beachbody coaches are pretty in-your-face, and others are more laid back and just there to help as you need them.
With that said, we tried to look at this nutrition shake on its own merit versus anything else for our vegan Shakeology review.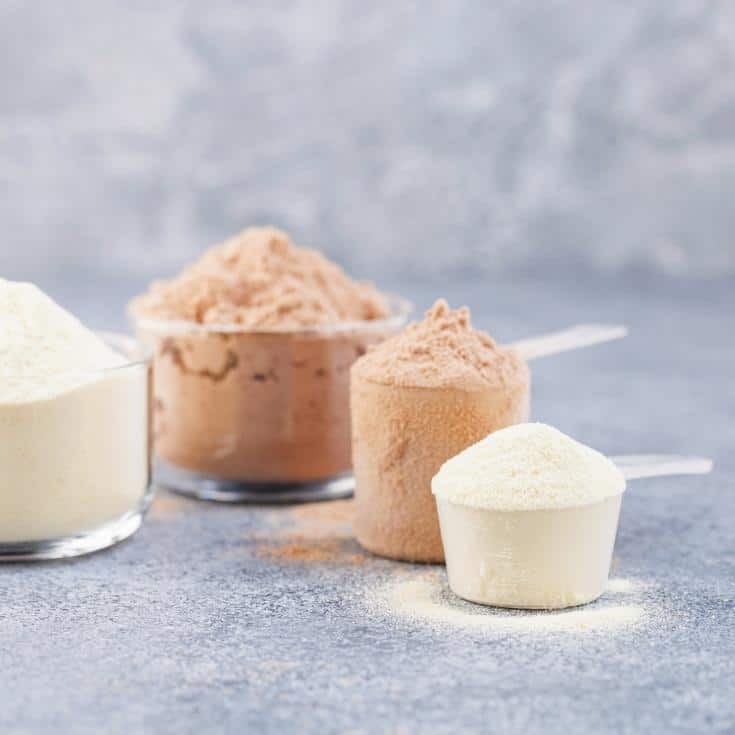 Shakeology Ingredients
Vegan Shakeology has 16-17 grams of protein and also contains:
Proteins (Flax, Rice Protein, Quinoa, Pea Protein),
Superfoods & Antioxidants (Acerola Cherry, Blueberry, Camu-Camu, Goji berry, Rose Hips, Pomegranate, Schisandra, Luo Han Guo, Whole Coffee Fruit, and Cocoa),
Prebiotics & Probiotics (Chricory Root, Yacon Root, Bacillus Coagulans, Digestive Enzymes, and Pea Fiber),
Adaptogens (Astragalus, Cordyceps, Ashwagandha, Chaga, Maitake, Reishi, and Maca),
Supergreens & Phytonutrients (Spinach, Kale, Matcha, Green Tea, Chlorella, and Cinnamon), and
Vitamins & Minerals (Vitamin C, Calcium, Sodium, Iron, and Potassium)
It also has no artificial sweeteners, colors, or preservatives in it. It's also on the low-glycemic index.
It's sweetened with organic cane sugar and Stevia leaf extract. Flavors contain around 7 grams of sugar.
Other things you may want to know about the Shakeology nutrition facts are that it also contains natural flavors, xanthan gum, Himalayan pink salt, and mixed tocopherols (to maintain freshness).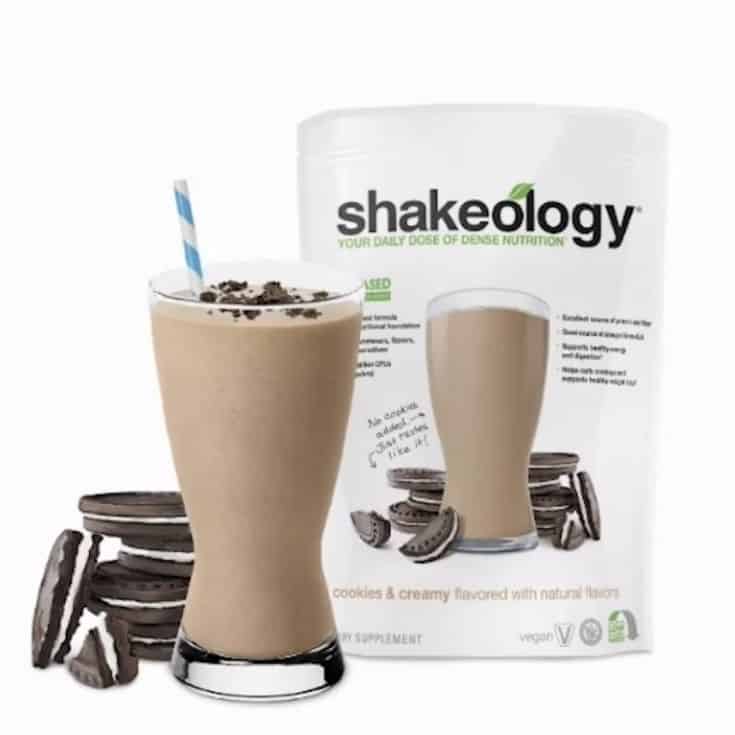 Vegan Shakeology Flavors
There are 5 different flavors that are available year round and 3 that are available seasonally.
Vegan Shakeology Flavors
Cookies & Creamy
Chocolate
Vanilla
Cafe´Latte
Tropical Strawberry
Salted Caramel (seasonal)
Peppermint Mocha (seasonal)
Pumpkin Spice (seasonal)
Out of the vegan Shakeology flavors we like the vegan chocolate Shakeology the best.
The vegan Tropical Strawberry Shakeology has a banana taste with it versus straight strawberry.
Is Shakeology Gluten-free?
Beachbody is working on making Shakeology shakes completely gluten-free. Right now, Shakeology manufactured in a plant that also processes milk, egg, fish, crustacean shellfish, tree nut, wheat, peanut, and soy ingredients.
Therefore, it can't be certified gluten-free even though it's ingredients do not include gluten.
Is Shakeology Vegan?
Yes, the plant-based line is completely vegan.

Health Benefits
According the Shakeology website, the nutritional shake may help you:
Feel Better
Lose Weight
Curb Cravings
Support Healthy Energy
Benefit Overall Health
Support Healthy Digestion
As with any diet or weight loss plan, you'll need to follow a healthy diet and track your calorie intake. Because weight loss happens when you're at a calorie deficit each day — not from a nutrition shake.
Shakeology is also not a very keto-friendly nutrition shake because of the amount of carbs in it. With that said, we managed to work in chocolate vegan Shakeology into our carb allotment occasionally.
You may also like our article: How Many Protein Shakes a Day Can I Drink?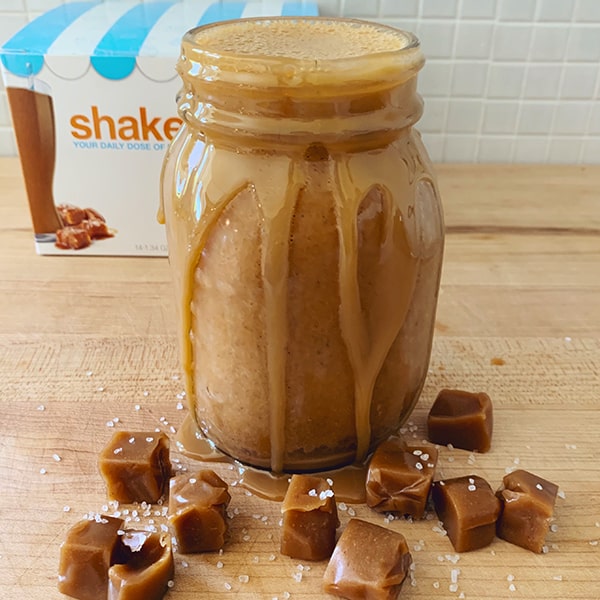 Shakeology Recipes
I really prefer to mix my scoop of Shakeology with something and use the blender. Yes, you could drink it straight, but your taste buds will probably appreciate a little bit of almond milk or almond butter in there with it!
You can grab our favorite Shakeology Recipes here! You can also cave to your sweet tooth with a delicious shake or by making a quick and easy Shakeology mug cake!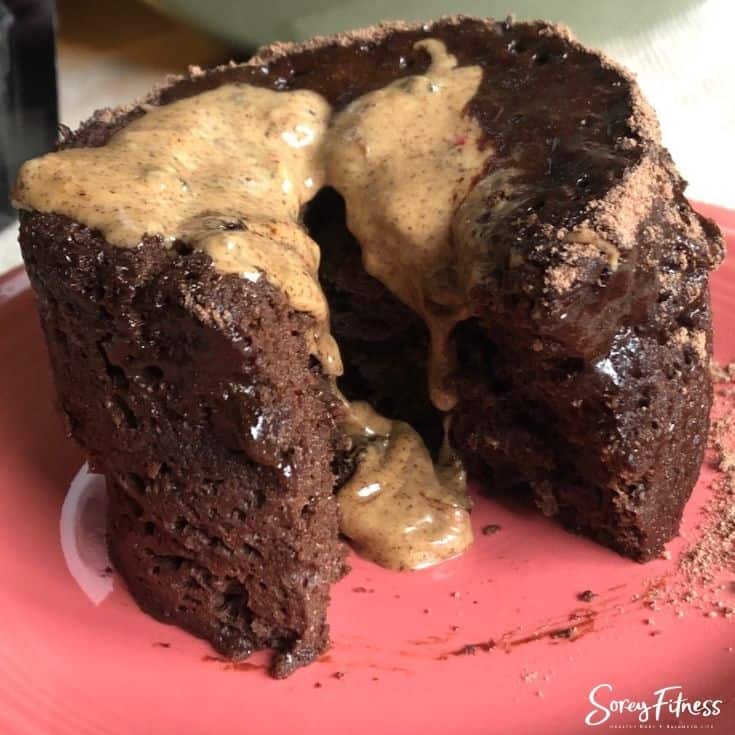 Price
Shakeology is pretty expensive. It's $119.95 for a box of 24 servings or a bag of 30 servings. The seasonal flavors come in smaller boxes and are cheaper overall but include less servings.
Team Beachbody Coaches get 25% off, and the good news is Preferred Customers will be able to get the same discount once that program launches later this year.
Other Beachbody Products
You may have heard of Beachbody's other programs! Their most popular exercise programs are probably P90X and the 21 Day Fix, but they have dozens to choose from! You can view our Beachbody program comparison to see all of the programs in one place.
The Bottom Line
Beachbody says Shakeology is the healthiest meal of the day, and with how many of us eat – it definitely offers some high quality ingredients in a convenient package!
We love the variety of flavors offered, and we loved the vegan options just as much as the original whey protein varieties.
With that said, a proper diet is going to help you get the maximum results from any workout or diet program you follow. Beachbody's Shakeology shake is just an easy tool to mix into your healthy diet if you are looking for something easy to grab.
Love this Vegan Shakeology review?
You may also like: