Chilly Cow Ice Cream Review | Is it Gone for Good? (2022)
This post may contain affiliate links. All opinions shared are my own. As an Amazon Associate I earn from qualifying purchases. Click to view our full disclosure.
This Chilly Cow Ice Cream Review covers flavors, ingredients & pricing on half pints & bars. We also had to share how this new low calorie ice cream stacks up to Halo Top & Enlightened!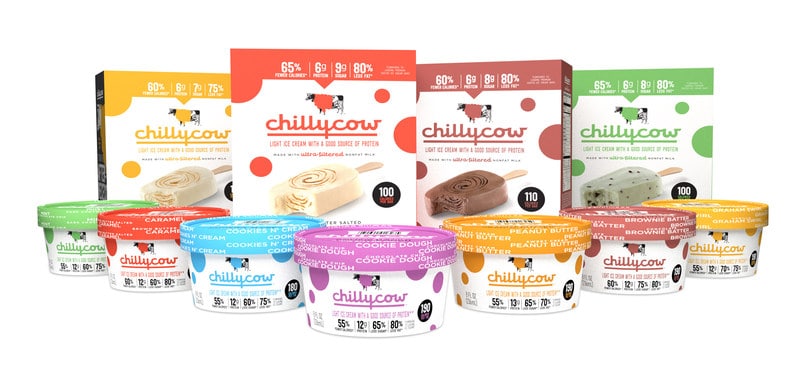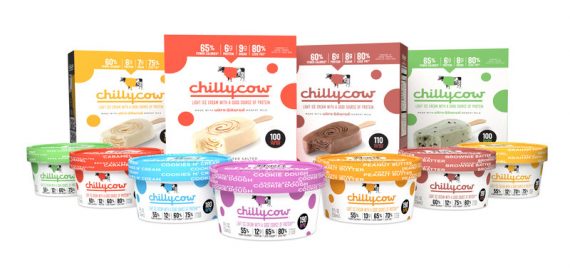 Chilly Cow Ice Cream Review
We kept seeing these half pints on Instagram, and we had to try it! Here's a quick glance at our thoughts:
| | |
| --- | --- |
| Love | Hate |
| Low Calorie | Expensive |
| Super Creamy | Needs to Thaw |
| Low-Fat, High Protein | Lots of sweeteners |
Update 2022: Is Chilly Cow being discontinued?
Chilly Cow looks to have been bought out by Halo Top. Halo Top has also been bought out by mega-brand, Blue Bunny. While no official statement was given, Chilly Cow's social media has gone quiet, their website sends you to Halo Top's website, and stores are sold out of the ice cream products. With that said, Halo Top's ice cream bars do seem to be Chilly Cow's recipe – just under a new name!
Is Chilly Cow Ice Cream Healthy?
Just like Halo Top, Enlightened, or any low-calorie ice cream, it's best in moderation.
While the Chilly Cow half pints are about 180-190 calories, they still contain more sweeteners than your belly may be used to.
We suggest enjoying a half pint or bar once a day at max.
Everyone is different though, and we aren't doctors. We're just sharing our experience.
If you're looking for a keto-friendly ice cream, check out our Rebel Creamery review or our Enlightened Keto Ice Cream Review!
CHILLY COW Ingredients
The ingredients may vary across the different flavors, but most contain:
Ultra-Filtered Nonfat Milk*
Inulin, Sugar, Erythritol (all sweeteners)
Cream
Contains 2% or less of Natural Flavor, Stevia Leaf Extract (Reb M), Glycerine, Salt, Skim Milk, Coconut Oil, Sea Salt, Carob Bean Gum, Pectin, Water, Sunflower Lecithin, Baking Soda, Vitamin A Palmitate, Caramel Color. *Not an ingredient in regular ice cream
The bEST Chilly Cow Flavors
Unlike Halo Top and Enlightened, they only have a few flavors.
Brown Butter Salted Caramel
Chocolate Brownie Batter
Chocolate Chip Cookie Dough
Cookies 'N Cream
Mint Dark Chocolate Chip
Sweet Cream Peanut Butter
Vanilla Graham Swirl
Out of those flavors all of them are pretty light and don't contain a ton of mix-ins.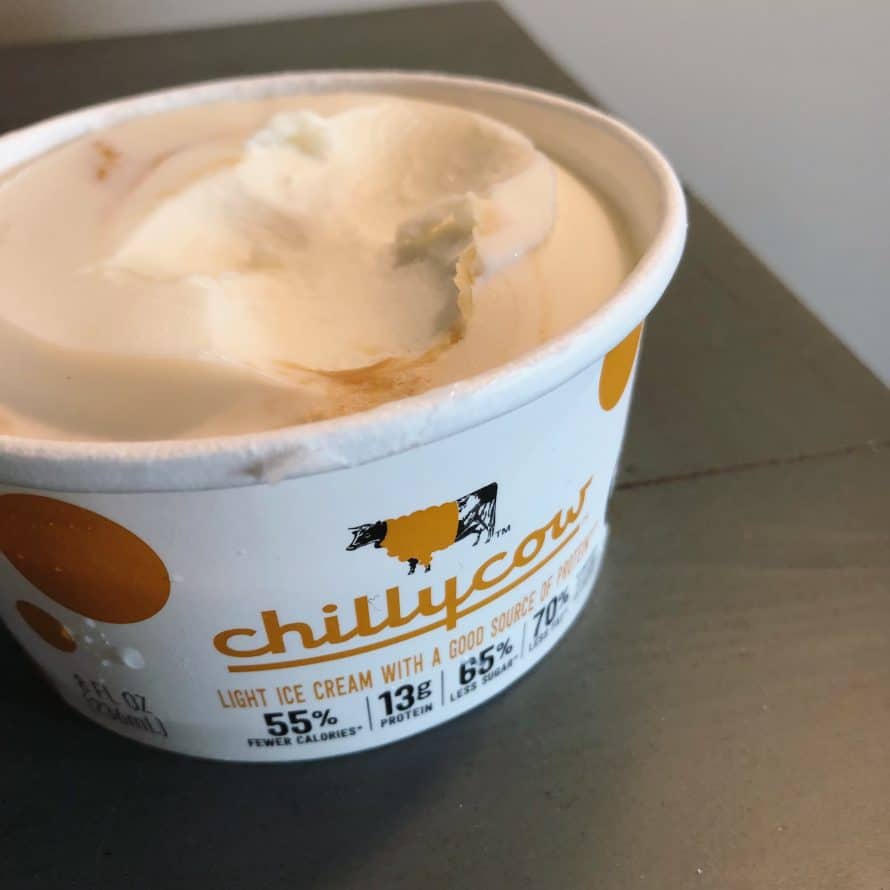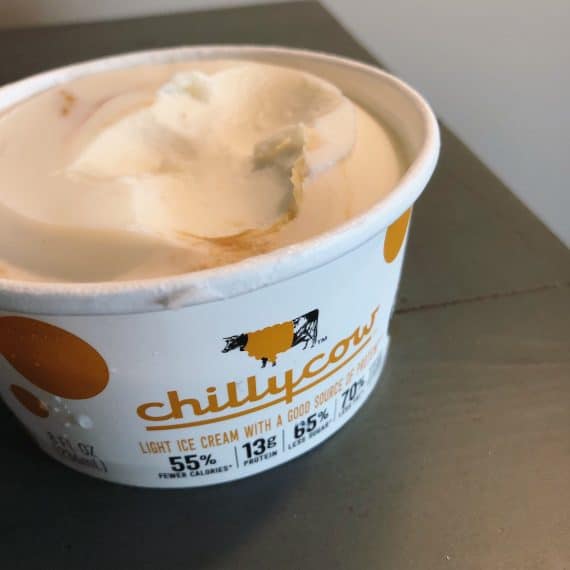 Whats the Best Flavor?
We honestly wish they had more flavors. Out of the half pints, our favorite is the Sweet Cream & Peanut Butter.
If you've found that other low-calorie ice creams have been too sweet or not creamy enough – definitely try this brand!
Why a Half Pint?
We didn't ask them, and we don't have an "in" there, but we're assuming it's so you can eat the whole thing. Yes – you could eat the whole pint of other low-calorie ice creams, but this is taking portion control a step further. (Which we love!)
Chilly Cow ICE CREAM Bars
The ice cream bars are were its at! The Brown Butter Salted Caramel is our favorite. It's like straight cream and satisfies your sweet tooth for 100 calories!
Where to Buy
Chilly Cow seems to have disappeared in 2021 to be replaced by Halo Top. Luckily, you can find that brand in most grocery stores, and the ice cream bars are similar to Chilly Cow. With that said, Halo Top's ice cream isn't as creamy as Chilly Cow's half-pints. They'll be missed.
Chilly Cow Coupons
We decided to try it because it was buy 1, get 1 at Publix. Typically it's about $5 for 2 half pints or a box of ice cream bars.
Ibotta is also awesome!
Ibotta, a cash back app for groceries, features $1 or $1.50 off coupons often. If they don't have this brand, they often have coupons for other low-calorie ice creams!
You may also like our review on: