12 Ways to Burn More Calories During the Holidays
This post may contain affiliate links. All opinions shared are my own. As an Amazon Associate I earn from qualifying purchases. Click to view our full disclosure.
Christmas is our favorite time of year (even if our jeans disagree). While we love our pecan pie, mulled wine and comfort foods offered – we also want to look and feel our best. That's why we try to balance out our extra treats by burning more calories during the holidays.
If you're looking for a quick, no-equipment workout, we also have you covered!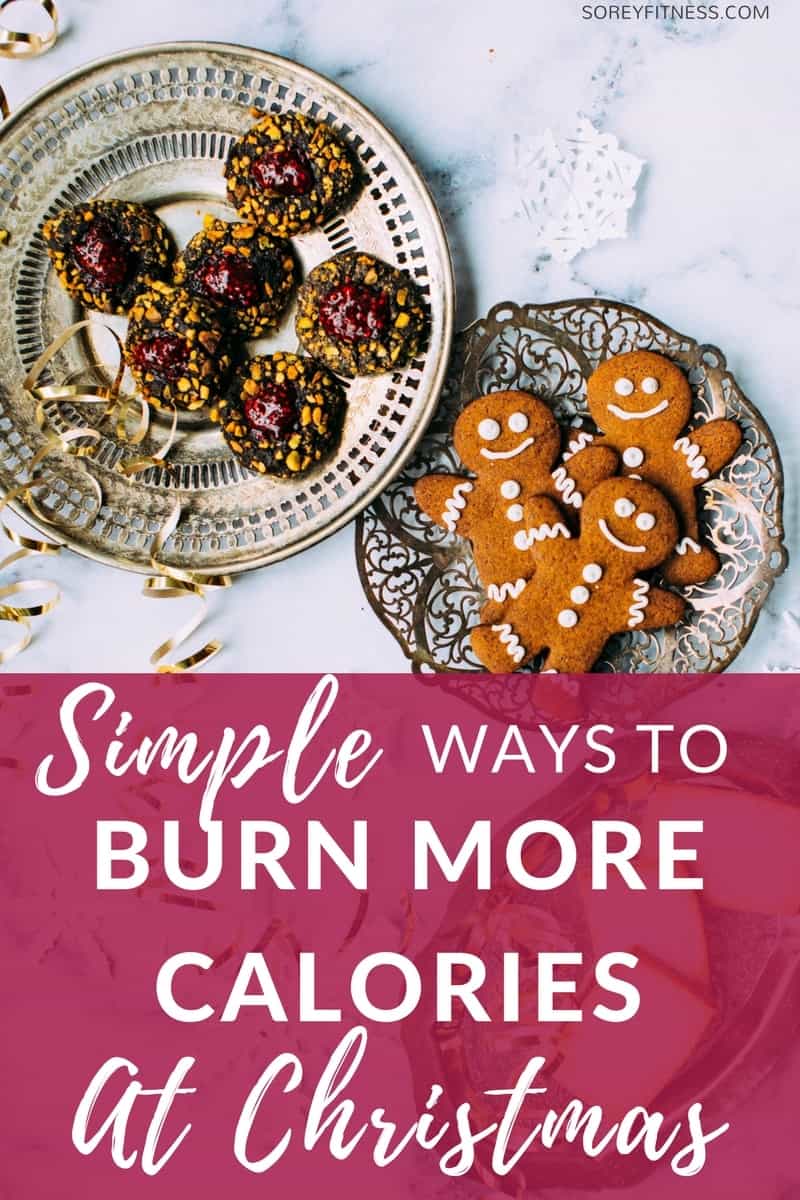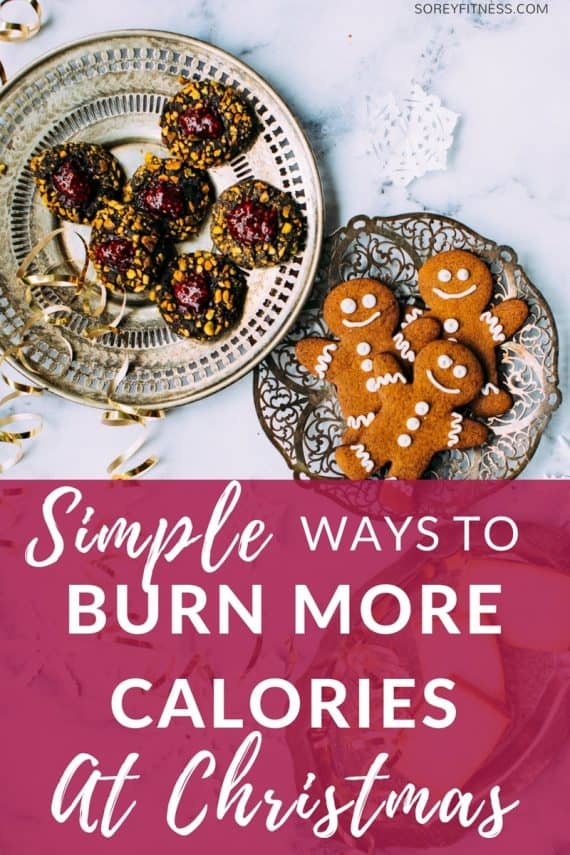 As important as it is to stay active, it's equally important to cut yourself a break when needed. The holidays can be stressful, busy and involve trips and chores that aren't normally apart of your routine.
So don't beat yourself up if you aren't sticking to your normal routine, diet, and workouts. Instead, create a game plan of when you'll wrap up and restart your workouts and meal planning. That way you don't like a temporary break turn into 6-weeks of bad habits.
We usually give ourselves the week before Christmas through the 27th off from working out. That's when things are the busiest, and when we have spare time it's better spent on self-care versus stressing.
We aim to practice portion control and find ways to stay active – like taking the stairs and parking further away from a store.
If you love this post, also check out 3 Simple Ways to Stress Less at the Holidays
A Quick Workout For You
If you do want to workout during the holidays, but you need a quick no-equipment HIIT workout check this one out!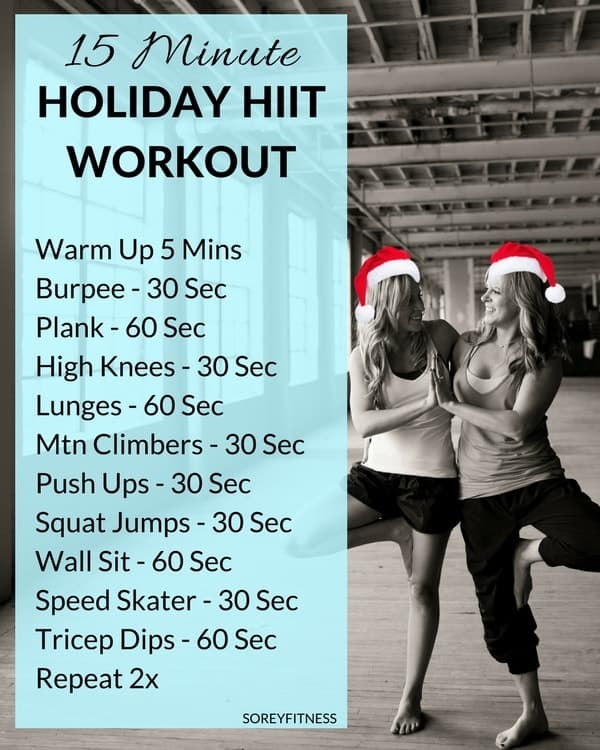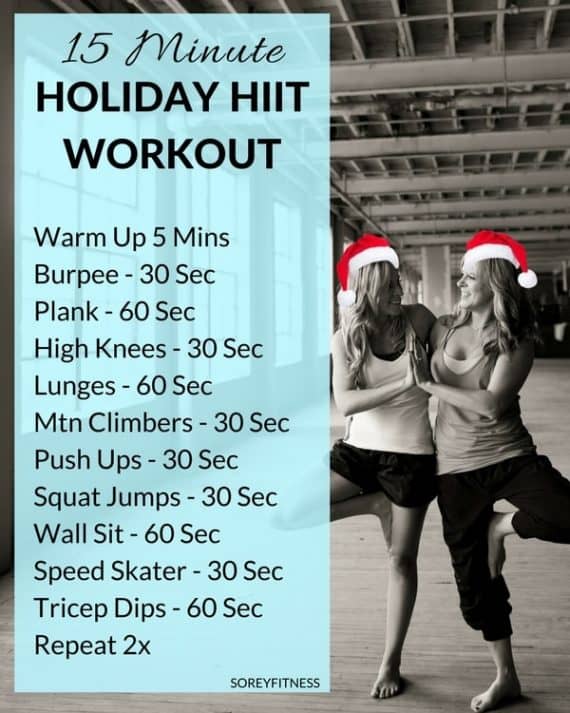 You can choose any type of warm-up. Examples might be walking or jogging in place or walking up and down the stairs. We are just looking to get our heart rate up before digging into the workout.
We also suggest doing the same thing for 5 minutes at the end of your workout to cool down. We aren't personal trainers, and this is just meant for our personal use. You should consult with your doctor before starting a new workout.
It's Not Just About Weight
While we definitely dread putting on jeans after a huge Christmas Eve dinner and Christmas morning breakfast, it's not just about our weight when it comes to indulging.
Our family always assumes it's all about the scale too – but it's really about enjoying the moments.
If we overindulge, it usually ends with some funny noises, digestion issues, and unneeded bloat.
If the digestion mess wasn't enough, our energy usually comes crashing down after too many rich foods.
Lastly, if we continue to overindulge in our favorites like sweet potato casserole and pecan pie, they start to not taste as good. That's a major bummer.
So everything in moderation helps you look and feel better!
If you love this post, also check out Avoid Muffin Top – 13 Ways to Stay Healthy at the Holidays
Rethink Traditions and Fun
Being from the South, our family traditions don't involve activities to burn more calories during the holidays. They usually involve eating, sitting, eating dessert. Then repeat with each get-together.
We aren't suggesting the family go to Crossfit together or something – heaven knows we don't even want to do that around the holidays! But we can mix in fun activities to get our heart rate up.
Traditions to Burn More Calories During the Holidays
*These are approximates based on 30 minutes and a 150lb person.
Wrap presents = 48 calories
Decorate the Christmas tree = 85 calories
Shop = 160 calories
Sledding = 238 calories 
Ice Skating = 475 calories
Hiking = 230 calories
More Activities to Burn More Calories During the Holidays
Did you ever think about the calories you burn putting up your Christmas tree?
"Putting up the lights, walking back and forth to the ornament boxes, squatting to reach lower branches, and standing on my tippy toes to secure the star means I'm usually on my feet for about an hour," says Autumn Calabrese, celebrity trainer, and creator of the 21 Day Fix.
Carrying groceries for 5 minutes = 13 calories
Changing sheets for a guest for 15 minutes = 40 calories
Standing and chatty for an hour = 127 calories 
Cooking for an hour = 159 calories
Snowblowing for an hour= 167 calories
Cleaning your house for an hour = 191 calories
Pacing while you chat on the phone for 20 minutes = 100 calories
So instead of worrying, why not burn more calories this Christmas?
What are your favorite ways to burn more calories during the holidays?
Did you know you were burning more calories?