7 Simple Tricks to Stay Motivated and Accomplish Any Goal
This post may contain affiliate links. All opinions shared are my own. As an Amazon Associate I earn from qualifying purchases. Click to view our full disclosure.
I'm sure we can all agree that it's hard to stay motivated.
Whether your focus is improving your health, finances, spiritual development, or something else, making changes can feel nearly impossible.
There are a few simple strategies to help you not only get going but to stay motivated towards your goals. In this post, I'll give you 7 tips to flip on your productivity.
The best part?
You can apply these 7 tricks to stay motivated to any part of your life!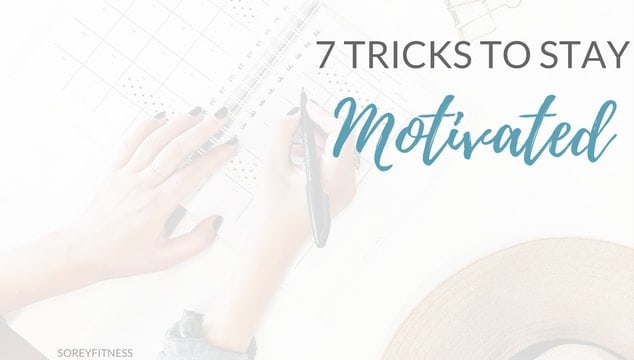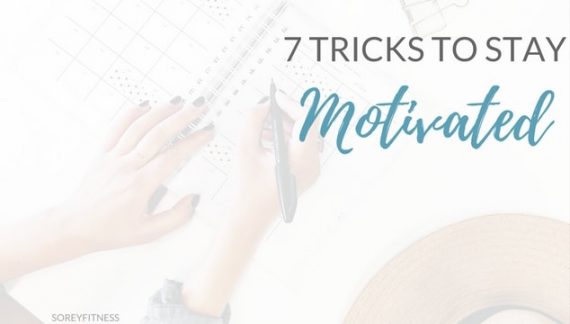 The tips below do contain a few affiliate links.
7 Ways to Stay Motivated and Accomplish Any Goal
1. Have a Positive Attitude
Did you know Optimistic people tend to be more productive than their counterparts?
They also tend to be more flexible, resilient and focused on others versus self-obsessing.
While we all have a natural inclination towards optimism or pessimism, you can do things to promote a happy outlook.
Stop Worrying Over What You Can't Control
There is only so much we can control. We can't control our family members' thoughts or behaviors. We can't control the traffic, accidents, or even the political climate alone. So why stress over it?
Matthew 6:26 is a verse I go back to every time I forget this lesson.
Look at the birds of the air; they do not sow or reap or store away in barns, and yet your heavenly Father feeds them. Are you not much more valuable than they?
Plan, Prepare and Expect to Win
Zig Ziglar's Born to Win book preaches not to worry as well. We can only control our planning and preparation to a goal. If we set a good groundwork, we should expect to win.
Focusing on the good that may happen each day in your life will attract it to you – and you'll see it more!
One way to prep and prepare (besides reading that book) is to have a good morning routine.
Get in Personal Development Daily
My mom and I started reading or listening to personal development every day for 10+ minutes about 5 years ago. I cannot tell you how much this has helped our outlook and mindset.
We both thought it was a little like brainwashing in the beginning, but really – isn't everything we're taught as a child from imperfect parents (sorry Mom!), teachers and influences a type of brainwashing?
Why not help our minds function in a better, constructive way of thinking? Click to read about our favorite personal development books here.
You might also enjoy 7 Surprising Tricks to Feeling More Energy.
2. Choose a Specific Goal
In Born to Win, Zig mentions the areas of goal setting and creating a well-round idea of success.
Part of that comes down to knowing what you want and why you want it. Once you know "what's in it for you" – you'll be more likely to take action even when your motivation is low.
Benefits to You
For example, it may be hard to get up early for a workout and skip the extra glass of wine on the weekend. It's easier to make it a commitment when you know it's going to help your jeans fit better. Long term, you are going to reap the benefits of a healthy lifestyle and feel better 10 years from now!
Make sure your goal is specific.
For example – you want to say, "I am going to workout 3x a week for 90 days". Another example would be, "I am going to track my spending daily to save up $1,500 in 3 months."
Write the goal down and repeat it to yourself daily as a part of your morning routine.
You might also like Achieve Your Goals – 8 Tips to Get What You Want!
3. Break it Down Realistically
Just because we want a specific goal to happen, doesn't mean it's going to be realistic.
If you say, "I'm going to lose 50lbs in 3 weeks" – that's not realistic or going to serve you well.
If we break down our goals into mini-goals, we're more likely to accomplish them, celebrate and keep going towards the bigger goal.
For example, you might say "I am going to lose 2lbs this week by working out 3x a week and tracking my food daily." Then each week, you can celebrate your accomplishment and move to the next week's 2lb goal.
That way you don't feel like you're working towards this huge monumental thing. Plus, it reminds us to take a moment and pat ourselves on the back.
You should celebrate losing 2lbs each week as much as that big 50lb goal – it's hard work, and you rocked it!
4. Be Realistic with Your Schedule
Another thing I am guilty of (as well as a lot of our clients) is being too critical of ourselves.
Just because you've set a goal doesn't mean your life slows down. On top of that, a lot of goal setting tools will have you set 10+ goals at a time! That's a lot of extra stuff to add to your plate!
We often compare ourselves to someone's outside success or appearance of perfection, but that is a mirage. Being kind to yourself instead of your #1 enemy will help you gain strength and momentum.
So while it would be great to workout 3x a week, you might only have room for 2 or maybe you need a shorter program like T25 or a 30-minute P90X3 routine.
Honor yourself for taking that action towards your goal at 2 instead of criticizing yourself for not being "perfect".
You might also like How to Organize Your Life: 17 Keys to Living Better and Happier.
5. Make the Good Behavior Easy (And the Bad Behavior Hard)
The Harvard Business Review found that 40-45% of what we do is based on habits. I think it's pretty scary that almost half of what we do daily is basically us on auto-pilot. Sure it's great that we know to brush our teeth, but bad habits can take over without a thought.
One way to break bad habits is to make behaviors towards your goal easy (and bad habits hard).
For example, I don't keep junk food in the house. If we have M&Ms or something, it's in a single-serve package so I don't eat more than a portion.
I also know I will eat entirely too much if I miss a meal so I pack snacks when I go out.
Easy Switches
Prioritize your energy versus your time. Whatever your goal is – health, business, finance, spiritual – make those actions happen first thing in the morning. It's when you'll have the most willpower. If you save it until the end of the day, after making 1000s of decisions, you'll be more likely to skip it.
Know Your Downfalls
If you struggle with sweets, do like me and don't have them in the house. I also like to keep fresh fruit washed and upfront in the refrigerator to make it easy to reach for when I'm hungry.If you're a spender, you could decide on a set percentage to automatically be deposited into savings when you get paid.
If you're a spender, you could decide on a set percentage to automatically be deposited into savings when you get paid.
6. Surround Yourself With Good Influences
We all know the power of groups. Immediately I think about AA and Weight Weighters. Both have helped so many people turn their lives around.
Studies have shown over and over again that a group is the great source of success and persistence.
We host a healthy living group year-round with daily posts, and we also do a weekly email with tips and free meal plans. This has helped over 4,000 people get healthier! Plus, the motivation and support from them has helped me lose my own weight.
You can join our group by applying for our 21 Day Challenge here. We work with every budget and goal.
Having a support system can help you be kinder to yourself and stay on track after a tough day.
7. Know You're Awesome
I went back and forth on what to call tip 7. I want you to know self-compassion isn't an easy way out. It's powerful. It's powerful to celebrate your success and to be able to practice some self-love.
To hit these big goals, you'll need time and energy. Remember, that whatever you're going after is going to make your healthier, happier, stronger, and that is going to benefit those around you as well. Whether it's retiring happily with your spouse or keeping up with your kiddos because you're healthy.
With that said, it's okay to take some time for YOU. By putting yourself first, you'll be doing everyone you love a favor.
Make the time to hit your goal.
Celebrate your small and large successes.
Be open to taking a break or making a change if you feel like you're burning out.
But that's not all –
How to Stay Motivated Long Term
With the above tips, we still can put a lot on ourselves to accomplish. Even though we know the comparison game is crazy to play, I find myself at least comparing myself to myself 5 years ago. You can't run run run, compare compare compare and expect not to burn out.
Here are 5 tips to stopping a burn out from happening!
Take breaks during your workday (even a quick 10-minute walk can help).
Have set times for your devices at home
Set something to look forward to (book, skill, event, etc)
Take your vacation days
Know WHY you're working
One of my favorite quotes is from Zig Ziglar:
People often say that motivation doesn't last. Well, neither does bathing – that's why we recommend it daily.
Comment: Did these tips help you overcome procrastination & stay motivated?
Books to Help You Stay Motivated
I love Audible to listen to any of these as well! You get your first book free too!
Thanks to Sarah, Samantha, and Aimee for this post topic to stay motivated! If you have a topic you'd like us to cover, please let us know in the comments!
Did you enjoy this post? If so, will you consider pinning it?