6 Tips to Achieve Your Healthy Goals During the Holidays
This post may contain affiliate links. All opinions shared are my own. As an Amazon Associate I earn from qualifying purchases. Click to view our full disclosure.
We've all been there. You've stuck to your healthy goals – working towards your goal weight, working out consistently, eating better, saving money, etc – then the holidays hit. It feels like you're being pull in two different directions of staying true to your goal and enjoying the moment.
With that said, healthy goals are not lost during the holidays. You can achieve anything you set your mind too, and with the proper planning – you'll be amazed at how simple it is.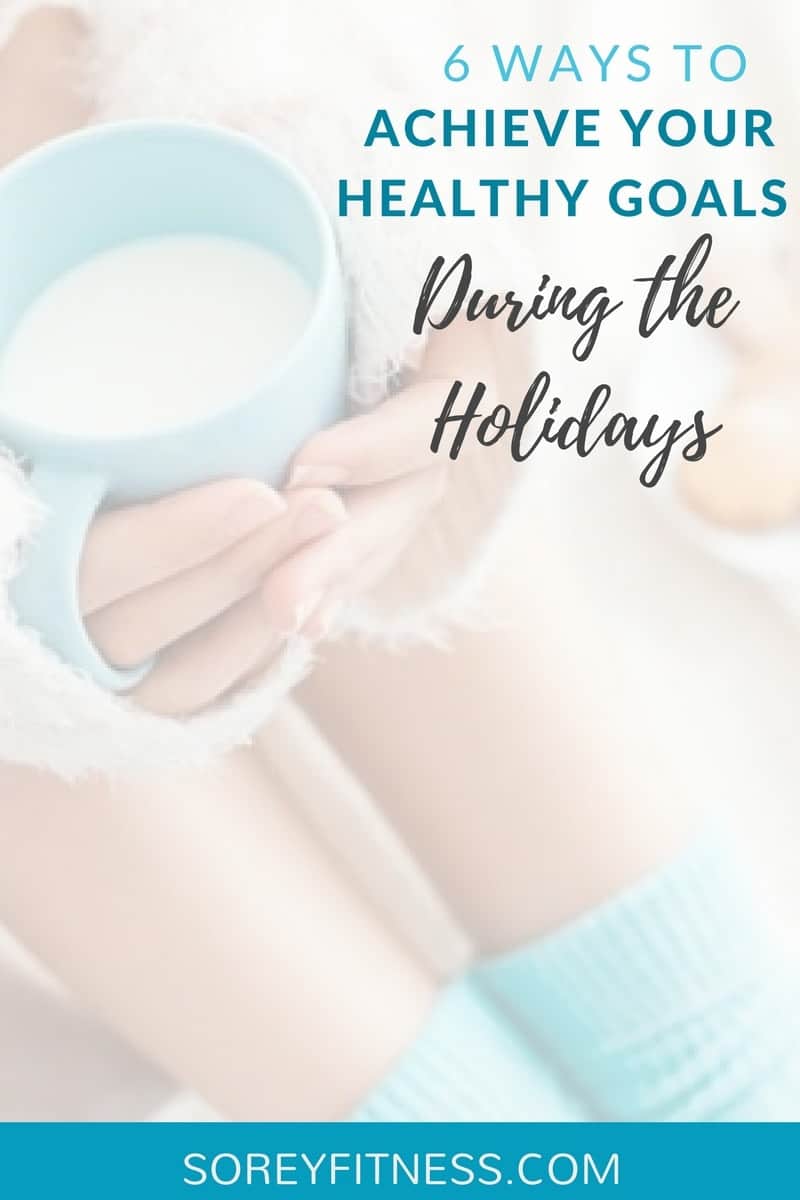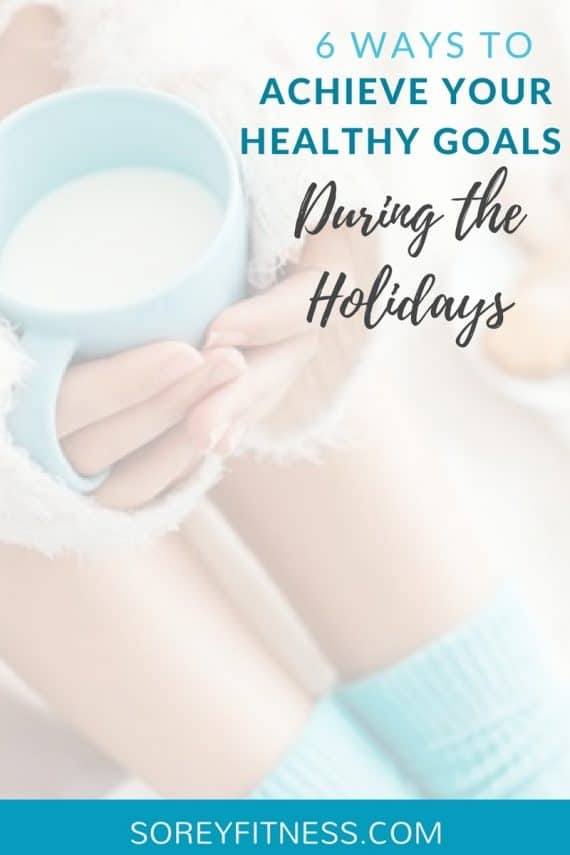 This post isn't going to be a boot camp class with terms like discipline or self-sacrifice either. It's all about finding what works for you, and you finding happiness in the balanced lifestyle.
So before the holidays ruin your healthy habits, let's take a look at how you can achieve your goals during the holidays.
These 6 tips will help you achieve all of your healthy goals including a balanced diet, consistent workouts, and a good mindset even when your calendar starts to fill up with holiday parties.
This post is from our Healthy Holidays Series
Achieve Your Healthy Goals During the Holidays
1) Write Out Your Healthy Goals
Whatever your goals are – write them down! With it being the holidays, your normal goals may change a bit.
Don't be afraid to give yourself a small break during the holidays.
Instead of working out 5 days a week, you might choose to drop down to 2 days a week for December. Then, you can mix in a few other festive ways to burn more calories like Christmas shopping.
Once you know your goals, keep them somewhere you'll see them each day to remind you.
A few ideas are on your phone as the background, in a wallet, put a note in your car
, write it on your bathroom mirror, or somewhere in your house is perfect as long as you will easily see it each day!
If you're enjoying this post, you might also like 7 Simple Tricks to Stay Motivated and Accomplish Any Goal
2) Make Healthy Habits Easy
The holidays can be busy and full of stressors you don't normally have. Also, your routine and schedules can be messed up during the holidays – making healthy habits harder.
To combat the holiday chaos, plan ahead.
If your goal is to eat healthy 5 days a week or get to your goal weight, Nutrisystem might be something to consider because of its convenience. Everything is planned, prepped and ready to go.
If your goal is to save money consider setting up an automatic transfer when you get paid. You could decide on a percent or number to go to your from your checking to savings account. That way you don't have to think – it's done.
If you know you'll be tempted to overindulge at a party, consider taking a healthy holiday dish to munch on.
3) Set a Smaller Weekly Goal
It would be wonderful if you could just set healthy goals and go, but it takes a little effort each day.
By setting a mini goal, you'll be able to think about it a little each day without it being overwhelming.
Your weekly mini-goal should match up with your larger healthy goals.
Start by asking yourself: "What do you need to do daily for a week to put you towards your health goal?"
It should be small, specific, measurable, achievable, rewarding, and time sensitive. If you are trying to drop 1 pound a week, you will need to create a 3,500 calorie deficit a week.
Want to drop 2 pounds? You'll need to have a deficit of 7,000. Anything higher than 2 pounds is not healthy for your body. You can calculate your calories burned and subtract approximately 250 calories each day to create your deficit.
MyFitnessPal is awesome about showing your daily deficit.
It is easier mentally to say "I am going to lose 2 pounds this week" than "I want to lose 50 pounds this year." By setting the goal to lose 2lbs a week, you break up your large goal into smaller, achievable goals.
Smaller goals allow you to stop crash dieting and make healthier choices each week; it also offers a chance to pat yourself on the back for your hard work each week! In a little over 6 months, you will have reached your goal in a safe, effective way!
If you're enjoying this post, you might also like Lose 10 Pounds in 2 Weeks Through A Healthy Diet – 5 Easy Tips
4) Sit Down with a Pen & Calendar
Sitting down with a calendar will allow you to see what days your diet and exercise routine will be the toughest to follow.
For example, if you know Saturday is packed, take Saturday off!
Also, if you know the weekend is back-to-back diet-busting parties plan for that too.
Will you follow a stricter diet a few days before? Grab a snack before heading to the party to keep from overdoing it? Bring a healthy alternative?
As long as you are getting in your workouts and nutrition 6 days a week, a day will not set you back & will let your muscles recover as well!
By seeing when your free days are, you can look forward to them without hesitations about being healthy and also be motivated to reach your goal the other days of the week.
*Quick Tips: Schedule Your Workout on the Calendar! Remember, the best time to workout is the hour that you are least likely to be interrupted.
Choose a meal plan for the week & prepare your food beforehand so last-minute slips are rare.
5) Remember the 90/10 Rule
90/10 means you're following your healthy habits 90% of the time, and the other 10% is for the treats, sleeping in, etc.
If you eat a piece of pecan pie, enjoy and move on. The holidays are stressful enough!
Don't add self-torture to your long to-do list! You are beautiful, powerful, and have a plan to reach your goal!
6) Repeat Your Goal Setting & Planning Each Week
We recommend setting a time each week just to evaluate how you did this week, give yourself praise for all of your hard work, and get ready for the new week.
It could be just 5 or 10 minutes to recap and super simple.
Final Thoughts
Take it one day and one week at a time.
It's easy to get in the habit of saying, "Well, I can't workout this day so why not skip this week?" or "If I ate bad yesterday, and I have a party in 2 days – why worry about my diet?" This is turning a slip-up into a full-on slide of your health and fitness, and we want to avoid that!
A bad day of eating or not working out doesn't stop your healthy goals from happening – it's when we don't get back on track we have problems. Focus in and know you are worth the effort!
Also, setting a small weight loss reward each week can help motivate you a little more!
If you're enjoying this post, you might also like Nutrisystem Reviews – Does Their Lean 13 Really Work? A Look at Cost and Food
Are you setting healthy goals during the holidays?
If you try these tips, and you still feel overwhelmed with perfection – consider taking a week or two just for your own self-care. One or two weeks isn't going to erase all of your hard work, and you may need a minute to just be calm.
Also, check out our New Years Guide!