Nutrisysem Review 2021: Are the Weight Loss Meals Worth it?
This post may contain affiliate links. All opinions shared are my own. As an Amazon Associate I earn from qualifying purchases. Click to view our full disclosure.
After trying the popular weight loss program's 4-week plan, we provide an honest Nutrisystem review about the prepackaged meals and how it helped us to reach our weight loss goals. You can also get 50% off right now!

What we love about Nutrisystem meals are that they make healthier choices easy because it focuses on portion control and offers low calorie meals that you can enjoy throughout the day. You can literally have everything from chocolate muffins to ice cream on the program! You can see weight loss without cutting out food groups! That's the main difference we found between the Nutrisystem program and other diet programs. The best part? Everything is ready to enjoy – all you have to do is heat and eat!

Why We Like Nutrisystem's Meal Plans:
that it's super convenient! Just order & eat.
the meals provided the right nutrition for our bodies based on the plan we chose.
their large variety of Nutrisystem foods to pick from.
no food was off limits (muffins, cookies, brownies and more fit into the plan).
getting to eat 4-5 times a day.
the ability to customize your meals and have "flex meals" each week.
On this program, we ate about every 3 hours. So we might have breakfast, lunch, dinner and 1-2 snacks through the day.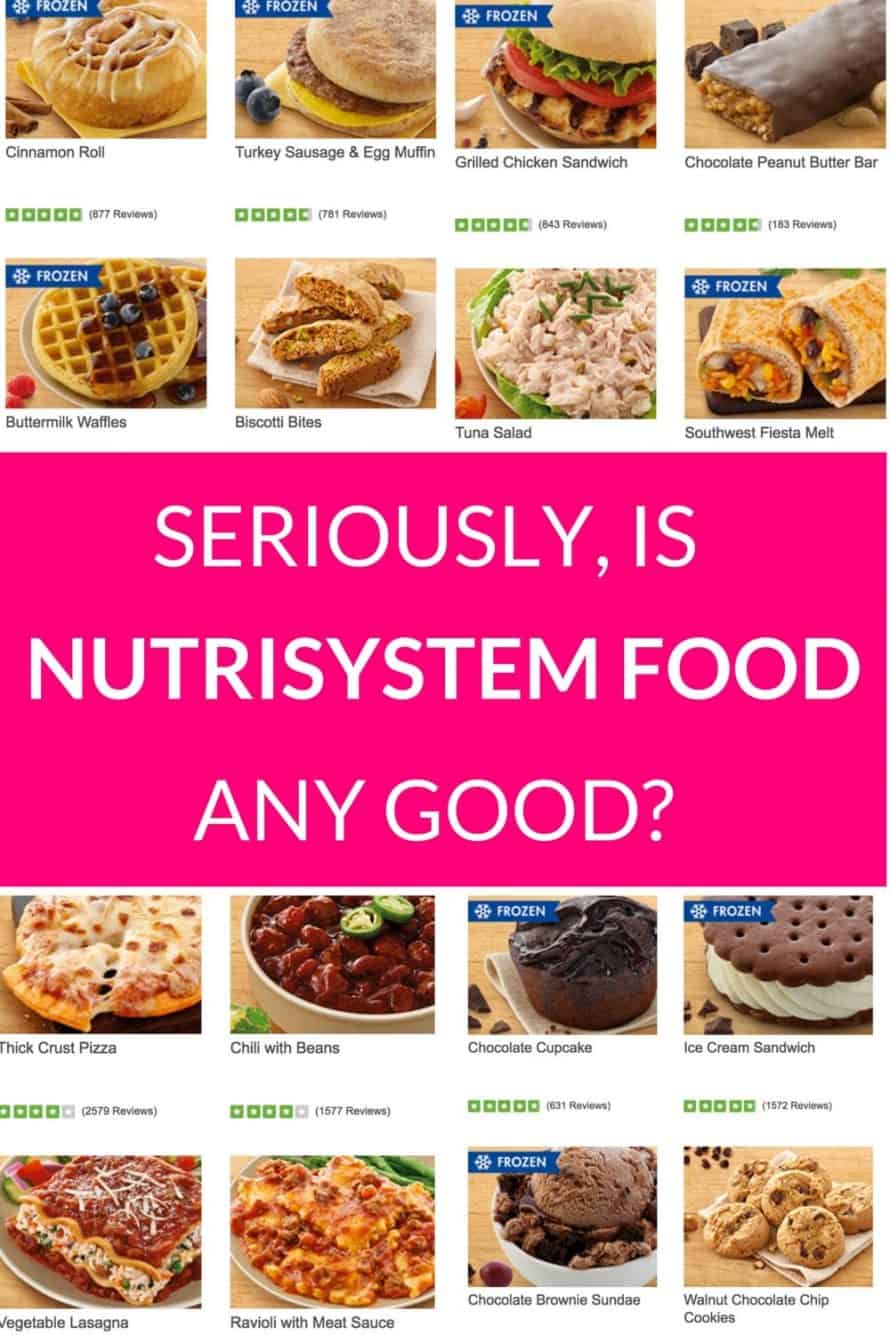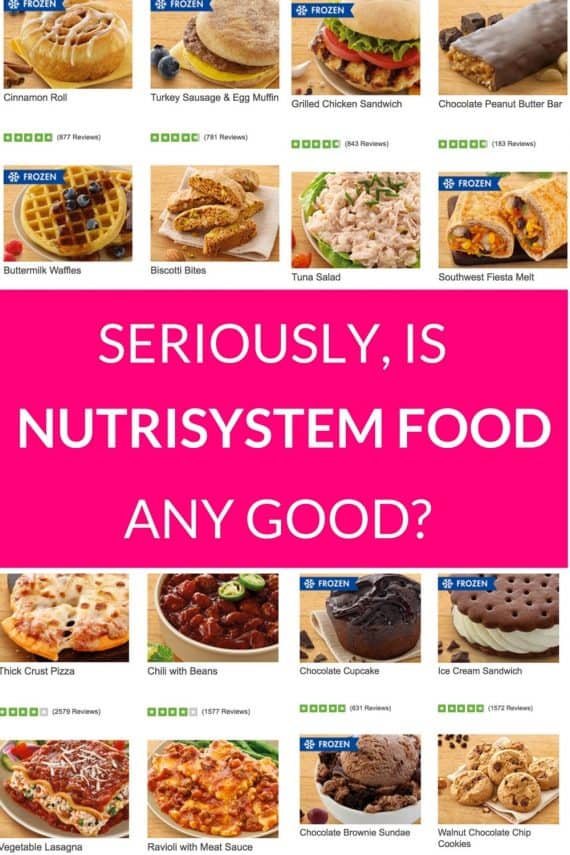 Is the food on nutrisystem good?
Nutrisystem's food tastes great and is so better than other prepackaged meals! The portion control, low-calorie meals and shakes are convenient and help dieters achieve a healthy lifestyle and see weight loss because nothing is off limits.
The variety of Foods
Different plans allow you to choose your own meal plan from a variety of menu items based on your food preferences and individual needs. With the Core Plan we chose, we were able to eat pizza, hamburgers, brownies, and more in our first month of the diet plan!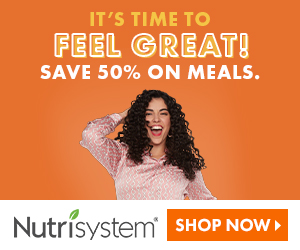 All of the food is conveniently packed and sealed. Each meal was equal to if not better than a Lean Cuisine or Healthy Choice option.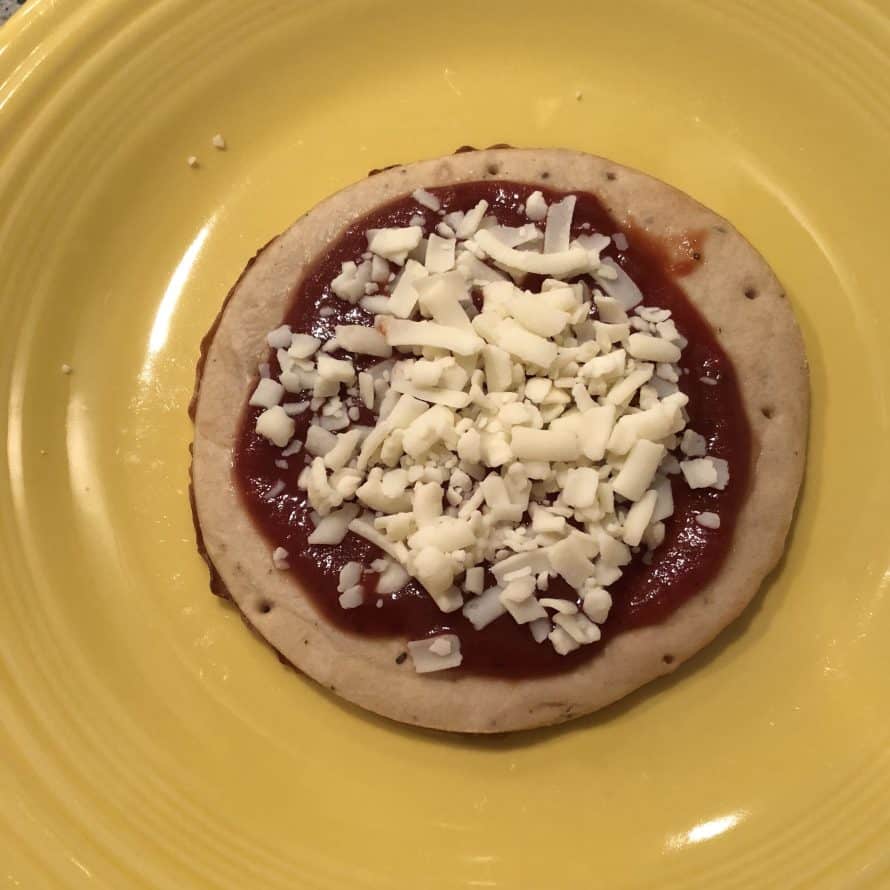 The Top Nutrisystem Foods
Chewy Chocolate Chip Granola Bar
Blueberry Muffin
Double Chocolate Caramel Bar
Pepperoni Pizza Melt
Thick Crust Pizza
Vegetarian Chili
What if I Have a Dietary Restrictions?
Nutrisystem offers a variety of different plans for different needs. You can chose a vegetarian plan, as well as, their Nutrisystem D plan for diabetics. All of the weight loss kits include a variety of food items with a low glycemic index and the free Numi app to track your results.
It should be noted there isn't a vegan plan or a plan designed around food allergies like gluten.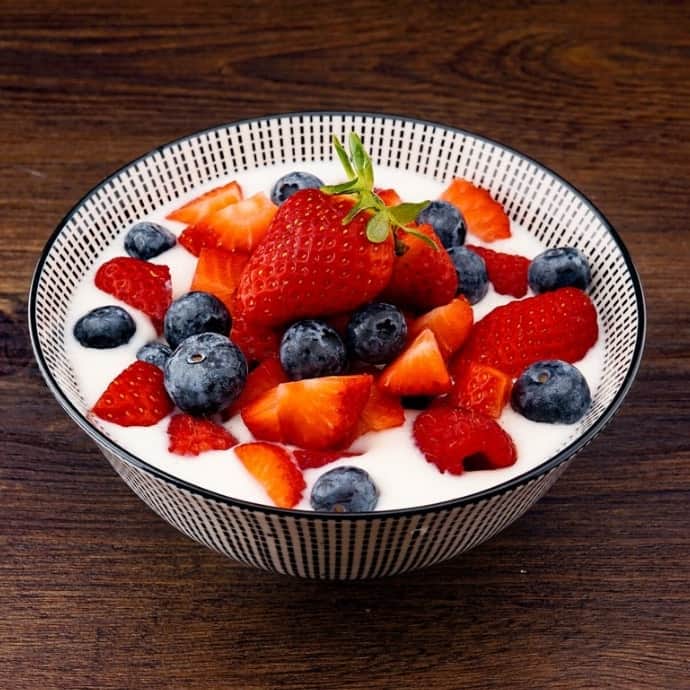 What groceries do I need to buy on Nutrisystem?
The Nutrisystem program focuses on lean protein, healthy fats, and complex carbs. While most of your meals will be included with your plan, you'll also need to do a little bit of grocery shopping. You'll need to add in PowerFuels like low-fat dairy and nuts and Smart Carbs like whole grains and fresh fruit.

Our Nutrisystem Weight Loss
Dieters who follow the 4-week program see an average weight loss of 11.6 lbs and 8 inches in the first month.
Women can expect to lose up to 13 pounds and 7 inches overall in the first month*, and an avg. of 1-2 pounds per week thereafter. Men can expect to lose 15 pounds and 7 inches overall in the first month**, and an avg. of 1-2 pounds per week thereafter.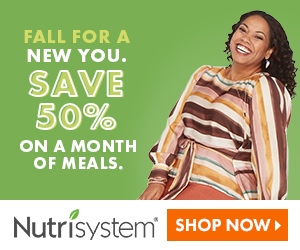 For us, we had about 15lbs to lose. So we saw about 3 lbs come off consistently each week.
If you have 25 lbs+, you'll likely see a bigger drop in weight faster because you have more to lose.
How much does Nutrisystem cost?
Nutrisystem costs about $9-12 a day depending on which plan you choose. There are 3 regular plans to choose from — the Basic Package, Core, and Uniquely Yours. They also have additional plans for vegetarians and diabetics. The Nutrisystem prices vary depending on the plan you choose.
Nutrisystem meal plans
Basic Plan
The basic plan is the cheapest, but you aren't able to customize your food order. They chose your breakfasts, lunches, dinners, and snacks for you. It's about $9.75 a day.
Core Plan
We chose this plan because it had a variety of foods and included the Lean 13 program. You'll get that plan plus 4 weeks of food. You can also choose your favorite foods from the list of foods offered. Plus, you can add in more than 100 foods with no extra shipping charge. It's about $10.50 a day.
Uniquely Yours Plan
This is the premium plan and allows you to chose from the largest selection of food. You can pick and combine foods however you want. I really liked this one especially after month 1 on the program. You'll start to learn what you like best, and this plan helps you get the best foods for you. It's around $12 a day.

A La Carte Plan
Long term, we loved the A La Carte Plan because we can choose our favorite our meals for 28-day weight loss plan and stock up on our favorites.
4 Ways to Save on Nutrisystem
If you order through our affiliate link, you'll save 50% off your order.
Once you're a Nutrisystem member, you can refer friends. Each friend that orders gets $30 off, and you also get $30.
You can also always chat with a rep on their site and ask about current promos after your 1st order.
Nutrisystem's Lean 13
They now have a Lean 13 plan which we didn't use before. It's a "restart" for the body and helps get your metabolism revving. Women are supposed to be able to lose 13 lbs (men 15 lbs) in the first month!
Again – my mom and I both agree, this really comes down to how much weight you have to lose to start with. Nutrisystem's clinical study they advertise say participants lost up to 13 lbs in the first month.
So it will help you get started, but I think it's unfair to put a specific number on it.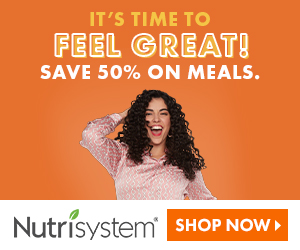 It includes 7 days of:
breakfasts, lunches, and dinners
NutriCrush® bars
Daily Tracker
You can start with Lean 13 and then move on to a traditional plan, or you can start just with the traditional option like we did. We put together a Nutrisystem Week 1 review with our results as well!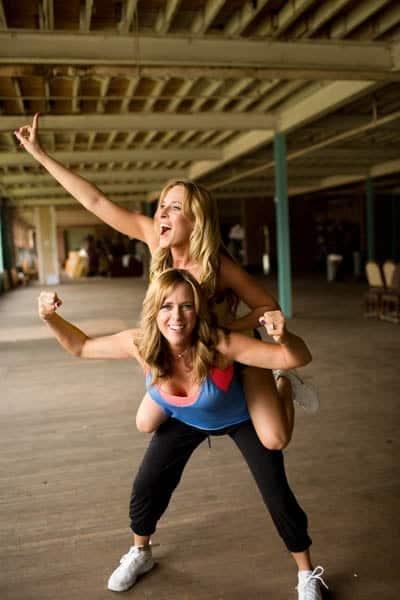 Does Nutrisystem Work Long Term?
Nutrisystem focuses on teaching you portion control and how to enjoy small meals through the day. As you continue to do the plan, you'll learn more about tracking your daily calorie intake and how to make healthy food choices away from the provided foods.
As you get more confident in your healthy habits, you can also wean yourself off the program. Something surprising to us was that the counselor will help you figure out which recipes to implement and create a plan to help you get back to cooking without gaining all the weight back.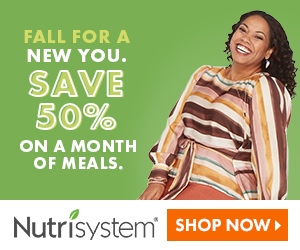 Do You Have to Exercise?
Nutrisystem encourages at least 30 minutes of activity a day, but you could do this parking far away, taking the stairs, or going for a walk.
We loved incorporating home workouts with the plan though! You can check out our favorite at home workouts here. You can stream over 700 workouts for under $10 a month with Beachbody on Demand too.
What if you hit a weight loss plateau?
This happens no matter what program you're on I feel like. We saw it with Weight Watchers as well. You can chat with us or a Nutrisystem counselor for free to see what to do to break up the plateau.
A lot of the time switching up your workout will do the trick or add in a workout just 1-3x a week! Another trick would be swapping your lunch and dinner for a week. Sometimes even adding in 100 calories for a week will break the plateau!
While there are some bad Nutrisystem reviews out there, don't let them scare you off.
Those reviews and the cost of Nutrisystem intimidated us to start with, but it ended up being a great way to get back to our goal weight!! Plus, there are more fans of Nutrisystem than many other top diets.
It has a 98% approval rating and Web MD calls it the "ultimate in convenience" diet.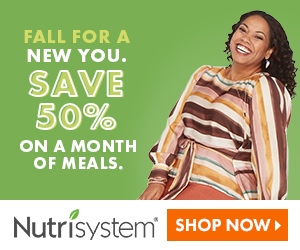 Summary of Our Nutrisystem Review
We loved:
not cooking – just eat or microwave and eat.
having set meal plan outlined daily.
not having cravings. We felt full and could always have a sweet or salty Nutrisystem snack.
skipping grocery shopping. The majority of your meals are mailed to you!
that everything was portioned out already.
the online support
coupons being offered (get 50% off + free shipping here!)
knowing there was a money back guarantee.
never feeling deprived or like we were "on a diet".
However, there are a couple downsides to the program. You are:
discouraged from eating out (2-4 flex meals per week allowed).
encouraged to avoid alcohol in the beginning.
still shopping for fruits, veggies, protein, and dairy items.
The Money Back Guarantee
Also, don't forget – there is a money back guarantee on your first order. If you don't like it within 14 days of ordering, you can send it back for a refund for the remaining food with no additional shipping charges.

You may also like:
**Results vary based on starting weight and program adherence. Inches lost from overall body composition.