REVIEW: Do Nutrisystem's Meal Plans Really Work?
This post may contain affiliate links. All opinions shared are my own. As an Amazon Associate I earn from qualifying purchases. Click to view our full disclosure.
My mom and I started using Nutrisystem's meal plans with pre-packaged foods breakfasts, lunches, dinners and snacks to lose weight.
We needed something convenient and with little meal prep, and this system really worked for us! Below you'll find our full Nutrisystem review and favorite foods from the plan!

Why We Like Nutrisystem's Meal Plans:
that it's super convenient! Just order & eat.
the meals provided the right nutrition for our bodies based on the plan we chose.
their large variety of foods to pick from.
that no [Nutrisystem] food was off limits (muffins, cookies, brownies and more fit into the plan).
getting to eat 4-5 times a day.
the ability to customize your meals and have "flex meals" each week.
On this program, we ate about every 3 hours. So we might have breakfast, lunch, dinner and 1-2 snacks through the day.

While there are some bad Nutrisystem reviews out there, don't let them scare you off.
Those reviews and the cost of Nutrisystem intimidated us to start with, but it ended up being a great way to get back to our goal weight!! Plus, there are more fans of Nutrisystem than many other top diets.
It has a 98% approval rating and Web MD calls it the "ultimate in convenience" diet.
We are affiliates for Nutrisystem after finding it worked so well for our busy lifestyles.
It also teaches you how to eat and portion control.
So while you can stay on the program as long as you want, you will also learn healthy habits that will allow you to customize your meal plans without their specific products too.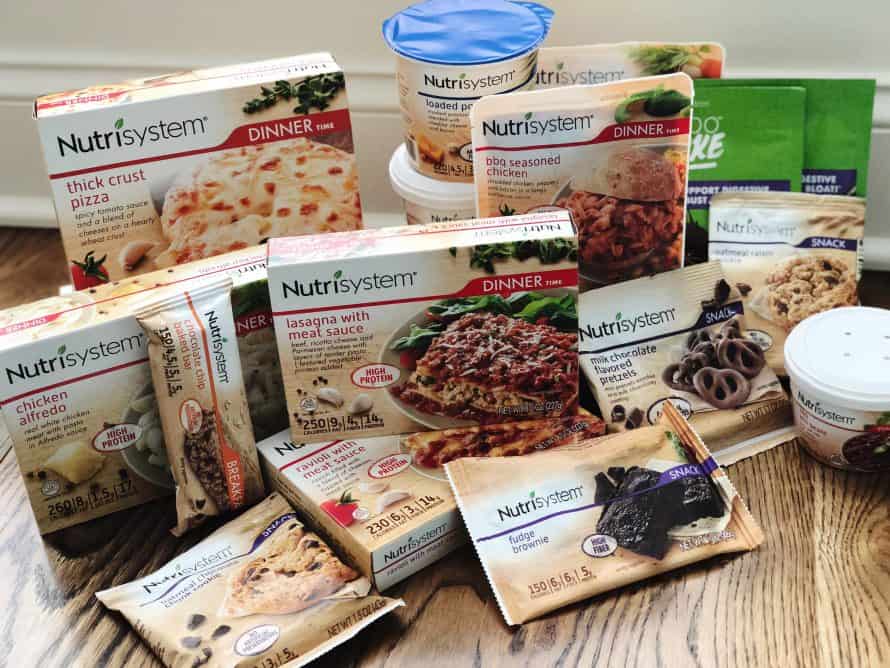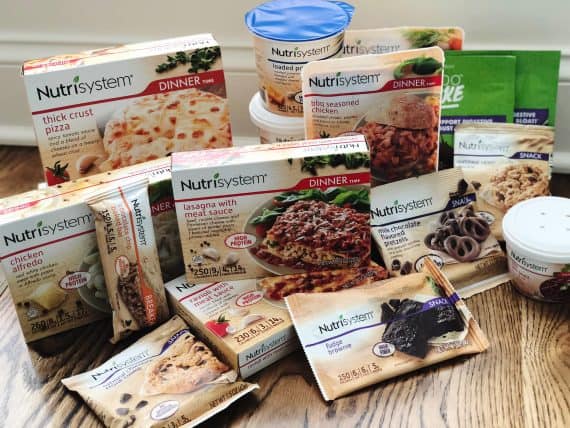 Does Nutrisystem really work?
The diet claims to help you lose 5 lbs in the first week. I think this totally depends on your starting weight.
For us, we had about 15lbs to lose. So we saw about 3lbs come off consistently.
If you have 25lbs+, you'll likely see a bigger drop in weight faster because you have more to lose.
Of course, Nutrisystem is going to be more convenient than cooking, but it is processed. You can always focus on a eat clean lifestyle or getting in your nutrition with "whole foods," but this is a great option for those getting started or trying to get back on track with their meals.
Basically – it doesn't have to be all clean foods or fast food – there is a balance out there.
Nutrisystem worked really well for us!
It helped us get back to our goal weight around 60 days.
We loved:
not cooking – just eat or microwave and eat.
having set meal plan outlined daily.
not having cravings. We felt full and could always have a sweet or salty Nutrisystem snack.
skipping grocery shopping. The majority of your meals are mailed to you!
that everything was portioned out already.
the online support
coupons being offered (get 40% off + free shipping here!)
knowing there was a money back guarantee.
never feeling deprived or like we were "on a diet".
However, there are a couple downsides to the program. You are:
discouraged from eating out (2-4 flex meals per week allowed).
encouraged to avoid alcohol in the beginning.
still shopping for fruits, veggies, protein and dairy items.
While we hate grocery shopping, the items you have to pick up aren't a terrible time suck or expensive. Nutrisystem provides a guide to which grocery items to buy.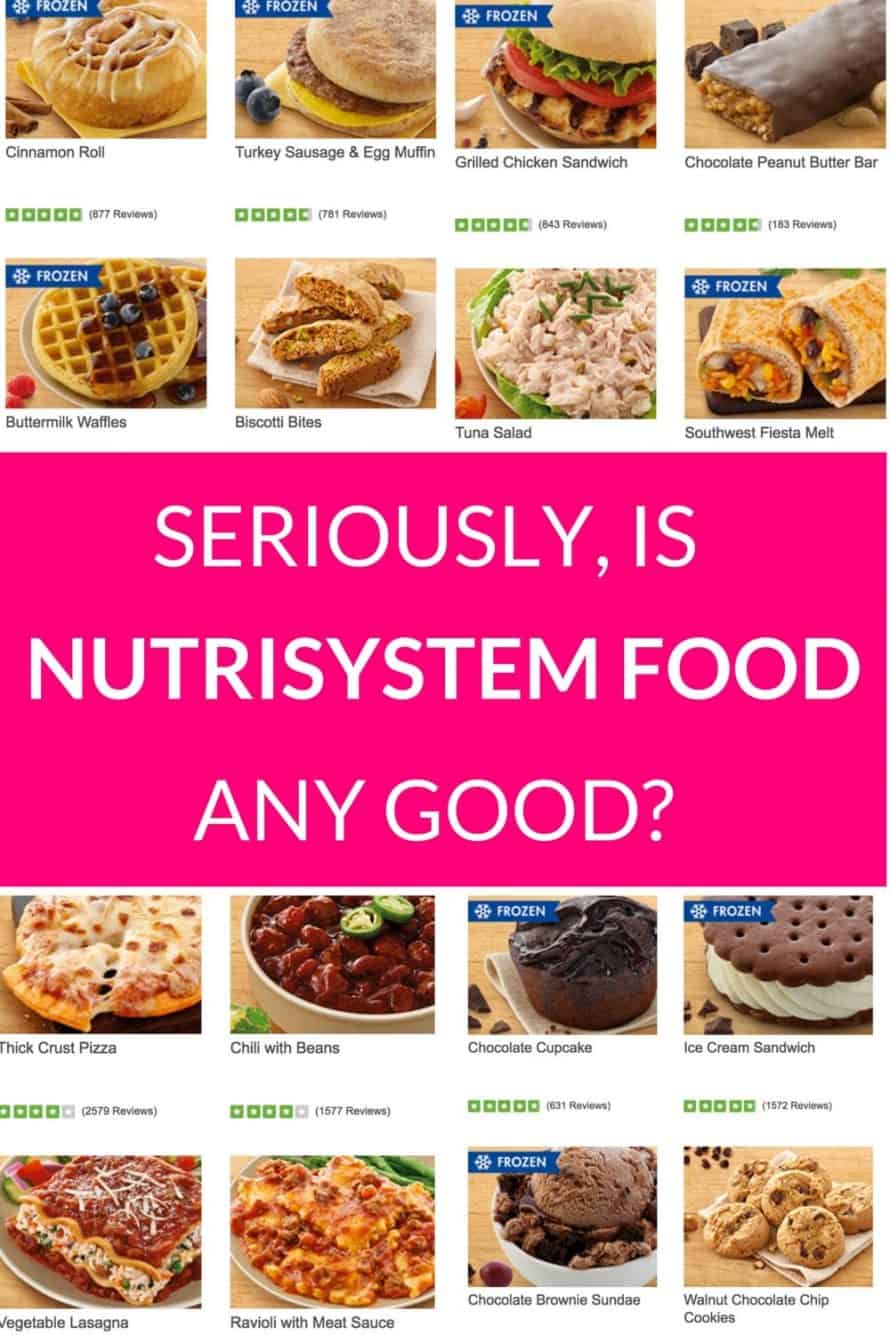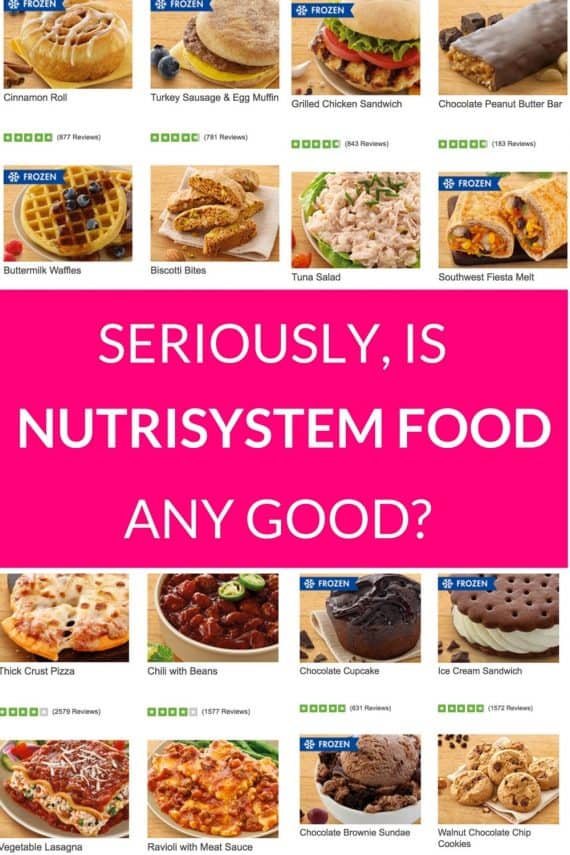 Is Nutrisystem Food Good?
Some of the options are definitely better than others. We were able to pick 28 foods of our choice for breakfast, lunch, dinner, and snack/dessert.
They have all kinds of food – and nothing is off limits. So if you love pizza, hamburgers, or something sweet like a brownie – there is an option for you.
All of the food is conveniently packed and sealed. Each meal was equal to if not better than a Lean Cuisine or Healthy Choice option.
Nutrisystem ala carte was our favorite way to order.
We loved being able to choose our meals for the month so that we could stock up on our favorites.
One REALLY cool thing is that they now also list user reviews of each food too. So you can see the clear winners and order from those.
Some of Our Favorite Nutrisystem Foods
Chewy Chocolate Chip Granola Bar
Blueberry Muffin
Double Chocolate Caramel Bar
Pepperoni Pizza Melt
Thick Crust Pizza
Vegetarian Chili
What if I Have a Dietary Restrictions?
If you're not just picky on flavor like we are, there are specific plans for dietary restrictions.
You can do a vegetarian or diabetic plan.
There isn't a vegan plan though, and it doesn't allow for certain food allergies like gluten.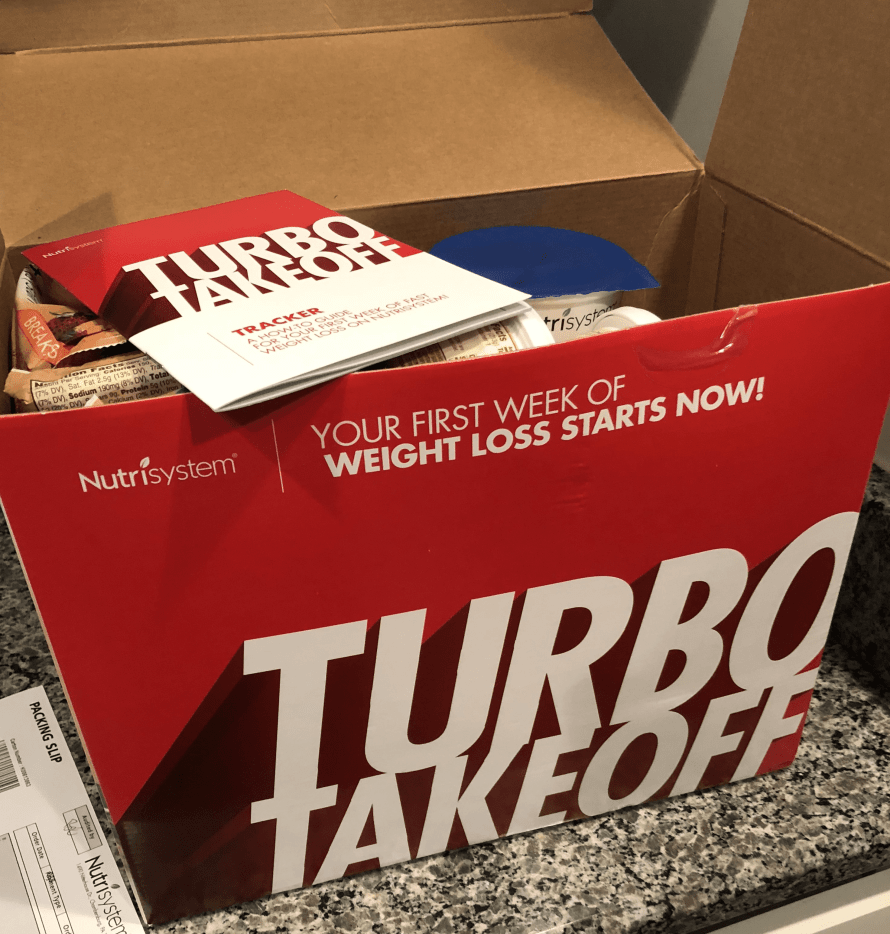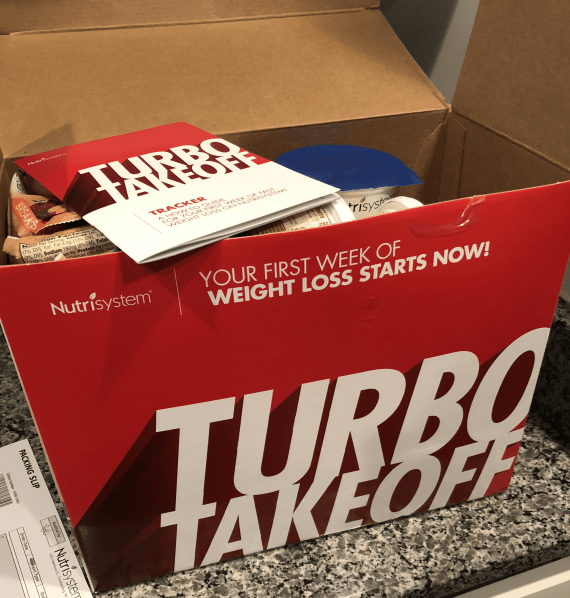 Nutrisystem's Lean 13
They now have a Lean 13 plan which we didn't use before. It's a "restart" for the body and helps get your metabolism revving. Women are supposed to be able to lose 13lbs (men 15lbs) in the first month!
Again – my mom and I both agree, this really comes down to how much weight you have to lose to start with.
Nutrisystem's clinical study they advertise say participants lost UP TO 13lbs in the first month.
So it will help you get started, but I think it's unfair to put a specific number on it.
It includes 7 days of:
breakfasts, lunches, and dinners
NutriCrush® bars
Daily Tracker
You can start with Lean 13 and then move on to a traditional plan, or you can start just with the traditional option like we did.
We put together a Nutrisystem Week 1 review with our results as well!
Cost of Nutrisystem
One of our biggest concerns was the cost of Nutrisystem.
We really had to look at what we were spending on groceries and eating out to see where this program fit in. Since we were eating their foods, we saved quite a bit on other groceries and food expenses like going out on the weekends and overdoing it.
Nutrisystem cost's about $9-12 a day.
There are 3 plans to choose from.
Basic Plan
The basic plan is the cheapest, but you aren't able to customize your food order. They chose your breakfasts, lunches, dinners, and snacks for you. It's about $9.75 a day.
Core Plan
If you're thinking about the Lean 13 program, this is the best deal. You'll get that plan plus 4 weeks of food. You can also choose your favorite foods from the list of foods offered. Plus you can add in more than 100 foods with no extra shipping charge. It's about $10.50 a day.
Uniquely Yours Plan
This is the premium plan and allows you to chose from the largest selection of food. You can pick and combine foods however you want. I really liked this one especially after month 1 on the program. You'll start to learn what you like best, and this plan helps you get the best foods for you. It's around $12 a day.
4 Ways to Save on Nutrisystem
If you order through our affiliate link, you'll save 40% off your order.
Often times your health insurance will offer a discount.
Once you're a Nutrisystem member, you can refer friends. Each friend that orders gets $30 off, and you also get $30.
You can also always chat with a rep on their site and ask about current promos after your 1st order.
Does Nutrisystem Work Long Term?
Totally! We used it for a few months, but we know others that have used it much longer than us. You might get tired of some of the meals, but there are so many to chose from.
As you get more confident in your healthy habits, you can also wean yourself off the program. Something surprising to us was that the counselor will help you figure out which recipes to implement and create a plan to help you get back to cooking without gaining all the weight back.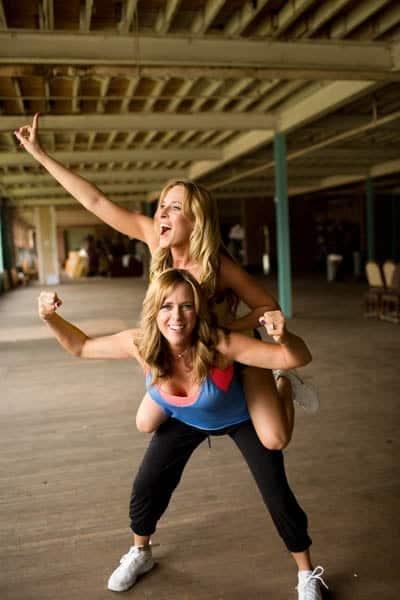 Do You Have to Exercise?
Nope, you will likely see results just by changing your diet! For us, we were teaching and going to school so there was not a chance in you-know-what to add in exercise really. We still saw results.
Nutrisystem does encourage at least 30 minutes of activity a day though. A few ways we got this in without really thinking was parking far away, taking the stairs, going for a walk after dinner, or walking in-between classes.
We now love to workout and also help others find the perfect program for them. You can check out our favorite at home workouts here. You can stream over 700 workouts for under $10 a month with Beachbody on Demand too.
What if you hit a weight loss plateau?
This happens no matter what program you're on I feel like. We saw it with Weight Watchers as well. You can chat with us or a Nutrisystem counselor for free to see what to do to break up the plateau.
A lot of the time switching up your workout will do the trick or add in a workout just 1-3x a week! Another trick would be swapping your lunch and dinner for a week. Sometimes even adding in 100 calories for a week will break the plateau!
Need Support?
Nutrisystem has amazing counselors you can work with, or we are always happy to help. We are a mother-daughter team focused on helping others build a healthy body and balanced lifestyle. You can read more about us here or check out our 21 Day Challenge.
View our post about staying at your ideal weight.
Did this article help you decide if you should do Nutrisystem?
If so – will you consider using our link to order and leaving us a comment below? Also, we love seeing posts like this one shared on Pinterest!


Money Back Guarantee
Also, don't forget – there is a money back guarantee on your first order. If you don't like it within 14 days of ordering, you can send it back for a refund for the remaining food with no additional shipping charges.