As a Christian in the health industry, I have always wondered about Christian meditation. This may be a controversial post, but it's been a topic of question for me a long time, and I want to share what I've found with you on the topic in case you've wondered too.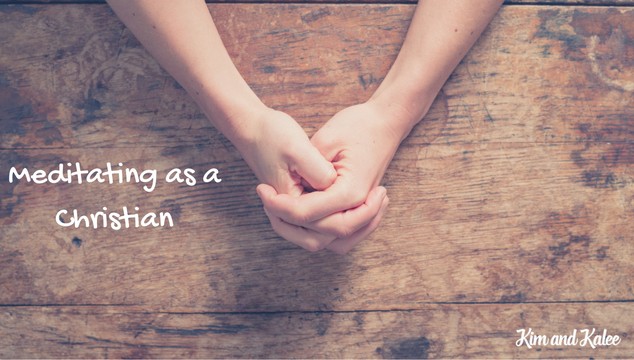 First off – I'm not a Biblical scholar or anything like that. So don't feel the need to take my word as absolute; I'm only studying the Bible and trying to grow nearer to God. Furthermore, I am a born again Christian. I was damned to hell, and Jesus Christ saved my soul.
Since my job is based around healthy living, things like positive energy, mindfulness and relaxation often come up in topic. 
With that said, there are many different areas of mindful growth from personal development books to something a little more mystical like crystals and mantras.
Each piece is tempting because 1) it sounds pretty darn cool and 2) it still has some correlations to the Bible. For example, the book "The Universe Has Your Back" relies on something larger; however, it refers to the universe, God, and love all as the same thing. My mind debates back and forth whether or not, it's referring to God having a plan for each of us or something more towards pagan teachings.
As a millennial, I have grown up with the cultural idea that a person can pick and choose from religions and make up their own spiritual guide. Call me old-fashion or a rule-follower, but that idea feels like a cop-out and a result of consumerism. If nothing else, by picking up pieces here and there from different religions you've now made yourself your master and god. This is against a whole lot of religions even outside of Christianity. Plus, how will you ever have a straight guide to live by?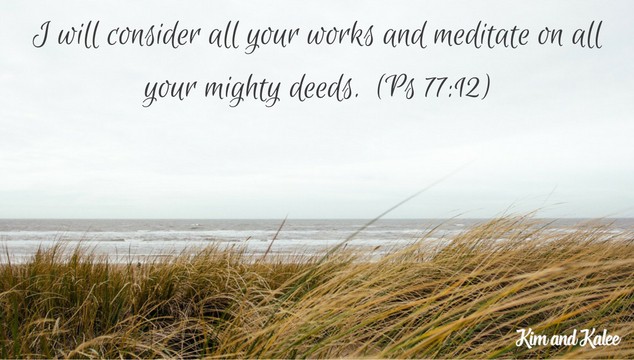 Meditating as a Christian
If you flip through the Old or New Testament, you will see verses talking about meditation. Also if you think about where the Bible was written, it's in areas and cultures different than what we have in America. Meditation was all over the place.
What Does Meditate Mean?
It means to think deeply or focus one's mind for a period of time; to ponder; to consider carefully. In order to meditate, the Bible requires us to think.
Is Meditating as a Christian Different?
In short, yes! Deacon Ian VanHeuse investigated both Buddhist and Hindu meditation and found many similarities to Christian tradition; however, there was one major difference.
"The difference between the two, and this is huge, is the person of Jesus Christ. Christians must practice authentic meditation as a means of drawing closer to the person of Jesus Christ. Without such an orientation, any practices we adopt may become forms which turn introspection and self-improvement into an idol."  – source
This understanding helped me validate my earlier idea of how I could see some currently popular books with Eastern ideas could appeal to anyone. There are similarities, and we might be tempted to say, "Okay, I can read this and still relate it back to God." But that isn't the case at all.
If you look in the Bible, even knowing as little as I do, you can see little nuances and details that change the whole story. We as Christians must be really careful to not fall into a dishonorable role, and we aren't above anyone in the Bible. If Eve ate the apple, people built the golden calf, and Peter betrayed Jesus 3 times — each one of us can too. It's in our nature.
But Why Does the Bible say to Meditate Then?
As I researched, different people took verses differently depending on their faith and background. With this said, I think if you're a Christian, you should look at them from a Christian standpoint versus a worldly (or American) perspective….because well, you are a Christian after all.
But his delight is in the law of the Lord, and on his law he meditates day and night.  (Ps. 1:2)
I will consider all your works and meditate on all your mighty deeds.  (Ps 77:12)
Finally, brothers, whatever is true, whatever is honorable, whatever is just, whatever is pure, whatever is lovely, whatever is commendable, if there is any excellence, if there is anything worthy of praise, think about these things. (Philippians 4:8)
Draw near to God, and he will draw near to you. Cleanse your hands, you sinners, and purify your hearts, you double-minded. (James 4:8)
Each one of these relies on the Word of God. So my conclusion is that Christian meditation requires an honest heart drawing closer to Jesus through understanding and reflecting on his Word and laws.
Also in Matthew 6:7, it mentions that we should not repeat words meaninglessly to induce a trance.
And when you pray, do not keep on babbling like pagans, for they think they will be heard because of their many words. (Matt. 6:7).
I always assumed I was guilty of this when I pray before bed and end up falling asleep, or when I ask for Him to take a worry and keep praying about it. While I still think those things apply, I think this could also reference mantras.
So What Does Meditating as a Christian Look Like?
Here is my take on it, I encourage you to keep studying the Bible, pray and find your own answer. The Bible I use is the The Quest Bible, and it helped with this question.
Psalm 119:15 tells us to review, repeat, reflect, think, analyze, feel and enjoy while we meditate on the Word. For this to happen, I think there are 6 things we can do.
5 Steps to Christian Meditation
Take Time to Read a Verse or Passage
Memorize All or Pat of It
Listen – This is the mindful part. We shouldn't race through steps 1-6 to say "DONE for the day!" Listen, reflect and think in this phase to allow the Holy Spirit to speak through God's word to you.
Analyze how it connects to the rest of the Bible and your life.
Allow yourself to feel what is going on in the verse or story.
Finally, ask yourself how will this truth affect my actions? How can I apply it to my life?
Why do we meditate? We meditate to remember God's promises to help us stay on track, recognize our sin, and grow closer to Him.
How Does This Relate to Personal Development?
As you guys may know, I am a huge proponent of personal development books. They have helped me gain confidence, have better time management, and be able to grow so much in my perspective of the world.
First off, the Bible is our best personal development tool. Jim Rohn, the first guy behind personal development really, said it best when he talked about there being examples of how to live in the Bible. There are stories to "behold" and "beware" of – for us to learn from. I do feel like we can also learn from other people, especially those with a foundation in the same religion, because they've lived before and can share what they've learned.
Also, as much as my husband gets annoyed by "think positive thoughts and dream big!" I still believe this attitude fits into the Christian lifestyle too.
Why?
I'll go back to Philippians 4:8 —
Finally, brothers, whatever is true, whatever is honorable, whatever is just, whatever is pure, whatever is lovely, whatever is commendable, if there is any excellence, if there is anything worthy of praise, think about these things. 
I believe whatever our mind is on, that is what we will reflect and see in the world. This is also kind of found in Matthew 6:22-23 and Luke 22:-23 when they mention that the light of the body appears to others and extends light onto them. In the verse, its referring to good moral health and generosity, but I think it also applies to if we're studying and actively growing our relationship with God our thoughts will change. Consequently, this change will also impact those around us.
So while what we picture meditation to be in general might not match what I've outlined above, these 6 steps to meditating on God's word does seem to have religious quality to it and can help us draw closer to God.
What do you think about Christian meditation? Did you ever wonder about it like me?