If you're looking for a beginner workout or a dance workout, YouV2 is a fresh spin on exercise! There are REAL women working out in the video, and they're losing weight right with you.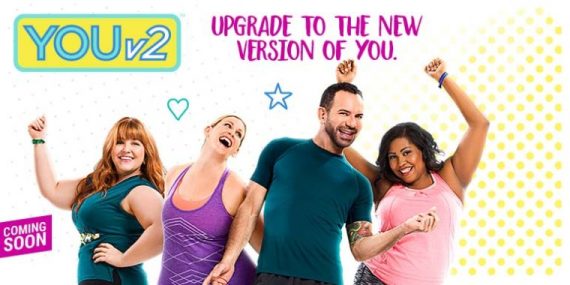 If you've ever been frustrated with:
super thin cast members
music with bad language
hard choreography
long workouts
complicated diets
boring workouts
Then this new beginner dance workout is perfect for you. YouV2 means You Version 2 – 1.0 is absolutely amazing, but why not feel better and have some fun working out to hit You 2.0?
The Workouts
4 Step-by-Step Energizing Dance Routines
2 Body-Sculpting Classes
All Low-Impact
No Equipment Needed
All of the workouts are about 30 minutes (28-34 minutes)
The workouts are all set to 80's and 90's music, and they are all about 30 minutes long. If you prefer country music – check out Country Heat which is also a beginner workout & 30 minutes!
You'll be working out 5 days a week with 1 rest day, but you can always choose to fit your busy schedule. The program is meant to be fun and also help you see weight loss results in as little as the first week!
Your Workouts include:
| Move Your Body | Let's Get Loud | |
| --- | --- | --- |
| Work It! Shake It! | She Works Hard for the Money | |
| Rock It Out | Hit Me With Your Best Shot | |
| Sweat Sensation | Good Vibrations | |
| Sculpt Shack | Love Shack | |
| Believe, Achieve & Tone | Believe | |
The workouts are also low-impact – so you won't be jumping or killing your knees. You can always intensify the workouts with bigger motions as you get stronger.
The program is 4-weeks, but you can always do another round or bump up to another workout like 21 Day Fix or Brazil Butt Lift. You could also do another dance workout like Country Heat.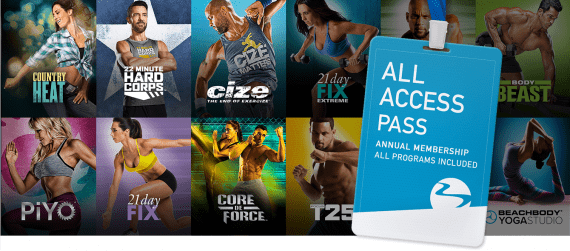 With Beachbody on Demand – You Can Stream Every Workout Program
The YouV2 workouts will be on Beachbody on Demand, and with the All Access Pass or Challenge Pack you'll get access to every Beachbody workout out.
Basically, with On Demand's All Access Pass you can stream every workout (like this one, Country Heat, etc) from your computer, Apple TV, iPhone, Roku, or even an HDMI cord.
You can learn more about Beachbody On Demand Here. We absolutely love it, and it allows you to try different programs for a year!
The meal plan is super simple.
The plan is a balanced diet focused on simple grocery shopping, meal prepping, and recharging on the weekends. You won't be following a strict meal plan – but a healthy lifestyle!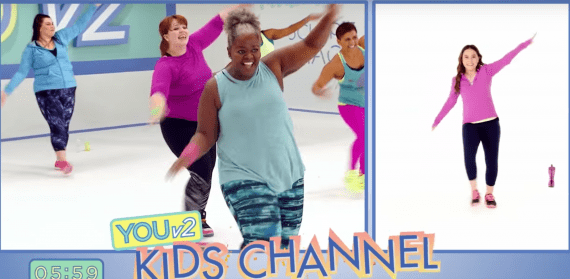 Your Kids Can Join You!
One of the things we loved about this specific dance workout is that your kids can join you too! If you're using Beachbody on Demand, you can split the screen to have the workout on part of it and a kid following on the other side!
As a mother-daughter fitness team, this was such a game changer for us! As a kid, I loved working out with my mom, and this is a fun way to include them too. Plus the music in this program is more kid-friendly than some of the songs in Cize or other dance workouts.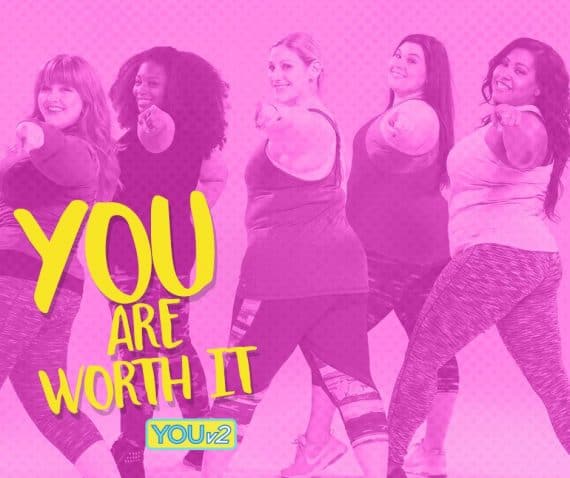 What's included with YouV2 Dance Workout?
You'll receive all 6 workouts plus a workout calendar, quick start guide, simple nutrition plan and journal to track your results.
You can choose to get YouV2 DVDs and materials right now for $39! You can also upgrade to streaming and get Shakeology for a discounted rate.
You can also stream it with Beachbody on Demand, along with 500 other awesome workouts, for $8.33 a month.
The best deal right now is to stream using the All Access Pass on Beachbody on Demand – learn more about it here.
The All Access Pass will allow you to start streaming ALL of Beachbody workouts now, and you'll automatically receive new programs as they come out. If you do all access, YouV2 would pop up in your options to stream. You can also download or print all of the resources like the calendar and nutrition plan.

Have Questions?
We'd love to help! Comment below or message us on our Facebook page! If you are looking to take your health back, we're here to help you find the best program and hold you accountable to your goals! We've helped 1000s of people lose weight and gain confidence!
Here's a sneak peek of the beginner dance workout!