P90X3 Before P90X – Why I Chose to Do P90X3 First
This post may contain affiliate links. All opinions shared are my own. As an Amazon Associate I earn from qualifying purchases. Click to view our full disclosure.
I just ordered P90X3 before completing P90X. Sounds weird right? Here are a few reasons why I chose to do P90X3 before P90X.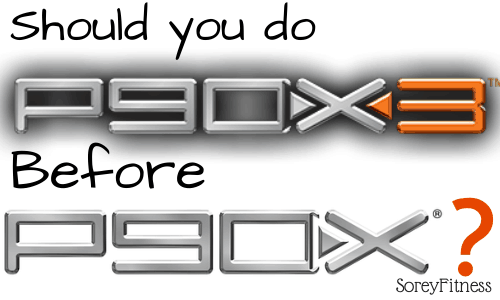 There are a few reasons why I chose to do P90X3 before P90X though. First off, I should mention — P90X3 is not the third step to P90X. If you've completed P90X and want a new challenge that are an hour or so long — try P90X2. P90X3 is just another program in the P90X series and can be done before P90X or P90X2.
Why I Chose P90X3 Before P90X
My goal after the 21 Day Fix is to burn fat and build lean, toned muscle. P90X3 guarantees that if I follow the program; I will get these results! I have 30 days to send it back if I don't like it.
Every workout is 30 minutes long. I love how short they are compared to P90X! I never made it past the first couple of weeks with P90X and didn't attempt P90X2 because I couldn't get excited about an hour long workout everyday.
It is so much easier to plan for 30 minutes a day. Unlike a program like Les Mills Pump or TurboFire, you can just plan 30 minutes everyday. No more planning out long workout days and short workout days.
P90X3 has a modifier. P90X does as well, but I really didn't want to do P90X since it is so long. I love knowing that modifications are offered in P90X3 as well.
Major studies show that you get the most out of a workout within the first 30 minutes.
It was also on sale. This was just a small perk for me because I really wanted to try it because of the length of workouts and the results. A sale never hurts though. The Challenge Pack  is $25 off plus you get a free P90X3 hat and leg workout even if you just order the regular program (no pack). You can get the challenge pack, or the P90X3 program only through me or a Beachbody coach.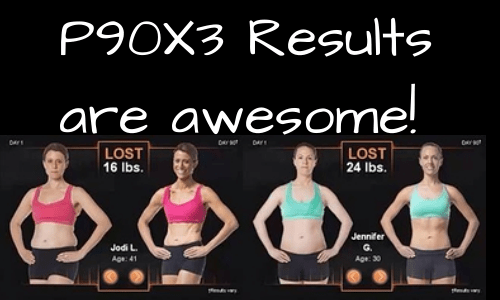 No matter whether you do P90X3 before P90X or not, either program is going to get you results. P90X is one of the most successful brand names in the world, and P90X3 is just a continuation of it. It is nice to know that you can get the same great results in half the workout time with the new program though. Plus, I know Tony Horton and Beachbody wouldn't put the P90X brand on a product that didn't deliver the same awesome results as the original program — they've just improved on the same fundamental principles to create a workout for someone busy like me.
If you don't feel like you are ready for any of the P90X programs, you can always start with Power 90. It was Tony's intermediate workout created before P90X.
I am planning on starting P90X3 on January 6, 2014 with a few friends on Facebook if you'd like to join us! You'll need to order by 12/25 to get it in time and join our challenge group.
Order Power 90 (the intermediate/beginner's version)
Order P90X2 (The toughest program in my opinion)
Order P90X3 or Order P90X3 as Challenge Pack to save $25 (ends 12/31/13)
Remember —  The P90X3 workouts are not designed just for people that have done P90X or P90X2 before. It is just a new version of the same type of cross-training workouts that Tony Horton made so popular with P90X years ago.
Would you do P90X3 Before P90X? Does one appeal to you more than the other?