Last year I desperately wanted to lose 10lbs. I decided to buy Nutrisystem late one night. (When all big purchases should be made, right?!) I got 40% off, and I'm so glad I did it!
**This post contains affiliate links and I will be compensated if you make a purchase after clicking on my links. For more information about FTC disclosure requirements, please see here.
Since committing to the program, I was able to get off my 10lbs, and even go back to a normal healthy diet a couple months later.
Don't I need a Nutrisystem Promo Code?
Nope! You'll automatically save 40% when you buy through the link.
You'll see a banner at the top of the page showing you get 40% PLUS free shakes using this link.
Why did this meal plan work for me?
convenience
portion control
better tasting than grocery store options
minimal meal prep
super effective
For me, it was convenience! I needed something healthy, portion controlled, and easy to grab.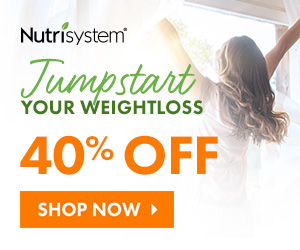 I also loved not having to meal plan!
Plus, I knew it was effective because my mom had done it in the past.
I have a feeling you're here because you want to save money on Nutrisystem, so I won't get into a ton of details.
With that said – I have shared my experience in a few posts.
Can I Just Buy It in Store?
While Walmart and drugstores now sell some Nutrisystem foods, it's not the best the deal for 2 reasons.
If you buy it in store, you won't get the 40% off, and you can't choose your meals.
By ordering Nutrisystem food online you can choose everything you get and see reviews of how well others liked that particular meal.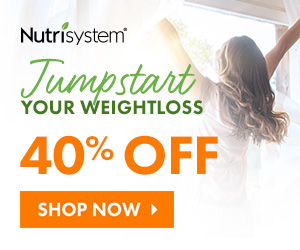 How to Decide if It's Right For You
Once you click the link above, you'll see a banner at the top of their website – with 40% off and free shakes!