Beachbody's Shift Shop workout program brings max results in 3 weeks! The new agility and strength workout promises your motivation, mindset, and body will be transformed no matter where you are starting from.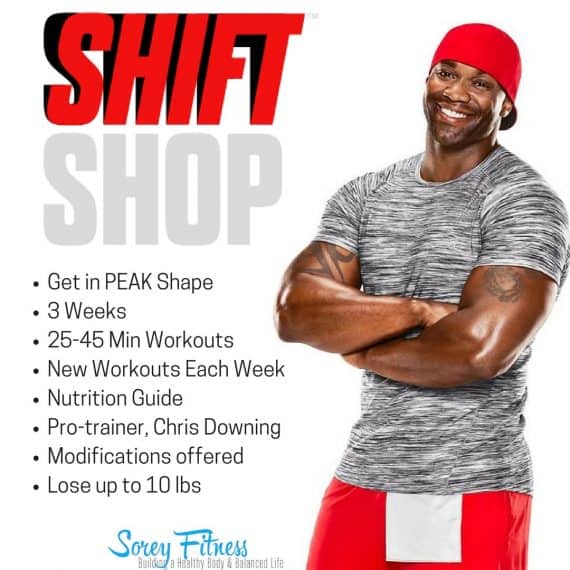 It's also with the super trainer, Chris Downing who is so inspiring. You guys will love this at home program!
The Shift Shop at a Glance
The new Beachbody workout is designed to help your weight loss and fitness level, along with your confidence and mindset.
The program is 3 weeks long
Workouts range from 25-45 minutes
New workouts each week
It includes a full nutrition guide
Created by experienced football & pro-trainer, Chris Downing
Designed any level of fitness with modifications offered
6 days to workout and 1 rest day
Balance of strength and conditioning and cardio workouts
Lose up to 10 lbs in 3 weeks
Available to stream or on DVD (if you'd like us to coach you make sure it says Kalee Dillard at checkout)
In 3 weeks, you'll be:
leaner
faster
stronger
more confident
While it's a 3-week program, you can always do more rounds of it just like the 21 Day Fix, Core de Force, and other shorter calendar programs.
The 3 week of workouts, build on each other and up the intensity each week.
If you'd like us as your coaches, make sure it says Kalee at checkout or look up 1001548. :)
The Shift Shop Meal Plan & Workout Breakdown
One thing I LOVE about the program is that each week you get new workouts. Each week you'll have 2 new workouts while mixing in a mobility and core workout.
Week 1 Recap
The workouts are a challenge 25 minutes to challenge your current fitness level. The meals this week are focused on a balanced amount of complex carbohydrates, lean protein, and healthy fat.
Week 2
As you get stronger, the workouts go up to 35 minutes. The intensity also gets upped this week, and you are working on your endurance both cardio and strength wise. Meal wise you'll be cutting out starchy carbs like bread and white potatoes and swapping them for vegetables and lean protein.
Week 3
In week 3, the workouts go up to 45 minutes, and the meal plan gets a little more strict and sort of Paleo.
Shift Shop Calendar
You also receive a
Round 2
and Hybrid Calendar when you order.
Is there a modifier in Shift Shop?
Yes! There is a low-impact modifier in every workout. She is super motivating, and she's still working towards her goal weight which I love!
What Do You Get With Shift Shop?
All of Your Workouts
A Full Nutrition Guide (Downloadable for those using On Demand)
Jump Start Guide
Agility Markers
Calendar
You can choose to stream the workouts or have them on DVD now! 
Who is Chris Downing?
Before becoming a Beachbody super trainer, Chris Downing was an elite fitness professional. His passion for fitness started as a high school and college basketball player. However, it wasn't until his uncle, who was his father figure, died of a heart attack that he became a trainer.
His first client, Tammy, was 680lbs and her several hundred pound weight loss only made him want to help people more. He opened up a gym in a football town. From there he began training organized sports teams and pro athletes.
So he literally has experience from with all different levels of fitness. Also, from what we know right now – this looks like a great program for someone that loves a Shaun T workout but needs something more intermediate than Insanity Max 30.
How Much Does it Cost?
It depends on what option you choose. Below you'll find all of your options. Have a question or need a Canadian link? Email us at thegirls@soreyfitness.com
If this post helped you, make sure it says Kalee at checkout or look up 1001548. :) We're both full-time coaches here to help you!
When you check out, you should see me as your coach. If not, you can update it with the ID in the picture.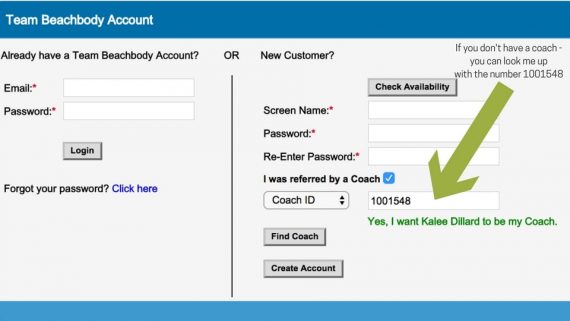 Will you try Shift Shop? Do you stream with Beachbody on Demand?
Have you looked into being a Beachbody coach yet?