Beachbody's Core De Force Calendar – 3 Workout Schedules
This post may contain affiliate links. All opinions shared are my own. As an Amazon Associate I earn from qualifying purchases. Click to view our full disclosure.
The original Beachbody's Core De Force Calendar mixes in cardio and strength with 8 at home MMA workouts. You can also add in additional deluxe workouts. There is also a Core de Force Hybrid Workout Schedule we'll provide below as well!
3 Core De Force Calendars
Original – 30 Day Core De Force Schedule
Advanced – This workout calendar includes the add-on workouts available in the Deluxe kit or on Beachbody on Demand.
Hybrid – The hybrid is ideal if you're using Beachbody on Demand because it mixes in T25, Asylum and more!
If you're just starting, we recommend doing 1 round of the original calendar. Then you can choose to do the advanced or hybrid one.
We've also included the workout names and workout lengths here.
Your Printable Core de Force Calendar
We've created printable Core de Force Schedules for you! Just click on the image or link below to have the printable version pop open.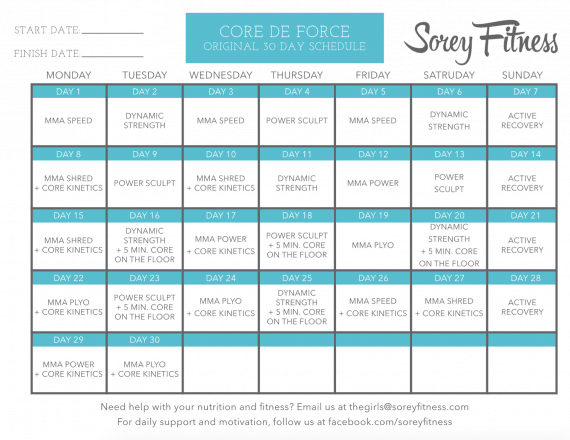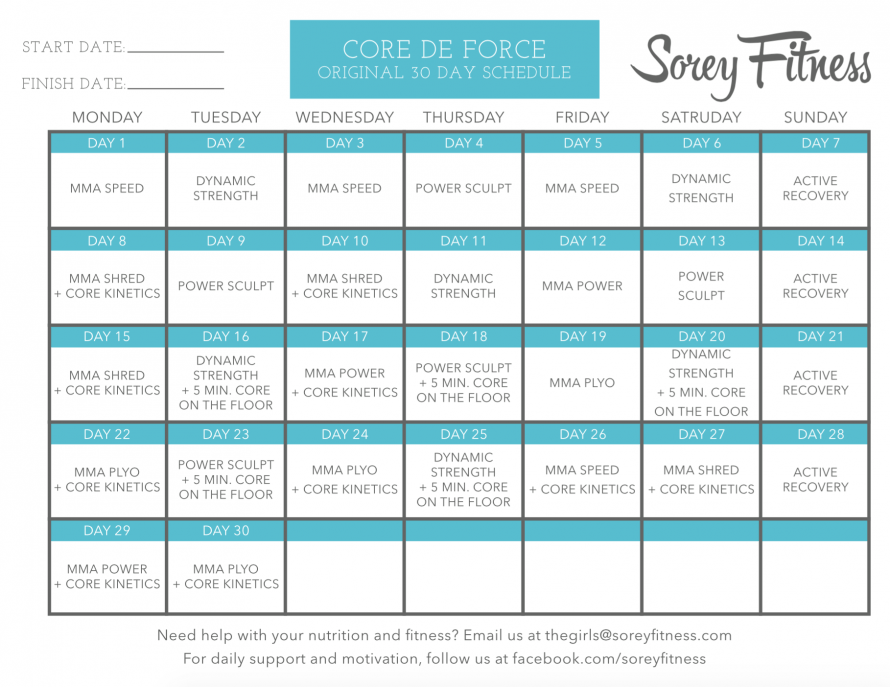 Print your the Original Core de Force Calendar Here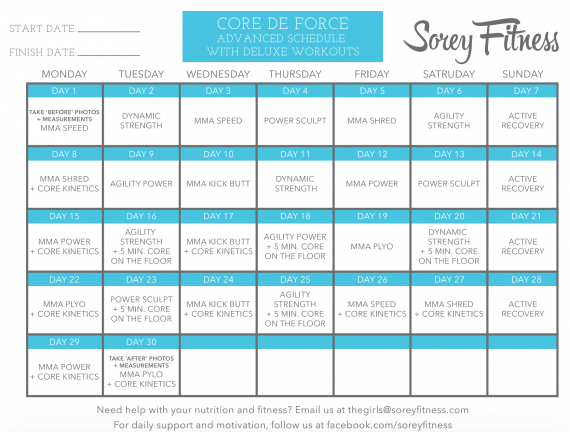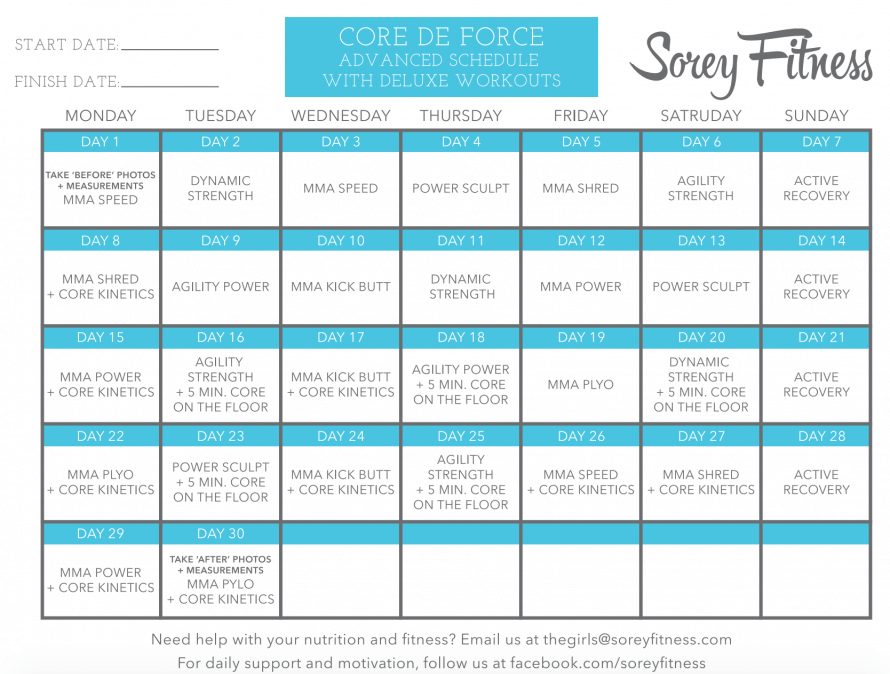 Printable Advanced Workout Calendar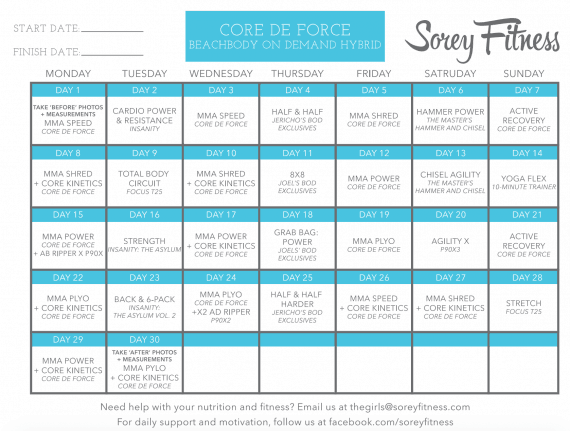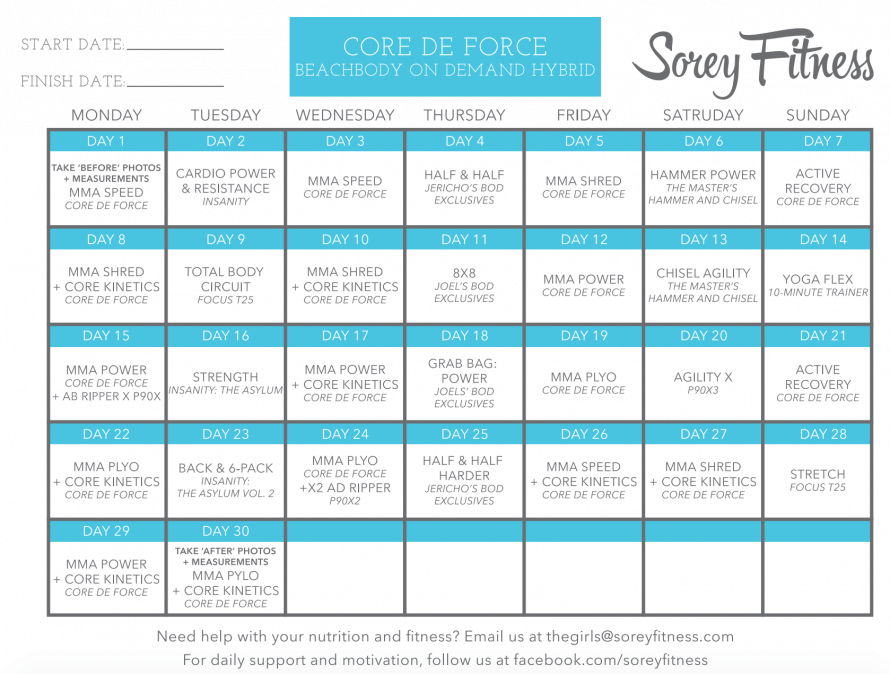 Printable Beachbody on Demand Hybrid Calendar
What is Beachbody on Demand?
Beachbody on Demand is Beachbody's streaming service. You can stream over 700+ workouts and download up to a week's worth at time. This membership service allows unlimited daily use for your family as well – so spouses can do different programs!
You also can stream to your phone, mobile devices or TV if you have a compatible streaming device.
You can find out everything that is included with your BOD membership here, or try the FREE 2 Week Trial!
Beachbody Coaching
We provide free coaching through our 21 Day Challenge to anyone! We'd love to help you hit your goals and motivate you through your entire Core de Force schedule. After the 21 Day Challenge, clients are added to our year-round accountability group where we share recipes, tips and more! You can learn more about what a free coach does here.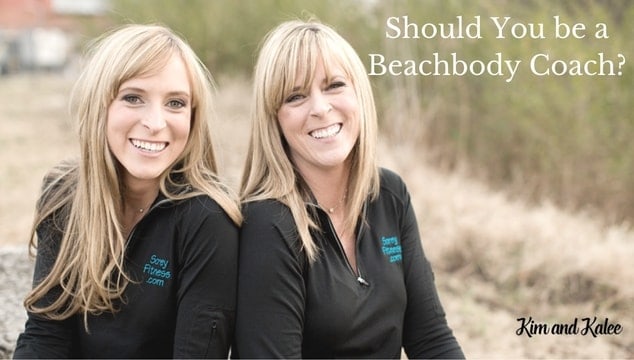 Should you be a Beachbody Coach?
We also offer mentorship to our team, and we've become the first ever Mother Daughter Elite Beachbody Coaches! If you've been wondering what a Beachbody coach does or how they make money – we can help!
You also can also see how we became coaches here.