How Much Does Shakeology Cost? How Much is Shakeology As a coach?
This post may contain affiliate links. All opinions shared are my own. As an Amazon Associate I earn from qualifying purchases. Click to view our full disclosure.
Below we'll outline how much Shakelology costs as a customer and as a coach. We know it's price is a little steep, but we'll also outline exactly why it costs as much as it does!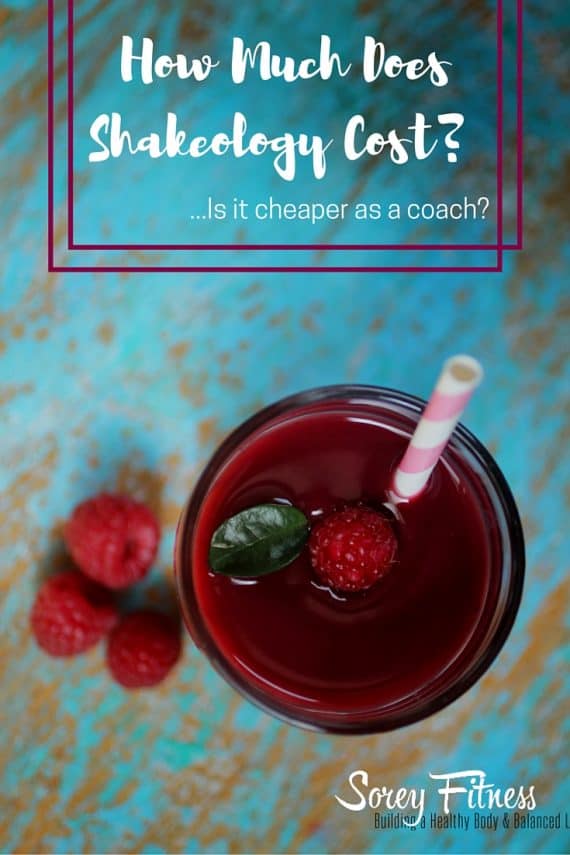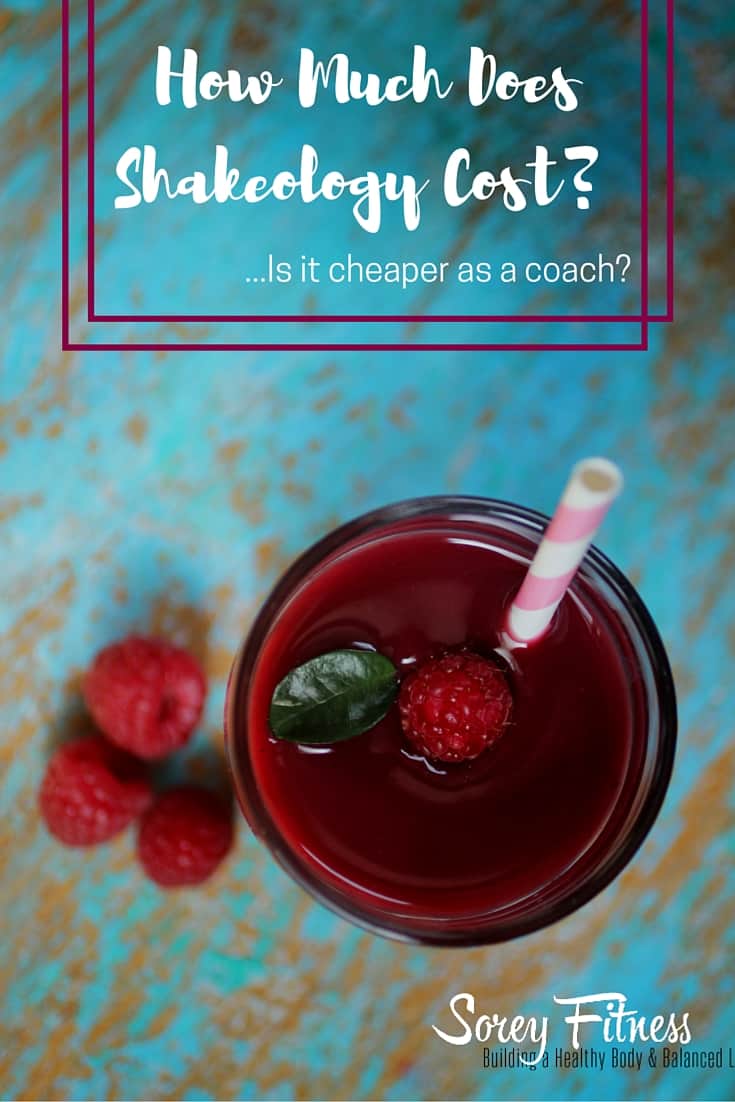 How Much Does Shakeology Cost?
Shakeology is $129.95 for a bag of 30 or a box of 24 servings. That makes it approximately $4.33 a serving.
The packets are great if you travel a lot – just ask Starbucks to blend it up and yum!
If you're at home or have access to a blender most days, I love the bag because it includes 30 servings compared to the 24 packets in a box.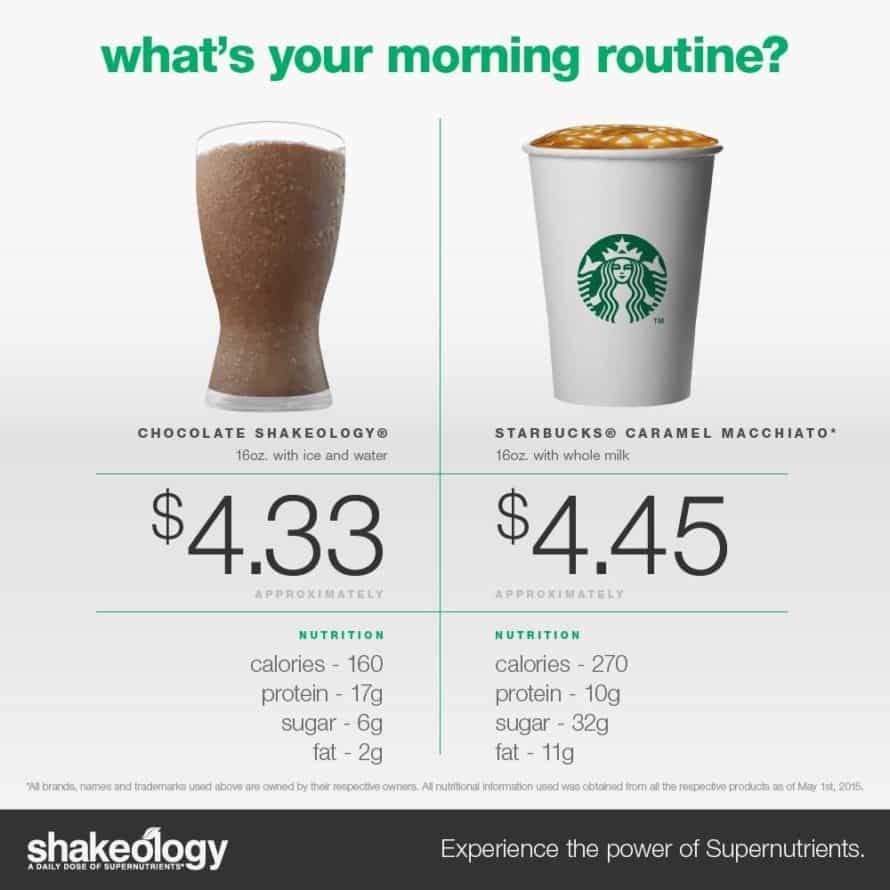 Shakeology Flavors
Chocolate (Whey or Vegan)
Vanilla (Whey or Vegan)
Strawberry (Whey) or Tropical Strawberry (Vegan)
Cafe Latte (Whey or Vegan)
Greenberry
Peppermint Mocha and Pumpkin Spice are also seasonal Shakeology flavors.
You can choose any flavor at the price or even do a combination of flavors. I personally love the original Chocolate then the Cafe Latte.
The vegan options are also $129.95 and use a pea protein. You may also like our Vegan Shakeology Review to learn more about each flavor.
The only flavor I really hate is the Greenberry.
Other Shakeology Posts You Might Like:
How Much is Shakeology As a coach?
As a coach, you get 25% off anything you order including your Shakeology. So it is approximately $97.47 as a coach for the same box or bag of Shakeology as a coach.
As a coach, you don't have to actively "coach" anyone or work the business at all, but it is $15.95 a month to maintain your coach status.
If you're planning on staying on Shakeology though, the savings are more than that cost. You can learn more about Beachbody coaching here.
Can you get a discount any other way?
You can save a little bit if you do a Challenge Pack.
The challenge pack bundles Shakeology and a workout program or Beachbody on Demand together. This offers a one-time discount of about 25% and discounted shipping.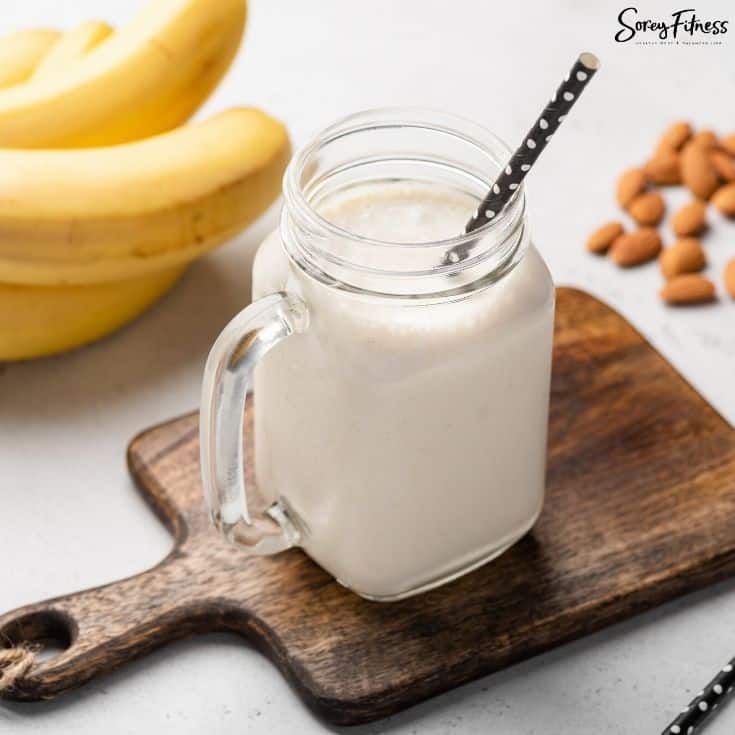 Should I Buy Shakeology on Amazon, Ebay, etc?
Unfortunately, we don't recommend it. You may see Amazon or another website have it, but it's where someone is selling an old bag or a counterfeit product.
Even if you don't order from us, we still encourage you to order through a coach or through Beachbody directly to make sure you're getting a safe product.
Unless it's from Beachbody or a Beachbody coach's website – there is no guarantee it's actually Shakeology.
As scary as it is, it is very easy for someone to get the packaging and a sealing machine and put whatever they want in it or edit the expiration date on older bags and boxes.
This is something you're putting in your body – in my opinion, don't chance it! You're buying this probably for better health so don't put your health in danger for a few extra bucks.

Is the Shakeology cost worth it? Is it a scam?
Personally, I don't think it's a scam. Even before I signed up as a coach, I was drinking it.
It's a high-quality product. Just like you would choose a reliable car or warm coat, you should be choosing a high-quality supplement.
Shakeology has helped my:
digestion
cholesterol
cravings
blood sugar
hair, skin, and nails
I also don't take a multi-vitamin or probiotic anymore. Shakeology covers all of those needs for me…which saves me some money!
Plus I use it as a meal.
A Quest bar and a Dasani water at the store runs $4.50, and the drive-thru and smoothies are going to be closer to $6.
Plus, with Shakeology you know the quality will always be the same versus the drive-thru. You're also going to get more nutrition than a Quest bar or a Lean Cuisine. I speak from experience when I say my digestion, skin, weight, cravings, and energy improved greatly after switching from bars and pre-made "healthy" meals to this.
We also love to make a treat or snack with it – grab our Vanilla Shakeology balls or mug cake!
Did this help you answer the questions: How Much Does Shakeology Cost? and How Much is Shakeology As a coach?
Have other questions on Shakeology? Email us at thegirls@soreyfitness.com
Other Posts You Might Like:
These statements have not been evaluated by the Food and Drug Administration. This product is not intended to diagnose, treat, cure, or prevent any disease. You should consult your doctor before making any changes to your workout or diet. The statements above are just my own experience and opinion.