Openfit Fitness App Review | How We Liked the Home Workouts
This post may contain affiliate links. All opinions shared are my own. As an Amazon Associate I earn from qualifying purchases. Click to view our full disclosure.
Openfit offers home workout programs and live classes to help you hit your weight loss and fitness goals. We love that you can try new workouts from the comfort of your own home! Below we look at the pros and cons of the new way to get unlimited access to live trainers and on demand fitness classes right in your living room!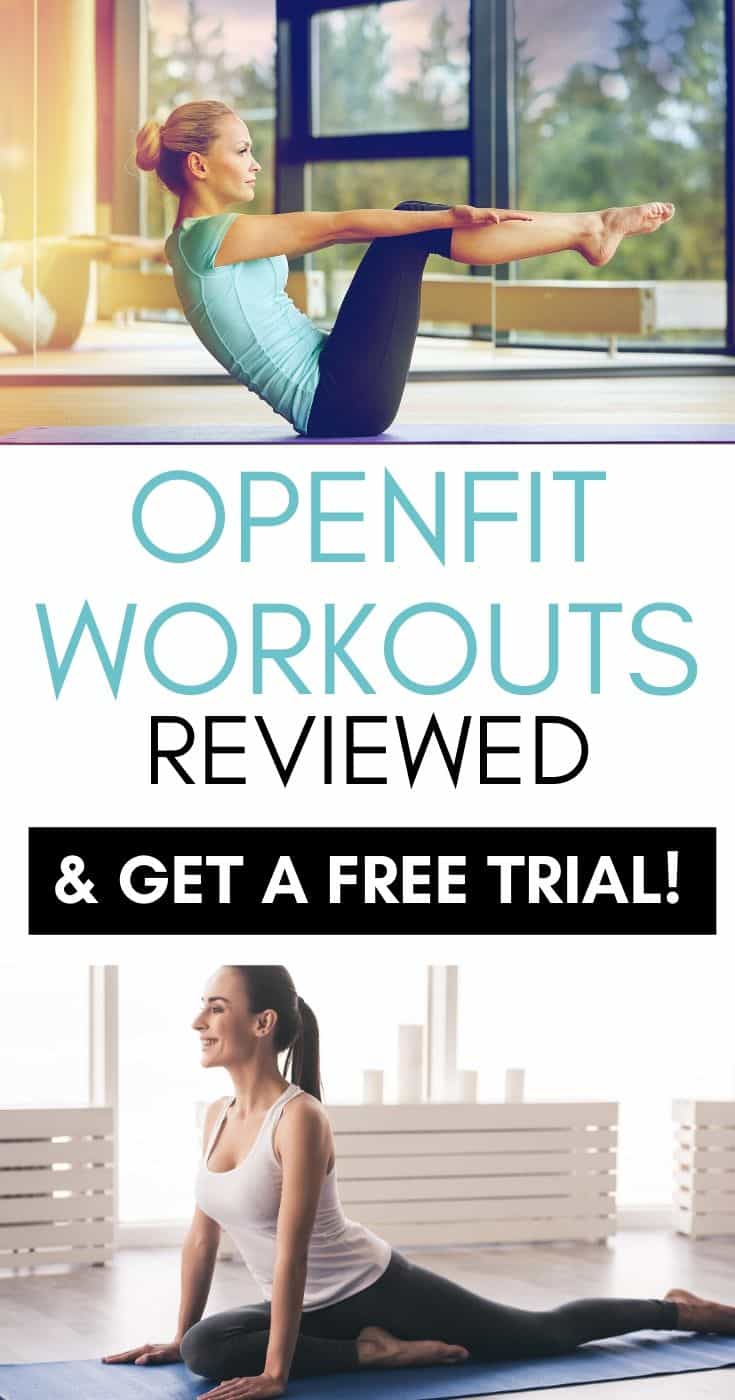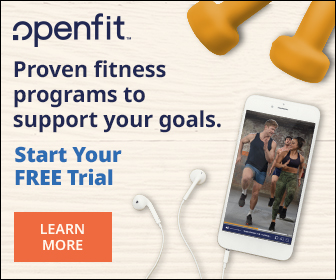 What is Openfit?
Openfit is a streaming service that offers unlimited access to 160+ on demand fitness programs, live workouts, and meal plans for your fitness journey. The Openfit fitness app allows you to stream their workouts from your
phone, computer, or a streaming device like an Apple TV, Roku or Amazon Fire TV or Firestick.
How does Openfit work?
There are monthly, quarterly, and annual Openfit subscriptions. Once you sign up for a monthly, quarterly, or 12-month plan, you have access to both real-time live fitness classes, as well as, several online workouts like Xtend Blend and XB Pilates. You have access to everything as long as you have your membership.
The annual subscription is $96 and is a good option for those looking to ditch their traditional gym membership. (Their six-month plan has been discontinued).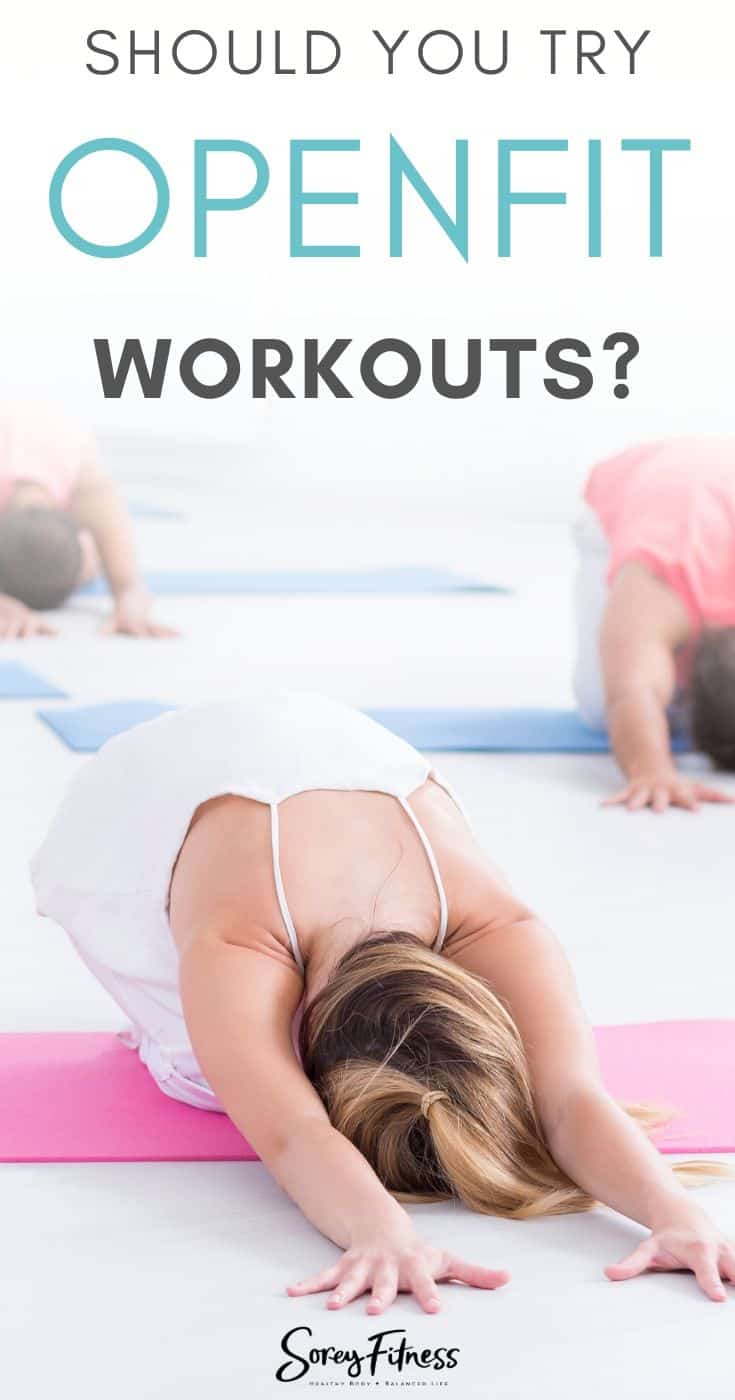 Openfit Review – Pros & Cons
We've been working out at home since the 90s! (Crazy, right?) So we definitely have some experience between VHS, DVDs, and now streaming services like Beachbody on Demand, LES MILLS on Demand, and Daily Burn.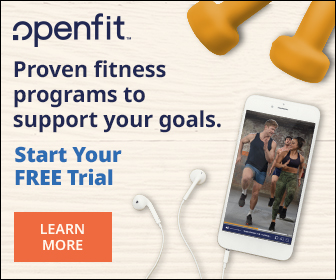 Here's a quick breakdown of what we liked and didn't like about Openfit.
Pros:
They offer a free trial to see how you like it.

Specific programs for every fitness level.

Easy to stream on demand workouts from our phone, computer, or TV.
The offer boutique fitness classes like barre classes with Andrea Rogers.
They offer a pretty good variety of workouts including strength training.
The series of 10-minute workouts is perfect if you have a busy schedule.
You can cancel your subscription online under account settings! (You don't have to call anyone!)
Cons:
Unlike Beachbody on Demand, they only have a few programs to pick from.
For the price, Beachbody on Demand and LES MILLS on Demand offer more workouts.
Your membership auto-renews if you don't cancel it.
If you have an issue, they don't have a contact phone number for customer service.
The attention to form and technique of certain moves isn't as good as other platforms we've used.
Openfit is only available for US residents right now.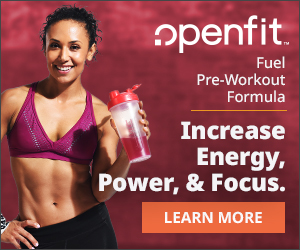 Is Openfit free?
Openfit is a membership service, but you can try it free for 14 days! After the trial, it costs $8 to $19 a month depending on the subscription plan you choose.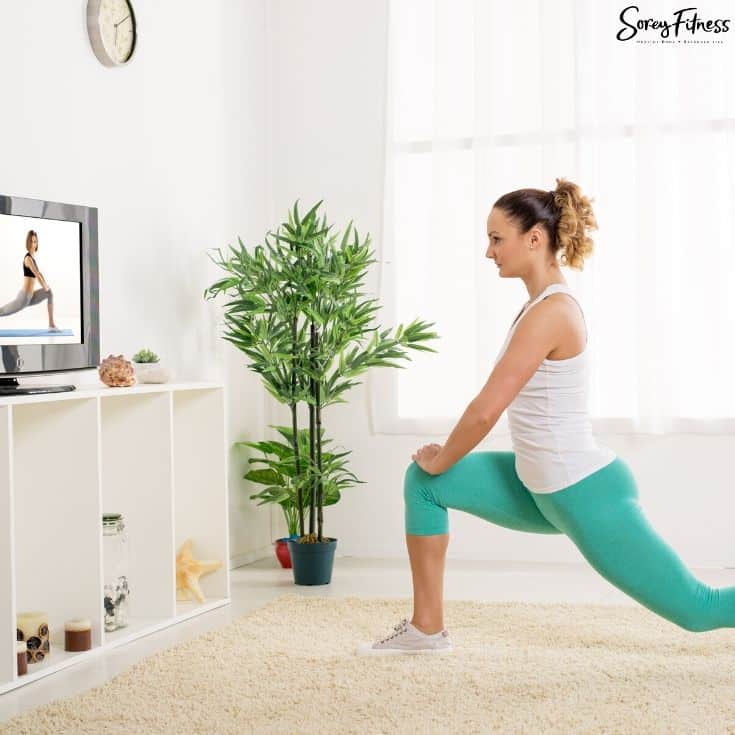 How much does Openfit Cost?
Openfit costs $96 for an annual membership, or you can choose one of their different plans for a little more money. Any membership option gives you access to all of their workouts.
How Can Openfit Help You?
Any at home workout or nutrition service can help you get healthier if you use it. The Openfit app allows you to easily stream workouts to your mobile device, computer, or TV which can make working out more convenient than driving to a gym.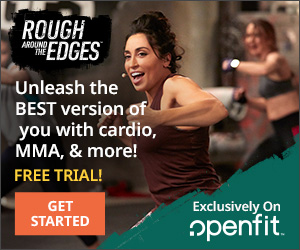 We also love that the workouts are around 30 minutes long and don't require a ton of equipment — which is reasonable for most people.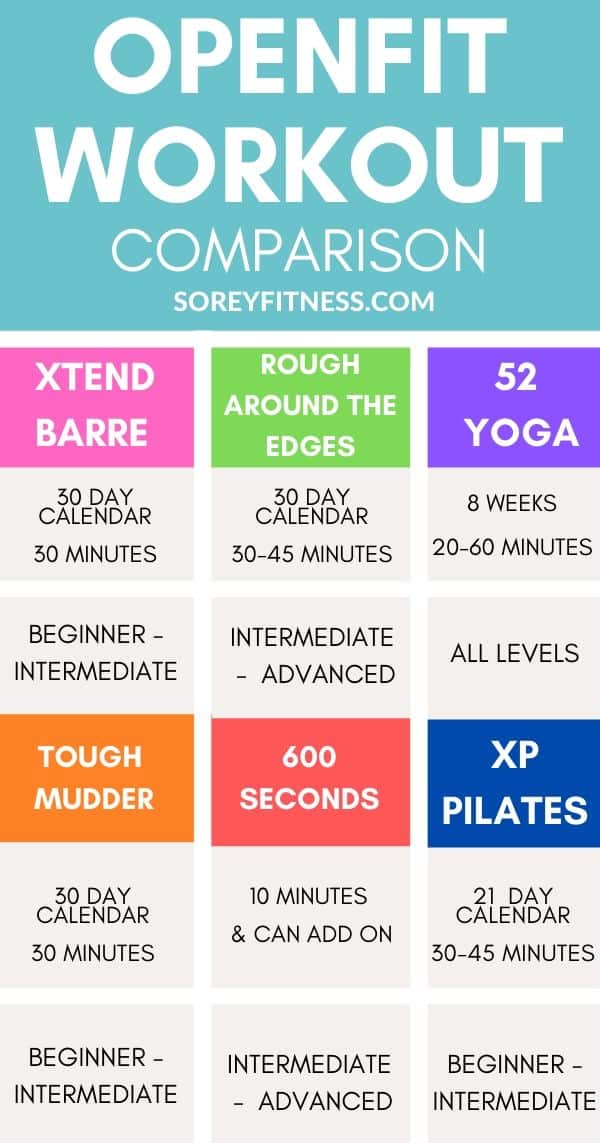 What workouts does Openfit offer?
Right now, Openfit offers effective workouts programs, as well as, a couple nutrition programs.
Openfit workouts:
4 Weeks of Focus: Combines cardio with powerful, functional strength training.
Xtend Barre: 30 unique workouts that mix cardio, pilates, ballet, and bodyweight training together in under 30 minutes.
XB Pilates: This is their newest workout and includes 14 workouts focused on pilates
Rough Around The Edges: 17 unique workouts that are martial arts and kickboxing based & are around 30-45 minutes.
Tough Mudder T-Minus 30: 27 30-minute workouts to help you improve your overall fitness and prepare you for 5ks and tough mudder events.
Yoga52: 52 Weekly yoga routines led by certified yoga instructors and range from 30-45 minutes.
600 Secs: 42 unique 10-minute high intensity workouts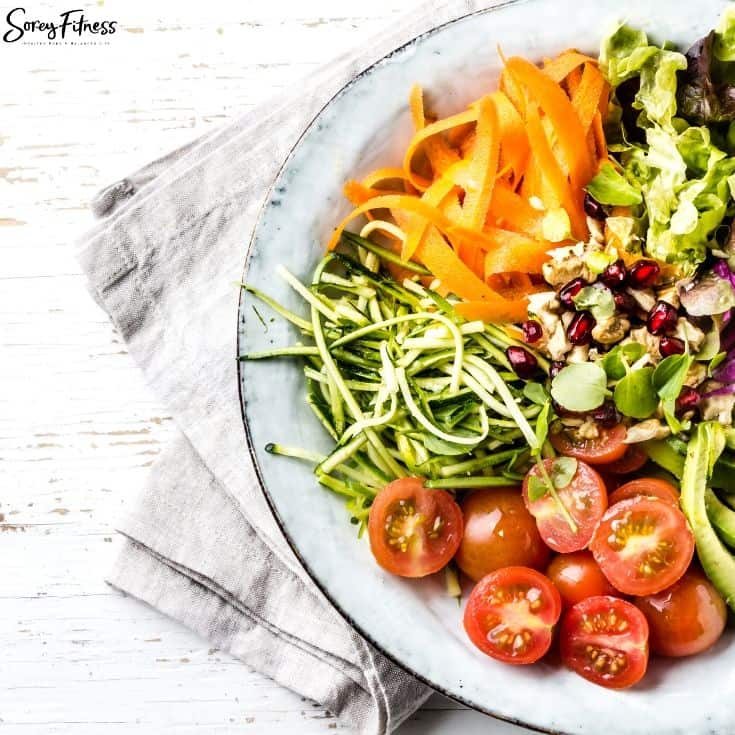 Openfit Nutrition
Along with the workouts, there are additional resources on the Openfit platform including monthly exercise challenges, nutritional plans, and recipes. They also now have supplements to go along with your home workouts.
Members get access to:
daily meal plans and meal prep hacks
food suggestions and tasty meal options
Gluten-free, keto, and vegan recipes
Openfit Supplements
Openfit's Ladder Supplements include whey protein, plant protein powder, superfood greens, and a pre-workout supplement. They also have a hydration product for longer workouts. These are not included in your membership unless you buy it as a bundle.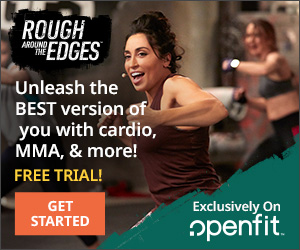 Who created Openfit?
Beachbody's co-founder Jon Congdon and Evite co-founder Selina Tobaccowala created this streaming service in 2018. Lebron James and Arnold Schwarzenegger also sold their ladder brand of supplements to the company in 2020.
Is Openfit owned by Beachbody?
Yes! Openfit is owned by Beachbody, but it's designed to be a lower-price point product.
With that said, Beachbody on Demand currently offers over 1100 workouts versus Openfit's 160 workouts, and they're both around $99 a year!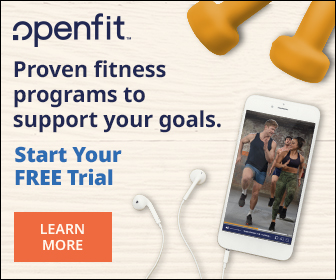 Is Openfit a MLM?
No, Openfit isn't a multi-level marketing company.
Which is better – Openfit or Beachbody?
Right now, Beachbody on Demand is a way better value than Openfit. Beachbody on Demand has 10X the amount of workouts than the other streaming service, as well as, additional features like the ability to track your calorie burn in the app and community support.
We also found the quality of Beachbody to be better; which in all honesty makes sense since Openfit is suppose to be the "lower-price option" anyways.
You can see our full comparison of the two here.
Are you ready to workout?
You can always try Openfit free for 14 days with a free trial! It's also super easy to cancel online.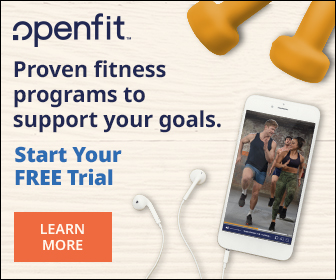 Out of the streaming services we've tried though — we'd rank them:
Openfit or Dailyburn
How do I stream Openfit on my TV?
Yes, you can stream Openfit to your TV by downloading the app and streaming it through a device Roku, AppleTV, or the web.
You can also mirror them from your mobile device to your television
How do I get Started with Openfit?
To get started, you'll sign up for the free Openfit trial here. It will ask for your payment information, but this is only charged on day 15 if you don't cancel the free trial.
Then, you'll see an online quiz to help you find the best workouts and meal plans for your goal.
You will also want to download the app to your phone or streaming device.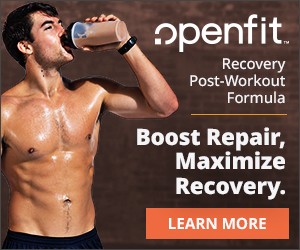 Is Openfit Worth It?
Openfit is an affordable and convenient alternative to going to an expensive gym. With that said, we prefer Beachbody's streaming service or LES MILLS on Demand.
You can always try out the workouts using the 14-day free trial though! Technically, you could get 2 months free between this trial, Beachbody's and LES MILLS'.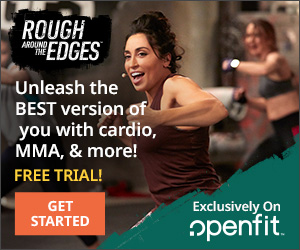 TL;DR
Our favorite part about working out at home is that you customize it to your individual needs. You can create your own schedule with individual workouts led by your favorite personal trainer or choose from the 100s of workout classes led by celebrity trainers like Devin Wiggins and Hunter Mcintyre.
With that said – we prefer Beachbody on Demand and Les Mills on Demand workouts over this platform. We tried the on demand classes for the first time after seeing them all over social media. While we love the variety offered, a lot of the daily programs were boring. We tried Xtend Barre and 4 Weeks of Focus, and they both felt like a copycat workout of Barre Blend and #MBF.
You may also like: