Keto Fast Food | Restaurants and What to Order to Stay Low Carb
This post may contain affiliate links. All opinions shared are my own. As an Amazon Associate I earn from qualifying purchases. Click to view our full disclosure.
Now more than ever, we need quick, convenient options so we found the best keto fast-food options that allow you to eat low carb and high fat on the go! Find out what we order at Subway, KFC, Taco Bell, McDonald's, and many more to stay in ketosis.
So, if you're hungry and on the road, there are options for you!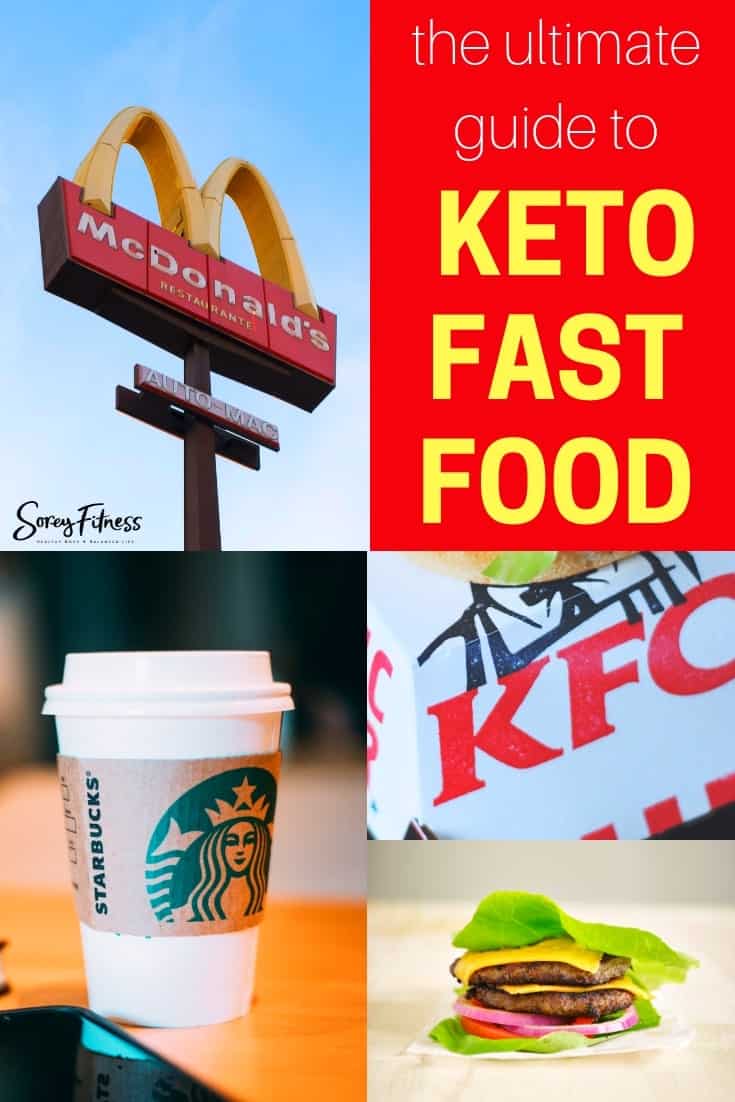 How many times have you felt like there's just nothing out there for you to eat? Besides the option of cooking at home, eating out at fast-food restaurants can be a danger to wrecking all your hard work.
But the good news?
There are restaurants out there that offer many different food choices that anyone on a ketogenic diet can enjoy.
The next time a friend wants to meet up for dinner, you can rest easy knowing that the menu has keto-friendly options that can accommodate your diet!
While fast food isn't encouraged on strict keto, it is allowed on Lazy and/or Dirty Keto.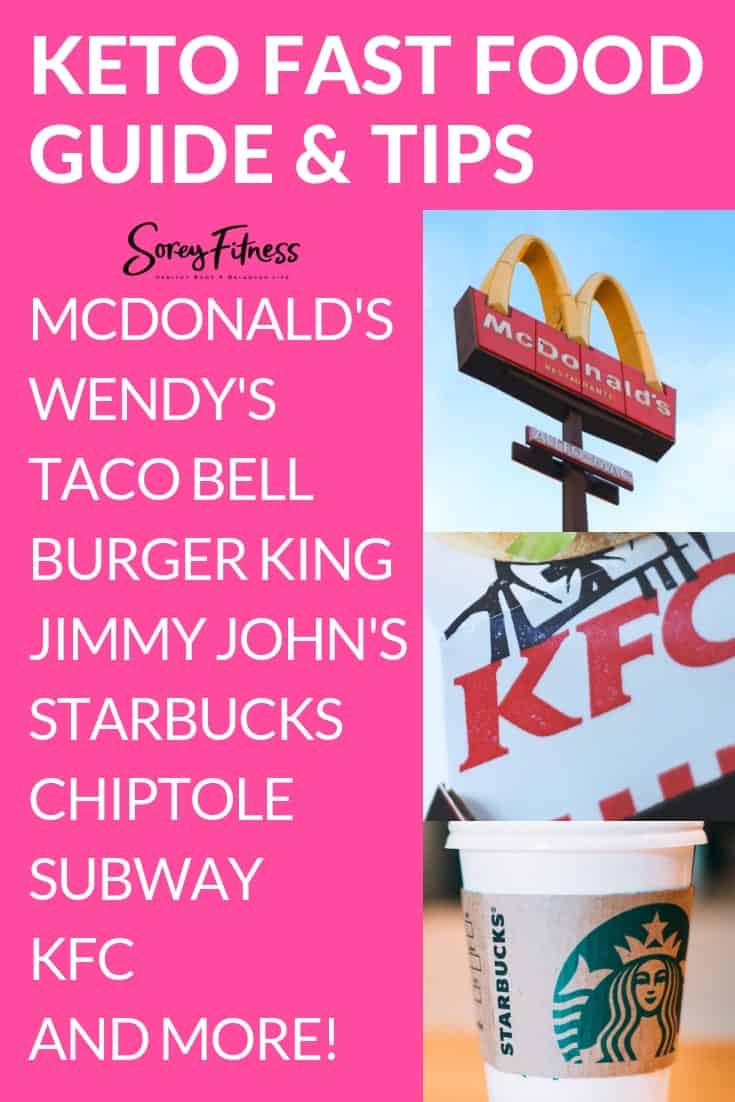 Keto-Friendly Fast Food Options to Keep You on Track
It's no secret that there are a ton of fast-food restaurants out there! And while they all might have menu items that are calling your name, not all of them are creating equal.
If you're looking for keto fast-food options that won't give you any feelings of failure or guilt, these choices will make certain to keep you on your healthy-eating path.
Subway
Chopped Salads
Lettuce Wrap
Subway offers varieties to their regular sandwiches that you can order.
For the lettuce wraps, just ask them if they can leave off the bread and instead use lettuce as the outer "holder" of all the meat and cheese. It's a simple solution for getting a great meal without adding in all those carbs.
Get more keto-friendly Subway options!
Kentucky Fried Chicken (KFC)
Grilled Chicken
Green Beans
While it is so tempting to have some of their delicious fried chicken, we all know that it's just not approved for the Keto diet.
Instead, opt for their grilled chicken and a side of green beans. Both are tasty as well, and you'll walk out that door without any worry at all.
You may also like our Keto Chicken Wings Recipe when you have time to cook!
Taco Bell or Pollo Loco
Mini Skillet
Taco Salad
Lettuce Wrapped Tacos
Taco Bell lets you alter the ingredients so just omit ones that you can't have. Take out the beans, potatoes, tortilla strips, and anything else that you know isn't Keto-approved, and instead, add in some extra meat and cheese. As long as you communicate what you don't want, you can alter most things on their menu.
We also have a ton of ways to make Chipotle keto friendly!
Burger King
Salads
Grilled Chicken Sandwich
Salads are always a great way to stay on track, and luckily, most fast-food places offer them nowadays. If you're wanting more and craving that protein, order a grilled chicken sandwich without the bun. It's really quite delicious and will curb those cravings.
McDonald's
Double Cheeseburger
Coffee
Egg McMuffins (minus the muffin)
The great part about ordering at McDonald's is that again, you can request to have no bread for any of their burgers or breakfast sandwiches. You still get the meat and cheese without the worry of the added carbs.
Their coffee is another great keto fast-food option as well! You just want to skip creamers or sugar.
With a wide variety of menu items, you can easily find something high fat and low carb.
Jimmy Johns
Jimmy Johns is one restaurant that has been ahead of the low carb lifestyle for quite some time. Not only do they offer a completely bread-free option, but it's been on their menu for many, many years.
You can literally order any type of sandwich off their menu and have it made as an unwich instead. The "unwich" is wrapped up using romaine lettuce versus any type of bread that you can't have.
All their sandwiches are completely customizable to your needs so you can literally create your very own keto-friendly creation with ease. Also, since they've been serving up this type of sandwich for a really long time, they're quick, efficient, and understanding about toppings and needs as well.
Starbucks
Starbucks is another keto friendly fast-food option if you're looking for a quick bite to eat or a yummy afternoon pick-me-up. Check out our full Keto Starbucks Guide here!
You may also like our tips to making Dunkin Donuts keto-friendly!
Wendy's
Wendy's is another great restaurant that lets you alter your ordered items as you need. They'll remove condiments and vegetables that you might not want on your burgers and replace with more bacon and cheese if you want.
Just tell them to leave off the bun, and you'll find that your options at Wendy's don't feel so limited after all.
Arby's
Any of there meat sandwiches without the bun would be a great option including ones with cheese.
Moe's
You can ask for a burrito bowl versus a burrito to cut down carbs.
Carl Jr.'s
Low Carb Breakfast Bowl
Bun-less Burger
Charbroiled Chicken Club (without the bun).
Panera
All of these option are 7 grams of net carbs or less.
Power Breakfast Egg Bowl with Steak
Roasted Turkey Power Breakfast Egg White Bowl
Power Mediterranean Chicken
Roasted Turkey Power Mediterranean Bowls
Power Steak Lettuce Wraps
Tips to Finding Other Keto Fast Food Options
There are a few ways to identify keto-friendly fast-food options anywhere. Here are a few tips to help you stay high fat and low carb.
Skip the bun or breaded products
Look for lean proteins like grilled chicken, beef, fish, or eggs
Be mindful of toppings and condiments
Skip sodas and caloric-drinks
If it's fried, opt for a grilled option instead
Don't be afraid to ask to customize your order
Plan ahead – look over the menu ahead of time
Use a carb tracker like Carb Manager or MyFitnessPal
As you can tell, fast-food restaurants are aware of the ever-growing Keto diet, and they also know that in order to keep growing their business and customer base, they have to be prepared to alter their offerings, too.
The restaurants listed above do a great job at making certain that they offer some sort of keto fast food options for everyone to have. If you pull up to a place and just aren't certain, all you have to do is ask!
You may also like our guide to eating on a budget to help combat the prices of eating out.
Other Low Carb Resources
Do you have a favorite place to eat for keto fast food?