Keto Made Easy with These Meal Delivery Services
This post may contain affiliate links. All opinions shared are my own. As an Amazon Associate I earn from qualifying purchases. Click to view our full disclosure.
Have you seen the new keto meal delivery options? We love how easy it makes counting your macros, and the ready made meals delivered to your door save so much time! Some of these options are cheaper than meal prepping yourself, and they're delivered right to your door!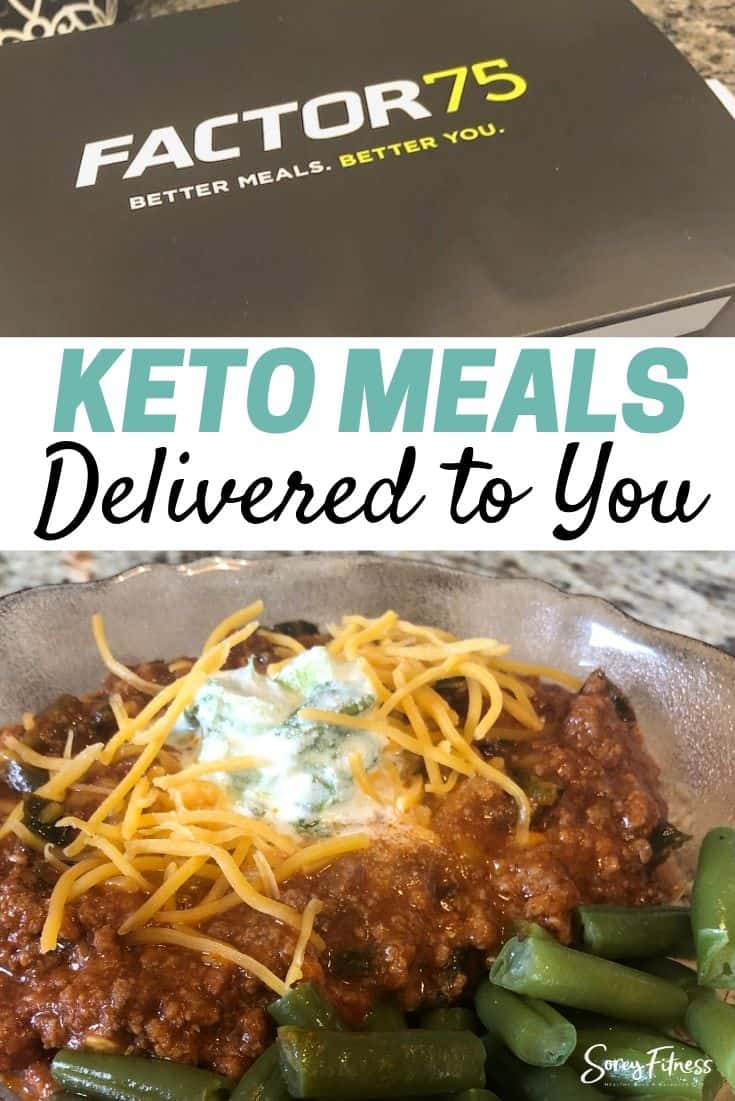 Below we'll look at a couple keto meal delivery options we've tried!
We started using them in conjunction with Chalene Johnson's 131 Method. The 131 Method has 3 different phases. One of which is keto, and if you know us, you know we aren't big cooks, and food must be kept simple. So, it didn't take us long to look into different keto food delivery options.
We had tried Veestro, Trifecta and Freshly before. While we love all three, Veestro & Freshly have very few keto meal options, and Trifecta was a bit more expensive than the others, so we had to investigate some other options.
Kalee & I both had seen ads on Facebook for different keto meal delivery services. She saw Kettlebell, and I had Factor 75 pop up. Gotta love the Facebook ads, don't you?! It's like Facebook knew we were starting out on our keto quest. #eavesdropmuchfacebook?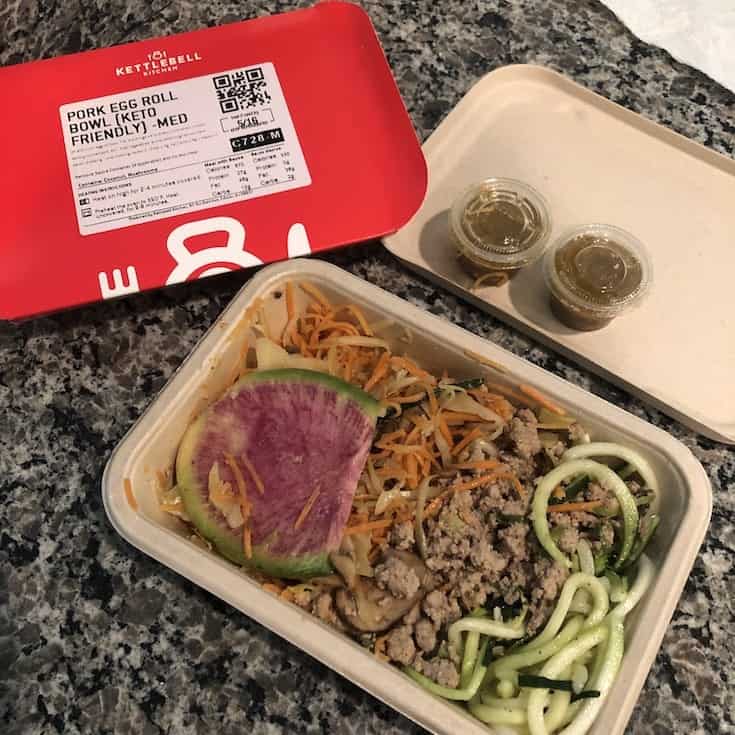 Get $25 off with our Kettlebell Kitchen Coupon Code
I know the idea of keto meal delivery might seem a bit frou-frou to you, but it's honestly a great choice now-a-days. There is such competition amongst great companies that the cost can be quite comparable to fast food.
Who is keto meal delivery for:
Anyone just learning how to eat keto
Someone who feels overwhelmed by managing her macos
The busy person with little time to prepare a fresh meal
Someone looking to eat healthy while also following a keto diet…(no lazy keto diet here)
Anyone looking for a variety in keto meals
Singles wanting to have a healthy keto option without cooking meals for 4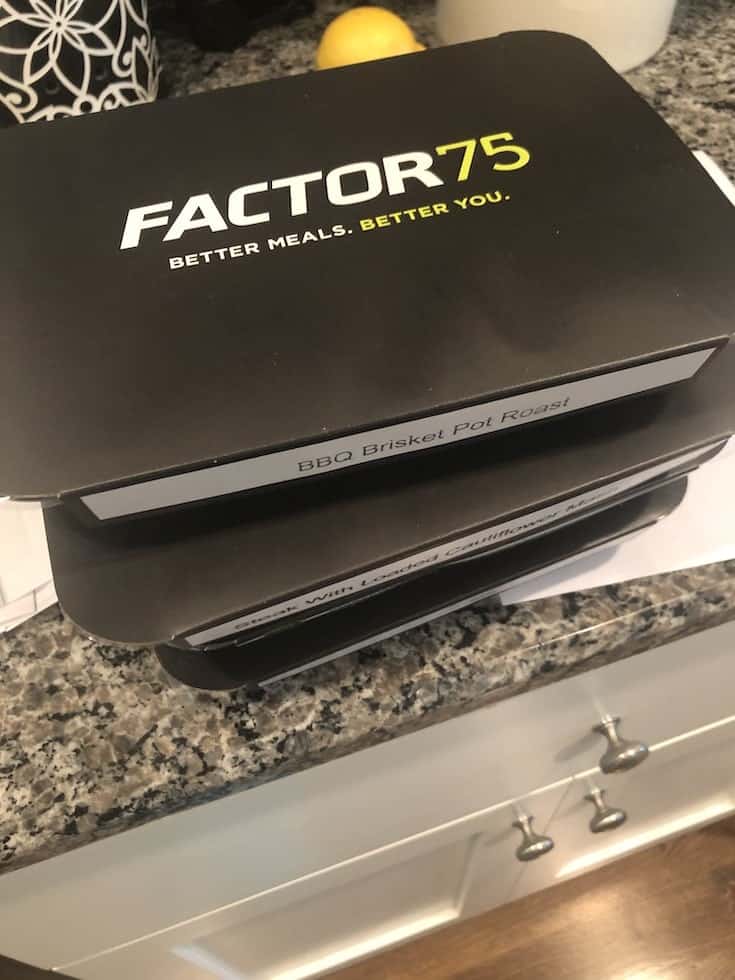 How Ordering Keto Meal Delivery Services Work
These services make following a ketogenic diet super simple!
1. They Follow Keto Macros
If you're following a Keto diet, you know you need to watch your macros. The general rule for reaching ketosis is to watch your macro percentages:
Fat: 70% of your daily calories
Protein: 25% of your calories
Carbs: 5% of your calories
These meal delivery options not only offer you a healthy option, but they are keeping into account these macro percentages for you.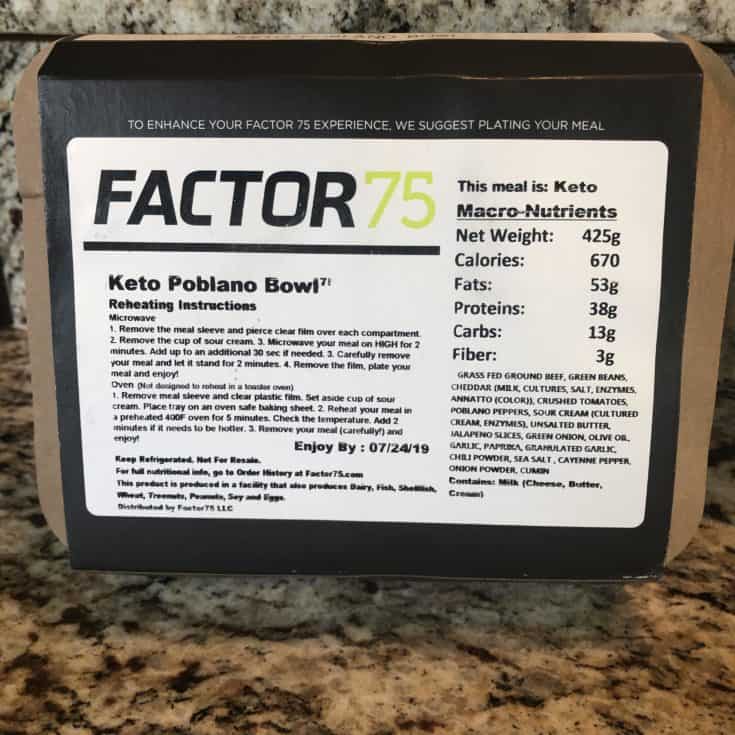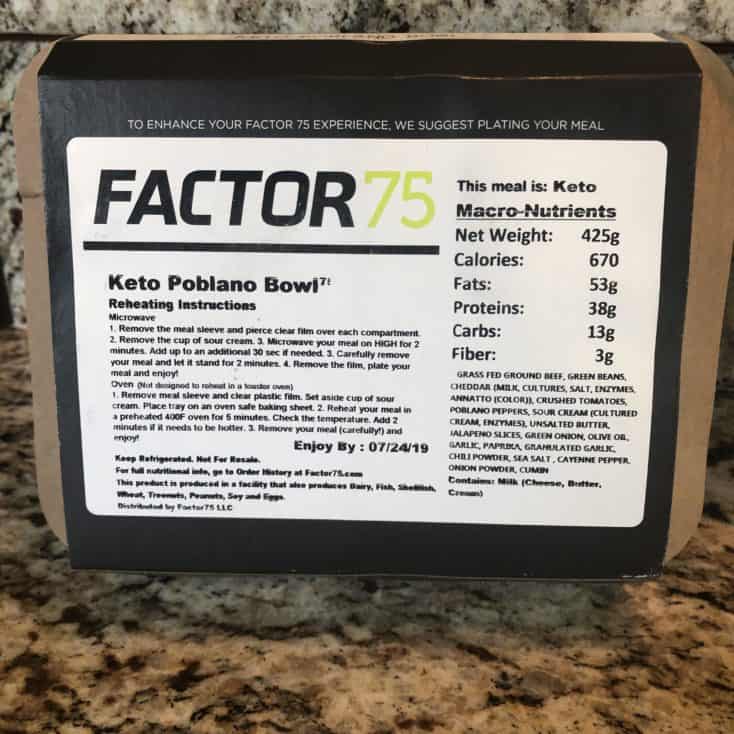 2. You Can Pick Your Meals or Chose a La Cart
With Trifecta, Kettlebell, and Factor 75, you can select your meal preferences such as Paleo, Keto, Vegan, etc…, and they will select meals for you, or you can do a la cart which is what Kalee & I did.
We preferred the control in picking out exactly which meals would be delivered.
They are all delivered fresh to your door and kept cold with dry ice. Trifecta is vacuum sealed for freshness as well.
($20 Off Each of a User's First 2 Orders)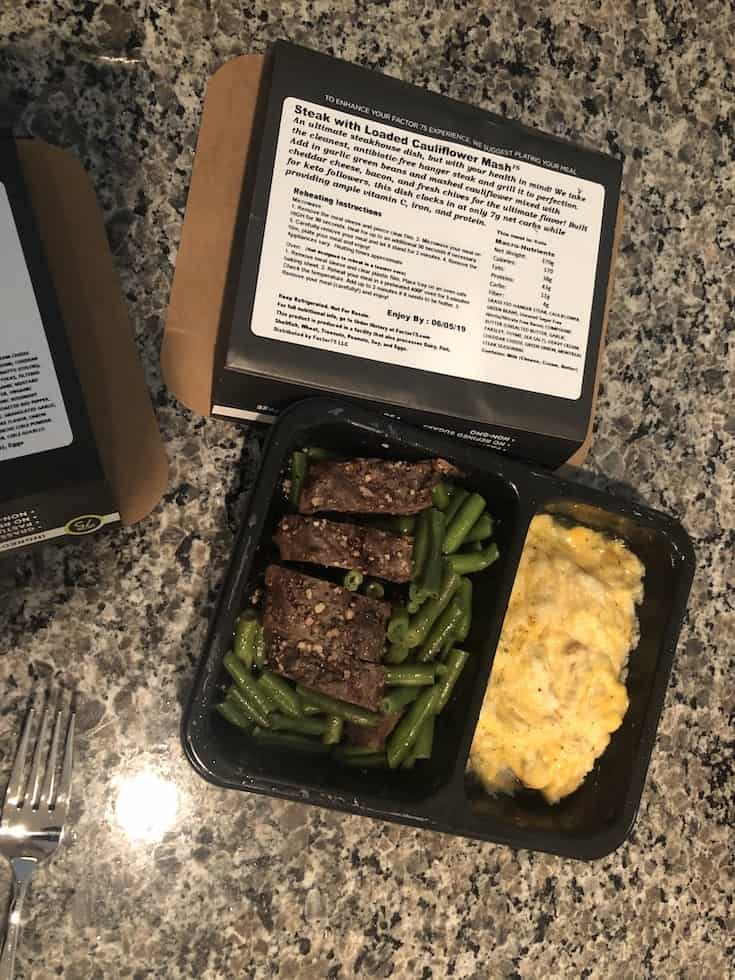 While Freshly and Veestro (which is also all vegan) have fewer keto food options, you can still find a few from each to work them into your rotation.
You can filter their meals to select low carb, gluten-free, etc. The filtering helps you select the low-carb options for your better keto meal selections. For example, Freshly's Buffalo Chicken only has about 18 net carbs!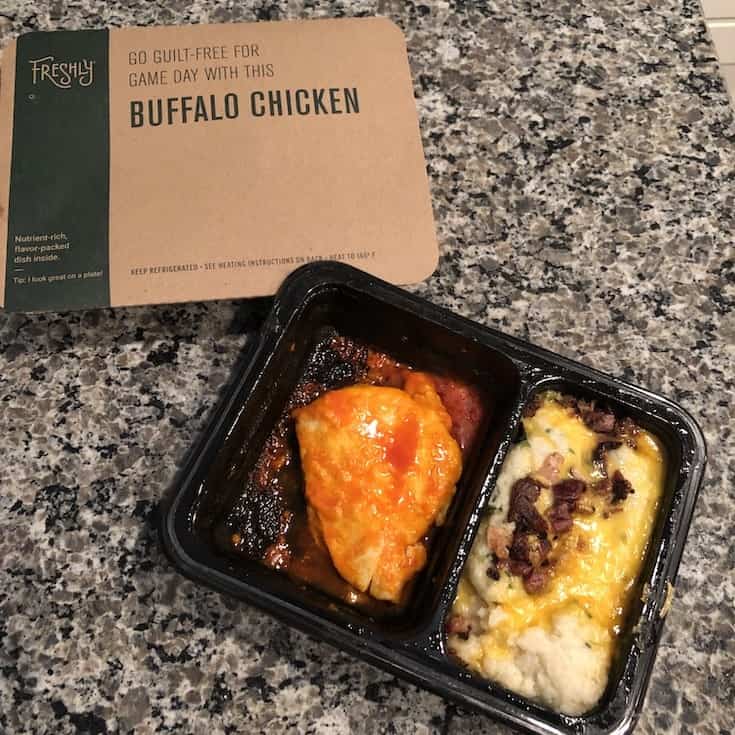 Hack to Finding Your Net Carbs
If you need help figuring net carbs, which net carbs and fat content are really important when following a keto diet, you can use a tracking app like MyFitnessPal or the Carb Manager. Both apps can help you find the macro breakdown of a given meal to see if it'll fit into your plan for the week.
3. Enjoy Your Meals
Most of the services we used shipped fresh food to our doorstep! The meals were easy to heat up in the oven or microwave and offered a pretty big portion.
What We Noticed About Keto Meal Delivery Services
Flexibility & Variety with Keto Meal Deliveries
We love the flexibility of the different options. Some of the sites were a bit easier to use than the others, but they all have easy processes in cancelling or placing your future orders on hold.
The Cost
The cost varies depending on the company and if you use a promo code, but a general range is from $6 to as much as $12 a meal.
Most will offer a promo code on your first delivery.
The promo code varied between companies, but below are the deals we found.
Freshly offers a promo code on your first delivery. They also have a membership you can opt to join for $50 a year, and you get 20% off your weekly meals. You can still pause and change meals at any time.
Get $40 off at Freshly with my coupon code!
Veestro often has sales of 25% to 30% off. They have also recently started giving gift cards to use on your next purchase.
Factor 75 offers promo codes often! Grab $20 off your first 2 weeks using this link!
Kettlebell Kitchen the hardest to find a promo code for. They do offer a referral program and have local pickup in some areas.
Get$25 off with our Kettlebell Kitchen Coupon Code.
Trifecta is the most expensive. With that said, they have a great referral program where you can get $25 in credit for a referral.
Our Favorite of the Keto Meal Delivery Services
We really don't want to influence your judgement with ours, but I know you're curious which one we'd recommend trying first.
In our honest opinion, we like Factor 75 the best.
Kettlebell Kitchen had issues with shipping and some of the food wasn't too great.
We love Freshly, but it doesn't have as many keto options.
Veestro tastes great but once again, it doesn't have many keto options.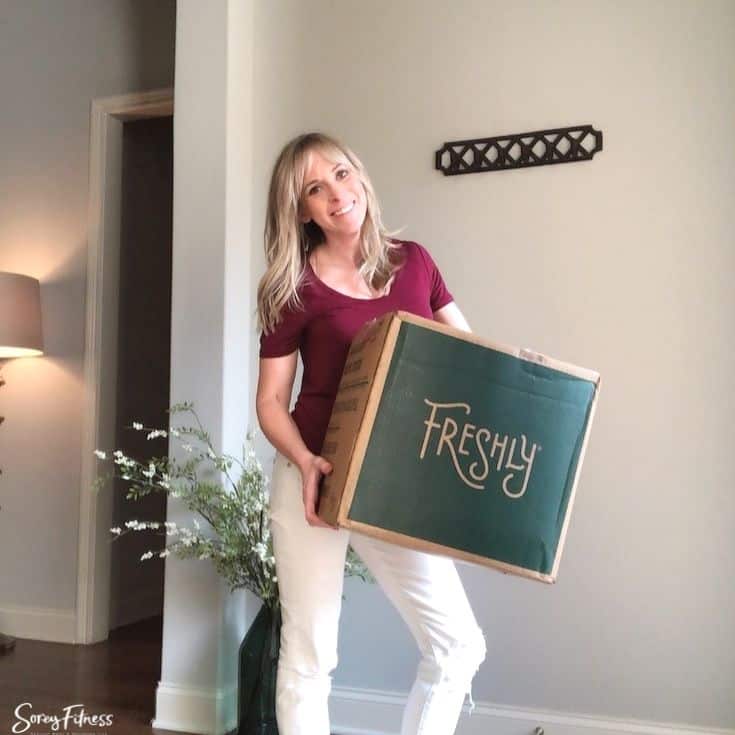 With both Freshly and Veestro, you have to do a little figuring or use the apps mentioned above to make sure you hit your keto macros because they aren't marketed in that way; therefore, they aren't labeled in the same way as the Factor 75 & Kettlebell meals making it easy to see which meals are keto.
Want to Know More?
We have more in-depth reviews of each of the companies mentioned above that you might like!
These posts may also help you on a keto diet:
Do you use a meal delivery? What is your favorite?