5 Secrets for Better Hair, Skin & Nails Quickly
This post may contain affiliate links. All opinions shared are my own. As an Amazon Associate I earn from qualifying purchases. Click to view our full disclosure.
Who doesn't want their best hair, skin and nails? We're debunking beauty myths and sharing 5 secrets to look your best! We'll also share our favorite hair, skin and nails vitamins and supplements.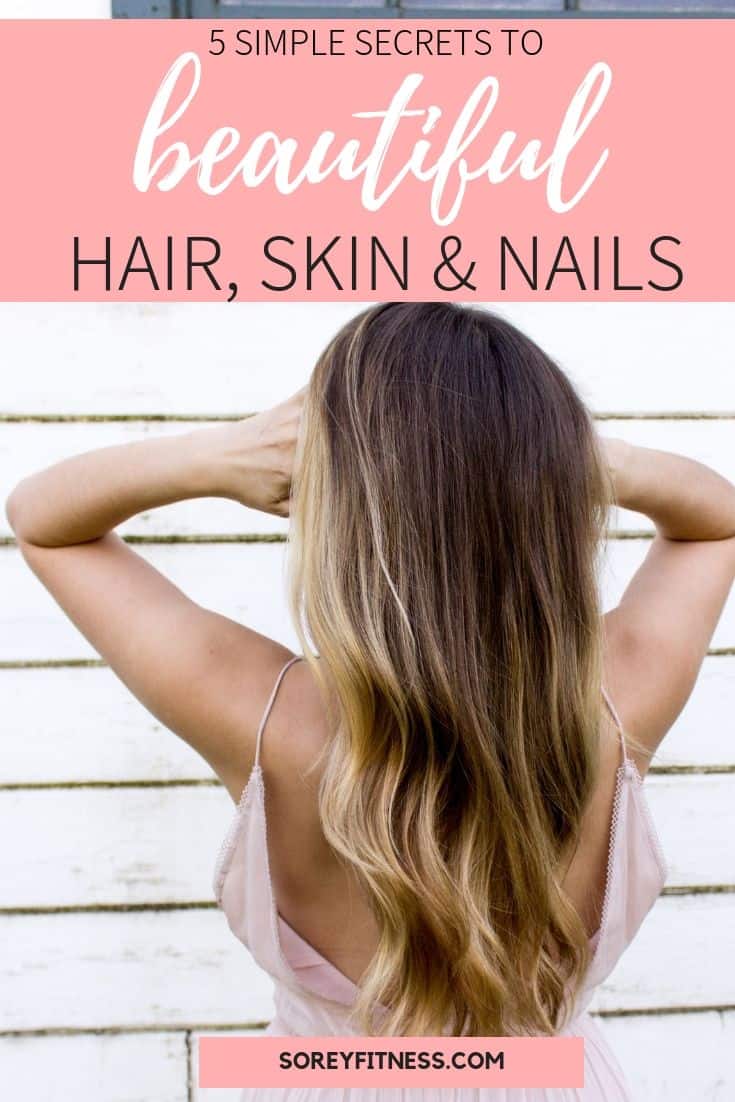 Walk into any health food store and you'll see dozens to choose from. If you're like us – they're even popping up in our social media feeds because of companies like It Works and Monat. But that doesn't mean they're all made equally.
Below we'll outline the best vitamins, and then we'll focus on foods that can help your skin. Keep in mind, just like prebiotics and probiotics – we recommend first focusing on your diet. Then, if you need an extra boost try one of the supplements.
Hair, Skin and Nails Vitamin Ingredients
The top hair, skin and nails vitamins ingredients are:
biotin
vitamin B
fatty acids.
Not all supplements are created equal though.
The general daily recommended dosage of biotin is 2.5 mg (or 2,500 mcg), according to board-certified dermatologist Dr. Susan Stuart.
Popular supplements like, SugarBearHair gummy vitamins contain 5,000 mg per serving. That's double what you should take!
Prefer to Get Biotin in Your Diet?
Much on almonds, whole grains, eggs, pecans, dried fruits, cucumber, oats, strawberries, and cauliflower.
2 Favorite Hair, Skin and Nails Vitamins
They're 99.8%+ in purity, easy to swallow and again you only need 1 to get in your daily dose. Plus, we love the money-back guarantee.
They almost have a perfect 5 star rating on Amazon as well (with 498+ reviews).
If you're bound and determined to get in 5000mg a day, we love this brand because its NON-GMO and also has a money-back guarantee.
Plus, you only need to take 1 pill for the full 5000mg, and they're under $15!
Best Hair, Skin and Nails Gummies
The 2 hair, skin and nails vitamins above are capsules versus gummies. But who doesn't love a good gummy?!
The
SugarBearHair gummy vitamins
are great, but you really only need 1 to hit your daily dosage of biotin.
We personally take Vitafusion's biotin gummies, but again we take one 1 per day.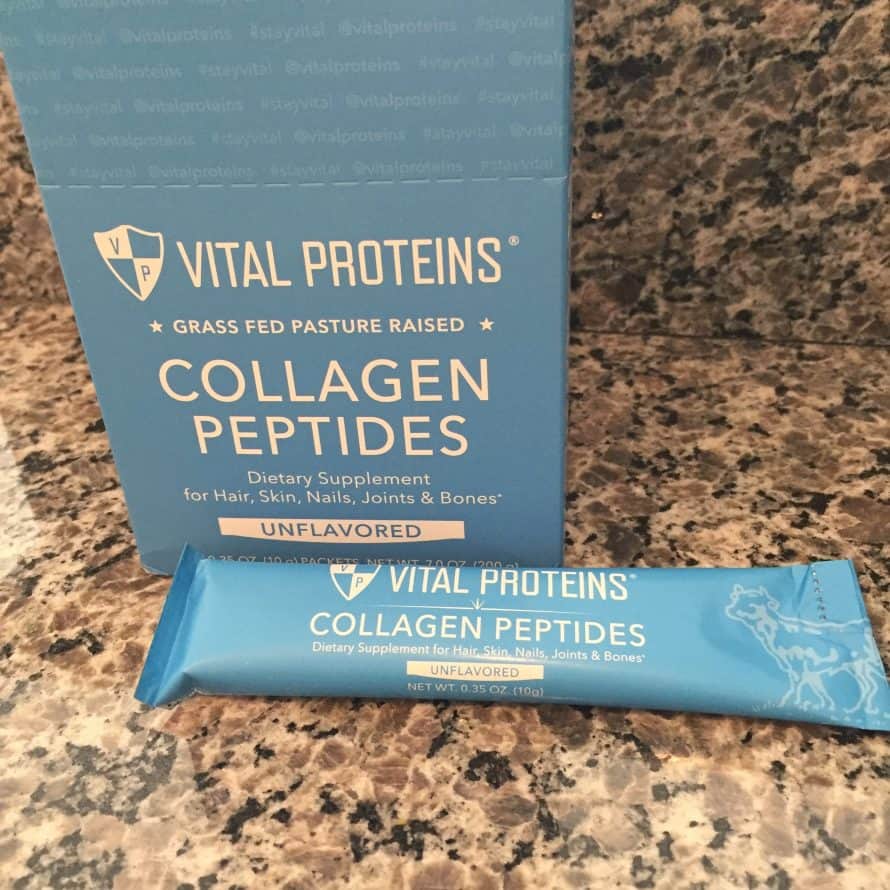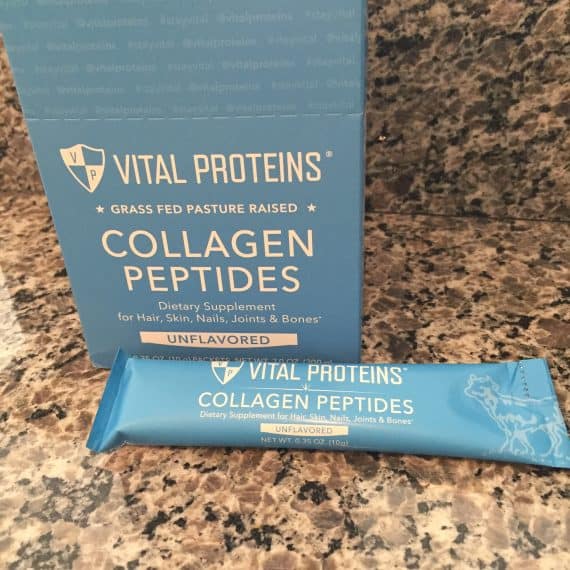 Other Hair, Skin and Nails Supplements
This sampler box allows you to try several of the products without spending a fortune. Our favorite product is the Collagen Peptides though!
Collagen can help improve hair, skin, nails and joints, ligaments, tendons.
It's also tasteless & dissolves in hot water. Vital Proteins' collagen peptides are also high quality and bioavailable so they are quickly digested and absorbed by the body. We love to mix in the peptides into our Shakeology which also helps with our gut health.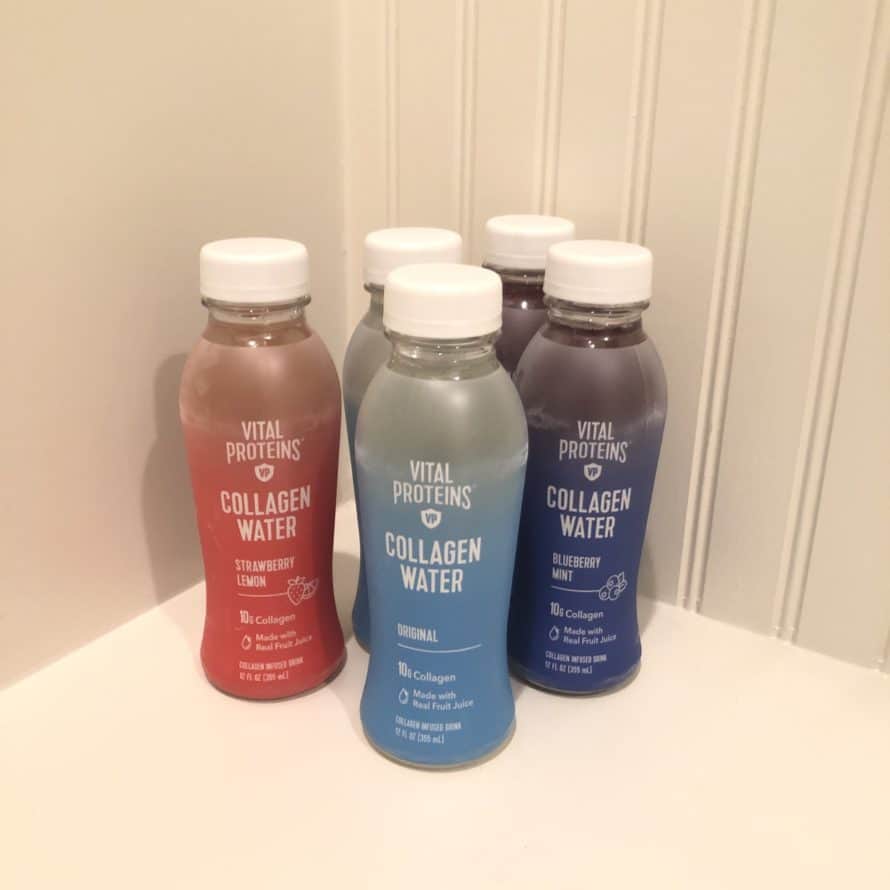 If you're looking for an even more convenient option, check out our Vital Proteins Collagen Water review!
You may also like our reviews on Vital Protein's Beef Liver, Matcha Collagen, or Collagen Beauty Greens too!

The Best Foods for Healthy Hair, Skin and Nails
Along with the vitamins and supplements mentioned above, you can help improve your hair, skin and nails through your diet as well.
The best foods include:
salmon
red bell peppers
spinach
coconut
avocado oil
eggs
garlic
walnuts
tomatoes
berries
pineapple
These types of foods are all included in the Eat Clean Diet which we absolutely love!
5 Things to Avoid for Better Hair, Skin and Nails
We've now hit on all of the good things we can do to improve our hair, skin and nails. There are a few things we can avoid to improve them as well.
You'll want to avoid:
smoking,
stress,
not getting enough sleep,
and getting too much sun.
In order to keep all 3 areas glowing and healthy, consider limiting heat and chemicals on all 3.
Keeping your shower water cool, moisturizing often and using a humidifier can also help all 3 areas.
You may also like:
An important note: It's important to remember supplements aren't regulated by the FDA. You should always talk to your doctor before starting any new kind of supplement, vitamin or diet.
Pin this for later: