The ChaLEAN Extreme workout schedule is one of my favorite fitness programs of all time. It blends in heavy and lighter weights through a 90 day program. I personally own the deluxe options, and the variety offered in the calendar really helped me stay motivated.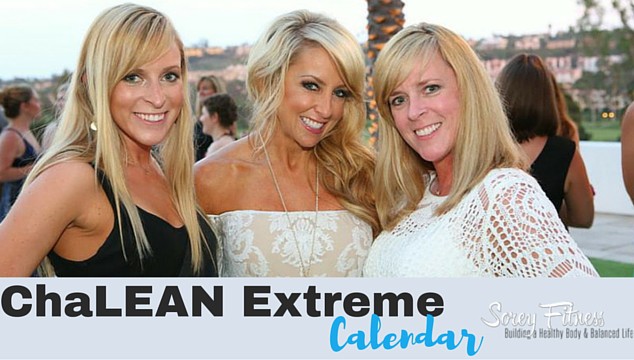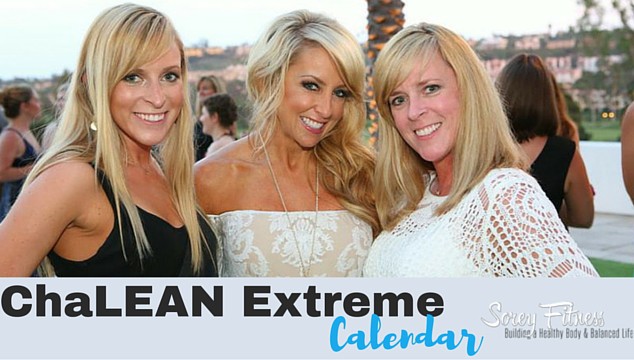 What to Know Before Starting the Chalean Calendar
Modify each workout to suit your needs – Listen to your body so that you can realistically keep up with your long-term goals.
Remember to stay hydrated! This will help with your energy, muscle cramps, and bloating.
Fuel your body with proper nutrition! The ChaLEAN Extreme meal plan is included with the program, and it's awesome. You can't out exercise a bad diet even doing workouts extreme.
Consider supplements. I love Energize before my workout for an extra bump in energy, and Recover after my workout to restore balance to my muscles. Recover also contains BCAA's which can help you burn more fat and build more muscle! Check out my review of the supplement line here.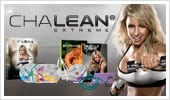 ChaLEAN Extreme contains 3 phases: Burn, Push, and Lean. You'll vary your rep range, weights, and exercises in each phase. The Extreme Chalean workouts range from 22 to 46 minutes. The Lean phase is the longest workouts and include compound exercises where you'll work multiple muscle groups at once.
Workout Chalean Extreme Printable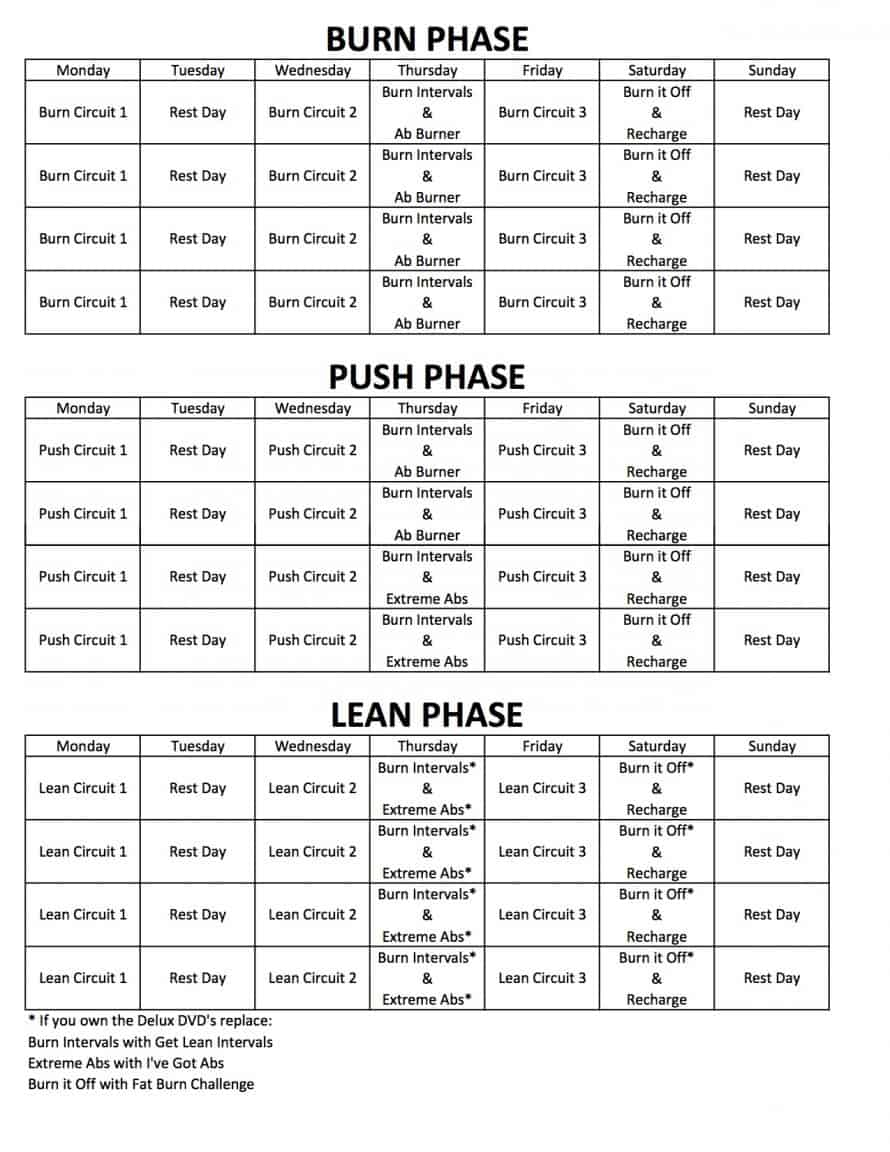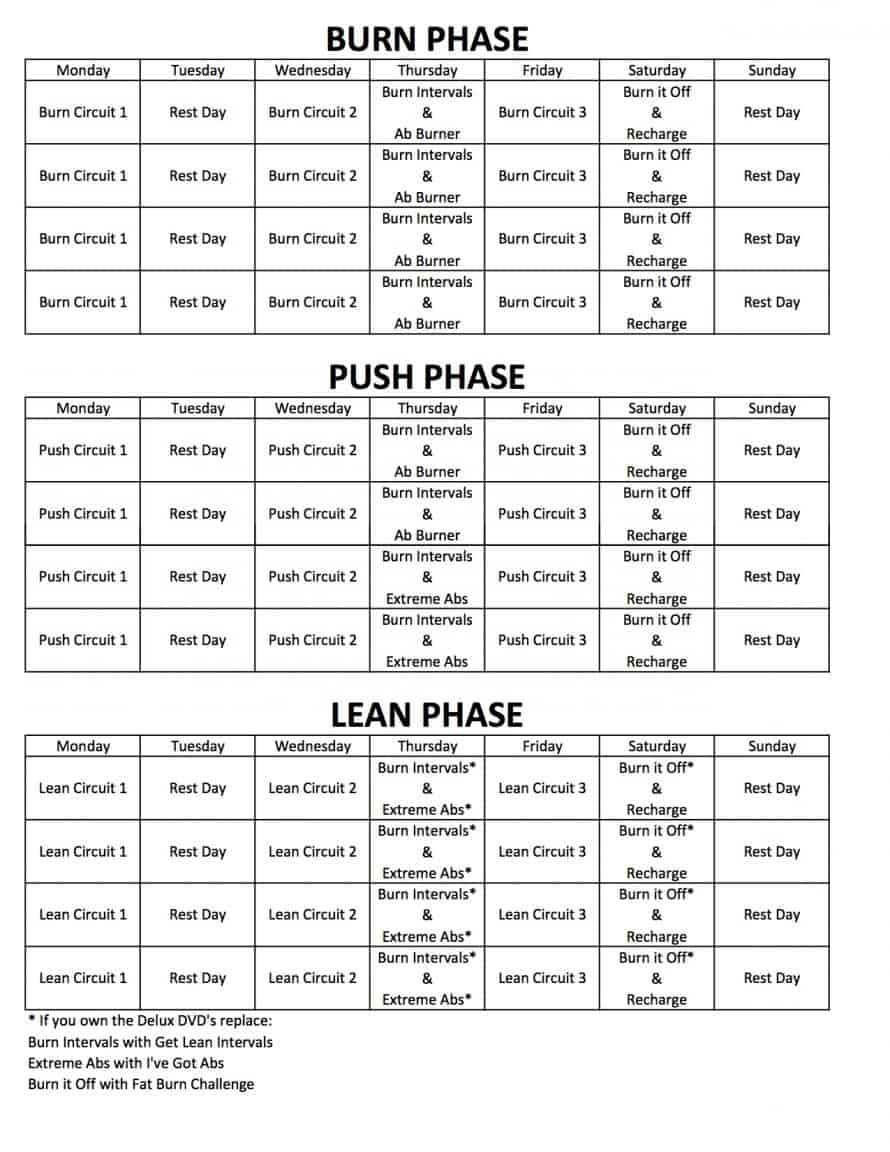 Workout Times
The Burn Phase is 32 to 36 minutes.
The Push Phase is 33-35 minutes.
The Lean Phase is 39-44 minutes.
Additional Calendar Workouts
Burn it Off – 27:00 min.
Recharge – 21:00 min.
Burn Intervals – 46:00 min.
Ab Burner – 10:30 min.
Extreme Abs – 16:30 min.
The ChaLEAN Extreme Deluxe DVDS
Cardio/Get Lean Intervals- 41 min. sub for Burn Interval
Cardio/Fat Burn Challenge- 32 min. sub for Burn it Off
Abs/ I've got abs- 15 min. sub for ab burner or extreme abs
You also have the option of The ChaLEAN Extreme Fat-Burning Deluxe set
resistance circuit/Lower Body Extreme- 39 min. sub for resistance circuit
abs/Extreme core circuit- 11 min. sub for ab burner or extreme abs
cardio/Extreme Intervals- 40 min. sub for Burn Intervals
stretch/yoga/Dynamic Flow yoga- 38 min. sub for Recharge
Now you have the calendar, but do you have the motivation to commit for 90 days? We'd love to help you get started with our 21 Day Challenge. You get to use ChaLEAN Extreme as your workouts, and we just help tailor in your nutrition and help you stay accountable!
What if the Cardio Isn't Hard Enough?
I didn't feel like the Cardio ChaLEAN Extreme days were as intense as the strength workouts. You can always add in another cardio based program like TurboFire or Insanity. Get the Insanity CLX Hybrid or TurboFire CLX Hybrid here.
If you want more variety or lifting heavy isn't for you, I'd suggest the 21 Day Fix. You'll still have strength workouts in it, but it's also has cardio, pilates and yoga.
We'd love to help you – Send us an email at thegirls@soreyfitness.com
Did this calendar help you?