The P90 workout program is a remake of Power 90. It's completely revamped by Beachbody and Tony Horton to help you start to lose weight and tone up in 90 days.

I am so excited for it because I have P90X and P90X3, but some of the moves are just too advanced for most people.
P90 is designed to help you get ready for the more advanced moves in P90X. It's going to help a beginner get great results, but it is also designed to be challenging enough for someone that has been working out for years! I cannot wait to be able to do a plyo pushup! Can you imagine?!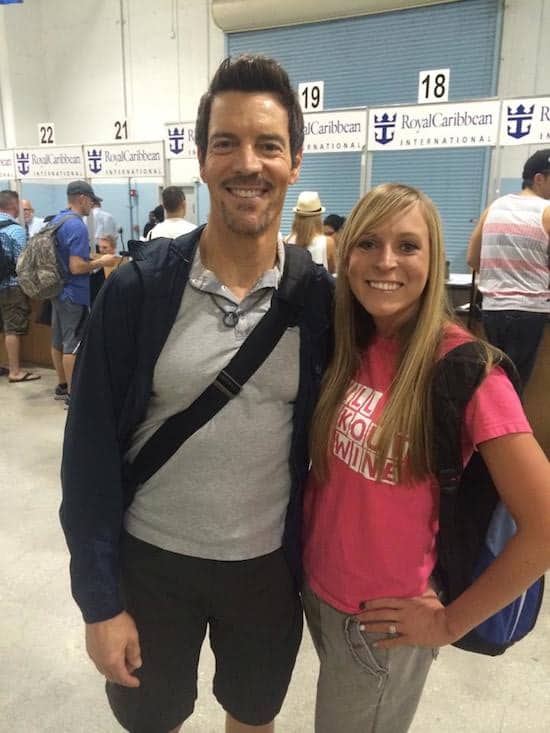 This is the program that you should try when you're up late at night and see the infomercial. Unlike advanced workouts like Insanity, P90 is designed for beginners to intermediate exercisers. It's going to give you GREAT results while getting you ready for an advanced workout. Don't expect not to be challenged though – this workout is going to be tough, but it's going to be doable.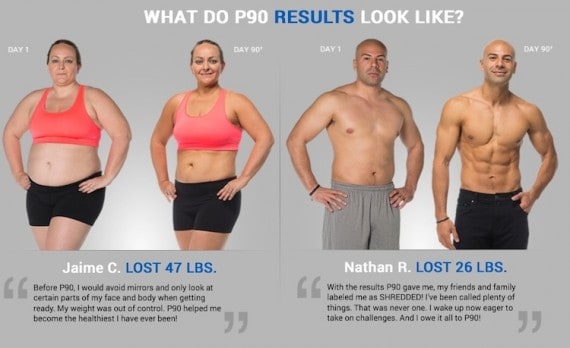 This new workout will help you get results without the crazy moves that can leave you feeling like a failure or increase your chances of an injury. It's going to open the door for your fitness journey, and it also comes with a simple-to-follow meal plan to help you get MAX results.
P90 if for you if you:
need an effective, straight-forward approach to fitness
want to lose weight while building muscle
have never worked out before
if you're over 50 and looking to get back into shape
need something that is easy on the joints
have been intimidated by other workouts before
If you don't fit those categories, you could find it too easy. It's a great program – it just has a distinct target client I think.
Other beginner to intermediate workouts that I personally have more fun with are:
Tony's reasoning behind making P90
Whether you used to be in shape and feel fitness has now passed you by, or you've never worked out a day in your life, my P90 workout is your easy-to-follow way to lose substantial weight, have the energy to run and play with your kids, and feel better in everything you do—without the agony of high-intensity exercise.

P90 Workout Questions Answered
Who should do this program?
Anyone should be able to do P90, but you should always check with your doctor before starting any new workout. It's great for someone looking for a non-extreme workout or someone that is a little older (45 to Baby Boomers) that is looking for a great workout.
P90 is designed for someone that hasn't worked out before or that hasn't worked out in a while. With that said, there is someone doing more advanced moves as an option so an intermediate to advanced exerciser could still do the program and see results.
How is it different from P90X, P90X2, and P90X3?
P90 workouts are tailored to beginners. The moves are going back to the basics — simple to master but challenging. 
Here's a little more about the program:

About the P90 Workouts
Simple to follow workouts
Mixes strength and cardio workouts in the calendar
There is light jumping – which can be taken out if neccesary
There is a modifier in the workout and every move can be modified
The workouts range from 25 to 36 minutes.
The three additional ab workouts are 6 to 14 minutes.
It's a 90 day program just like P90X
Favorite workout of the program? Saturday Special. It mixes yoga, cardio, kickboxing, and a little resistance training in 25 minutes.
3 Phase System
About the Phases
Each phase is 30 days and is labeled: A, B, and C. In each phase, you'll be doing cardio Monday, Wednesday, and Friday. Your strength days are Tuesday and Thursday.
Each month has new strength and cardio workouts, and each month you'll progress to a new challenging workout. The phases also help you continue to see results and break any weight loss plateaus.
Phase A
The focus is on form and getting the most out of each exercise even if your modifying.  You should expect basic, but challenging, resistance training moves.
Sweat A combines cardio with a couple resistance moves to get your whole body engaged and heart rate up. You'll also start Ab Ripper A which is all about tightening your core and building that 6-pack!
Phase B
Now that you've gotten the basics and gotten stronger, Tony challenges your endurance in both the strength and cardio workouts. You'll also get a few new moves in Sweat B, but they are still straight forward and easy to learn.
Ab Ripper B also ups the intensity with new core moves.
Phase C
In the last phase, you'll focus on muscle definition. I really loved the intensity of this phase, and it really shows you how much you've accomplished so far.
There are 10 workouts total in the program that you'll use through the 3 phases.
P90 Workouts
Intro: How to Hit it
Sculpt A
Sweat A
Ab Ripper A
Sculpt B
Sweat B
Ab Ripper B
Sculpt C
Sweat C
Ab Ripper C
Saturday Special
What Results Can I Expect?
You'll be doing a mixture of strength, cardio and flexibility training. So you should be expecting to build lean muscle and lose weight if you're following the meal plan.
Does it also include a meal plan?
Yes, and it's also straightforward and easy-to-follow.
What's included if I order it?
You can order the base kit or challenge pack and receive all of this:
The 10 Workouts
Resistance Band
Nutrition Plan
4-Step Power Plan
"How to Hit It" Tutorial
6-Day Shred Meal Plan
Your 3 Phase Workout Calendar
BONUS: Access to our 21 Day Challenge
You can also stream all of Beachbody's workout programs including this one and all of the P90X series with Beachbody on Demand's All Access Pass.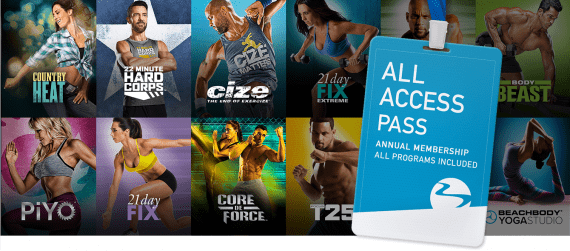 You can learn more about streaming all of your workouts with Beachbody on Demand here.
Need a beginner or intermediate workout, but this workout didn't look like a good fit?
Check out the 21 Day Fix for 30 minute workouts, an easy meal plan & modifications to every move.