I don't feel like I can even fix breakfast in 10 minutes much less get in a workout; however, my abs can hurt for days after doing any of Tamilee Webb 10 minute workouts from the 90s. There are so many different 10 minute workouts out there though, and wouldn't it be nice if they did, in fact, work!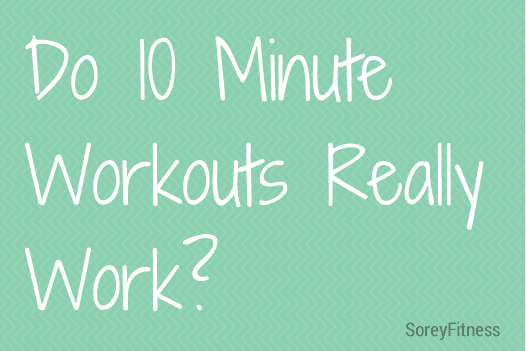 I decided I was going to research a few and see what real people said before choosing a side on my inner debate. After reading several reviews and magazines, I found:
10 Minute Workouts are…
Better than sitting on the couch! (duh!) An ab workout will burn about 60 calories in 10 minutes, and you want to have a 500 calorie deficit each day in order to lose a pound–so any calories burned will help! Tony Horton's 10 Minute Trainer even promises to burn 250 calories in 10 minutes. I own the 10 Minute Trainer, and I love how Tony incorporates cardio and strength into one move. (I also am a Beachbody coach, and I do get credit if you order anything through me. Therefore, if you have any questions about this program or any Beachbody product email me at kalee@soreyfitness.com. I'd love to help.)
Great for beginners-intermediate exercisers! Not only will they show you, you can do it, they will also get you results based on the (real-people) reviews!
Don't require a lot of equipment — most programs come with resistance bands for you to workout with! The 10 Minute Solutions Series is really good about including them.
Effective if you are challenging the muscle until failure or out of breathe! One of my favorite TurboFire workouts is a 15 minute High Intensity Interval workout (HIIT 15) because it is so quick and effective! Just remember if you are doing a short workout, you want it to be challenging! This means not being able to easily talk, shaking muscles, and pushing yourself! You can do it; it's short-lived!
The Best 10 Minute Workouts I Saw
Tony Horton's 10 Minute Trainer — Video / Order— Intermediate
10 Minute Solution – Kettle Bell Fat Burner — Beginner/Intermediate
Conclusion to 1o Minute Workouts

While I think you can fatigue one muscle group, like your abs, in 10 minutes, I don't think you could compare these workouts to a 30 minute to 60 minute DVD. It's just not realistic, or we would all look like Tony Horton or those cute girls on 10 Minute Solutions! However, if it's is a 10 minute DVD or nothing, I support the 10 minute workout. It does do something. It keeps your mood and routine healthy and positive (along with working your muscles and burning calories!). Even if you would like to commit to a longer workout DVD, but you know you aren't willing to fit in an hour a day….don't waste your money. Figure out what works for you and go for it! Even if it's 10 minutes, you will see and feel the results of doing something for you!
Want a 10 Minute Workout for Your Abs NOW?

Have you tried 10 Minute Workouts? If so, do you have a favorite?