The New PiYo Workout by Chalene Johnson is ON SALE NOW! :)
Challenge Pack
PiYo Deluxe
PiYo Base Kit
PiYo Strength Deluxe Upgrade DVD Package
Sign up to Coach & Get the PiYo Challenge Pack​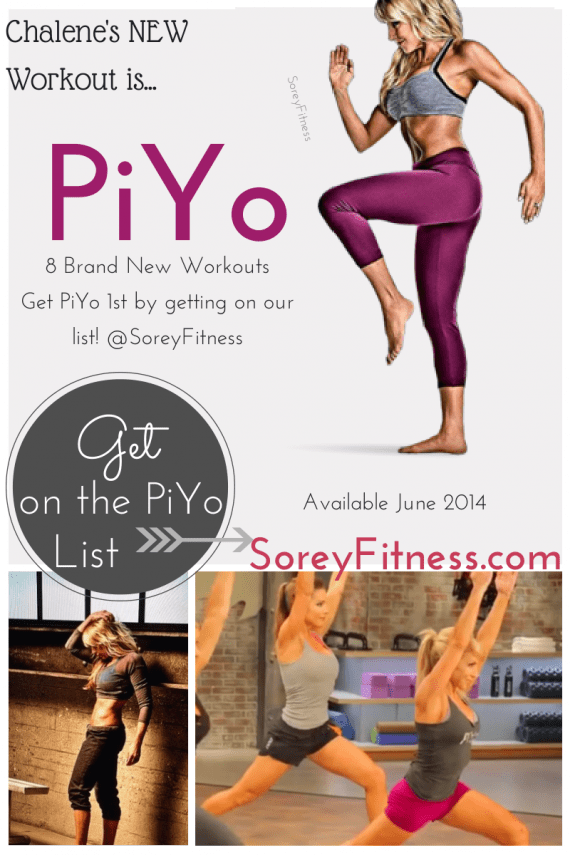 Please do NOT copy this post for another blog. This is my own review.
Chalene is one of my favorite trainers. I have tried TurboFire and ChaLEAN Extreme on DVD; I was so excited to do a live workout with her! I did a live PiYo workout with her and about 40 others last year, and I fell in love with it. The unique workout is designed to improve flexibility, torch calories, AND build sleek muscles. It really is the whole package!
What is PiYo?
PiYo is a full-body workout that helps build strength, endurance, and flexibility through a blend of Yoga and Pilates. It's perfect for someone just starting or someone super-fit. As we become more fit, the more flexibility training we need to continue to build muscle, and this workout is a calorie-torching way to safety stretch and get long, lean muscles.
There is no jumping or weights required for PiYo either so it's a good low-impact option workout. It also is going to be super convenient for frequent travelers because it doesn't require weights.
Challenge Pack 
PiYo Deluxe
PiYo Base Kit
Sign up to Coach & Get the PiYo Challenge Pack​
Thinking of coaching? You'll get 25% off! Click here to view our Beachbody Coach Guide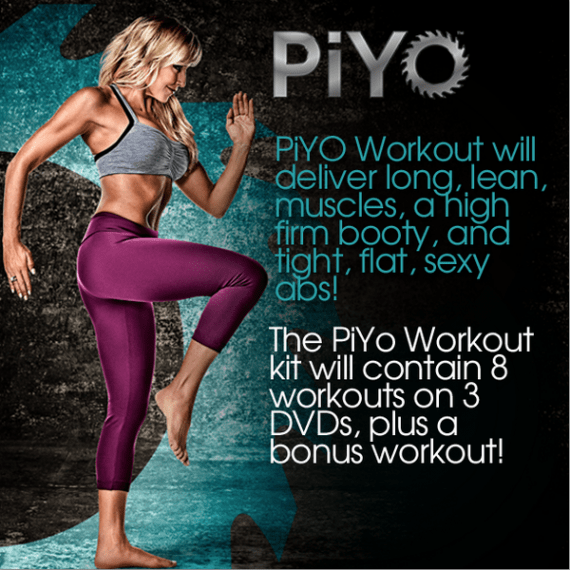 PiYo Workout by Chalene Johnson Details
The PiYo Workouts are 25-45 minutes long, but most are 30 minutes.
The Base PiYo Workout Program is $59.85, and it will come with 8 workouts and 1 bonus workout when you order it from a coach.
PiYo has modifications offered for beginners, and it's great for advanced exercisers as well to help lengthen muscles and burn more calories.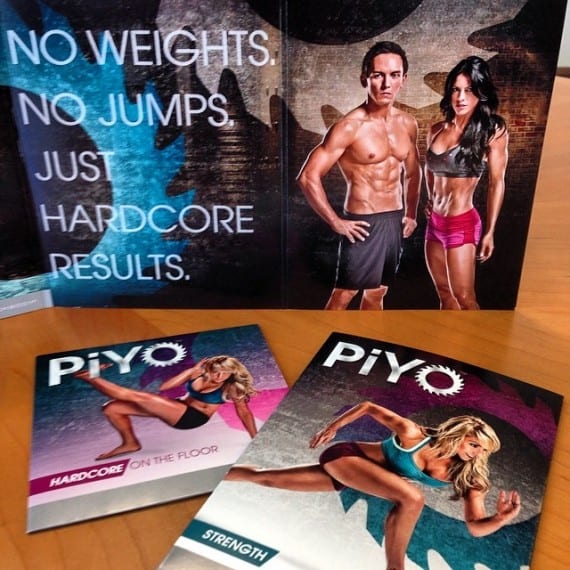 Align (46 mins): The Fundamentals (46 mins)
Upper Body (35 mins): this focused workout will strengthen and stretch your entire body, while building on the movement patterns you have learned in Align.
Define: Lower Body (25 mins) will shape and tone everything from your glutes, hamstrings, quads and calves gently, yet effectively to help you get sleek and lean legs.
Sweat (35 mins) is a traditional PiYo Workout that is fast paced with body weight strength training and ab work!
Core (30 mins) an ab-centric workout that targets every angle of the abdominals and back. I've read this will be a calorie-torcher too!
Drench (45 mins) is a total body workout to get you sweaty, burning calories, and going to have your metabolism on fire!
Strength Intervals (25 mins) designed to tone the whole body and burn tons of calories with no weights required!
Sculpt (30 mins) no weights are required for this intense, full-body workout either!
Challenge Pack 
PiYo Deluxe
PiYo Base Kit
My PiYo experience
While I did a live workout, I'm sure the PiYo Workout DVDs will be very similar. PiYo has actually been in a lot of gyms for years, and now I'm so excited that it will be on DVDs now too for non-gym goers like me! I wanted to tell you all about my experience with PiYo. Order the Deluxe or the Order the Challenge Pack
First, here is how she describes the workout though:
PiYo™, a strength workout, is all about working it to get the most for your money. It's the perfect blend of many disciplines: sports training, core conditioning, dance, stretch, and athletic drills that will help kick up the calorie burn and build muscle! The dynamic blend of movement increases strength, core stability, and agility. This workout provides an incredible experience and helps you lose weight.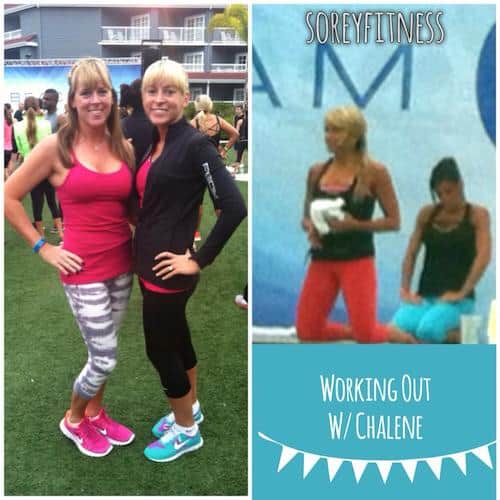 Her description is so accurate — PiYo combines so many fitness principles it's crazy. Though when I heard we would be doing a PiYo workout and saw the high heels she had on, I secretly thought — "Thank goodness! I'm tired from flying in, and this workout will be easy!" WRONG!
The PiYo workout kicked my butt but in a good, new way. It was about an hour long, and it went by really quickly. Just like TurboFire, PiYo workouts are set to music. For our workout, the songs were more rock than hip hop; one song was "Benny and the Jets." Each song went well with the moves. It moved quickly, but it was definitely slower than any Turbojam or  TurboFire workout and was not a cardio-based program.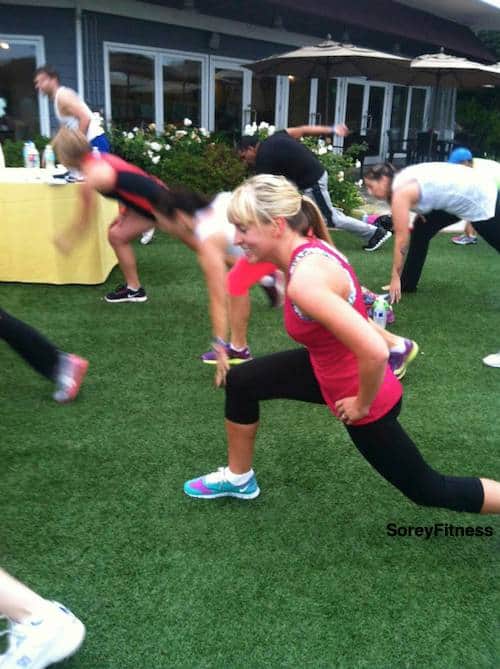 The PiYo workouts by Chalene Johnson are perfect for people trying to get as much in  as they can in a short time or for someone that has a hard time focusing with yoga (me!). I loved how she combined light cardio with sculpting and stretching.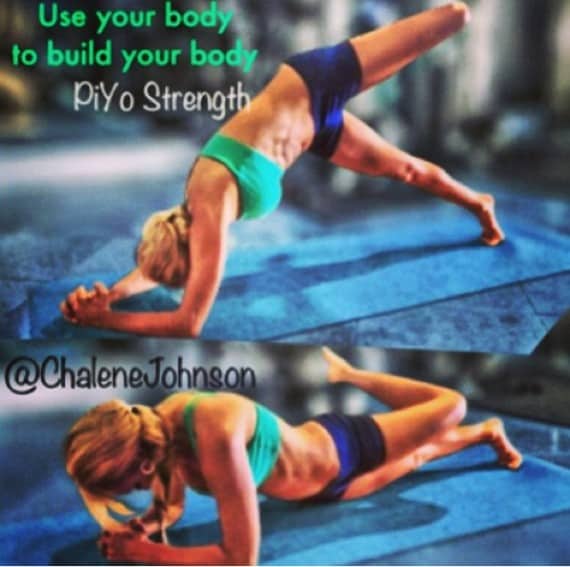 I didn't tape our PiYo workout, but like I mentioned before PiYo is currently taught in gyms. I was able to find 2 PiYo workout videos to give you an idea of what to expect.
Click here to view the next video
Someone else's PiYo Experience:
Since I started PiYo six months ago, I have broken every single personal marathon pace and I'm astonishingly faster than I ever dreamed possible. I broke the four-hour mark for my marathon time and I know it's because of Piyo. Plus, normally I'm spent for a week after a marathon, but the next day I felt great! – Student of Chalene's
Would you do a PiYo Workout by Chalene Johnson?
Here are all of the ordering options:
Challenge Pack
PiYo Deluxe
PiYo Base Kit
PiYo Strength Deluxe Upgrade DVD Package
Sign up to Coach & Get the PiYo Challenge Pack​
Thinking of coaching? You'll get 25% off! Click here to view our Beachbody Coach Guide
Are you excited about PiYo??
Comments
comments