Bodi Blocks 2023: The New Beachbody Programs
This post may contain affiliate links. All opinions shared are my own. As an Amazon Associate I earn from qualifying purchases. Click to view our full disclosure.
We're sharing details on the new Beachbody programs in 2023, and what you can expect from BODi Blocks below. We know it's a lot, but we're simplifying it by answering your questions and providing BODi Calendars, Super BODi Block Secrets, and First Access below!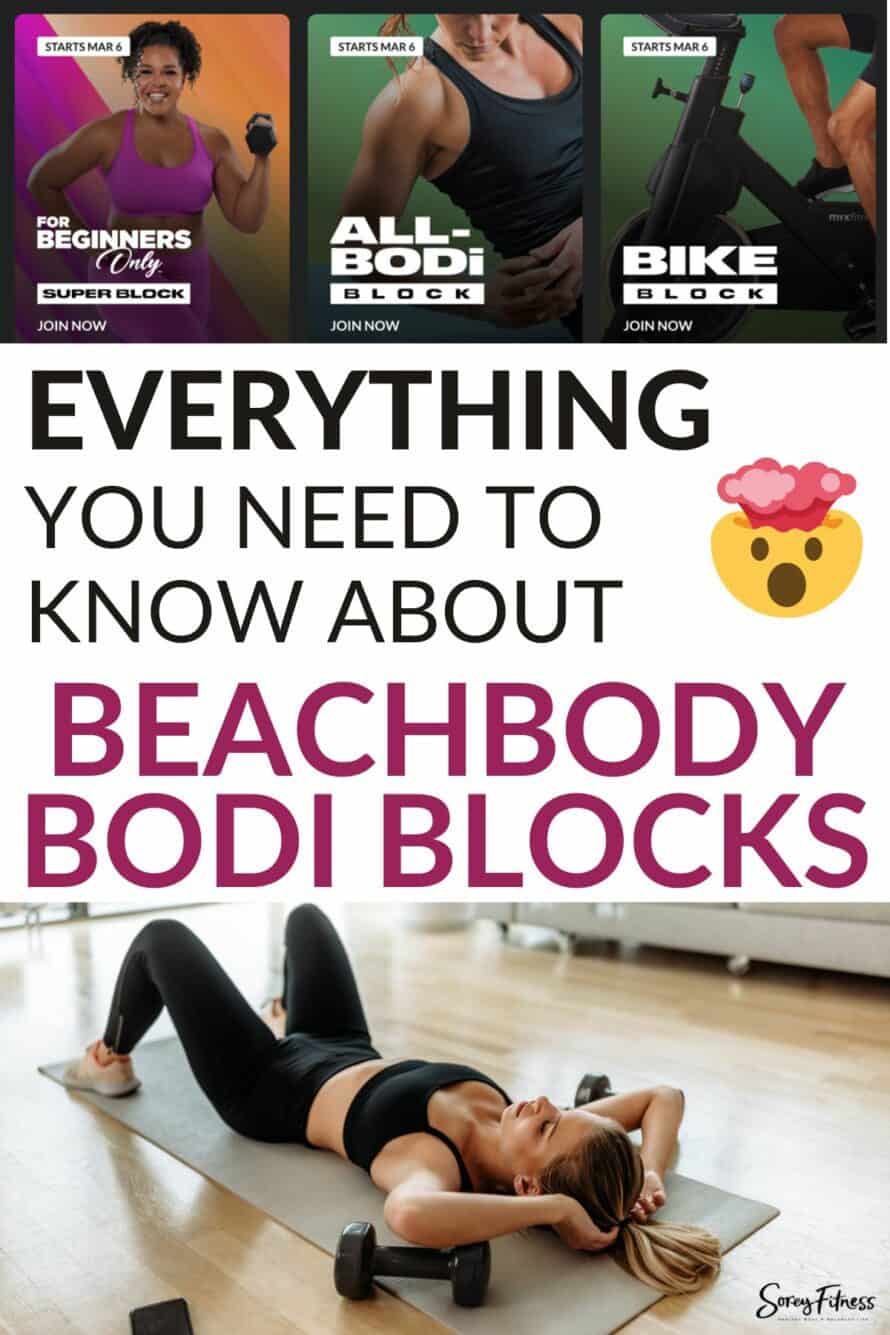 If you've ever gotten halfway through a program and quit, you are going to love the changes coming to Beachbody this year!
Grab $20 Off BODi Essentials Collection with code KALEETSP20
What Beachbody programs are coming in 2023?
Along with new Beachbody programs in 2023, Beachbody will offer 4 new BODi Blocks per month with the optional BODi Super Block.
Amoila Cesar also has a new program, Chop Wood Carry Water, that will be released July – exclusively on BODi.
We'll cover quite a lot of information below so feel free to use the table of contents to help you jump around!
Table of Contents
What are Bodi Blocks?
Bodi Blocks provide a straight-forward and effective way to train at home. On the 1st Monday of every month, 4 new fitness blocks are available. Each Bodi Block includes 5 workouts a week for 3 weeks followed by an UP week (which stands for Unconditional Progress) to reset and recover.
The Bodi Blocks are based on science and block periodization training to help you avoid burnout and plateaus, see results quickly, and achieve consistency in your workouts!
The 4 main Bodi Blocks for 2023 are:
All Bodi Block
Bike Block
Iron Block
Beginners Only Block
There is also a Super Block with one of the top BODi Trainers that you can unlock each month for an additional charge or with any home direct order. You can view the 2023 Super BODi Block Schedule here.
What is Block Periodization?
Block Periodization is a planning structure that balances exercise, recovery, and training variation to maximize results. The 4-week "mesocycle" in a BODi block consists of 3 weeks of progressive training followed by 1 week of functional recovery to find your peak performance and fitness level.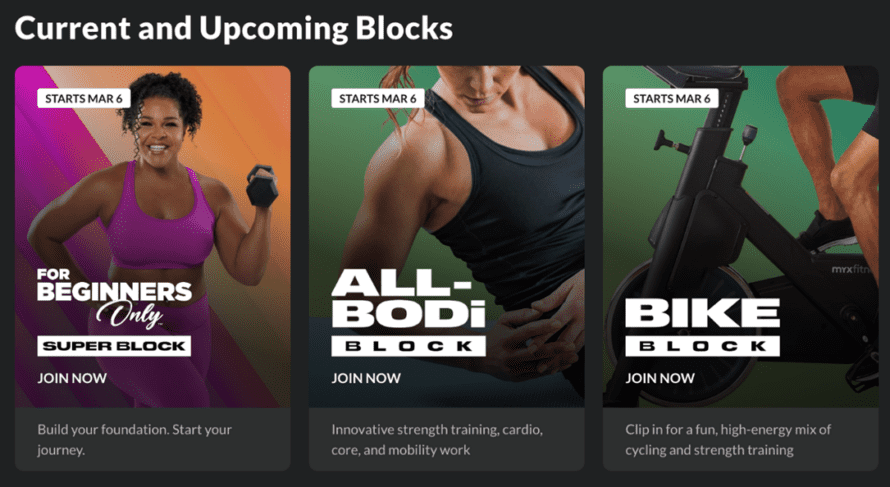 The 4 BODi Blocks
With your BODi membership, you'll get access to all 4 BODi Blocks, and you'll have the option to add on the Super Block as well. Below is a description of each block.
All of the workout blocks are about 30 minutes long, filmed in real-time, and are 5 days a week. These workouts will be led by a variety of the Beachbody Super Trainers and new BODi trainers.
All-BODi Block
The All-BODi block combines strength training, cardio, core moves, and mobility for an overall leaner, toned body.
You'll need dumbbells and resistance loops for this BODi block.
Bike Block
The Bike BODi block combines cycling and strength training. You'll get interval and endurance training on the bike, and weightlifting classes to get stronger off the bike, too.
You would need the BODi Myx Bike or a bike to do this block.
Iron Block
The Iron BODi block focuses on strength training for building lean muscle mass and improving muscle definition.
You'll need dumbbells and resistance loops for this BODi block.
For Beginners Only with Lacee Green
If you've never worked out or have a substantial amount of weight to lose, For Beginners Only with Lacee Green is a great place to start! This BODi block focuses on proper form, low-impact cardio, strength training, and core and mobility work.
This program requires dumbbells and resistance loops. You may also want a mat and a chair.
The "UP" Week
The fourth week of any BODi block is about active recovery. The UP stands for Unconditional Progress. This week you can do optional workouts, go for a walk, or enjoy the Monthly Mindset Master Classes also included with your BODi membership.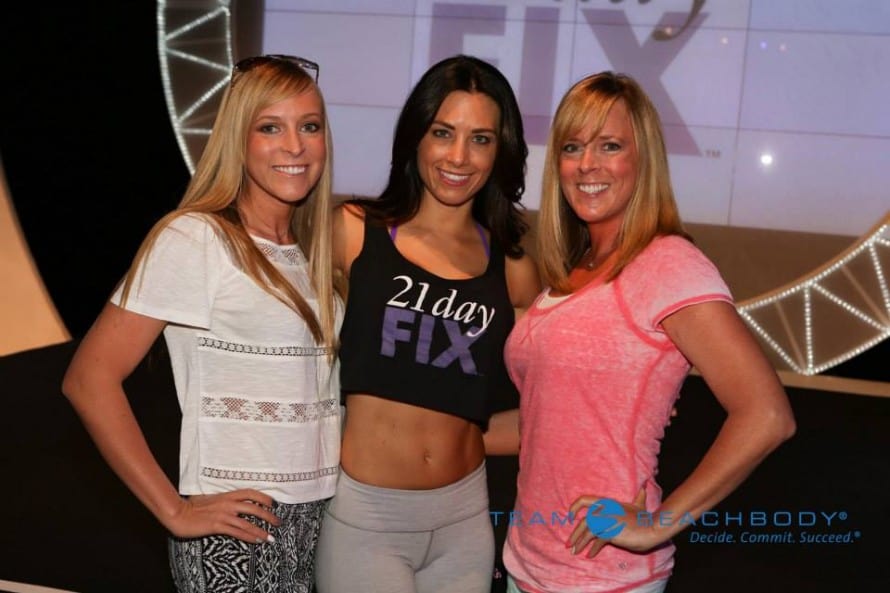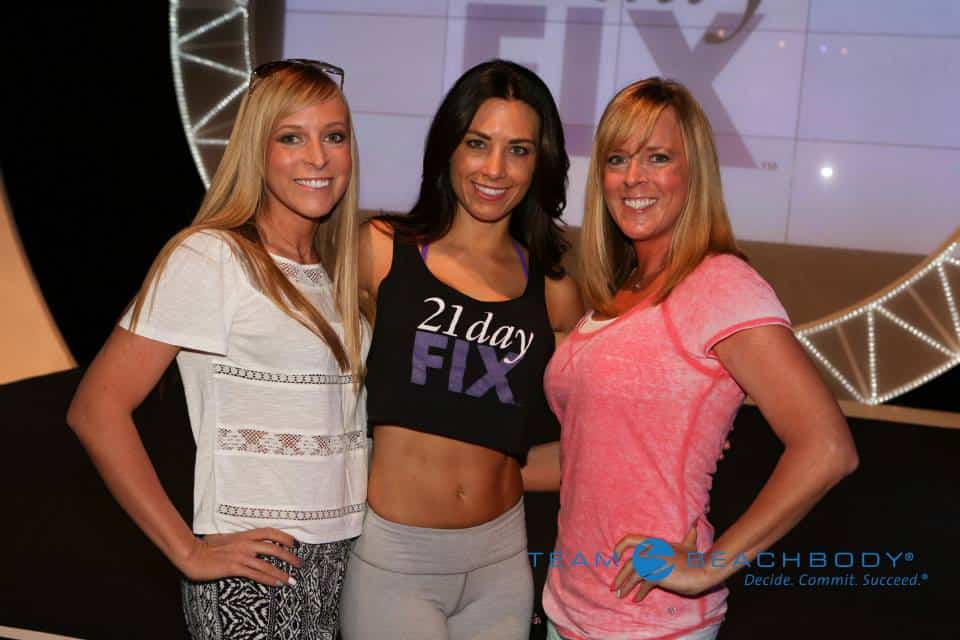 What are Bodi Super Blocks?
Bodi Super Blocks are fresh takes on popular programs from Bodi Super Trainers — including Autumn Calabrese and Shaun T. Each Super Block follows block periodization just like the other Bodi Blocks for the month. You'll workout 5 days a week for 3 weeks and have 1 week to recover.
These Bodi Super Blocks will never be added to the general BODi library. They must be unlocked with a pack, supplement on *home direct, or individual unlock purchase.
*home direct is an auto shipment that you can cancel at any time.
Unlocking the Super BODi Blocks
BODi Super Blocks are not included with a base membership, but you can unlock them a few different ways.
You receive 2 Super Blocks when you get the BODi Essentials Collection or any BODi Total-Solution Pack.
You receive 2 Super Blocks when you purchase a supplement on home direct.
Every month you stay on these supplements, you'll earn next month's Super Block for free.
Don't use supplements? You can also unlock any Super Block separately for $29 ($35 CAD, £29 GBP, €35 EUR).
Note: You will need an active BODi subscription to purchase, earn, or access a Super Block in all cases.
The differences in a Super Block and a BODi Block are:
Workouts are available the weekend before the start day
Super Blocks must be unlocked with an additional purchase or home direct order
Super Blocks go on sale the 1st day of the month prior to the start date.
For example, the May T25 Super Block goes on sale April 1.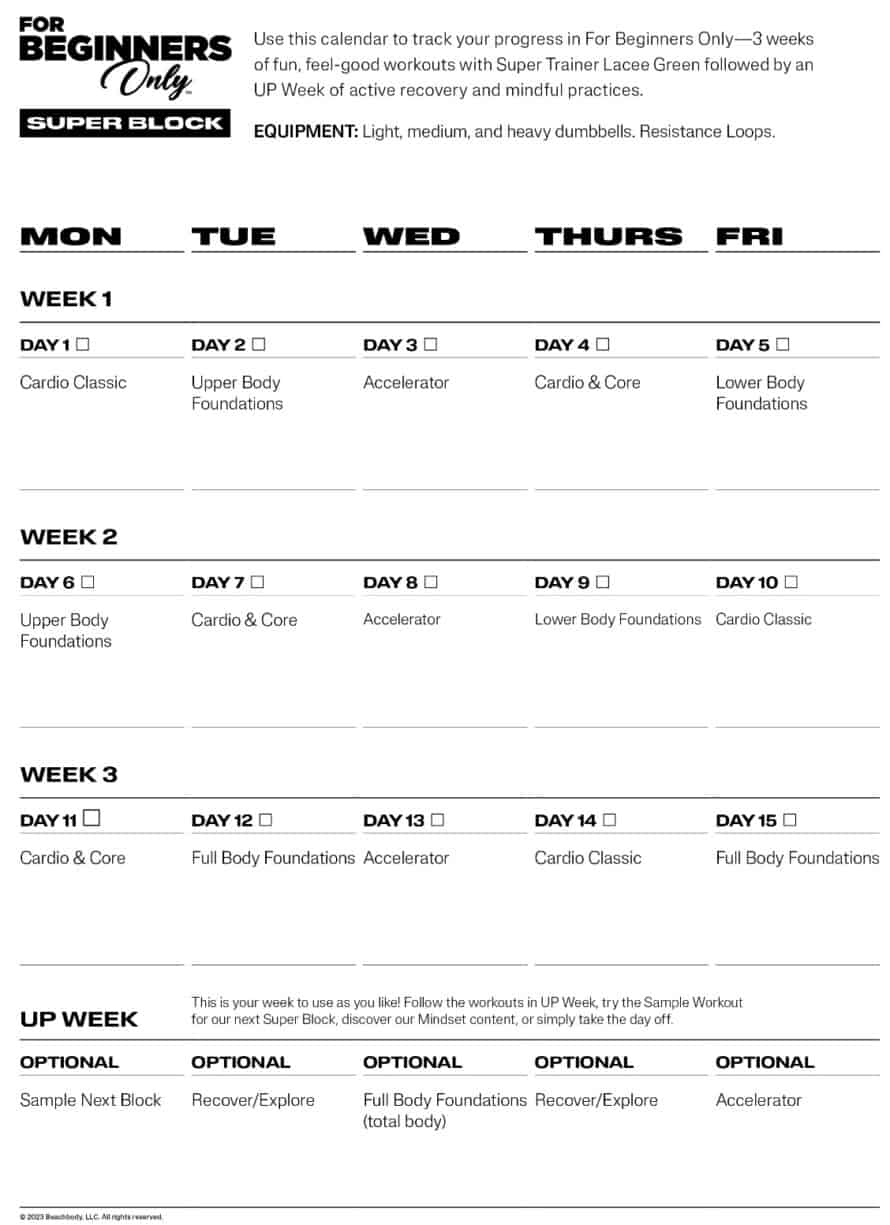 Bodi Block Calendar
The Bodi Block calendar is the same for every block. Each block starts on the first Monday of the month, and you'll workout for about 30 minutes, 5 days a week, for 3 weeks. The following week is for active recovery.
There will be a printable calendar offered, and you can also follow the BODi Block Calendar in the app on your favorite streaming device or phone.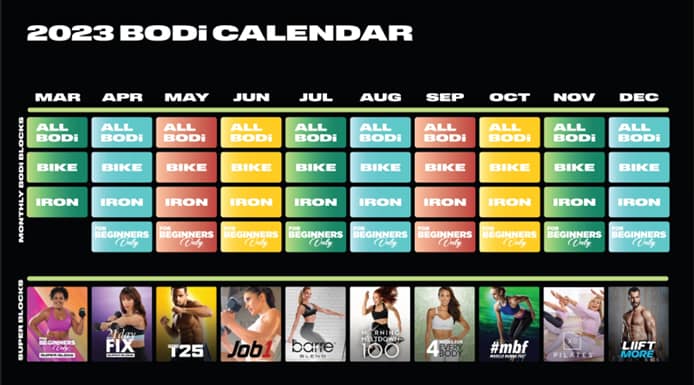 Super Block Calendar 2023
If you're looking for the BODi Block Schedule for the Super Blocks, we have them broken down by start date and trainer below.
Note: Keep in mind the release dates aren't always the 1st of the month, they are the first Monday of the month.
As of right now, we don't believe Amoila Cesar, Idalis Velazquez, or Lee Jimenez will host one of the monthly blocks, but we do expect them in the All BODi, Bike, and Iron Blocks. Amoila does have Chop Wood Carry Water coming out though!
We also do not expect Tony Horton or Chalene Johnson to be the BODi platform with new workouts. We believe members will still have access to the P90X workouts, as well as, TurboFire and PiYo though.
Are Bodi Blocks effective for weight loss?
Yes, the BODi Blocks are designed to be effective for weight loss. We recommend pairing the workouts with a diet like the 2B Mindset or Portion Fix.
Go Back to Top
Can a beginner do Bodi Block workouts?
Yes, beginners can do BODi Block workouts! We'd recommend trying the For Beginners Only BODi block first, and if it's too easy, you could bump up to the All BODi block.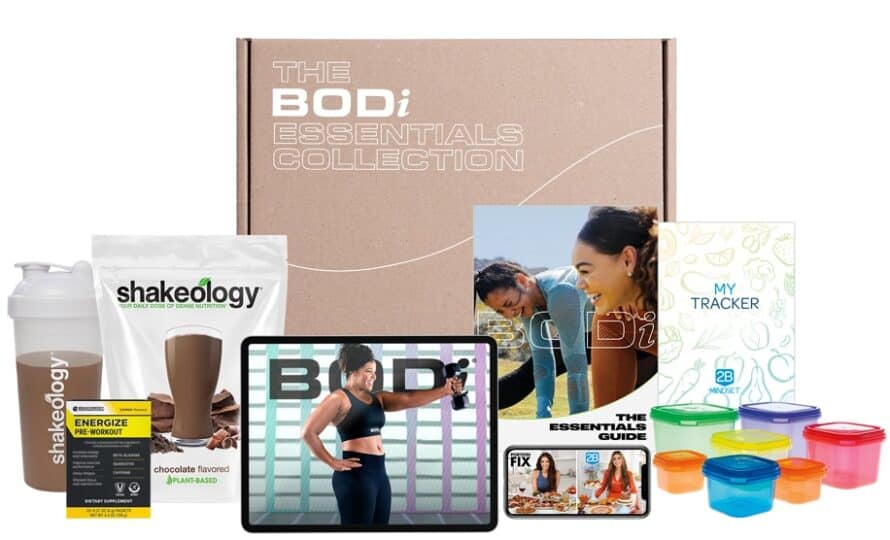 How to Get BODi
You can choose to do just an BODi membership or one of the total solution packs that include BODi and supplements.
You can also choose a BODi Day Pass for $7 to see how you like it before committing.
If you already have Beachbody On Demand, you can upgrade to BODi at a prorate.
You'll just login to TeamBeachbody.com/MyAccount and click "Memberships and Subscriptions" under Settings.
From there, click choose to Upgrade to BODi Annual.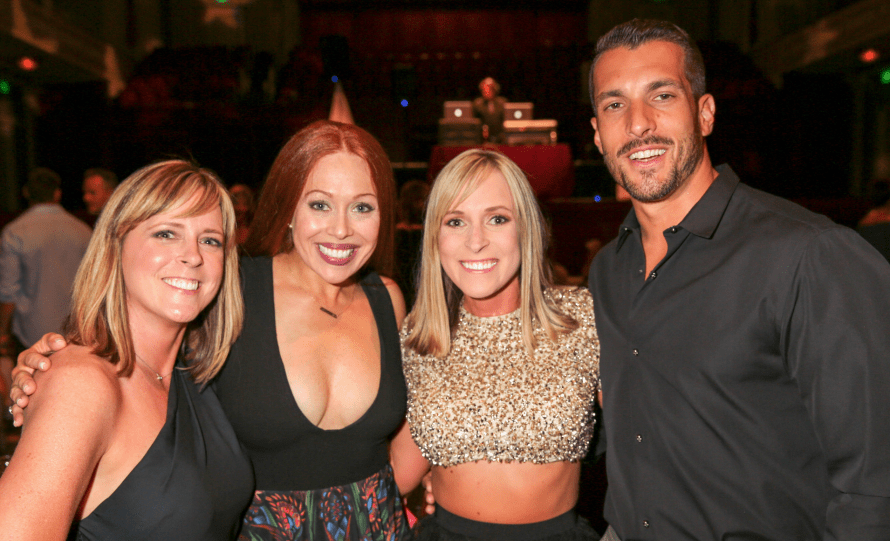 Other Frequently Asked Questions about Beachbody in 2023
What Bodi Blocks are available now?
You can currently stream Lacee Green's BODi for Beginners Only's Super Block, as well as, All BODi Block, Bike Block, and the Iron Block. You can also unlock a new BODi Super Block each month.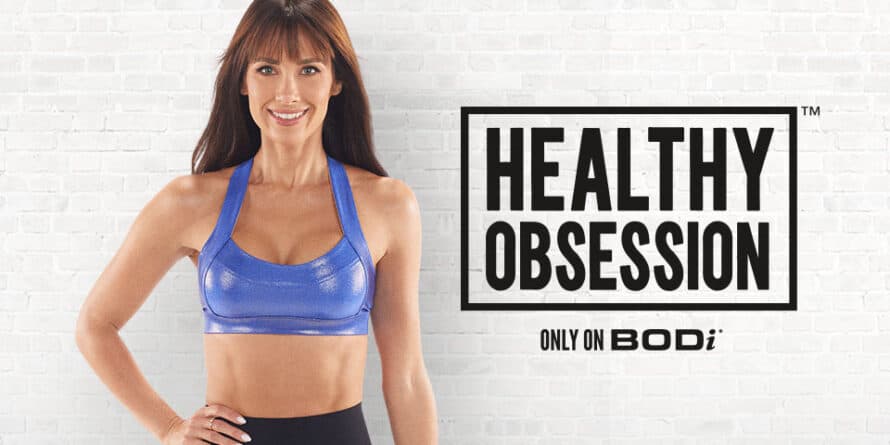 Will Healthy Obsession be on Beachbody on Demand?
Beachbody on Demand memberships are retiring so the Healthy Obsession will not be included in that membership.
If you have a Beachbody on Demand membership, you'll need to upgrade to BODi (or cancel all together).
Will Autumn Calabrese have a new workout in 2023?
Autumn Calabrese will have 3 BODi Super Blocks in 2023. They are the 21 Day Fix Super Block and 4 Week Gut Protocol Super Block. She also has Healthy Obsession that came out late 2022 on BODi.
These Super BODi Blocks will be fresh new takes on her popular Beachbody workout programs.
Will Amoila Cesar have a new workout in 2023?
Amoila Cesar will be in several of the All BODi, Bike, and Iron BODi Blocks, and he also has a new workout program, Chop Wood Carry Water, coming out in 2023.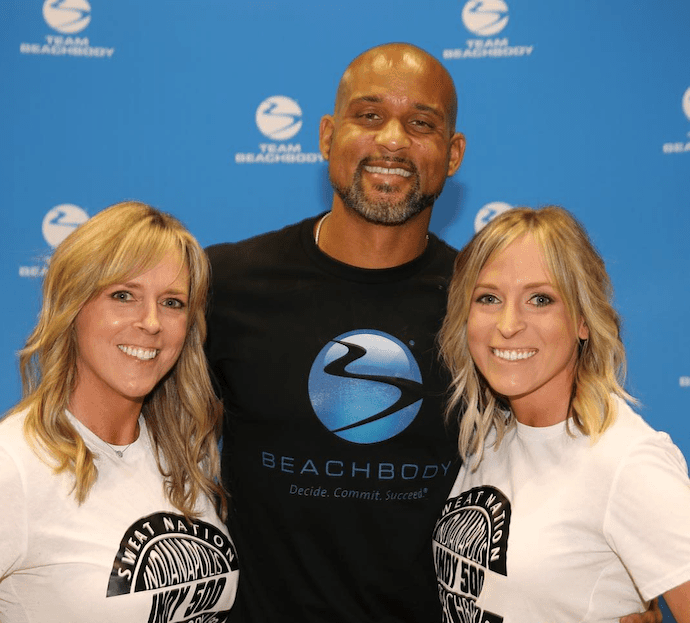 Did Shaun T leave Beachbody?
No, Shaun T is still with Beachbody as of 2023. His B25 / T25 Super BODi Block is available to unlock now.
The B in B25 stands for Bike because they are optional cycling classes included.
Will new programs be included on Beachbody in 2023?
While Beachbody doesn't have new programs scheduled for 2023, they do have Bodi Blocks with new workouts each month.
Are Beachbody Coaches going away?
No, Beachbody coaches are not going anywhere, but you may hear them called BODi Partners or BODi affiliates now.
You can learn more about the income opportunity with BODi (formerly Beachbody) here.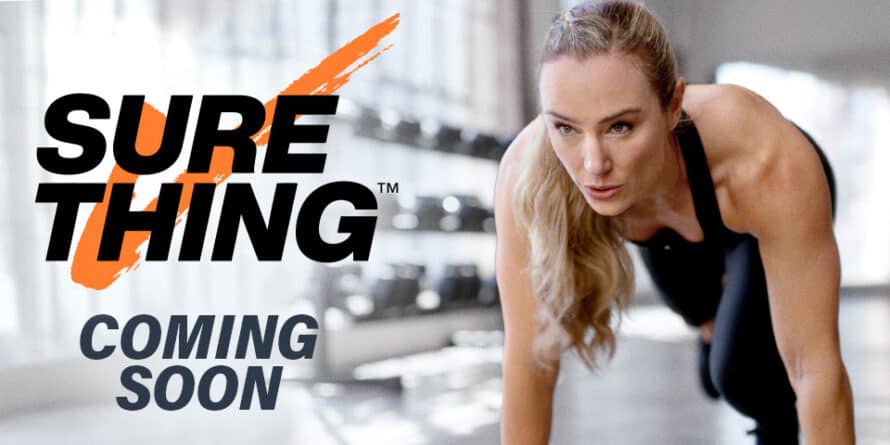 Other Release Dates for 2023
If you still have only Beachbody on Demand (BOD) and your membership renewed before January 26, 2023, you will get access until January 2024 without upgrading.
So these Beachbody release dates may be extra special to you!
Megan's Sure Thing will be added to the Beachbody on Demand library for all members June 2023.
Joel's LIIFT More will be added to the Beachbody on Demand library for all members March 2, 2023.
If any of this sounds like something you're interested in, and you're not working with a coach, email us at thegirls@soreyfitness.com or use the form below (or click here to have the form open in a new tab) to get started!
It's free to join our online, private community!
*Products may vary by market