When I first heard about the 21 Day Fix, I thought there had to be a catch. The workouts must be too hard, you'd must only munch on chicken and veggies or it just wouldn't work. Now, I'm eating my own words in those color-coded containers. It's a great program for weight loss and toning up.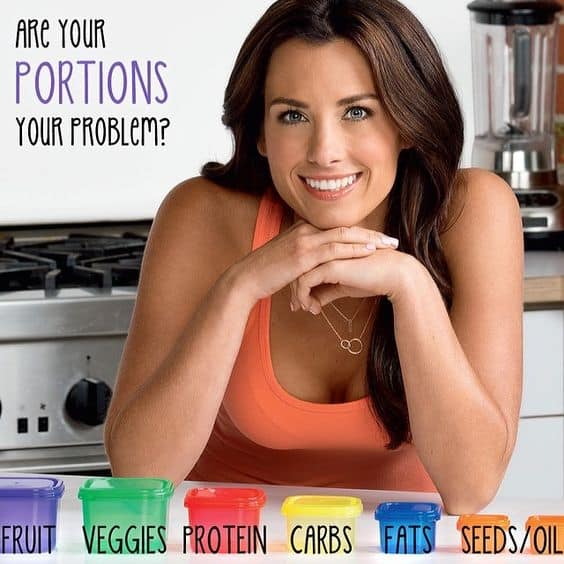 Who is Autumn Calabrese?
21 Day Fix Workout Calendar
Each workout is different. You do a mixture of cardio, strength training, pilates, and yoga for max results in each 3-week round of the program.
The workout schedule is also something you can keep using forever. I like to challenge myself to get in more reps or pick up heavier weights every time I workout with Autumn.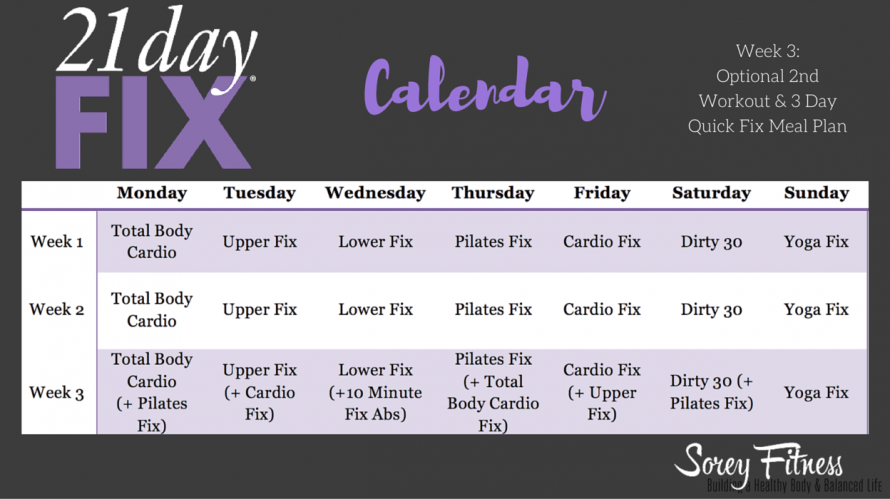 Print Your 21 Day Fix Schedule Here
The schedule includes one 30 minute workout everyday for 3 weeks. You can choose to add in an additional workout on Week 3 if you choose which is seen in the chart above.
The workouts are broken down into 1 minute intervals except for the Yoga Fix workout on Sunday.
Is there a modifier?
Yes, Kat is the modifier. She's in every workout and amazing. Unlike some modifications offered in other workouts, Kat is awesome about really showing proper form, and the modifications are clearly explained in every workout.
Is the 21 Day Fix for Men?
Yes! In every workout, there is at least 1 man doing the workouts sweating too! Furthermore, men will get more containers typically and will just need a heavier set of weights typically.
What equipment do I need?
Dumbbells – I used 5 – 8lbs.
Resistance Band (optional)
Yoga Mat (optional)
What's included?
You'll receive 7 Workouts plus your nutrition guide, workout schedule, the 3 Day Quick Fix guide, portion control containers and our support.
The workouts are:
Total Body Cardio Fix – A total body workout using light weights.
Upper Fix – A mix of body-weight and free-weight exercises to tone your arms, chest, back and abs.
Lower Fix – A mix of floor moves and free-weight exercises to tone your lower body.
Pilates Fix – An active recovery workout that will tone your whole body.
Cardio Fix – A calorie burner using your own body weight to tone your body.
Dirty 30 – A total body resistance workout.
Yoga Fix – A relaxing yoga class to end the week.
Abs Fix (10 minutes)
On top of the workouts, you'll also receive the awesome meal plan.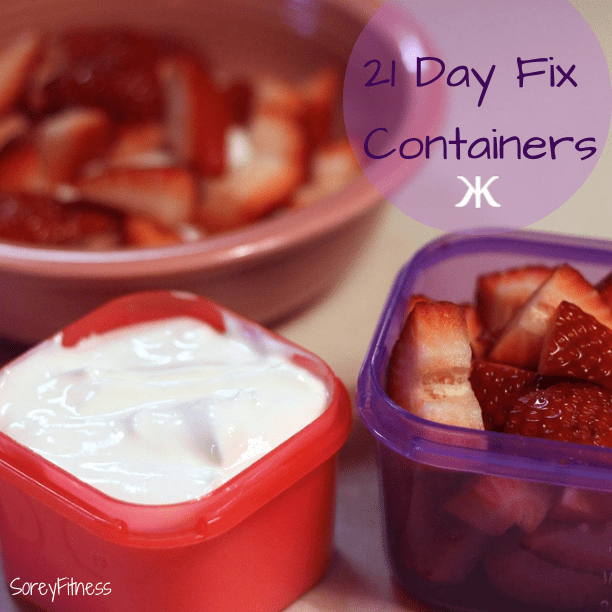 How the 21 Day Fix Containers Work
The meal plan is simple to follow and focuses on healthy eating.
No food was off limits.
The eating plan was similar to what I normally eat
The program also includes the Portion Fix containers.
You don't count calories
You have the flexibility to choose when and what you eat.
It's also customizable to fit breastfeeding, food allergies, and other dietary needs.
The containers are broken down in to colors:
Red is Lean Protein

Purple is Fruit

Green is Vegetables

Yellow is Starches

Blue is healthy fats

Orange is seeds, dressings and oils
The nutrition guide outlines how many of each color container you can eat per day.The containers also are a way to make sure you are getting in all of your food groups.  Each colored container has certain foods you can put in it.
 Here's a quick look at the 21 Day Fix Food List: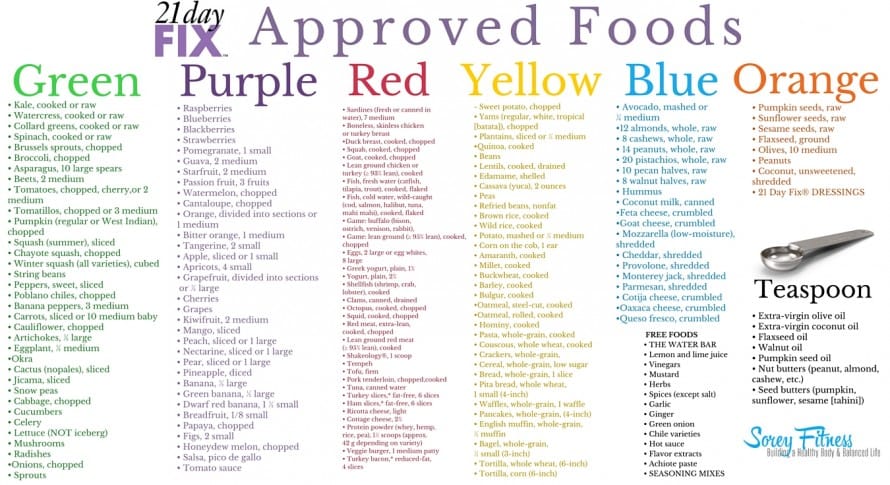 Click to See Full Size
The containers help to make sure you're eating enough throughout the day, and the portions are generous!
You can also have a treat!
The meal plan allows you to save up 2 yellow containers and swap for one treat. A treat is about 150 calories. An example of a treat approved on the nutrition guide would be a 6oz glass of wine.
Do you get a cheat meal?
Not necessarily, but nothing is ever completely off limits. Even pizza can be broken down into containers! Not that I speak from experience or anything. But the original schedule does not include a cheat day. It's about everything in moderation.
Can you use recipes?
Totally! You'll find recipes and conversions in your nutrition guide, and we can also help if we're your Beachbody coaches. View our favorite recipes here.
There is also a cookbook with 101 recipes all broken down by calories and containers. There are vegan, paleo, and gluten-free options in the cookbook.
The 3 Day Quick Fix Bonus
The 3 Day Quick Fix is also really awesome and included as a bonus to the 21 day diet plan. You see exactly what Autumn eats before a photoshoot. It helps you reduce bloat and see max results on day 21. Check out my full review of it here.
The meal plan is a key to seeing results, but you'll also workout 30 minutes a day.
Meal Plan Hacks
The eating plan will break down your allotted calories into containers. Here's how to find your target calories if you want to lose weight: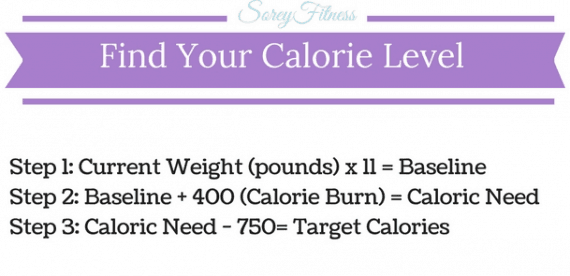 If you want to maintain your weight, in step 3, add in 400 calories instead of subtracting 750.
If your target calories is below 1200 then you'll want to round up to 1200. That is the lowest you should ever go.
Let's see my example.
My current weight is 125
1) 125 pounds (my current weight) x 11 = 1375 (my baseline)
2) 1375 (my baseline) + 400 = 1775 -> my caloric need
3) 1775 (my caloric need) – 750 = 1025 -> My target Calories
My target calories is 1025…and I need to round up to 1200.
Once you know how many calories you need, you can see how many containers you will get through the day. Remember to round up to 1200 if you were below it. If you're calories where higher than 2300, you'll still use the 2300 column.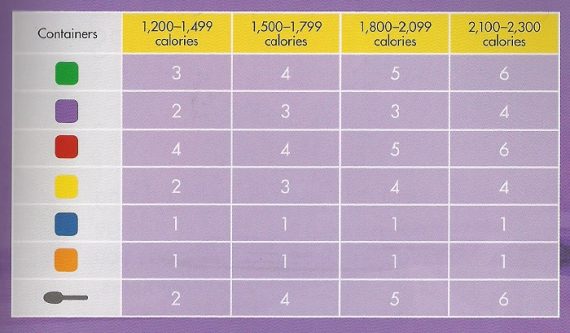 Now you can eat your containers anytime you want! The food list will also help you decide what goes into each container.
You can fully customize what you eat on this plan. Autumn suggests eating 6 times a day so I do 3 meals plus 2 snacks. One snack in the morning, and one snack in the afternoon.
Tea, water, and coffee are also allowed on the plan. I aimed for 3 20z cups of water a day.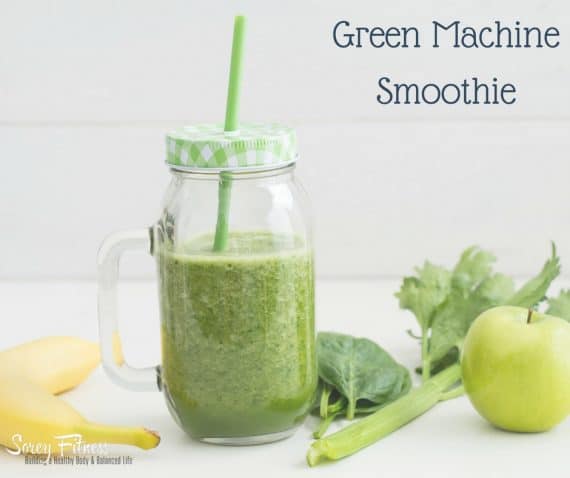 21 Day Fix and Shakeology
You can have Shakeology, but the whole-foods meal replacement not required. I personally did it with Shakeology as my breakfast on busy mornings, or I would have it after my workout because sometimes I'm not ready for a heavy meal right after. It counts as red on the program.
How Does Shakeology work?
I believe Shakeology works and is a great way to get in a healthy protein each day along with essential vitamins, minerals and power foods.
Since I started my Shakeology diet plan, my digestion, energy and results have improved. It isn't just a protein either – I actually count it as a Green and a Red because of all the vegetables in it. You can read my full review on the power food shake here.
If you apply for our 21 Day Challenge we can also provide you with a Shakeology meal plan.
Purchasing the 21 Day Fix
You can order it through any Beachbody coach like us. Along with everything included with the program, you'll also receive additional help and support from us including access to our private Challenge with meal ideas, daily inspiration and monthly prizes.
You can any of the 3 different options:
The workouts will come on DVDs, but you can also stream them using Beachbody on Demand for 30 days if you purchase the Challenge Pack or are a Beachbody club member.
My 21 Day Fix Results
I couldn't believe my results; I lost 11lbs and 5.5 inches!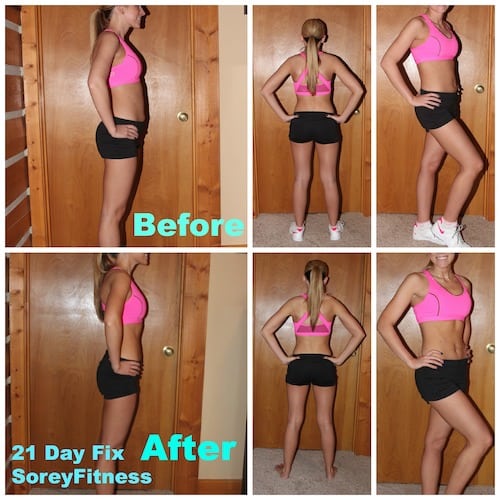 I lost the majority of pounds in week 3, but my inches lost were consistent each week. The program also includes a nutrition guide, workouts, and support.
What's next?
Once you can master the original, EXTREME is the next step. It includes the containers and 30-minute workouts, but it kicks it up a notch.
Final Word: Since my first round, the container system & 30-minute workouts changed how I eat and workout.
It doesn't have to be complicated or extreme to get results. While the program is 3 weeks, I've continued to follow the meal plans and some version of the workouts for over a year now. I also never felt like I was staving. It made my fitness routine simple but effective, and I saw quick results.
You can also choose any of these 3 options:
Now that you see what the program is like, what questions do you have about it?