After 3 weeks, I was stunned by my 21 Day Fix results. When I first heard about the program, I hesitated. It seemed like it must be incredibly hard or just another "quick fix." Since then, I've learned so much about the 21 Day Fix meal plan and workouts that I felt like I had to write up my personal 21 Day Fix Review.
Own it already and need meal ideas? Click Here
I couldn't believe my 21 Day Fix results; I lost 11lbs and 5.5 inches!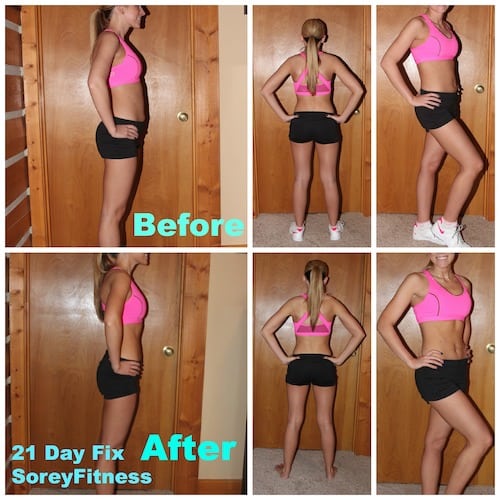 Each days weight surprised me. I lost the majority of pounds in week 3, but my inches lost were consistent each week.
The program includes a nutrition guide, workouts, and support. It was created by Autumn Calabrese, a single mom and fitness competitor, to help others find a system that creates a healthy habits that last.
21 Day Fix Containers & Meal Plan
The 21 Day Fix meal plan was simple for me to follow and focuses on healthy eating. Even though it's a short program, no food was off limits. The eating plan was similar to what I normally eat, but the program includes the 21 Day Fix containers.  The containers are a way to make sure you are getting in all of your food groups without obsessing over calories.  Each food group (vegetables, fruits, proteins, and healthy fats) is broken down by colors.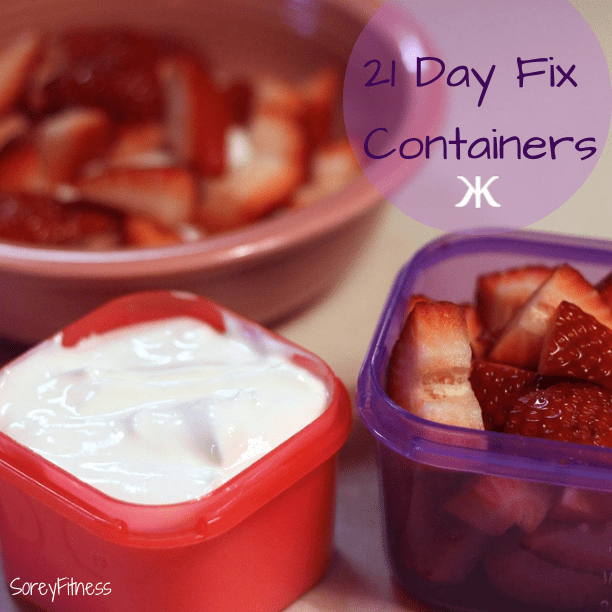 The 21 Day Fix containers are broken down in to colors:
Red is Lean Protein

Purple is Fruit

Green is Vegetables

Yellow is Starches

Blue is healthy fats

Orange is seeds, dressings and oils
The nutrition guide outlines the containers which tells you how many of each color container you can eat per day. Each colored container has certain foods you can put in it.  Here's a quick look at the 21 Day Fix Food List.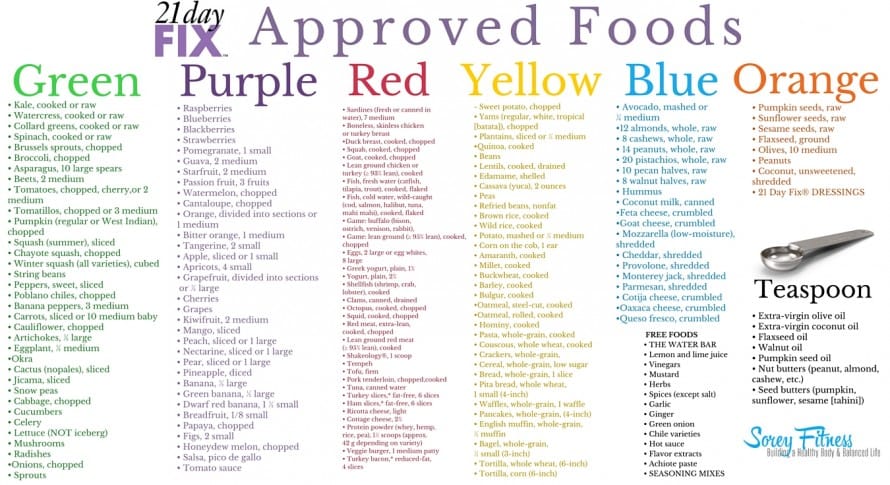 Click to See Full Size
The 21 Day Fix diet uses pre-portioned containers to make sure you're eating enough throughout the day. You have the flexibility to choose when and what you eat. I was surprised at how much I liked coconut oil in my oatmeal and ghee in my eggs.
Since you are given a 21 Day Fix food list, you can customize your meal plan to your preferences even if you have a food allergy, are a practicing vegan or breastfeeding.
You can also have a treat on the Diet Plan.
The 21 Day Fix food plan allows you to save up 2 yellow containers and swap for one treat. A treat is about 150 calories. An example of a treat approved on the nutrition guide would be a 6oz glass of wine.
21 Day Fix Meal Planner Tools
If you apply for our 21 Day Challenge, we provide a 21 Day Meal Planner. You can also create any meal plan using the 21 Day Fix food list above or using the App for iPhone.
Do you get a cheat meal?
Not necessarily, but nothing is ever completely off limits. Even pizza can be broken down into containers! Not that I speak from experience or anything :P But the original schedule does not include a "cheat day." It's all about everything in moderation.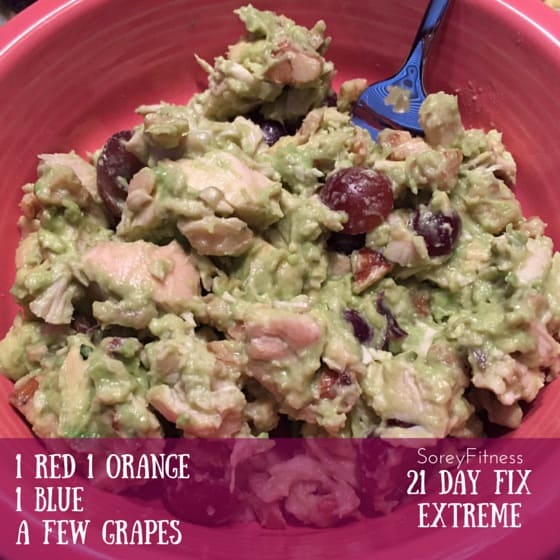 Can you use recipes?
Totally! You'll find recipes and conversions in your nutrition guide, and we can also help if we're your Beachbody coaches.
The 3 Day Quick Fix
The 3 Day Quick Fix is really awesome and included as a bonus to the 21 day diet plan. You see exactly what Autumn eats before a photoshoot. It's mostly steamed veggies and chicken or cod, but it's only 3 days. It helps you reduce bloat and see max results on day 21.
21 Day Fix and Shakeology
You can have Shakeology, but the whole-foods meal replacement not required. I personally did the 21 Day Fix with Shakeology as my breakfast on busy mornings, or I would have it after my workout because sometimes I'm not ready for a heavy meal right after.
How Does Shakeology work?
I believe Shakeology works and is a great way to get in a healthy protein each day along with essential vitamins, minerals and power foods. I personally have seen Shakeology work miracles on my digestion after years of stress, constipation and the bad habit of grabbing protein bars for breakfast or lunch. Since I started my Shakeology diet plan, my digestion, energy and results have improved. It isn't just a protein either – I actually count it as a Green and a Red because of all the vegetables in it. You can read my full review on the power food shake here. Also, I drank the shake before ever being a coach so this isn't just some product plug.
If you apply for our 21 Day Challenge we can also provide you with a Shakeology meal plan.
The meal plan is a key to seeing results, but you'll also workout 30 minutes a day.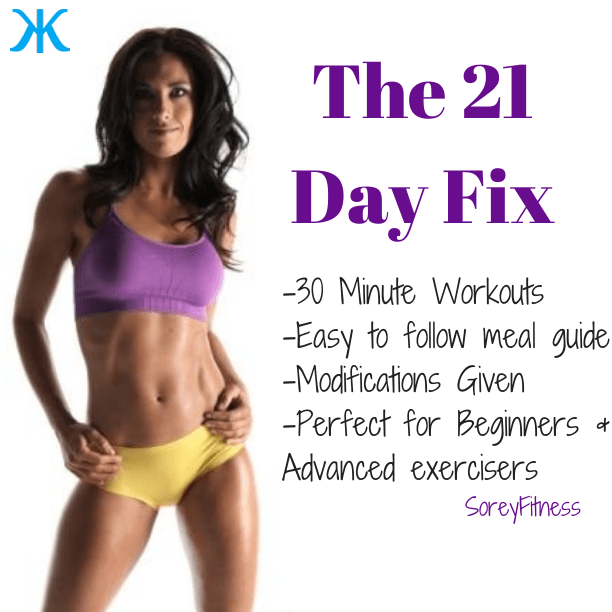 The 21 Day Fix Workouts
Each workout is different. I personally dread Friday's Cardio Fix, but luckily it's only one day a week. You do a mixture of cardio, strength training, pilates, and yoga for max results in each 3-week round of the program.
The workout schedule is something you can keep using forever. I like to challenge myself to get in more reps or pick up heavier weights every time I workout with Autumn.
Is there a modifier?
Yes, Kat is the modifier. She's in every workout and amazing. Unlike some modifications offered in other workouts, Kat is awesome about really showing proper form, and the modifications are clearly explained in every workout.
How are the workouts set up?
Each workout is 30 minutes and a challenge. Each workout is set up like a circuit routine where you do a move for a 1 minute with a short break in between moves.
The 21 Day Fix Autumn includes:
Total Body Cardio Fix
Upper Fix
Lower Fix
Pilates Fix
Cardio Fix
Dirty 30
Yoga
Abs Fix (10 minutes)
Here's a quick peek one of my Total Body Cardio Fix Videos

What is does the Workout Schedule look like?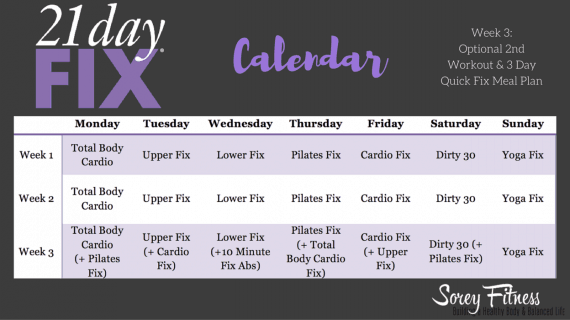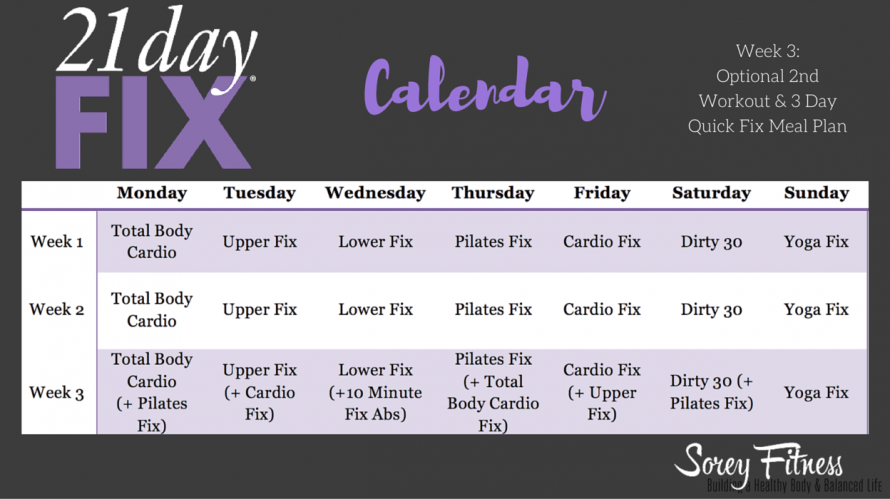 The 21 Day Fix schedule includes one 30 minute workout everyday for 3 weeks. You can choose to add in an additional workout on Week 3 if you choose which is seen in the chart above.
What equipment do I need?
You'll want a set or two of free weights. I used 5 and 8lbs. If you're a man, you may want to use something heavier. You can also use a resistance band, but I prefer free weights. You'll use them 4 days each week following the original schedule.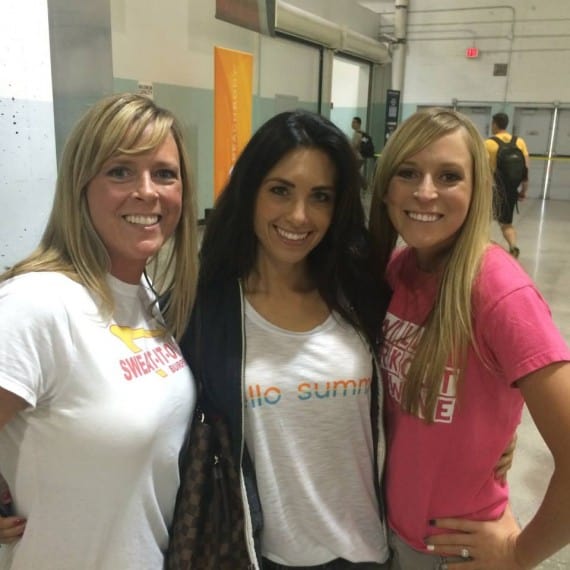 Where do you buy it??
You can order it through any Beachbody coach like us. Along with everything included with the program, you'll also receive additional help and support from us including access to our private 21 Day Challenge with meal ideas, daily inspiration and monthly prizes.
The workouts will come on DVDs, but you can also stream them using Beachbody on Demand for 30 days if you purchase the 21 Day Fix Autumn Challenge Pack or are a Beachbody club member.
How much does it cost?
The base kit is $59.95 and includes your containers, workout, and our support and the 21 day challenge group. You'll also receive Autumn's 3-Day Meal Guide for right before a photoshoot, her workout calendar and shaker cup.
You can also receive a 21 Day Fix Ultimate Program with everything above plus additional 2 workouts (Barre Legs and Flat Abs Fix), extra set of containers, and a bag.
If you'd like to include Shakeology as a quick-prep red container and 30 Days of online streaming of other workouts, you can get both discounted in the 21 Day Fix Challenge pack.
Order the 21 Day Challenge Pack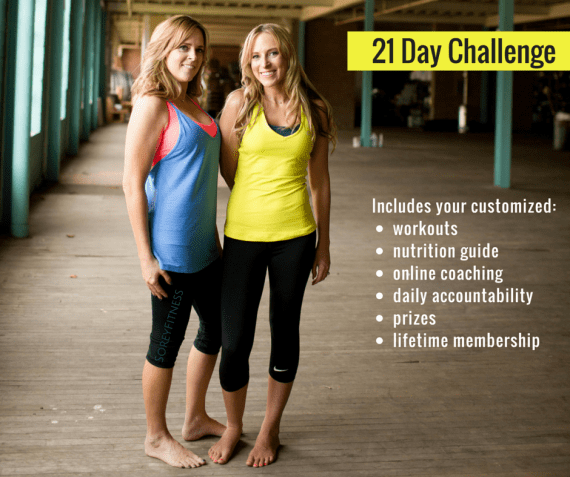 Join a 21 Day Fix Challenge
My mom and I host a 21 Day Autumn Diet and Fitness Challenge every month.  You can choose to use the this program, or we can help find the best plan for your goals. If you'd like to talk more about your fitness goals, let us know by applying for the 21 Day Challenge here.
When you order the 21 Day Fix Challenge Pack, you'll also receive an invite to our challenge group; email us at thegirls@soreyfitness.com for more details and the start date. We can also give you our 21 Day Challenge diet by email.
Can men do this program or join the challenge?
Yes! In every workout, there is at least 1 man doing the workouts sweating too! Men are able to find their container amounts in the nutrition guide and will just need a heavier set of weights typically.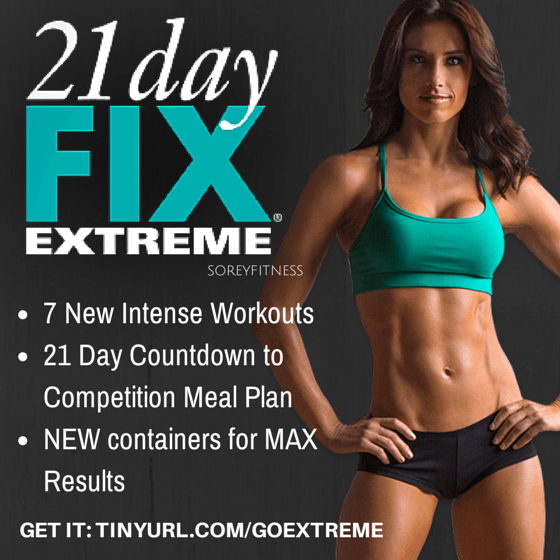 What's after this program?
The 21 Day Fix EXTREME is the next step. It includes the containers and 30-minute workouts, but it kicks it up a notch. There are no treats on the 3 week plan, and there is a "Countdown to Competition" plan for max results. You can get the details here. You can also complete multiple rounds of the original program to see more results.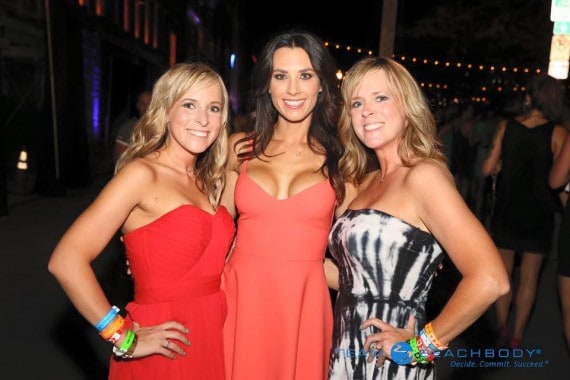 Do Beachbody coaches get a discount?
Yes, my mom and I  are both successful Beachbody coaches. You can sign up to coach for free if you decide to try the Challenge pack.
As a coach, you save 25% off any future orders and also make 25% commission when someone orders through you. In addition to the discount, we also offer basic and advanced trainings to help you hit your goals as a coach as well.
The container system and 30-minute workouts changed how I eat and workout. It doesn't have to be complicated or extreme to get results. While the program is 3 weeks, I've continued to follow the meal plans and some version of the workouts for over a year now.
My mom and I also have helped people lose either that last 5-10lbs like I had and helped several others lost 50lbs+ on the program. If you'd like our meal plan help and support, just let us know! Apply for our challenge or email us at thegirls@soreyfitness.com.
Did my Beachbody 21 Day Fix review help you, or do you have 21 Day Fix results already as well?
Email us at thegirls@soreyfitness.com for a sample 21 Day Fix meal plan when you order.