What is the 21 Day Fix? It's a 3 week program to help you tone up and lose weight. To be honest – when I first looked at it, the 21 Day Fix program kind of intimidated me. Results in 3 weeks? Ya right. It's either a scam or way too hardcore. Then, I tried it and couldn't believe my 21 Day Fix before and after transformation…in 3 weeks! So I wanted to type up my 21 Day Fix review!
I couldn't believe it. I lost 11lbs and 5.5 inches!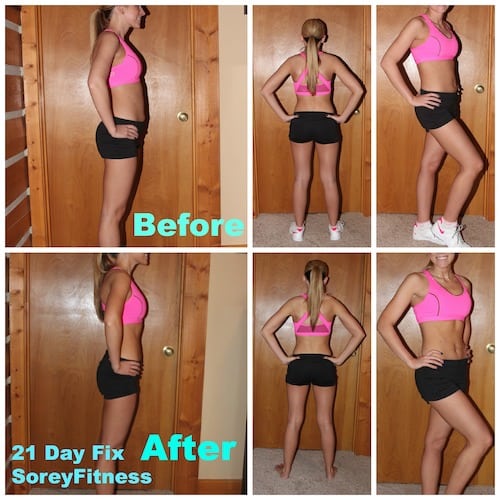 At the time of being picked, my eating habits were off track, and long workouts weren't something I could fit into my life. The 21 Day Fix schedule and simple meal plan was exactly what I needed. I still am so proud of my 21 Day Fix before and after pictures! After seeing my results, I wanted to share my full 21 Day Fix review.
What is the 21 Day Fix Program?
The 21 Day Fix program's container system and 30-minute workouts really did change how I eat and workout for life. It doesn't have to be complicated or extreme to get results. While the program is 21 days, I've continued to follow the meal plans and some version of the workouts for over a year now.
My mom and I also have helped people lose either that last 5-10lbs like I had and helped several others lost 50lbs+ on the program. If you'd like our meal plan help and support, just let us know! Apply for our challenge or email us at thegirls@soreyfitness.com.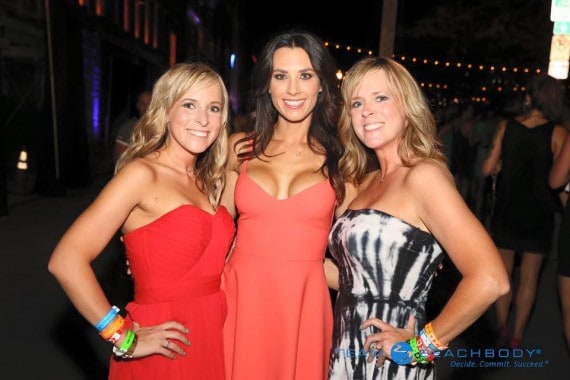 Autumn is the trainer and fitness competitor behind the 21 Day Fix.  She is the real deal, and she even allows for quick-prep meals and even a glass of wine up to 3x a week.
Wondering exactly what is the 21 Day Fix? I put together a my 21 Day Fix review and a FAQ so you can see if it's a good fit for you.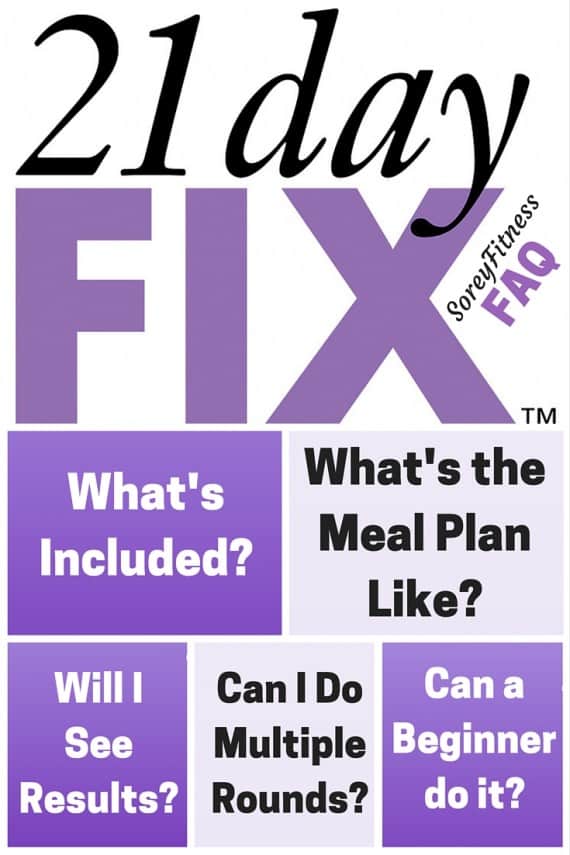 1. What's included with the 21 Day Fix program?
The 21 Day Fix comes with 7 unique workouts. You'll do a mix of strength, cardio, pilates, and yoga throughout the program. Each workout is a challenge and set up like a circuit workout where you do a move for a 1 minute with a short break in between moves.
There is a modifier in every workout, and each workout is challenging even if you've been exercising for awhile.
The workouts are:
Total Body Cardio

Upper Fix

Lower Fix

Pilates Fix

Cardio Fix

Dirty 30

Yoga

Abs Fix (10 minutes)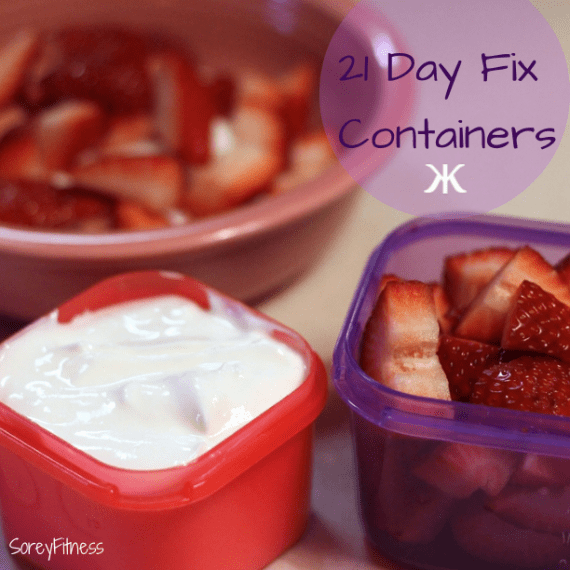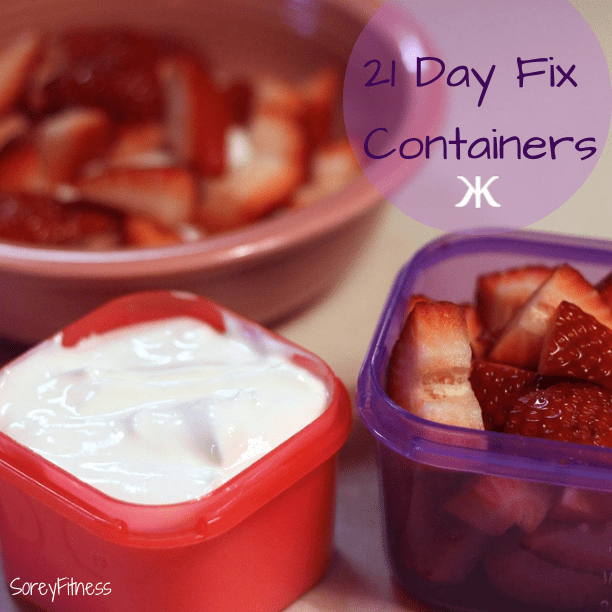 You also receive a full meal plan with portion controlled containers based on each food group. Each food group (vegetables, fruits, proteins, and healthy fats) is broken down by colors.
2. What does the 21 Day Fix Meal Plan look like?
With it being 21 days, I really expected either a "quick fix" or just chicken and brocolli…gag! It really is a simple, balanced diet though. You don't have to count calories either.
With the 21 Day Fix, you receive 6 different types of containers for different food groups. Once you use the guide included in the 21 Day Fix, you'll know how many of each color container you can eat per day. You can choose to eat any of the container's food at any point during the day.
The containers help with tracking your food and also help you make sure you're eating the right portion. You can also save 2 yellow containers which are for stachy foods up to 3x a week to have a treat — like a glass of wine!
The containers are broken down in to colors:
Red is Lean Protein

Purple is Fruit

Green is Vegetables

Yellow is Starches

Blue is healthy fats

Orange is seeds, dressings and oils
Each colored container includes a long list of foods you can use (see the picture below). For me, at 124lbs when I started (5'3″), I could have 4 Reds, 2 Purples, 3 Greens, 2 Yellows, 1 Blue and 1 Orange. I chose what to put in each container and could eat it throughout the day.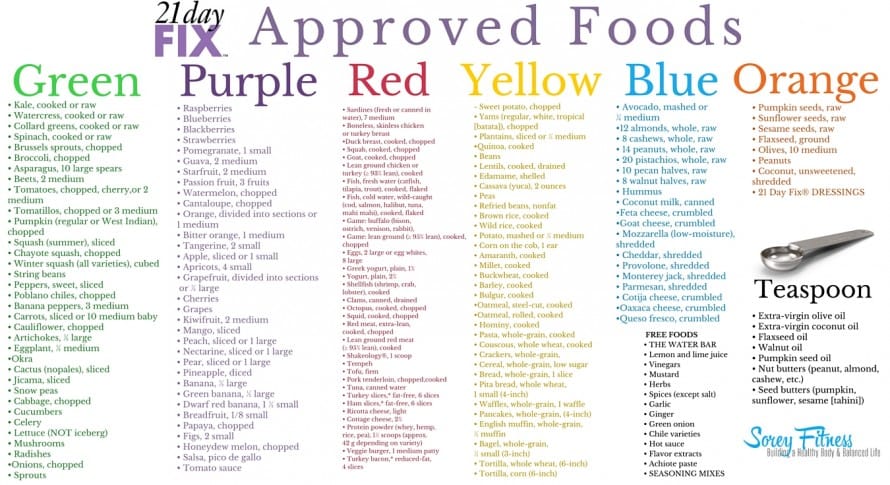 You can be as creative as you want or keep to your favorite healthy meals each day. I also love the 21 Day Fix cookbook too.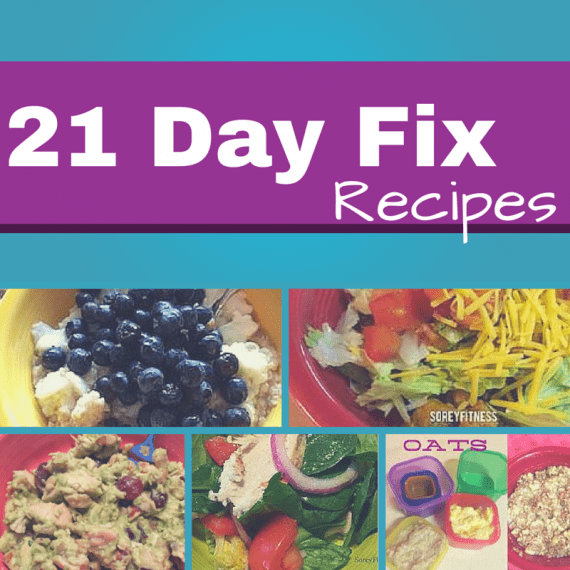 I've also put together a few of my favorite recipes for the 21 Day Fix here.
3. Will I see results? Can I do it more than once?
I did, and we have hundreds of people that have joined us and lost weight with the program. It's not something that you can only muster up the courage to do 1x. The meal plan and workouts are something you can keep doing for life. We have friends that have lost 80lbs and counting!
4. What is does the 21 Day Fix Schedule look like?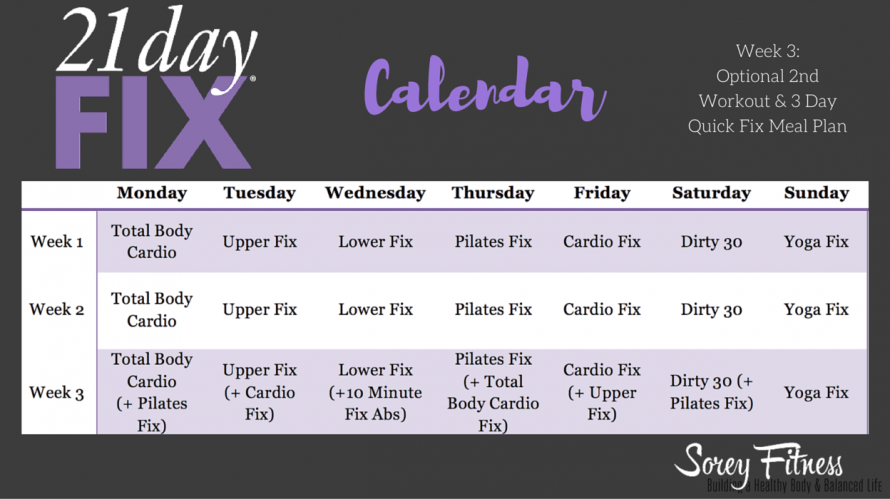 The 21 Day Fix schedule includes one 30 minute workout everyday for 3 weeks. You can choose to add in an additional workout on Week 3 if you choose.  You can also utilize the 3 Day Quick Fix meal plan the last 3 days of the 21 Day Fix calendar.
5. Should I do the 21 Day Fix? Is it safe for beginners, vegans, breastfeeding, food allergies, etc?
Definitely – the meal plan alone is worth it whether you have 5 or 50lbs to lose. The container system is easy to follow and can be customized for your preferences even if you have a food allergy, or are a vegetarian or breastfeeding!
If you're just getting started in working out, you can follow Kat, the modifier, and still get a great workout. She is not joking around or 100 years old like some modifiers. ;)
If you're an advanced exerciser, you can jump high and increase the weights you use for a challenge every time. Autumn actually came out with 21 Day Fix Extreme a year later, and still the original is my favorite even as an advanced exerciser.
6. Is Shakeology required on the 21 Day Fix?
Nope, you can use it as a Red (protein) container if you want to use it. I personally do use it each day, and I'm obsessed with the new cafe flavor. I would suggest the variety flavor pack though if you decide to go with the 21 Day Challenge Pack. Shakeology is a good choice – for me anyways – for my IBS-C symptoms. It really does help.
7. Did you mention wine? What about my sweet tooth?
You can swap 2 yellow (starch) containers for a treat up to 3x a week. There is a list of treats you can eat, but wine and chocolate are on the list.
8. Do you have a cheat day?
Not necessarily, but nothing is ever completely off limits. Even pizza can be broken down into containers! Not that I speak from experience or anything :P But the original 21 Day Fix schedule does not include a "cheat day." It's all about everything in moderation.
9. What equipment do I need?
You'll want a set or two of free weights. I used 5 and 8lbs, but if you're just getting started you may want a pair of 3lbs and 5lbs. If you're a man, you may want to use something heavier. You can also use a resistance band, but I prefer free weights. You'll use them 4 days each week following the 21 Day Fix schedule.
10. What is the 21 Day Fix price?
You can get the base kit with the workouts and containers for under $60! You'll also receive Autumn's 3-Day Meal Guide for right before a photoshoot, her workout calendar and shaker cup. Plus you'll have access to our monthly challenge for free! Just email thegirls@soreyfitness.com to let us know when you're ready to start, and we'll be happy to help you hit your goals!
If you'd like to include Shakeology as a quick-prep red container and 30 Days of online streaming of other workouts, you can get both discounted in the 21 Day Fix Challenge pack.
Order the Challenge Pack or Just the 21 Day Fix Program here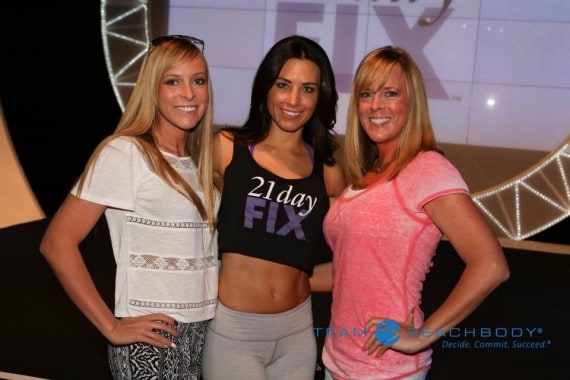 10. Isn't the 21 Day Fix program apart of Beachbody and that coaching thing?
Yes, my mom and I  are both successful Beachbody coaches. You can actually get signed up as a coach for free if you decide to try the 21 Day Fix Challenge pack.
As a coach, you save 25% off any future orders and also make 25% commission when someone orders through you. We do have basic and advanced trainings to help you hit your goals as a coach as well.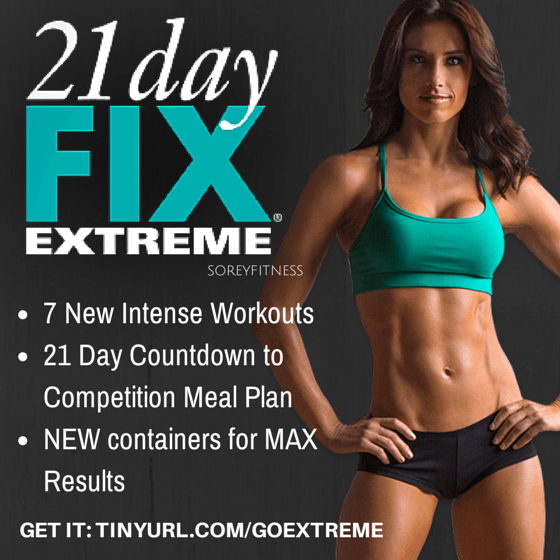 11. What's after the 21 Day Fix program?
There is an advanced option after the 21 Day Fix schedule.  The 21 Day Fix EXTREME includes the containers and 30-minute workouts, but it kicks it up a notch. There are no treats on the 3 week plan, and there is a "Countdown to Competition" plan for max results. You can get the details here.
Does the 21 Day Fix schedule sound like something you can realistically do? We'd love to help you get started and continue to hit your goals with the program.  We've helped several people lose 50lbs+ with the program, and I'm proof it can help shed the last 10-5lbs too!
Just email thegirls@soreyfitness.com to get access to our 21 Day Fix group and a free meal plan!
Did my 21 Day Fix Review help you? Even if you have a coach or are one, will you let me know with a comment below?
Want to see if Autumn's style is for you? This is one of my favorite workouts to add in on top of the 21 Day Fix schedule or if I'm short on time!