Autumn Calabrese's brand new workout program, 80 Day Obsession, is designed to help you burn fat and get lean! You can get an email reminder when it comes out here. We can expect the advanced workouts to be released in January 2018.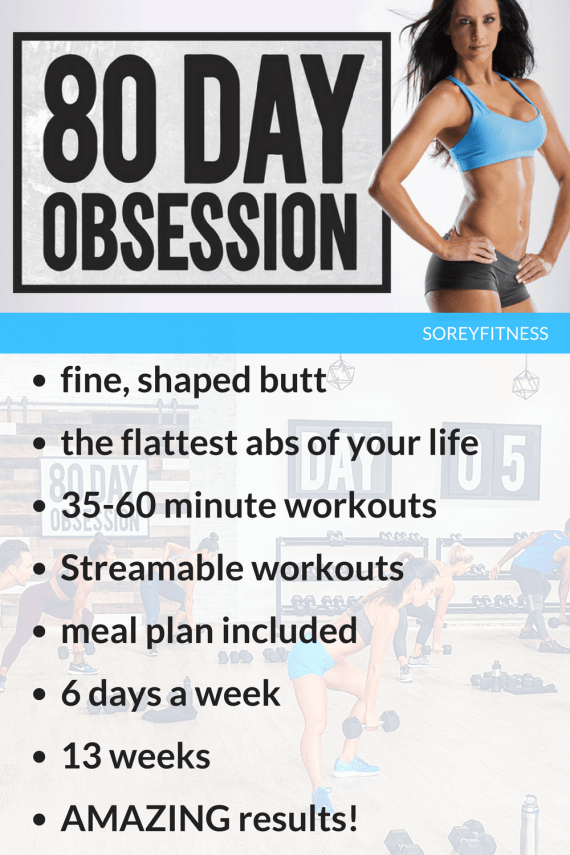 The 80 Day Obsession is specifically designed to give you the nicest butt and flattest abs of your life – all in one program.
Autumn Calabrese talked about the program saying, it's all about "the right workouts in the right sequence plus a targeted approach to nutrition."
Autumn isn't new to Beachbody or home workouts though. She has become a leader in the fitness industry after training celebrities like Brooke Burke and creating the 21 Day Fix.
After her major success with the 3-week program, she's also released:
What is the 80 Day Obsession?
The new workout program will be extreme and for advanced exercisers.
The new program is for you if you want to:
build a leaner, shredded body
add curves without bulking up
get those fitness model flat abs
get in an extreme workout at home
The workouts range from 35-60 minutes 6-days a week. The diet is a professional calibrated macro-nutrition plan to get you max results each week of the program.
It's going to require hard work, but you'll be training like a fitness competitor and be working with a super trainer to get max results.
80 Day Obsession Workouts
Workout Length: 35-60 Minutes
Calendar: Workout 6 days a week with Sunday as a rest day.
Required Equipment: weights, resistance loops and sliders (or paper plates)
For the workouts, prepare yourself, every day will be a leg day. Not only are you shaping your booty, but you'll be burning a ton of calories because working the legs has a cardio effect.
Autumn's cueing, focus to form and motivation is in every workout just like past programs. If you haven't tried Hammer & Chisel yet, it's not like this new program; however, it would be a great thing to start in the mean time.
80 Day Obsession Nutrition & Meal Plan
Autumn's attention to nutrition is one of the main reasons the 21 Day Fix did so well. She made the meal plan simple and effective, and people's results were off the charts.
The 80 Day Obsession meal plan is no different! Autumn has made it super simple to follow even though it's based on a once complicated idea of counting macros.
You just put in your weight and goals, and you'll know exactly how much of each type of food (protein, veggies, healthy fats, carbs, etc) you need to eat each day.
She also outlines the best things to eat before and after your workout for MAX results! It's laid out so well! It's a lot of food too so don't expect to starve. You have to fuel your body!
Additional Supplements
Because these workouts are intense, it's encouraged to mix in the Performance Line supplements. You'd want to do Energize 30-minutes before your workout, Recover after your workout and then Recharge right before bed.
While you can see results without these supplements, they can help your results, fuel your body and get through the workouts better and with less soreness.
These supplements also work the same way for the Hammer and Chisel program if you wanted to start with it in the meantime. You can also try a sampler of the supplements.
How do you get it?
At this time, the workouts and meal plan will be exclusive to Beachbody on Demand – Beachbody's streaming service.
We do believe they will be issued on DVDs later on though.
80 Day Obsession Release Date: January 13, 2018 – 1 workout per day released to stream Monday-Saturday.
Nutrition Plan: Available to download and print on 1/13/18.
The good news is Beachbody on Demand is only $99 for a whole year, and you get access to over 700+ Workouts!
Start Your Beachbody on Demand Account Now to Get 700+ Workouts
So while we have a bit of a wait for Autumn's new workouts, we are planning on starting on our fitness goals right now. With Beachbody on Demand, you get access to all of her workouts plus P90X, Insanity, PiYo and over 700 other workouts to choose from.
The meal plans for each program are also included to download and print.
If you already have Beachbody on Demand, the program's workouts and eating plan will be included automatically for free with your membership. Learn more on streaming your workouts here.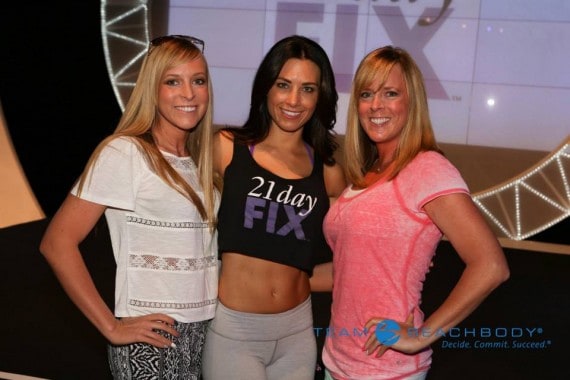 We'd love to have you join our Elite Team for an Exclusive 80 Day Obsession Group starting in January….but why wait for a new year?
Let's get healthier, leaner and toned for the holidays too!
Let us know your goals, and we can help you find the best workouts and plug you into our year-round challenge.